PUD - PUH - PUM - It's all about to Power Up!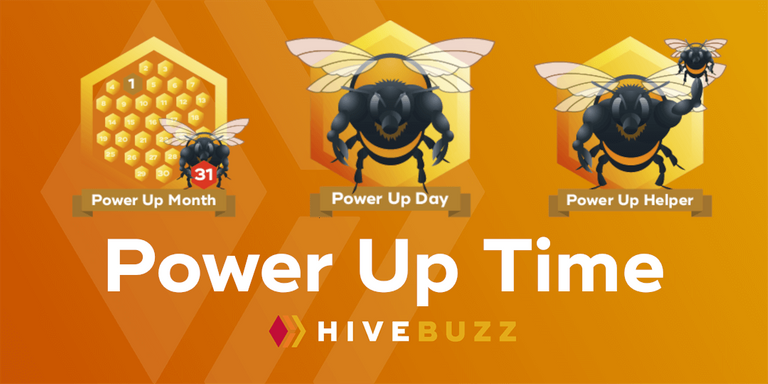 Here we are with the first Hive blockchain Power Up moment of the year 2022!
On January 1st, we are going to start the year on a high note with the possibility for you to obtain 3 additional badges in a row.
We will start with the now well-known Power Up Day (PUD) which will take place on the first day of the month. For more information about the PUD, you can read this post from @traciyork.
On the same day, you will be able to earn the Power Up Helper (PUH) badge too.
And finally, January 1st will also be the kick-off of a new Power Up Month (PUM) with new rewards.
Quick rules reminder
IMPORTANT:

HiveBuzz use UTC date and time to validate when your power-up. Therefore, check your timezone and convert your local time to UTC before powering up!
1. The Power Up Day and its Power-Bees levels
The minimum amount to power up and make the PUD badge yours is 10 HIVE and the more HIVE you power-up on Power Up Day, the bigger your power-bee.

Here is how the levels are distributed:
| | |
| --- | --- |
| | Level 1 - Power up at least 10 HIVE |
| | Level 2 - Power up at least 50 HIVE |
| | Level 3 - Power up at least 100 HIVE |
| | Level 4 - Power up at least 500 HIVE |
| | Level 5 - Power up at least 1000 HIVE |
2. The Power-Up Helper
The Power-Up Helper badge was introduced in the October 2020 edition and allows you to get one more badge when helping others to power-up.

TLDR; Get rewarded for the help you provide! By helping others to power up, you are showing everyone how mutual support is an important concept within the Hive community.
For more information on how to get the Power Up Helper badge, read this post.
3. The Power-Up Month

The Power Up Month lasts all month. For each day of the month, you have 2 options:
Option 1:
you publish a post and set the payout mode to 100% HIVE.
Your post must generate a payout to be eligible (i.e. get a few upvotes)
You cannot upvote yourself
Using this option is also a good way to get the Monthly Author badge as well. ;)
Option 2:
power up at least 1 HIVE.
You cannot powerdown during the month.
This option is useful if have no idea what to write about someday or just aren't a blogger at all.
Note: You can use either option, or both, and can switch from one to the other as the days go by.
What's new this year?
1. Power Up Day
No major change, except that there will be no more HP delegations for users who participate in Power Up Day only (see below)!
2. Power Up Helper
You will now be able to collect PUH badges for each year, which will generate a major leverage effect on the size of our delegations to you.
The more PUH badge you have, the more you will receive a significant delegation from us. Those who have already obtained it in previous years therefore already have a significant advantage.
3. Power Up Month
So far we have done two editions of Power Up Month. It was a way for us to test how a challenge that lasts a whole month unfolds.
It must be recognized that this is a real challenge (literally and figuratively) because only less than thirty participants made it to the end during each edition.
But it is important for us to stimulate and reward consistency and commitment because we consider this to be the most important factor of success on our platform (and in life).
Therefore, we decided to:
have a PUM challenge every month.
shift our delegations from the PUD to the PUM
This means that you will only receive a delegation from us if you successfully complete a PUM challenge and the more PUM challenges you successfully participate in and the more HIVE you power up, the bigger our delegation!
4. Hive Power Delegations
This year, we will be rewarding extremely regular participants, and those who are generous in helping others, by providing them with a 3 weeks Hive Power delegations!
The amount of HP delegated will be calculated according to the following criteria:
How many successful Power Up Months you have achieved throughout the year.
The total amount you powered up during the PUM.
How many PUDs in a row have you participated in
The levels of your power-ups on PUD (ex: you made two "level 3" and three "level 5" power-ups).
The number of people you helped to power-up and the amount involved.
The higher all the above-mentioned values, the higher the delegation you will receive.
Why participate in the Hive Power Up challenges?
The first reason is to have fun and get a badge!
And here are some other great reasons to power-up your HIVE:
Strengthen your influence on the blockchain with stronger votes on content, proposals and witnesses.
Earn more curation rewards. The more Hive Power you have, the more you can potentially earn back
Earn "interest" by holding Hive Power. You will also earn HIVE passively at about 3% per year of what you currently have powered up so the more HIVE you have, the more you can earn from just holding!
Finally, several amazing members, like @victoriabsb, @traciyork, @fionasfavourites, @alokkumar121, @cmplxty, @hiveph, @improv, @jeanlucsr, @livinguktaiwan, @naturalmedicine, @r1s2g3, @theycallmedan, @eddiespino, @aliento, @walterjay and others, are offering prizes that include delegations, Hive giveaways, and other cool stuff to the Hive PUD participants.
---
Be ready and Power Up!
---
HiveBuzz is a project created by @arcange
---
---