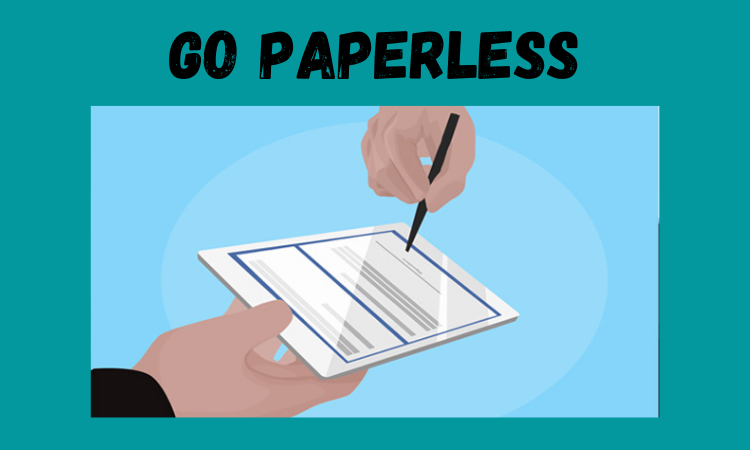 So your desk is buried in paper, your bookcases are overflowing with stacks of paperwork, and you've only made room for your keyboard, mouse, and coffee? It's time to go paperless, not only for your personal sanity but also for the sake of your company's efficiency. It's the one step that saves time and space while giving your mobile staff more flexibility.
Consider these four steps when you're ready to go paperless:
Use The Cloud to Store And Search Data
Only those with authority can upload, view, and edit documents. Google Drive is the most straightforward tool for getting started with paperless storage and communication. However, Evernote and Microsoft OneNote are also viable options. Regardless of the option you pick, you'll be able to quickly access files using search functions. You won't have to remember whether they were filed by name, subject, or category – simply type in what you're looking for, and the system will find it for you. The file can then be updated, shared, or emailed as needed.
There will be no more filing cabinets or archive rooms. Instead, you will have clutter-free workplaces, more breathing areas, and maybe lower overheads due to being able to fit into a smaller office space. In addition, remote access to digital files will be possible, which is ideal for mobile workers or employees who work from home. Use your secure login to access files anytime, on any device, from any location.
Provide Training to All Employees
Establish continuing training to ensure that all employees are familiar with the new system and how you prefer things to be done. This is the moment to establish file and folder naming conventions and new collaboration and security protocols. Long-term adoption will necessitate collaboration from employees at all levels of the organization, and everyone will benefit from training.
Scan All Necessary Documents
Moving to digital files frequently necessitates taking a step back to scan relevant data into the system. Many workplace multifunction printers have double-sided feed scanning, allowing you to swiftly scan documents into the system and subsequently discard them. You can also have dedicated scanning hardware, such as the Fujitsu Scansnaps. Any new paper documents may be scanned the same way, and even fax machines can be configured to only accept digital files. Each file will be digitized very small, so hard drive capacity shouldn't be an issue.
Make Backups a Top Priority
The best method to avoid losing files and documents is to have a solid backup strategy, including regular off-site backups. Treat your backups as a necessary insurance policy to ensure that your files are accessible and intact in the event of a disaster. In addition, use your backups to quickly resolve any concerns and ensure your new paperless files are well-managed and secure.
Conclusion
Start going paperless today by putting good policy and excellent processes in place first. If you would like some assistance or advice, reach out to me anytime.

Joe "Rhino" Brochin is launching ITSM RHINO in the coming months, it is the pull-no-punches, casual-but-effective resource for renegade IT Pros who want to manage risk and add value through ITSM processes & IT Policy.
GET IN EARLY!
Note: All graphics within this post, including their images and elements, were sourced and generated from Canva.com, except when otherwise identified on the graphic.