Hive Powered Psyber-SWAP & Onboarding Proposals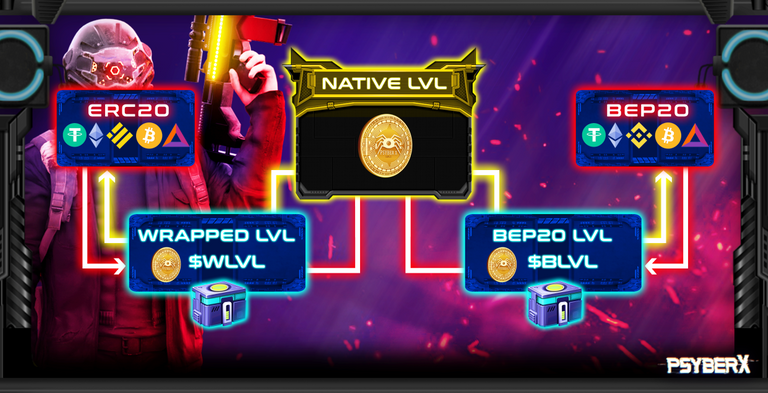 Introduction
Psyber-X is a play-to-earn, first person shooter, massive multiplayer online, role playing game that will transform the perception of gaming.
It will do this by introducing the players' ability to integrate the use of NFTs into gameplay as well as introduce a complex economy of businesses, guilds (gangs/syndicates) and authority types incorporating playful banter, bragging rights and sharing achievements to Hive social media.
The integration and support of Psyber-X brings Hive into a greater spotlight as gamers, influencers and celebrities stream their gameplay both in the Psyberverse and within the actual gaming arena
Proposal
This paper presents multiple proposals for our project.
We need all of your support! The Hive community has come through for us already in a very big way, and we wish to move things along a little faster by hopefully getting these proposals approved.
We are going to request funds necessary to make the project a success in a more timely manner stepping up both our Hive onboarding efforts and SWAP development.
To keep up with growth demand, the project will require additional initial capital. This will be used to hire the necessary expert Hive developers (this could very well be you!), purchase hardware, services and items listed in the table below.
Licensing will be required and we aim to develop a cross-chain bridge harnessing multiple blockchains by to hiring existing Hive developers and programmers.
Psyber-SWAP will include several major chains to form a bridge to ETH, LUNA, BSC, MATIC, AVAX, WAX and FTM Powered by Hive on the front ends' primary interface.
These proposals are to entice the best of Hive developers to reach out to us as the cross-chain bridge development needs your expertise.
Approval will enable Psyber-SWAP to carry Hive's 'fast and feeless' honor and increase our onboarding efforts, bringing the waiting, gaming masses to the Hive blockchain.
With our next phase of aggressive marketing, we will need to obtain 1,000,000 account creation tickets to onboard the kind of numbers we are expecting.
The creation tickets will allow us to utilize much needed funds for influencers, celebrities, targeted ads, SEO, promotional giveaways and more.
The participants and players in this game can participate in giveaways, contests, tournaments and even earn curation rewards to encourage them to engage more and spread the news about the game within their circles.
This will continue to encourage onboarding to the Hive blockchain, organically.
Hive Web 3.0 monetized social media enables both project creators and marketing teams to come onboard Hive with enormous community support.
Creating instant sources of revenue and adding to your marketing outreach benefits everyone involved.
Budget and Fund Utilization
The requested funds will be utilized in activities such as obtaining operating licenses, permits, real estate lease, hire existing Hive developers, buy account creation tickets and purchase hardware as indicated on the budget.
Other areas of expenditure may include legal costs and logistics as well as other unforeseen expenses.
Budget on the proposed projects
| Initial Expenditure Item | Initial Amount $HBD |
| --- | --- |
| Licensing, permits & SEC compliance | 27,000 |
| Hardware Acquisition | 23,000 |
| 250,000 HIVE Power | 228,000 |
| 1 million Account Creation Tickets | 2,730,000 |
| TOTAL | 3,008,000 |
Expected Proposal Revenues and how it will be utilized
HBD Daily requested is double the needed amount to give proposal time to pass as well as we guarantee to end the proposal early upon project completion and issue the next.
We anticipate getting revenue from running nodes on various chains we bridge to which will pay the Witness & Developers who maintain them.
| Proposals (Milestones) | Goal/Budget Timeframe | HBD Daily |
| --- | --- | --- |
| 1. 1,000,000 Account Creation Tickets | 275 Days | $19,636 |
| 2. 250,000 HIVE Power | 59 Days | $3,865 |
| 3. Data center, Hardware, build out & set-up Nodes | 14 Days/28 Days | $1,642 |
| 4. Licensing, Permits & begin development | 15 Days/30 Days | $1,800 |
| 5. Bridge ETH to HIVE powered Psyber-SWAP | 7 Days/28 Days | $715 |
| 6. Bridge BSC to HIVE powered Psyber-SWAP | 7 Days/28 Days | $715 |
| 7. Bridge LUNA to HIVE powered Psyber-SWAP | 7 Days/28 Days | $715 |
| 8. Bridge MATIC to HIVE powered Psyber-SWAP | 7 Days/28 Days | $715 |
| 9. Bridge AVAX to HIVE powered Psyber-SWAP | 7 Days/28 Days | $715 |
| 10. Bridge WAX to HIVE powered Psyber-SWAP | 7 Days/28 Days | $715 |
| 11. Bridge FTM to HIVE powered Psyber-SWAP | 7 Days/28 Days | $715 |
Why Royal Reptile Gaming Studios minted LVL on Hive
Hive is a Web 3.0 Blockchain primed for gaming with free transactions and lightning fast speeds.
Hive web 3.0 has also monetized social media with 16 Social Outposts so far, boasting over 120 dApps and is one of (if not the) most scalable decentralized blockchains allowing for unlimited potential to be built upon.
White Paper
Is located on the Hive blockchain here and anyone can read it. It's immutable.
Website
Is located on the world wide web here and anyone can visit it!
Conclusion
With funding of 1,000,000 account creation tickets and daily HBD on the various proposals Psyber-SWAP plans to bridge HIVE, LVL and eventually, all interested 2nd layer tokens with major blockchains in a feeless Hive powered swap.
Funding is requested as Psyber-X is brought to us by an independent gaming studio building its first big dream game and can meet more deadlines accomplishing enormous tasks with the right funding and team onboard.
Is that you? We ask that you support us as we move forward and make our mark in blockchain history.