Hello, how are you today? I want to tell you a little bit about a community I'm a member of and with which I've been able to grow together with all the other users, it's called @project.hope you can visit it at any time. In this space all the users do the possible thing to support to us, commenting and voting our publications, the idea of everything is to be a very united community and I believe that we have obtained it.
I would like you to dare to visit us, you can leave me your opinion in the comments.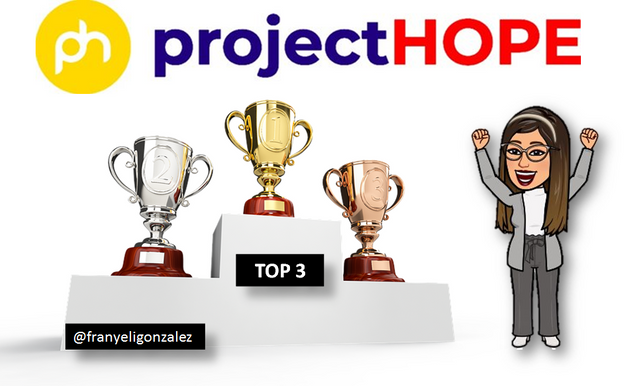 Source
Source
For that reason today I bring you my top 3 of the week, I think they are publications of great interest and quality. Take a look at them!

MY TOP 3
First we have our friend @ireti who in this opportunity talks about the different strategies that we can apply in our life to reach a millionaire goal, within these strategies she mentions the change of mentality and the tool of saving, I believe that both are key when we want our businesses to be successful businesses. If you want to review his publication and learn more about these strategies, here is his link:
Steps to Hitting the Millionaire Status


Our friend @siggiboy81 brings us a very interesting publication, he talks to us about the different points of view, the different perspectives that we human beings can have when faced with different situations, he also mentions the fact of having or not having a series of habits and of going out of our comfort zone, for me the reading was very solid. Come in and take a look, I recommend it, here the link:
A change of perspective


Our dear user @introspectiva tells us about a new translator for grandparents, since they often do not understand certain words and do not have at their side who can get them out of doubt, is something that caught my attention because very rarely you see that they take into account certain populations, and I think the attention to the elderly should be more important every day, we must not forget everything that these people did for us, so somehow we must pay back. Here I leave you his link to visit him:
New translator for grandparents.

This is my top 3 this week, I hope you will join me in reading these publications, also it would be great if you join our community!

Source

The emojis used are from Bitmoji