Hive Power Up Day - December 1st 2021 - Become an Orca!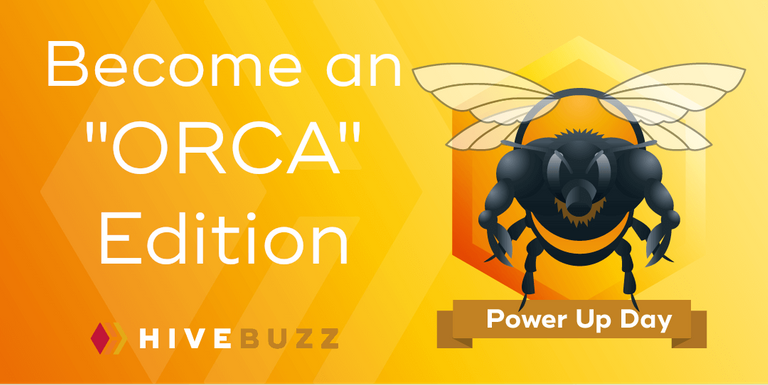 The Hive Power Up Day (PUD) is taking place on the first day of every month and the last one of this year will occur in a few days, on December 1st.

Este post está traducido al español - aquí


Une version en français de ce post est disponible - ici
Why "Become an Orca"?
TLDR; You can win a one-month 50,000 HP delegation, instantly turning you into an Orca throughout December!
Credits to @victoriabsb for this brilliant idea:

@victoriabsb
We are ending the year with a BAM!

The Hive Power Up Initiative wanted to celebrate the end of the year, the ATH of Hive Price and just how awesome is our community with a new special prize!

We want to award the community members who have been constantly growing their HP being part of our initiative from the beginning help them get to the next level that may seem like a little far away now, our amazing sponsors (@Blocktrades and @Theycallmedan) will be awarding each a delegation of 50,000 HP to 2 lucky winners [one from #HPUD, one from #HivePUD] for a whole month! So, they will become Orcas for a Month!
That means that one person from the #HPUD winners list and one from the #HivePUD winners list, who both meet the regular monthly requirements, as well as additional criteria set for this special prize, will each win a 50K HP delegation for a month!
Among the criteria that will be used to select the two winners, there is:
How much HIVE has been powered up in your account
How many PUDs in a row have you participated in
Not having done a power down in the last 5 months
Curation history
Engagement history
Read her announcement post for more information.
For more information about the next coming PUD, you can also read this post from @traciyork.
Once again, thank you to @blocktrades and @theycallmedan for their amazing contribution and support to this edition of the Hive Power Up Day!
1. The Power-Bees levels
The more HIVE you power-up on Power Up Day, the bigger your power-bee.

Read the announcement and last edition feedback the for more information on this.
2. The Power-Up Helper
The Power-Up Helper badge was introduced in the previous edition and allows you to get one more badge when helping others to power-up.

For more information on this, read the announcement post.
3. Delegations
Since the beginning of this year, we reward regular participants and those who have also been generous in helping others by providing them with a 3 weeks Hive Power delegations!
We want to reward commitment and consistency and to be eligible for a delegation, you must have completed 5 power-ups on Power Up Day in the last 5 months.
The amount of HP delegated is calculated according to the following criteria:
The levels of your power-ups (ex: you made two "level 3" and three "level 5" power-ups).
The number of people you helped to power-up and the amount involved.
The higher all the above-mentioned values, the higher the delegation you will receive.
Last month, we delegated 5746 Hive Power to 128 users.
How to get your Power Up Day badge?
You will have to power-up HIVE on the 1st day of the month.

IMPORTANT:

HiveBuzz will use UTC date and time to validate when your powered-up. Therefore, check your timezone and convert your local time to UTC before powering up! To help you not miss the moment when you can do your power-up, we added a countdown to our website.

Power-up at least 10 HIVE. This will entitle you to the smallest power-bee. The more HIVE you power up, the bigger your power-bee!

You don't have to power them up in one step. All the Hive powered up will be counted together at the end of the day.
Strictly follow these rules and this badge will be on your board!
The badges will be distributed to all successful participants at the end of the Power Up Day.
Why participate in the Hive PUD
The first reason is to have fun and get a badge!
And here are some other great reasons to power-up your HIVE:
Strengthen your influence on the blockchain with stronger votes on content, proposals and witnesses.
Earn more curation rewards. The more Hive Power you have, the more you can potentially earn back
Earn "interest" by holding Hive Power. You will also earn HIVE passively at about 3% per year of what you currently have powered up so the more HIVE you have, the more you can earn from just holding!
Finally, several amazing members, like @victoriabsb, @traciyork, @fionasfavourites, @alokkumar121, @cmplxty, @hiveph, @improv, @jeanlucsr, @livinguktaiwan, @naturalmedicine, @r1s2g3, @theycallmedan, @eddiespino, @aliento, @walterjay and others, are offering prizes that include delegations, Hive giveaways, and other cool stuff to the Hive PUD participants.
---
Be ready, Power Up and become an Orca!
---
HiveBuzz is a project created by @arcange
---
---