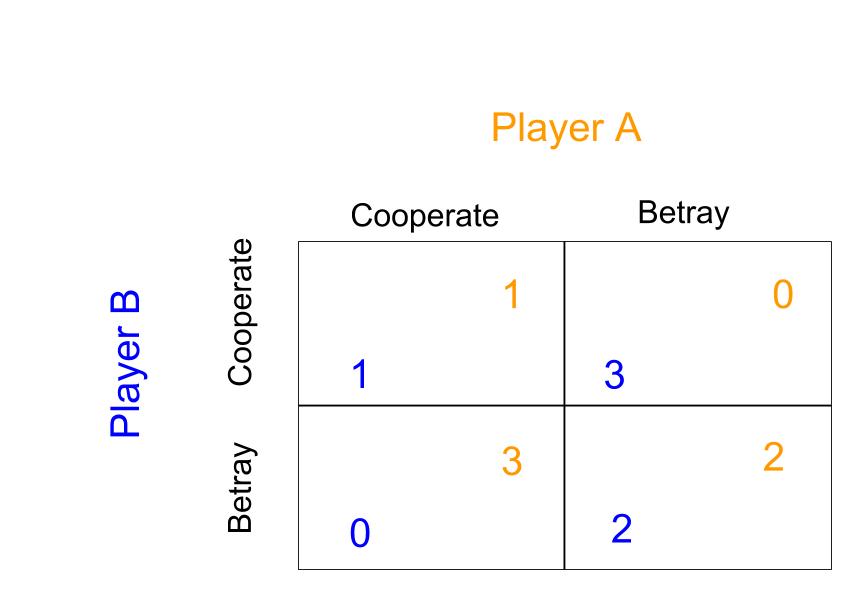 In this blog post I'm going to apply the results of some game theory science on a claim made by Ivan Karamazov in Dostoevsky's novel The Brothers Karamazov.
If God Doesn't Exist, Everything Is Permitted
You have probably heard this Dostoevsky quote before: If God doesn't exist, everything is permitted.
You have also probably heard that this quote, in this form, is nowhere to be found in Dostoevsky's writings, but is in fact a quote by Sartre. Sartre writes, in his book (actually transcript of a lecture) Existentialism is a Humanism:
Dostoyevsky once wrote: "If God does not exist, everything is permissible."[1]
Here is what Dostoevsky actually wrote—and this is with the irrelevant bits taken out:
if there is and has been any love on earth up to now, it has come not from natural law but solely from people's belief in their immortality. Ivan Fyodorovich added parenthetically that that is what all natural law consists of, so that were mankind's belief in its immortality to be destroyed, not only love but also any living power to continue the life of the world would at once dry up in it. Not only that, but then nothing would be immoral any longer, everything would be permitted, even anthropophagy. And even that is not all: he ended with the assertion that for every separate person, like ourselves for instance, who believes neither in God nor in his own immortality, the moral law of nature ought to change immediately into the exact opposite of the former religious law, and that egoism, even to the point of evildoing, should not only be permitted to man but should be acknowledged as the necessary, the most reasonable, and all but the noblest result of his situation. […]
"Allow me," Dmitri Fyodorovich suddenly cried unexpectedly, "to be sure I've heard correctly: 'Evildoing should not only be permitted but even should be acknowledged as the most necessary and most intelligent solution for the situation of every godless person'! Is that it, or not?"
"Exactly that," said Father Paissy. "I'll remember."
[…]
"Can it be that you really hold this conviction about the consequences of the exhaustion of men's faith in the immortality of their souls?" the elder suddenly asked Ivan Fyodorovich.
"Yes, it was my contention. There is no virtue if there is no immortality."
[...]
And did you hear his stupid theory just now: 'If there is no immortality of the soul, then there is no virtue, and therefore everything is permitted.' […] A tempting theory for scoundrels ... […] .. . not for scoundrels, but for boasting schoolboys with 'unresolved depths of thought.' He's just a show-off […] His whole theory is squalid. Mankind will find strength in itself to live for virtue, even without believing in the immortality of the soul! Find it in the love of liberty, equality, fraternity..."[2]
Now you know why Sartre shortened it.
I won't be using the entire quoted passage here, but I thought it might be useful for you to have it handy in case you need it in the future, seeing how the everything is permitted quote is quite the cultural meme.
I'll only be talking about a small part of the passage, and that's this:
Evildoing should not only be permitted but even should be acknowledged as the most necessary and most intelligent solution for the situation of every godless person.[ibid.]
The reason I chose this part, is because it struck me as something eminently testable by the methods of game theory.
Fighting Out Of The Red Corner...
Enter Dawkins. I first read about this game theory tidbit in his The Selfish Gene, in a chapter titled Nice Guys Finish First. It was the only chapter in the book that was made into a BBC documentary featuring the same title and presented by the same author. Now you know that when I pick a chapter to open from a book cellar to serve to my blog guests, I only pick the best! 1986 says the date on the doc. That's only two years younger than I. Vintage is the word!
The chapter is devoted to explaining how organisms that are nice to other organisms tend to out-compete organisms that are ruthlessly selfish like Dostoevsky's—or, rather, Ivan Karamazov's.
To make this issue easier to study, a game called Prisoner's Dilemma, among others, was created. Though the game is made up, Dawkins informs us that:
Whole shelves in libraries are devoted to the ramifications of this beguiling game.[3]
Pure intellectual masturbation, you say? Not according to Dawkins:
As a biologist, I agree with Axelrod and Hamilton that many wild animals and plants are engaged in ceaseless games of Prisoner's Dilemma, played out in evolutionary time.[ibid.]
I'll spare you the details of how the game works, since the doc or the chapter itself or this wiki are much better explainers. But I won't spare you the spoiler: the strategy that prevails over all others is called Tit for Tat.
As you can guess from the name, it's not the most evil strategy. In fact, its first move is to cooperate. And then, it just copies the other player's moves, be they of the betray or cooperate kind.
The strategies, Dawkins says, are only limited by our ingenuity. Which is why a contest was run to elicit entries. After Tit for Tat was declared the winner of the first tournament, a second tournament was run, after allowing people to analyze why the nice strategies had performed so well. Armed with this knowledge, the strategy submitters tweaked until they arrived at strategies that exploited the nice ones.
But, alas, not only did Tit for Tat win over 62 other strategies again, but:
All but one of the top 15 strategies were nice, and all but one of the bottom 15 were nasty.[ibid.]
That's quite the smackdown of poor Ivan Karamazov's theory!
Dawkins 1, Dostoevsky 0!
To the extent that he endorsed the words he put in Ivan's mouth, that is. Ivan is an atheist, after all.
And I guess now we know why game theory also says we should wear a mask, rather than sneeze all over people's mugs:
Game theory shows us that, regardless of what an individual believes, it is in their own self-interest to wear a mask.[3]
Oh, how did I manage to slip that in here! :D
Bear in mind though that, since the strategies are only limited by our ingenuity, it's always possible nasty strategies will do better, and how well a strategy will do depends on the surrounding strategy milieu.
The Battle of the Big Ds, Summary
We've learned some important things in this blog post. Like the fact that if Sartre was put in charge of editing Dostoevsky's novels, they would be the length of a pamphlet. Or the fact that analogies can be drawn between serving guests wine and quoting from chapters of a book. Both very important insights, to be sure, but none as important as that evolution favors niceness and that niceness is the "most intelligent solution for the situation of every godless person." Usually.
Hopefully.
See you in the next one!
REFERENCES