Dear readers, drones are unmanned vehicles or aircraft that can be handled remotely and have begun to be used in different areas because of the great potential it has when wanting to obtain information on land surfaces where it is often difficult to reach in a short time, the advantage of this type of device is that they can have integrated cameras and sensors that allow to capture images and collect data to make successful diagnoses on agricultural areas.
Collecting information with the use of drones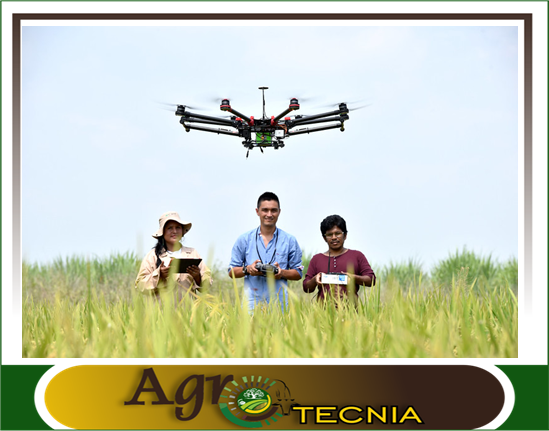 Design made by @amestyj 2020, with image of public domain CIAT 2016
In the agricultural areas, this technological device has become a useful tool, since it speeds up the work required in the field, taking into account that many agricultural production units have large areas of land, even exceeding 1000 hectares (1 ha=10,000 m2), part of which may have hilly areas that are difficult for the producer to access, such as forest areas intended to maintain the balance of the ecosystem.
Based on these premises, generally the use given to drones in agricultural areas is for the topographic survey of the surface, since this allows the digitization of a fraction of the area intended for crops and the producer will know exactly the area of his farm and can distribute the different items you want to sow in an orderly manner, allocating a certain amount of land for each item.
With the drones, you can obtain aerial photographs that can provide relevant information about the farm, some devices are equipped with cameras that are capable of creating 3D digitized models, being able to measure surface and volume of the areas. Besides, videos can also be recorded that allow to observe if there was any change in the boundaries of the farm, the best thing is that these activities are performed in record time, according to some companies that provide such services, between 150 to 500 hectares can be diagnosed per day.
Rice crop monitoring at CIAT headquarters in Colombia.
Design made by @amestyj 2020, with image of public domain CIAT 2016
On the other hand, some researchers from Colombian Universities such as González, Amarillo, Amarillo and Sarmiento (2015), indicated that in precision agriculture drones are essential, because, through some devices, agricultural remote sensing can be performed by obtaining information on plant species present on agricultural surfaces without being in contact with them, The same authors mention that hyperspectral cameras are used to capture information of the electromagnetic spectrum including the visible spectrum and added to it infrared or thermal cameras to obtain different spectrum bands.
It is impressive how through the drones by means of images and information captured by sensors, it is possible to make diagnoses on fertilization, disease detection and timely determination of the optimal time for harvesting crops, among other important activities for agricultural production.
Dear readers, once again we can observe the significant advances of technology in the agricultural and livestock sector, technologies that with a balanced use can have great success, since, the use of this type of tools by professionals of the agricultural area would generate incredible results due to the wide knowledge on agronomic aspects that present what would be translated in an optimal analysis on the current situation of the farm. This type of technology should be integrated into the countries' agricultural plans so that small and medium-scale producers can make use of these tools.
- González, A.; Amarillo, G.; Amarillo, M. and Sarmiento, F. (2015). Drones applied to precision agriculture. Specialized Engineering Magazine, Volume 10.

From agrotecnia we reiterate our gratitude to our followers and all communities that value our agricultural content, this commits us to continue sharing quality information with the entire beehive.