¡Hola Hivers! Feliz día para todos. Espero que sus actividades sean productivas y que todo lo que tienen planificado para hoy les salga bien. En esta oportunidad, quiero compartir con ustedes 3 Canales de Telegram ⭐️ donde pueden encontrar ¡CURSOS GRATIS!. Así es GRATIS. Aquí ⬇️ encontraran los accesos directos a los canales y más información al respecto.
Hello Hivers! Happy day to all. I hope your activities are productive and everything you have planned for today goes well for you. In this opportunity, I want to share with you 3 Telegram Channels ⭐️ where you can find FREE COURSES!. That's right FREE. Here ⬇️ you will find the direct accesses to the channels and more information about it.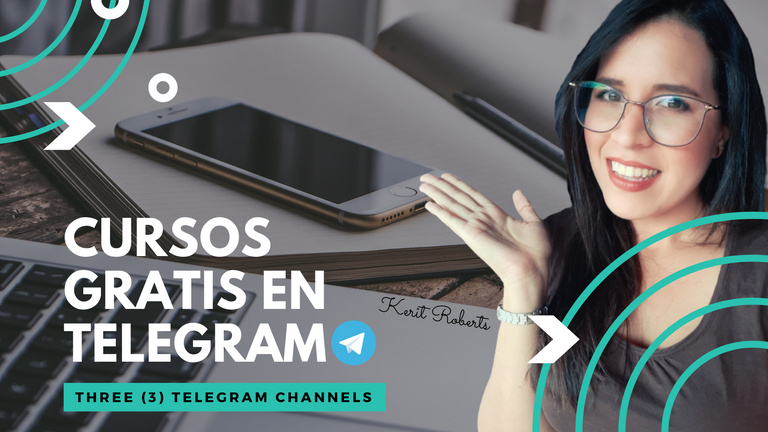 Imagen hecha por mí @keritroberts | Image made by me in Canva
Quiero agradecer en primer lugar, a @arlettemsalase y a @leo-audio por compartir conmigo y con todo el #TeamTwitterVzla el canal de Tus Ofertas Geek y en segundo lugar quiero agradecer a la bella @lucianav por compartir con nosotros los dos (2) canales Free Online Courses y Paid Udemy Courses. Así que este post se trata de una recopilación de la información que mis amigos me compartieron.
I want to thank first of all, @arlettemsalase and @leo-audio for sharing with me and the whole #TeamTwitterVzla the Your Geek Deals channel and secondly I want to thank the beautiful @lucianav for sharing with us the two (2) channels Free Online Courses and Paid Udemy Courses. So this post is about a compilation of the information my friends shared with me.

✔ CANAL 1 | CHANNEL 1: Tus Ofertas Geek
El primero que quiero compartir con ustedes, fue el primero en el cual me registre. En mi opinión es un excelente canal, donde encontraras cursos, juegos, en muchas ocasiones con cupones del 100% GRATIS. Hay cursos y juegos en idioma Español e Ingles, de plataformas como Udemy, Epíc Store, Cubebrush, PlayStore, GOG, entre otras.
The first one I want to share with you, was the first one in which I registered. In my opinion it is an excellent channel, where you will find courses, games, often with coupons 100% FREE. There are courses and games in Spanish and English language, from platforms like Udemy, Epic Store, Cubebrush, PlayStore, GOG, among others.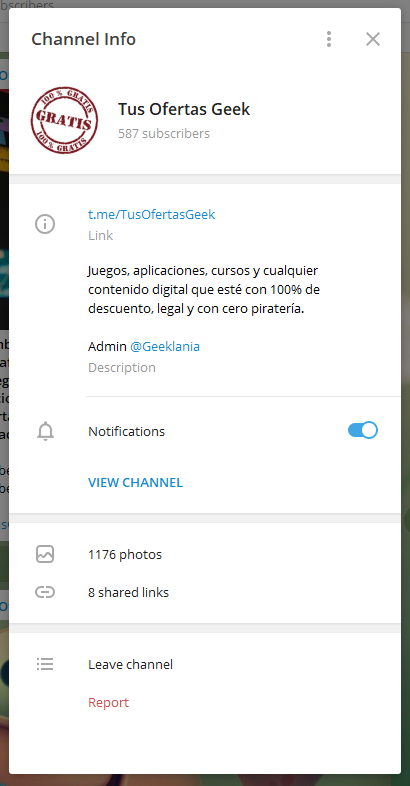 Descripción Oficial del Canal: Juegos, aplicaciones, cursos y cualquier contenido digital que esté con 100% de descuento, legal y con cero piratería.
Description: Games, apps, courses and any digital content that is 100% discounted, legal and with zero piracy.

✔ CANAL 2 | CHANNEL 2: Freebies Global
Este canal, me parece interesante, como indica en su descripción esta Libre de SPAM, por lo tanto vas a recibir información relevante. Lo único de este, es que la mayoría de cursos, aplicaciones, juegos , ebooks y otros están en idioma Ingles y considero que esta sería la única limitación para algunas personas.
I find this channel interesting, as indicated in its description it is SPAM FREE, so you will receive relevant information. The only thing about it, is that most of the courses, applications, games, ebooks and others are in English language and I consider that this would be the only limitation for some people.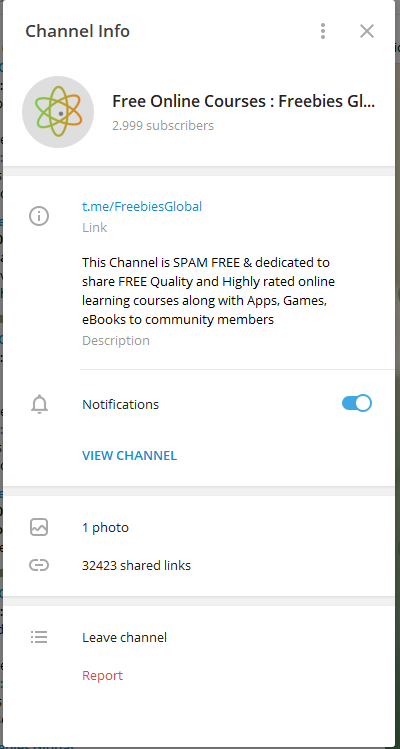 Descripción Oficial del Canal: Este canal es libre de SPAM y está dedicado a compartir cursos de aprendizaje en línea de calidad y altamente calificados junto con aplicaciones, juegos y libros electrónicos para los miembros de la comunidad.
Description: This Channel is SPAM FREE & dedicated to share FREE Quality and Highly rated online learning courses along with Apps, Games, eBooks to community members

✔ CANAL 3 | CHANNEL 3: Paid Udemy Courses
Este último canal de mi recopilación, esta centrado más en cursos disponibles en la plataforma Udemy, con cupones que otorgan el 100% del pago del curso, es decir, son gratis. De igual forma que el canal anterior, todos los cursos disponibles aquí son en idioma ingles.
This last channel of my compilation, is focused more on courses available on the Udemy platform, with coupons that grant 100% of the payment of the course, that is to say, they are free. Like the previous channel, all the courses available here are in English.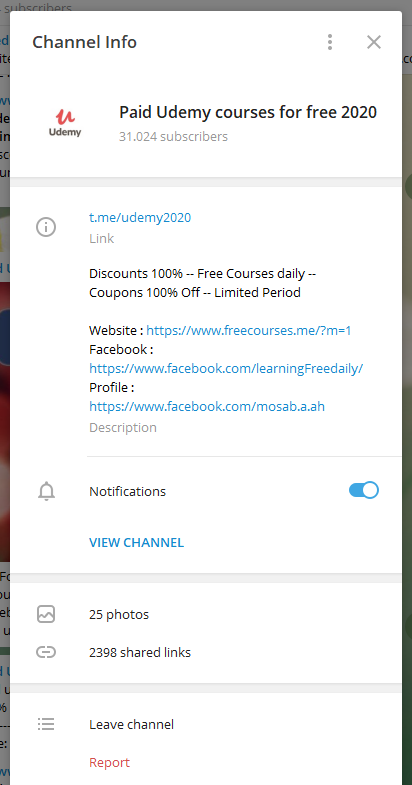 Descripción Oficial del Canal: Descuentos 100% -- Cursos gratuitos a diario -- Cupones 100% de descuento -- Periodo limitado
Description: Discounts 100% -- Free Courses daily -- Coupons 100% Off -- Limited Period

Palabras Finales | Final Words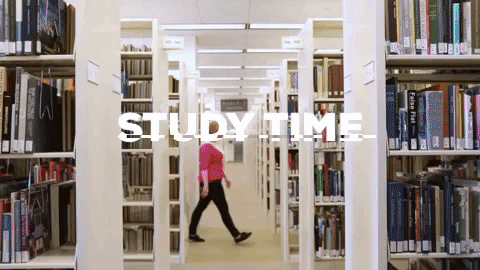 FUENTE | SOURCE
Finalmente, quiero destacar que estos Canales ofrecen cursos de diversas categorías y de variada calidad. Por eso, es que ustedes serán los jueces a la hora de seleccionar y realizar alguno. Por otra parte, es importante mencionar que los cupones tienen fecha de caducidad, es por eso que cuando veas un curso interesante te inscribas de una vez, para no perder la oportunidad.
Ahora me despido, espero que esta publicación haya sido útil para ustedes. Si prueban los cursos, o conocen de otros canales relacionados a esto, me pueden dejar sus experiencias en los comentarios. Un gusto escribirles, les deseo un lindo día y ¡buenas vibras para todos! 🌠
Finally, I would like to emphasize that these Channels offer courses of various categories and of varying quality. That is why you will be the judges when it comes to selecting and carrying out any of them. On the other hand, it is important to mention that the coupons have expiration date, that's why when you see an interesting course you should sign up at once, so you don't lose the opportunity.
Now I say goodbye, I hope this publication has been useful for you. If you try the courses, or know of other channels related to this, you can leave me your experiences in the comments. A pleasure to write to you, I wish you a nice day and good vibes to everyone! 🌠

📌 Separador de texto | Text separator: separadores-de-texto-para-blog
📌 Texto traducido en | Text translated in: DeepL
📌 Las imágenes son capturas de pantalla que tome a los canales de Telegram | The images are screenshots I took to Telegram channels.