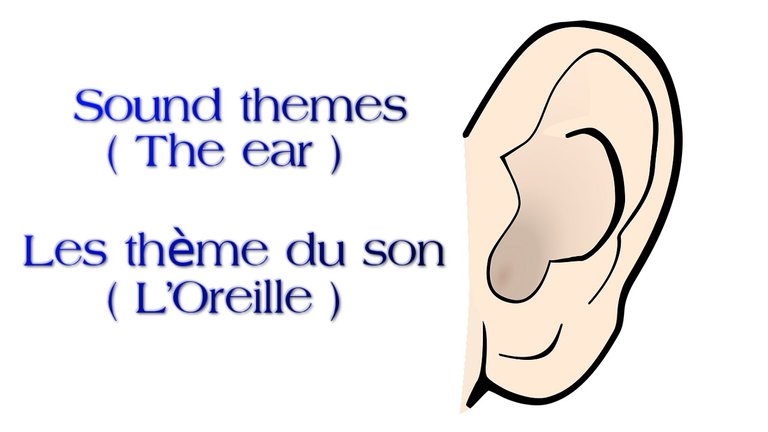 In my previous posts, I shared :
Chapter 1 :
Chapter 2 :
In this post, I would like to share about '' The ear ''.
I'll translate it from French to English !

1. The ear :
1.1. Presentation :
Ear, organ of hearing and balance. In mammals, it is made up of three parts, the outer ear, the middle ear, and the inner ear.
L'Oreille :
Présentation :
Oreille, organe de l'audition et de l'équilibre. Chez les mammifères, elle est constituée de trois parties, l'oreille externe, l'oreille moyenne et l'oreille interne.
1.2. Comparative anatomy :
1.2.1. Inner ear :
An inner ear is found in all vertebrates. It is the oldest structure from an evolutionary point of view; it would have appeared at least 500 million years ago. It is made up of membranous sacs containing cells used for balance and hearing. It includes semicircular canals, involved in the control of balance, the number of which has increased during evolution: there is one in hagfish, two in lamprey. These three channels are placed in perpendicular planes corresponding to the three dimensions of space.
1.2. Anatomie comparé :
1.2.1. Oreille interne : On trouve, chez tous les vertébrés, une oreille interne. C'est la structure la plus ancienne du point de vue évolutif ; elle serait apparue il y a au moins 500 millions d'années. Elle est constituée de sacs membraneux renfermant des cellules servant à l'équilibre et à l'audition. Elle comprend des canaux semi-circulaires, impliqués dans le contrôle de l'équilibre, dont le nombre a augmenté au cours de l'évolution : on en compte un chez les myxines, deux chez la lamproie. Ces trois canaux sont placés selon des plans perpendiculaires correspondant aux trois dimensions de l'espace.
1.2.2. Middle ear :
The middle ear is newer. It dates back around 250 million years and is only found in tetrapods ("four-legged" vertebrates). It is in fact only necessary in an aerial environment: in an aquatic environment, sound waves can easily pass from the external environment to the inner ear because there is no appreciable difference in density between the environment and the air. inner ear, which is filled with water. On the other hand, the sounds transmitted in the air, the density of which is a thousand times lower than that of water, cannot easily pass into the inner ear of terrestrial animals (at least high-frequency sounds, i.e. i.e. greater than 1000 Hz). A system that amplifies the intensity of sound waves is therefore necessary for terrestrial tetrapods; it is the middle ear that plays this role.
1.2.2. Oreille moyenne :
L'oreille moyenne est plus récente. Elle remonte à 250 millions d'années environ et ne se rencontre que chez les tétrapodes (vertébrés à « quatre pattes »). Elle n'est en effet nécessaire que dans un environnement aérien : dans un milieu aquatique, les ondes sonores peuvent facilement passer du milieu extérieur à l'oreille interne car il n'y a pas de différence de densité appréciable entre l'environnement et l'oreille interne, qui est remplie d'eau. En revanche, les sons transmis dans l'air, dont la densité est mille fois inférieure à celle de l'eau, ne peuvent passer facilement dans l'oreille interne des animaux terrestres (du moins les sons de haute fréquence, c'est-à-dire supérieure à 1 000 Hz). Un système amplifiant l'intensité des ondes sonores est donc nécessaire aux tétrapodes terrestres ; c'est l'oreille moyenne qui joue ce rôle.
1.2.3. Outer ear :
The outer ear is the most recent, having appeared less than 200 million years ago: it is only found in mammals. It includes a pavilion (made up of cartilages and connective and adipose tissue) which reflects sound waves and directs them to the eardrum.
1.2.3. Oreille externe :
L'oreille externe est la plus récente, puisqu'elle est apparue il y a moins de 200 millions d'années : on ne la trouve que chez les mammifères. Elle comprend un pavillon (constitué de cartilages et de tissus conjonctif et adipeux) qui réfléchit les ondes sonores et les dirige vers le tympan.
1.3. Structure of the human ear :
1.3.1. Outer ear :
The outer ear is made up of a cartilaginous pinna and an external ear canal, about 3 cm long, which penetrates into the rock. The lining of the ear canal is covered with a waxy substance, cerumen, which comes from the secretion of specialized glands.
1.3. Structure de l'oreille humaine :
1.3.1. Oreille externe :
L'oreille externe est constituée d'un pavillon cartilagineux et d'un conduit auditif externe, d'environ 3 cm de long, qui pénètre dans le rocher. La paroi du conduit auditif est recouverte d'une substance cireuse, le cérumen, provenant de la sécrétion de glandes spécialisées.
4.3.2. Middle ear :
The middle ear is formed primarily by the tympanic cavity, containing the mechanism for transmitting sound waves from the outer ear to the inner ear, and by the Eustachian tube (named after the anatomist who has it). described, Bartolomeo Eustachio).
The eardrum begins with the tympanic membrane, also called the eardrum, which separates it from the outer ear. At its other end, the bony wall is pierced with two small holes, the oval window and the round window, which separate the fluid chamber from the inner ear and which are each closed by a membrane. Inside, the eardrum is filled with air and features a chain of three bones, hammer, anvil and stirrup. The hammer, arranged roughly vertically, attaches to the eardrum along the entire length of its handle and articulates through its head with the anvil, which in turn articulates with the stirrup. The latter is triangular and its base (the plate), wide and flattened, rests on the oval window.
4.3.2. Oreille moyenne :
L'oreille moyenne est formée essentiellement par la caisse du tympan, contenant le mécanisme de transmission des ondes sonores de l'oreille externe vers l'oreille interne, et par la trompe d'Eustache (du nom de l'anatomiste qui l'a décrite, Bartolomeo Eustachio).
La caisse du tympan commence par la membrane tympanique, encore appelée tympan, qui la sépare de l'oreille externe. À son autre extrémité, la paroi osseuse est percée de deux petits orifices, la fenêtre ovale et la fenêtre ronde, qui séparent la caisse des liquides de l'oreille interne et qui sont fermés chacun par une membrane. À l'intérieur, la caisse du tympan est remplie d'air et comporte une chaîne de trois osselets, le marteau, l'enclume et l'étrier. Le marteau, disposé à peu près verticalement, s'attache au tympan sur toute la longueur de son manche et s'articule par sa tête avec l'enclume, laquelle s'articule à son tour avec l'étrier. Ce dernier est triangulaire et sa base (la platine), large et aplatie, s'appuie sur la fenêtre ovale.
1.3.2. Inner ear :
The inner ear, or labyrinth, is made up of a system of bony canals filled with a liquid, the perilymph, in which there are membranous canals (themselves filled with another liquid, the endolymph) and of which the wall is lined with sensory cells.
In its front part, the labyrinth is called the cochlea (or snail, because of its shape) and contains the organ of hearing, connected to the brain by the cochlear nerve. The posterior labyrinth, or vestibular apparatus, contains the organs of balance, connected to the brain through the vestibular nerve. This device actually comprises a bulge, the vestibule proper, into which open three semicircular canals, shaped like semicircles and arranged approximately at right angles to each other. The two nerves, cochlear and vestibular, enter the internal auditory canal to form the auditory nerve.
1.3.3. Oreille interne :
L'oreille interne, ou labyrinthe, est constituée d'un système de canaux osseux remplis d'un liquide, la périlymphe, dans laquelle se trouvent des canaux membraneux (eux-mêmes remplis d'un autre liquide, l'endolymphe) et dont la paroi est garnie de cellules sensorielles.
Dans sa partie antérieure, le labyrinthe est appelé cochlée (ou limaçon, en raison de sa forme) et renferme l'organe de l'audition, connecté au cerveau par le nerf cochléaire. Le labyrinthe postérieur, ou appareil vestibulaire, contient les organes de l'équilibre, reliés au cerveau par le nerf vestibulaire. Cet appareil comprend en fait un renflement, le vestibule proprement dit, sur lequel s'ouvrent trois canaux semi-circulaires, en forme de demi-cercles et approximativement disposés à angle droit les uns par rapport aux autres. Les deux nerfs, cochléaire et vestibulaire, s'engagent dans le conduit auditif interne pour former le nerf auditif.
As you see we have a whole world in our ears, and it's really fantastic to think about how all this was created and who made such design.
I hope you enjoy learning about the anatomy of the ear even if it's not related to technology.
It's really awesome to learn about all this and to know how every part of our body works.
---
Posted with STEMGeeks