¡Hola Hiver! / ¡Hi Hiver!
Hoy te comentaré un signo vital muy sencillo y práctico que toda persona puede medir y realizar aunque no tenga conocimientos especiales en medicina o de anatomía y es "El pulso arterial".
I will tell you about a simple and practical vital sign that everyone can measure and perform even if they do not have special knowledge in medicine or anatomy and it is "The arterial pulse".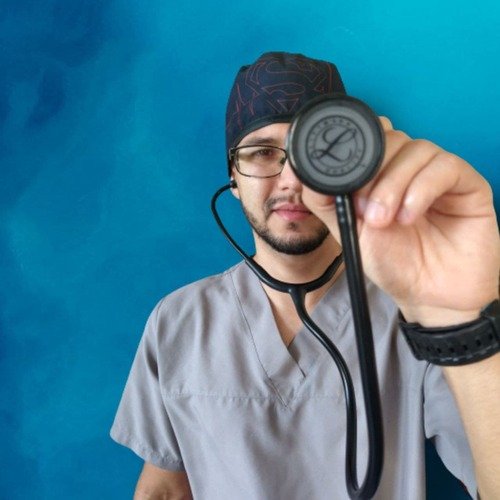 Foto de mi galería personal. Editada en PicsArt.
---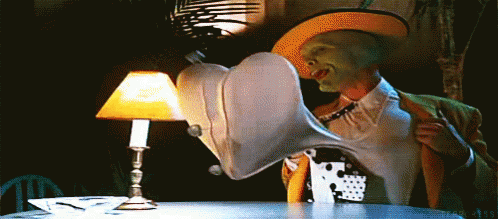 El pulso arterial es el número de latidos cardíacos por minuto. Se obtiene por expansión de las arterias que da la circulación de la sangre bombeada por el corazón y se palpa por lo general en partes del cuerpo donde las arterias se encuentran más próximas a la piel.
The arterial pulse is the number of heartbeats per minute. The pulse is obtained by expansion of the arteries given by the circulation of blood pumped by the heart and is usually felt in parts of the body where the arteries are closest to the skin.
Valores del pulso normal en estado de reposo:
Niños de 1 a 10 años: 70 - 120 pulsaciones por minuto.
Niños de más de 10 años y adultos de 60 - 100 pulsaciones por minuto.
Atletas de alto rendimiento: 40 - 60 latidos por minuto.
Normal resting pulse rate values:

Children from 1 to 10 years old: 70 to 120 pulses per minute.
Children over 10 years of age and adults: 60 to 100 pulses per minute.
High performance athletes: 40 to 60 beats per minute.
El pulso rápido se conoce como (Taquisfigmia).
El pulso lento se conoce como (Bradisfigmia).
---
| Causas de Taquisfigmia | Causas de Bradisfigmia |
| --- | --- |
| Infecciones | Enfermedad Cardíaca |
| Deshidratación | Genética |
| Arritmias | Enfermedad autoinmune (LUPUS) |
| Estres, alcohol o drogas | Enfermedades neurológicas |
| Abuso de cafeína | Medicamentos (antihipertensivos) |
| Sangrado moderado - severo | Atletas de alto rendimiento |
A fast pulse is known as (hyperkinetic pulse).
A slow pulse is known as (hypokinetic pulse).
| Causes of hyperkinetic pulses | Causes of hypokinetic pulses |
| --- | --- |
| Infections | Heart Disease |
| Dehydration | Genetics |
| Arrhythmias | Autoimmune Disease (LUPUS) |
| Stress, alcohol or drugs | Neurological diseases |
| Caffeine abuse | Medications (anti-hypertensives) |
| Moderate to severe bleeding | High-performance athletes |
---
¿Como puedo tomar las pulsaciones?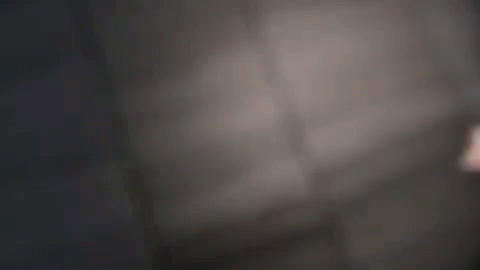 Para poder tomar las pulsaciones es importante:
Coloque las puntas de los dedos índice y medio en la zona elegida.

No presionar con mucha fuerza ni usar el pulgar.

Use un reloj de pared o un reloj de pulsera en la otra mano y cuente los latidos que siente durante 60 segundos o durante 30 segundos y multiplique por dos.
How can I take the pulse rate?

In order to take the pulsations it is important to:

Place the tips of the index and middle fingers on the chosen area.
Do not press too hard or use your thumb.
Use a wall clock or wristwatch on the other hand and count the heartbeat you feel for 60 seconds or for 30 seconds and multiply by two.
---
Zonas para tomar el pulso arterial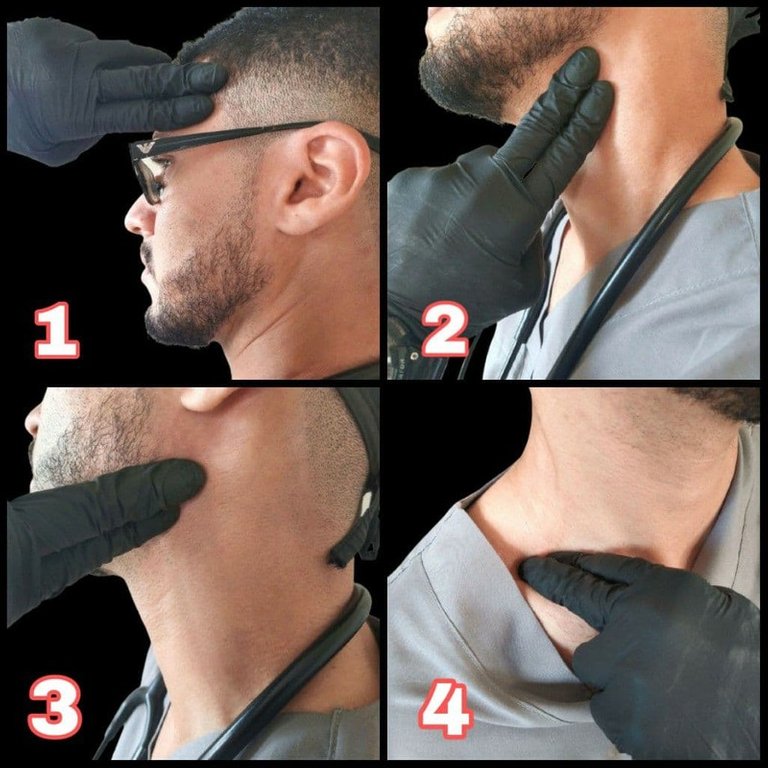 Fotos personales. Editada en PicsArt.
1.- Pulso Temporal.
2.- Pulso Carotídeo.
3.- Pulso Facial.
4.- Pulso Subclavio.
1.- Temporal Pulse.
2.- Carotid Pulse.
3.- Facial Pulse.
4.- Subclavian pulse.
---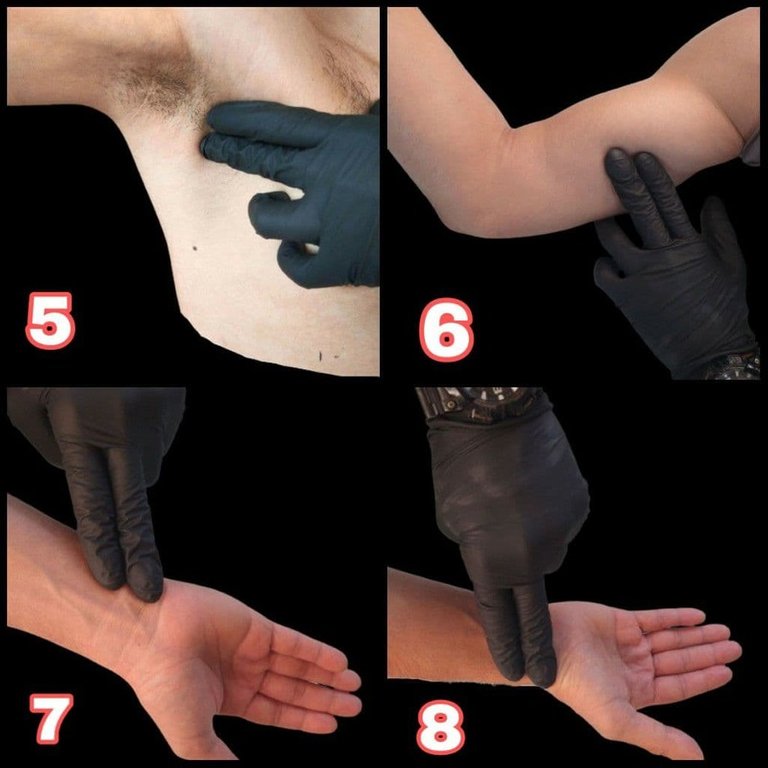 Fotos personales. Editada en PicsArt
5.- Pulso Axilar.
6.- Pulso Braquial o humeral.
7.- Pulso Cubital.
8.- Pulso Radial.
5.- Axillary pulse.
6.- Brachial or humeral pulse.
7.- Ulnar pulse.
8.- Radial pulse.
---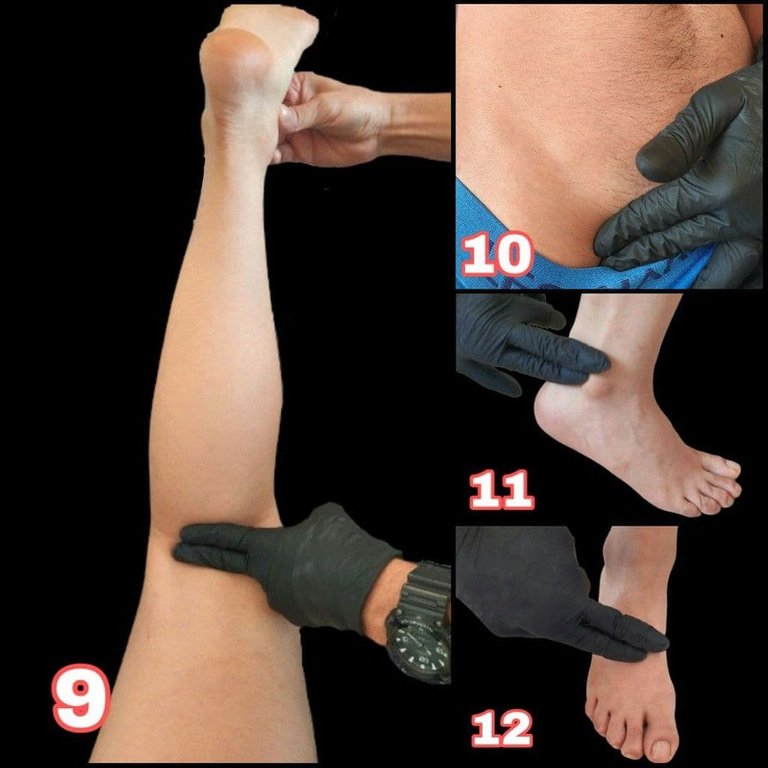 Fotos personales. Editada en PicsArt.
9.- Pulso Popliteo.
10.- Pulso Femoral.
11.- Pulso Tibial Posterior.
12.- Pulso Pedio
9.- Popliteal Pulse.
10.- Femoral Pulse.
11.- Posterior Tibial Pulse.
12.- Pedial Pulse.
---
El pulso arterial es uno de los signos vitales que nos puede ayudar de forma rápida para saber si algo anda mal y en situaciones de emergencia ayudar a determinar si el corazón está bombeando sangre.
The arterial pulse is one of the vital signs that can quickly help us to know if something is wrong and in emergency situations help determine if the heart is pumping blood.
Comenta si te gusto y dale like para seguir subiendo este tipo de publicaciónes. ¡Saludos!
Comment if you like it and give like to keep uploading this kind of publications. Greetings!
---
---
Traducido en Deepl.com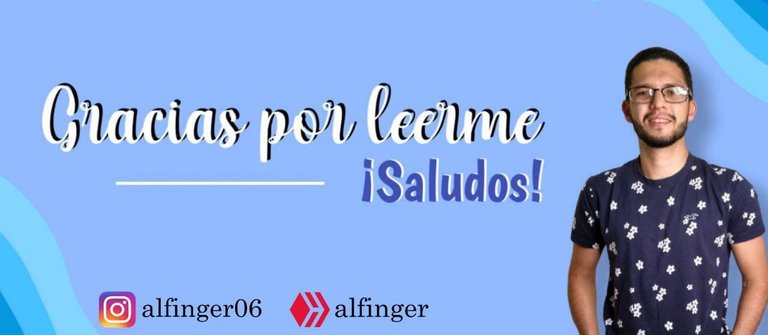 Banner editado en PicsArt