The first victim among the camera business corporations, to be precise. No, they are not filing for a default… yet. But they are selling their Imaging Division by the end of the year to JPI (Japan Industrial Partners). What will it bring?

As I was growing and getting interest in photography, among the 35mm (leica) format SLR camera producers, there was a fierce competition. Among many, mostly German and Japanese camera manufacturers, about a dozen stood up. Leica dominated in the rangefinder segment, and made quite good SLRs, but they were nothing special comparing to the competition. Their SLRs retained glory of Leica company, and were so overpriced that they were mostly seen as a status symbol. Contax was good and inovative, but didn't have the resources to compete with the best. Yashica and Konica made quite good cameras which found many fans, and Fujifilm had its own brand – Fujica. You could also chose Ricoh or Chinon, and Mamiya made very good SLRs as a side job of their real passion – medium format. In the USSR Kiev had a few nice models like Kiev 20, which came in Nikon F mount and Zenit made very cheap but decent cameras with M42 screw mount. But the kings of the hill were the big five: Nikon, Canon, Pentax, Minolta and of course – Olympus.
Glory days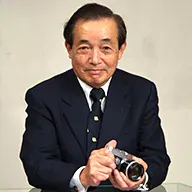 Olympus began its Imaging business with the manufacture and sale of a camera using the photographic Zuiko lens in 1936, but acquired a global fame with the legendary camera designer
Yoshihisa Maitani
, creator of the best known and most loved Olympus system cameras, extremely compact half-frame reflex named Pen F and small and tough models OM-1 and OM-2. Thanks to an exceptionaly quiet (for the SLR standards) cloth shutter, Eliot Erwitt could use OM line for his magical street photography, instead of a standard but dreadfully overpriced Leica rangefinders.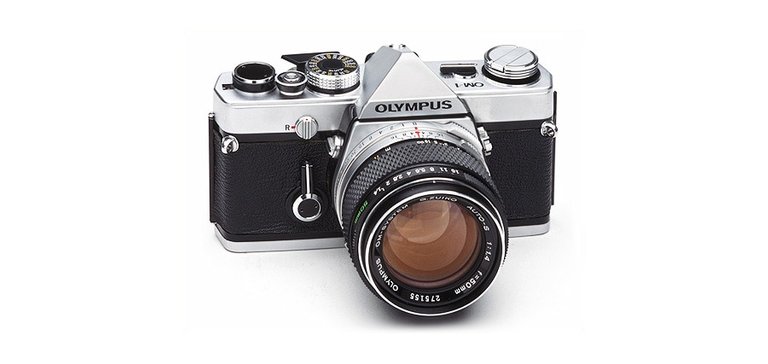 Olympus OM-1. Source: Olympus History
In the digital age, Olympus was, together with Panasonic, a pioneer to the 4/3 (w/mirror) and micro 4/3 (mirrorless) systems. And they have continued creating small professional systems with a distinct design connection with the famous analog SLR models, and a new line of wonderful – now digital – M.Zuiko optics. Family resemblance can be easily seen in their digital incarnations of OM line in professional model OM-D E-M1, and especially in an amazingly compact, lightweight and powerful OM-D E-M5 camera:

Source: Olympus Asia
Together with the digital OM line, MFT platform integrated probably the most beautiful digital incarnation of its analogous ancestor – Olympus PEN F: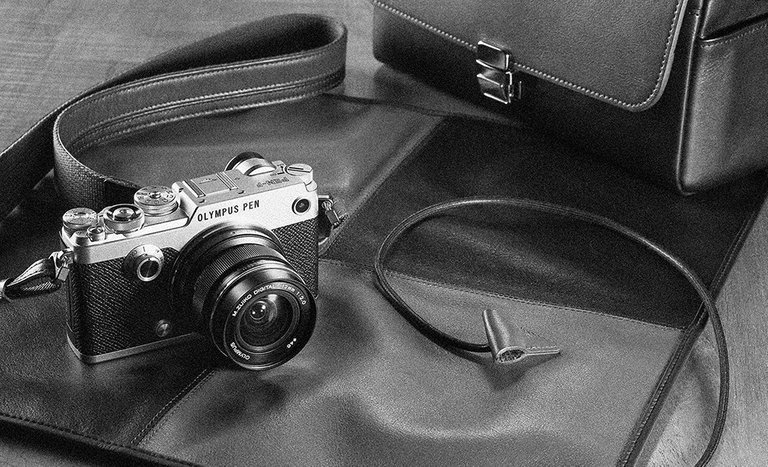 Source: Olympus Asia
Aside of quality build, attractive design, extremely fast single shot AF and excellent optics, Olympus has made an industry leading IBIS system, great tradition of top-notch photo quality, and impressive weather sealing…
Oh, speaking of weather sealing, Olympus is a producer of probably the most capable 'tough' compact camera you can find around – TG-6:

The Downfall
Alas, Technical excellence never spared Olympus of great corruption affairs, and low profit margins. Good products could not really stand up to the new wave of competition, and the company was struggling to survive since the beginning of digital era. Unfortunately, the big wave of Coronavirus hoax was the proverbial straw that broke camel's back. On June 24th, Olympus signed a memorandum of understanding (MOU) with Japan Industrial Partners, Inc. (JIP), which commits 'further discussions about the transfer of Olympus' long-standing Imaging business, known for its digital cameras and IC recorders, to JIP by the end of 2020.' An euphemism stating that they couldn't do anything else but sell. Full statement you can read at this link. Most interesting point would be this one:
2. Imaging Business after the Transaction
NewCo will succeed and maintain the research and development functions and manufacturing functions globally as reformed under the contemplated structuring reforms to continue to offer high-quality, highly reliable products; and also continue to provide supports to the imaging solution products that have been distributed by Olympus.
So, Olympus imaging has a new boss who will take care of the business and clients/customers, right? We'll see. The trouble is that Japan Industrial Partners, Inc. or JIP for short, has very bad reputation. The German magazin Photografix analyzed the activity of JIP. In most cased JIP resold the companies that they bought – 14 of them in the last five years! A few examples from the beginning of the millenia:
SII Micro Parts Co., Ltd. (2003 – 2007)
Rakuten KC Co., Ltd. (2004 – 2005)
Laserfornt Technologies, Inc. (2004 – 2007)
ITX Corp. (2012 – 2015)
BIGLOBE, Inc. (2014 – 2016)
VAIO Ltd. (2014 – ?)
KM Aluminium Co., Ltd. (2015 – ?)
At dPreview.com, Doug Janis summed up what JIP is doing. And he found that JIP is worth US$150 million, while Olympus Imaging (its camera wing) loses goes up to US$156 million. JIP has no R&D, no internal development, no engineers, nothing. They are accountants.
They are a vulture fund of privately owned equity partners designed to get around Japanese pension, retention, and servicing laws.
Conclusion?
This is very bad news for the Olympus brand and its invested customers. The Japanese news is all over this as well because JIP is notorious for Chinese outsourcing at a time when it's official domestic policy to onshore key industries. This is another example of Olympus having a tin ear.
Soon, we'll have an answer: Will Olympus continue under a better management, or we will only remember their almost cetury old history in a technology museum. And the customers? Will they tresure their rare, beautiful 2019 'pre-corona' Olympus models… or they'll come to Fujifilm?? 😉
Stay tuned!
* * *
Related posts: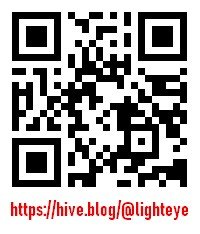 Check out ABRA and easily invest in 28 cryptocurrencies or BIT10, an index of the top cryptos. Use this link to sign up and get $25 in free bitcoin after your first Bank/Amex deposit, or 1.5% cash back when you exchange cryptos

1GZQG69sEKiMXKgGw9TcGcUCBoC4sC1ZYp