(TR)
Hepinize tekrar merhaba bugün sizlere azure ücretsiz deneme sürümü hesap nasıl açılır onu göstereceğim
(ENG)
Hello again, today I will show you how to open an Azure free trial account.
(TR)
Bir önceki konumda azure de sanal makine nasıl açılır onu anlatmıştım Buradan ulaşabilirsiniz
(ENG)
In the previous location, I explained how to open a virtual machine in azure. You can find it here
(TR)
Şimdi azure de nasıl ücretsiz deneme sürümü açarız bunu anlatacağım ilk olarak https://azure.microsoft.com/tr-tr/ sitesine gidiyoruz bizi ilk olarak aşağıda ki resimde ki ilk ekran karşılıyor
(ENG)
Now I will explain how to open a free trial version in azure, first we go to the site https://azure.microsoft.com/tr-tr/, the first screen in the picture below welcomes us.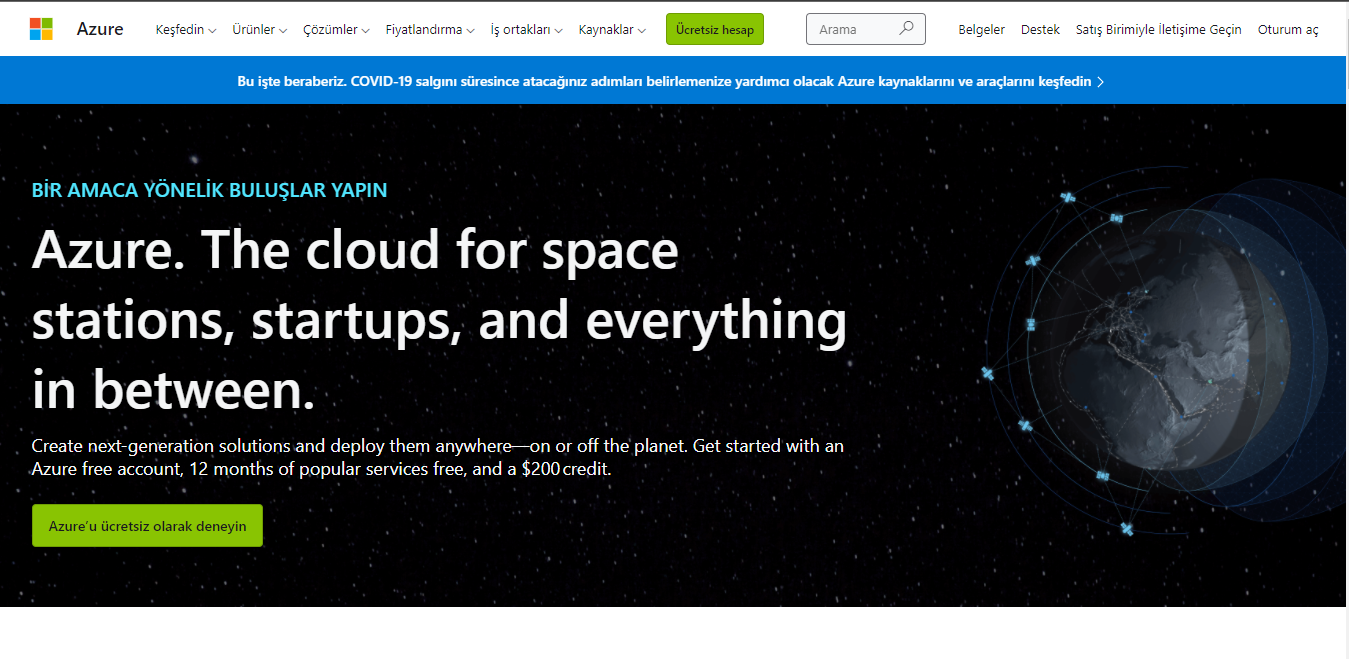 (TR)
Burada azure ücretsiz deneyin diyoruz bizi aşağıda ki resim de görüldüğü gibi oturum açma ekranına yönlendiriyor burada hesabınız var ise kendi hesabınız ile oturum açabilirsiniz yok ise yeni üyelik açıp devam edebilirsiniz
(ENG)
Here we say try azure for free, it directs us to the login screen as seen in the picture below. If you have an account, you can log in with your own account, if not, you can open a new account and continue.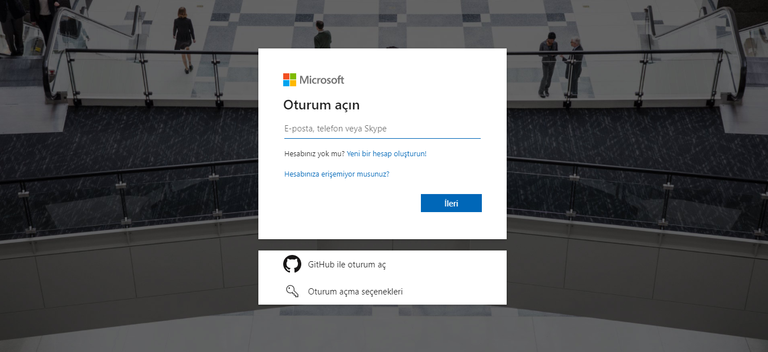 (TR)
Buradan sonra sizi kayıt sayfasına yönlendirecektir burada ad soyad girdikten sonra sizden telefon numaranızı doğrulamanızı isteyecektir daha önce denediyseniz hesabınızı açmaz bunun için sms onay sitelerden yardım alabilirsiniz ben 5sim kullanıyorum aşağıda resim de ki gibi 2 türk lirasına numara alabiliyorsunuz ve resimde ki gibi gelen kodu kod kısmına giriyorsunuz ve tikleri işaretleyip sonraki diyoruz
(ENG)
From here, it will direct you to the registration page, after entering your name and surname, it will ask you to verify your phone number. If you have tried it before, it will not open your account. You can get help from sms confirmation sites I am using 5sim, you can get a number for 2 Turkish liras as in the picture below, and you enter the code as in the picture, mark the ticks and click next.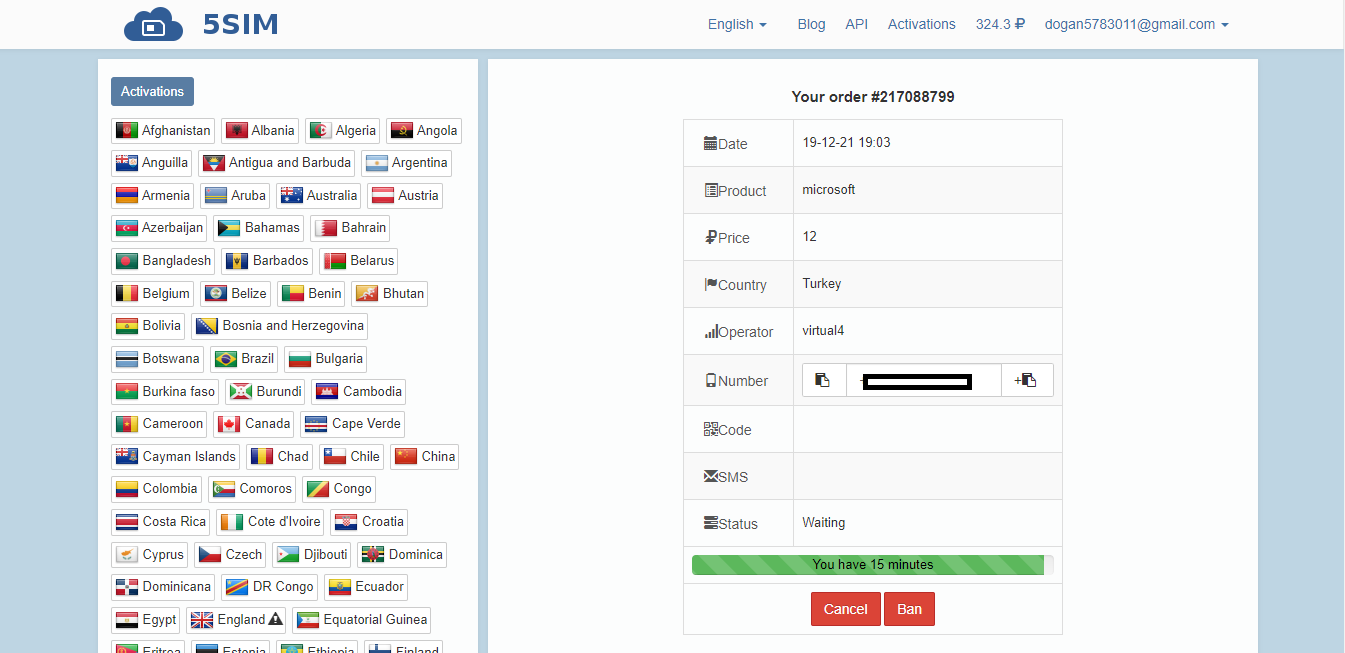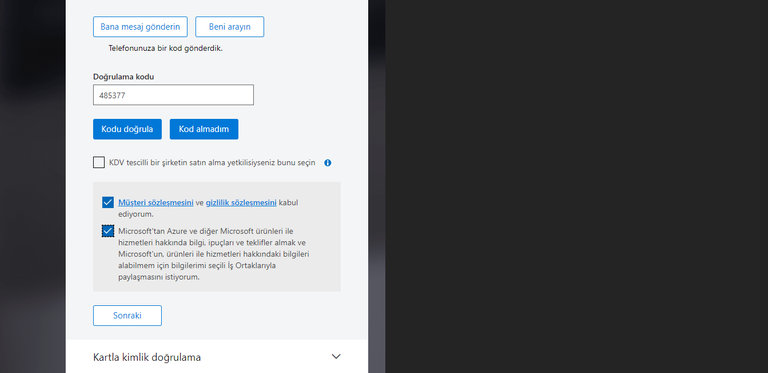 (TR)
Bu aşamada ise bizden kart bilgilerimizi ve adres bilgilerimizi girmemizi istiyor burada mutlaka kredi kartı değil sanal kart kullanın bu sayede kartınızdan hiç bir zaman para çekmez kart ve adres bilgilerimizi aşağıda ki resimde ki gibi giriyoruz ve kaydol diyoruz
(ENG)
At this stage, he asks us to enter our card information and address information, here, use a virtual card, not a credit card, so that it never takes money from your card, we enter our card and address information as in the picture below and we say register.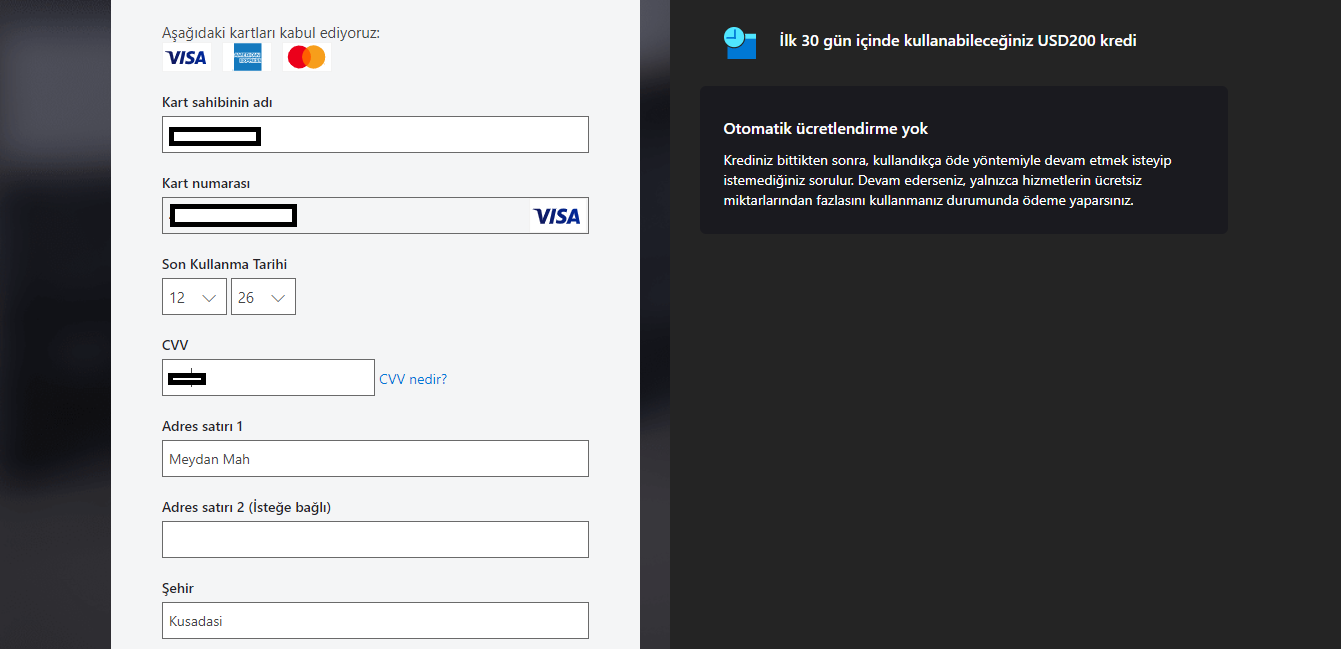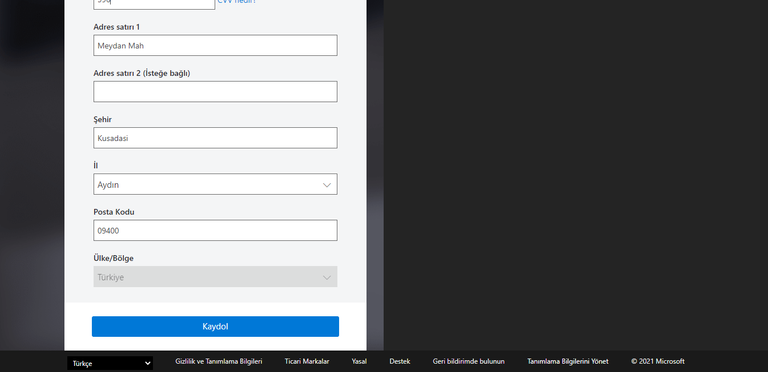 (TR)
Kayıt işleminiz sorunsuz bir şekilde tamamlanır ise sizi aşağıda ki gibi bir ekran sizi karşılıyor burada azure portala gidin sekmesine tıklıyoruz ve artık hesabımız hazır abonelik kısmından hesabınız aktif mi kontrol edebilirsiniz 200$ bakiyeniz ise yarım saat içinde yüklenecektir
(ENG)
If your registration process is completed without any problems, you will be greeted with a screen like the one below, click on the tab, go to the azure portal, and now you can check whether your account is active from the ready subscription section, and your $200 balance will be loaded in half an hour.