HELLO FRIENDS
I just purchased a 40,000mAh power bank which is a product of Remax, and I'm super excited about the deal, because it as obviously meet my needs for electricity to power my gadget, since it's been over 3 weeks since the last time we had electricity down here.
HOLA AMIGOS
Acabo de comprar un banco de energía de 40,000mAh que es un producto de Remax, y estoy súper emocionada por el trato, porque como es obvio satisface mis necesidades de electricidad para alimentar mi gadget, ya que han pasado más de 3 semanas desde la última vez que tuvimos electricidad aquí abajo.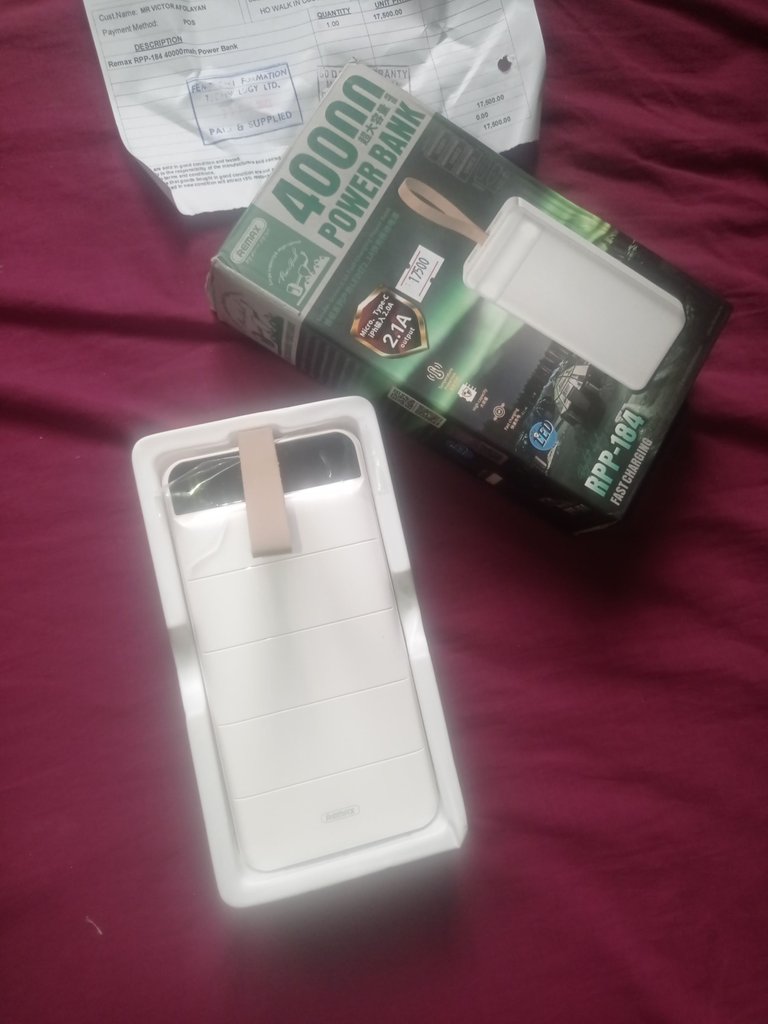 I've having issues of power electricity supply in my vicinity for almost a month now, and this as cost me some stuffs, and as drastically reduce the rate at which I engage on hive or with my device generally, so after weeks of contemplating on which would be the best way of meeting my needs for power, I decided on going for a powerbank ahead of generator and solar inverter due to their prices compare to what I can afford.
Llevo casi un mes con problemas de suministro de electricidad en mis alrededores, lo que me ha costado algunas cosas y ha reducido drásticamente el ritmo de trabajo en la colmena o con mis dispositivos en general, así que después de semanas contemplando cuál sería la mejor manera de satisfacer mis necesidades de energía, me decidí por un powerbank antes que el generador y el inversor solar debido a sus precios en comparación con lo que me puedo permitir.
And since my old 5,000mah of Oriamo product can't serve my needs any longer, and it's capacity as also reduce, cause it can't charge my phone beyond 40% before all it power drain, but then it as served it purpose because I've been using it for over 4years now, well enough of that, below are the unboxing and features of my new Remax Power Bank.
Y ya que mi viejo producto de 5,000mah de Oriamo no puede servir a mis necesidades por más tiempo, y su capacidad también se reduce, porque no puede cargar mi teléfono más allá del 40% antes de que se agote toda la energía, pero entonces ha servido a su propósito porque lo he estado usando por más de 4 años, así que suficiente de eso, a continuación son el unboxing y las características de mi nuevo Remax Power Bank.

SPECIFICATIONS | ESPECIFICACIONES
| NAME | REMAX RPP-184 40,000mAh Power Bank |
| --- | --- |
| PRICE | $29, 71 Hive, N17,500 |
| CAPACITY | 40,000mah |
| INPUT | 3 mode of input + meaning it can be charge with either - Type C charger, - android charger(micro input) - iPhone charger(iph input). |
| DISPLAY | Digital Led Display |
| LIGHT | In built Led Flashlight at the back |
| OUTPUT | 3 Output ports, meaning it can charger 3 device at a time, at 2.1A fast charging capacity |
| BATTERY | Lithium polymer |
| SIZE | 16782.541.8mm |
| WEIGHT | 893g |
| COLOUR | White |
| OTHER FEATURES | Lanyard holder(For easy carriage) |

UNBOXING
Unboxing the package of the power bank, below are the items inside the box;
The power bank itself
I white fiber that housed the power bank
A manual written in both English and Chinese.
The power bank doesn't come with a cable or any other items other than those listed above.
Descubrimiento
Desembalaje del paquete del power bank, a continuación se muestran los elementos dentro de la caja;
El banco de energía en sí
La fibra blanca que alberga el power bank
Un manual escrito en inglés y chino.
El banco de energía no viene con un cable o cualquier otro elemento que no sean los mencionados anteriormente.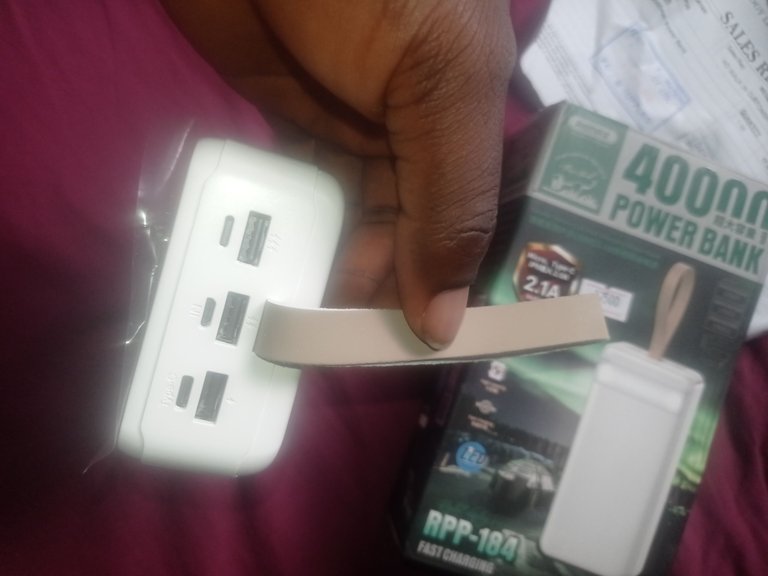 The 3 different input ports, and the 3 output ports

So with the above analysis and list of features, I believe you've had a concrete details about the power bank and what to expect when purchasing it, though I must also add some details on my experience via using it, which are as seen below:
Así que con el análisis anterior y la lista de características, creo que has tenido un vienen detalles concretos sobre el banco de energía y qué esperar al comprarlo, aunque también debo añadir algunos detalles sobre mi experiencia a través de su uso, que son como se ve a continuación:
---
USAGE REVIEW
So after unboxing the package, I met the device at 70%, but I was advice to first charge it to the max before using it, so it took around 6hours before it charged to 100%.
And when it got to 100%, It charge a techno Spark 5 device which was at 5% to 40%, and the power back still remain at 100%.

I then plug my Redmi note 9 device which as at 2%, and it was boasted to 70%, and by that time the power bank only lost 6% and was at 94% before I stop charging any device on it again.
With those analysis, I believe the power bank as the capacity to charge at my Redmi note 9 device upto 100% at 3 different times or more before it battery drain completely.
REVISIÓN DE LA CARGA
Así que después de unboxing el paquete, me encontré con el dispositivo en el 70%, pero yo era el consejo de cargar primero al máximo antes de usarlo, por lo que tomó alrededor de 6hours antes de que se cargue al 100%.
Y cuando llegó al 100%, cargó un dispositivo techno Spark 5 que estaba entre el 5% y el 40%, y la energía sigue estando al 100%.

Luego conecto mi dispositivo Redmi note 9 que estaba al 2%, y se jactó al 70%, y para ese momento el banco de energía sólo perdió el 6% y estaba en el 94% antes de dejar de cargar cualquier dispositivo en él de nuevo.

Con estos análisis, creo que el banco de energía como la capacidad de cargar en mi dispositivo Redmi nota 9 hasta el 100% en 3 veces diferentes o más antes de que la batería se agote por completo.

With this power bank in my possession, I've got less worries about how the electricity is been distributed, because I know once I can get it fully charged, then I can easily get my device charge and fit for use regularly.
Con este banco de energía en mi poder, tengo menos preocupaciones sobre cómo se distribuye la electricidad, porque sé que una vez que puedo conseguir que se cargue por completo, entonces puedo conseguir fácilmente que mi dispositivo se cargue y esté en condiciones de ser utilizado regularmente.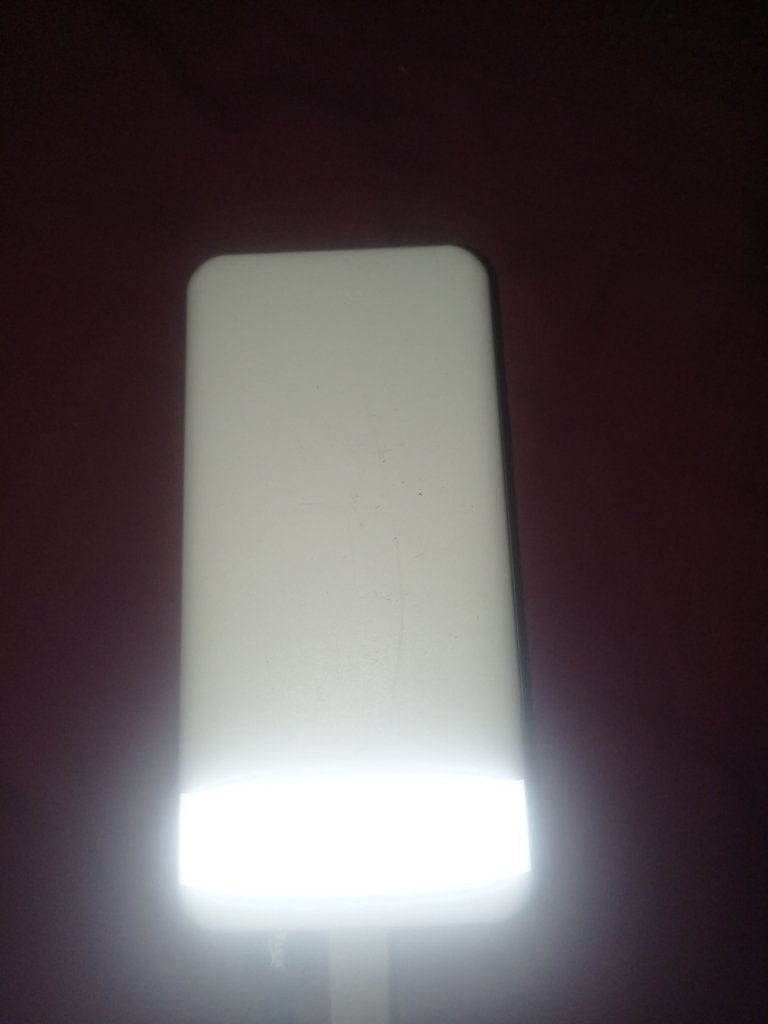 It will also increase the rate at I engage on the blockchain once again, because I won't have any reason why I need to minimize how I use the device so as not to drain the battery, but with this power backup, I can easily and steadily communicate as much as I like.
También aumentará el ritmo al que me comprometo en la cadena de bloques una vez más, porque no tendré ninguna razón por la que tenga que minimizar el uso del dispositivo para no agotar la batería, sino que con esta reserva de energía, podré comunicarme fácilmente y de forma constante todo lo que quiera.
---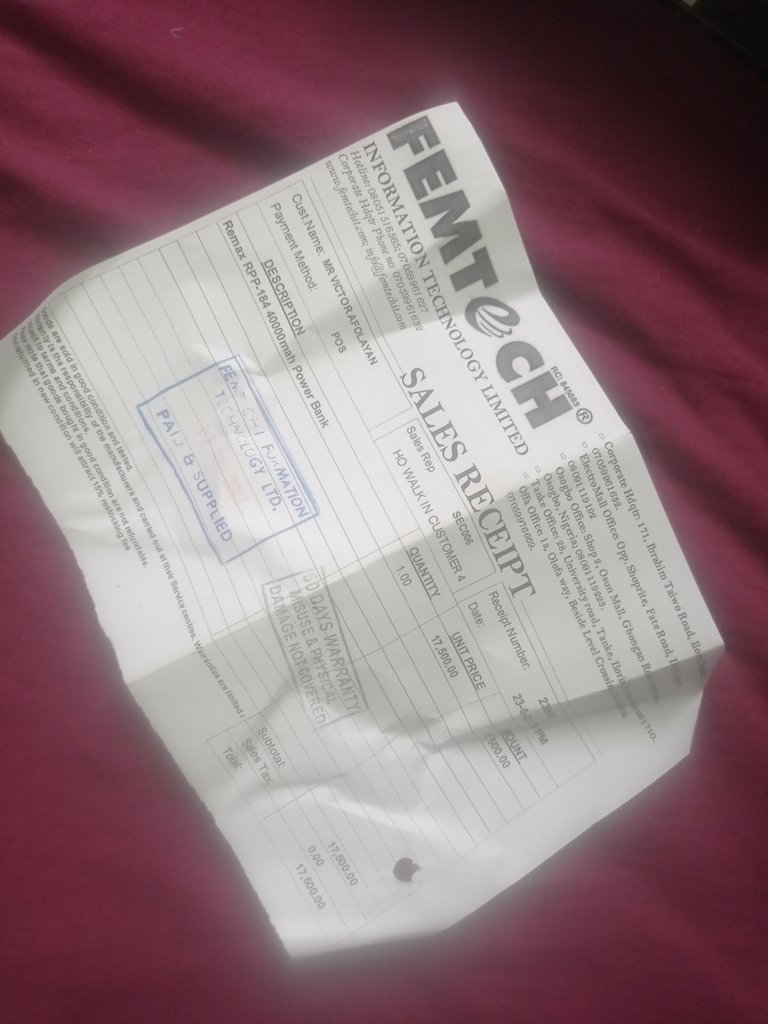 Thanks so much for checking out my blog post, this is my first time of sharing a post into the community, and it's as well the first time I'm sharing an unboxing of a device, but then I look forward to sharing more content here henforth, have a blessed day.
Muchas gracias por visitar mi blog, esta es la primera vez que comparto un post en la comunidad, y también es la primera vez que comparto un unboxing de un dispositivo, pero luego espero compartir más contenido aquí en adelante, que tengan un bendito día.
---
All translation were made via deepl and all images used are mine.