Saludos para todos los miembros de la comunidad, en esta oportunidad les traigo un #unboxing y configuración para la red de telefonía Venezolana CANTV de un Módem Rauter de la marca Tenda Modelo D301 v4.
Este módem router se ve muy bien, me gusta su diseño y comodidad, además de su alcance y fácil configuración.
Pero para entrar el materia, iniciemos.
Greetings to all members of the community, this time I bring you an #unboxing and configuration for the Venezuelan telephone network CANTV of a Modem Rauter of the brand Tenda Model D301 v4.
This modem router looks very good, I like its design and comfort, in addition to its range and easy configuration.
But to get into the subject, let's start.
Unboxing y Configuración de Módem Router Tenda, modelo D301 v4/ Unboxing and Configuration of Tenda Modem Router, model D301 v4.
---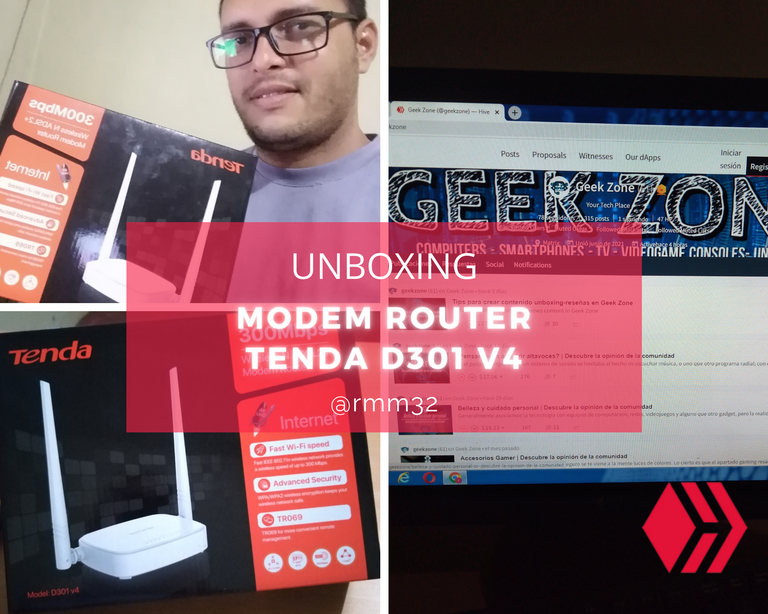 Unboxing y Configuración de Módem Router Tenda, modelo D301 v4/ Imágene diseñada en Canva por @rmm32
---
El Módem Rauter Tenda D301 v4, es un dispositivo bastante eficiente a pesar de su tamaño y bajo costo, 40$ aquí en mi localidad. La marca Tenda se ha ido apoderando poco a poco del mercado tecnológico Venezolano, ya es muy común ver estos dispositivos y otros como antenas WiFi, nano station, módem, etc, de esta marca.
En el tiempo que tengo reparando Módem y Routers, no ha llegado a mi taller un equipo Tenda averiado, por lo tanto podría decir que son de buena calidad.
The Tenda D301 v4 Rauter Modem is a very efficient device despite its size and low cost, 40$ here in my town. The Tenda brand has been gradually taking over the Venezuelan technology market, and it is very common to see these devices and other devices such as WiFi antennas, nano station, modem, etc, of this brand.
In the time I have been repairing modems and routers, I have never had a broken Tenda equipment in my workshop, therefore I could say that they are of good quality.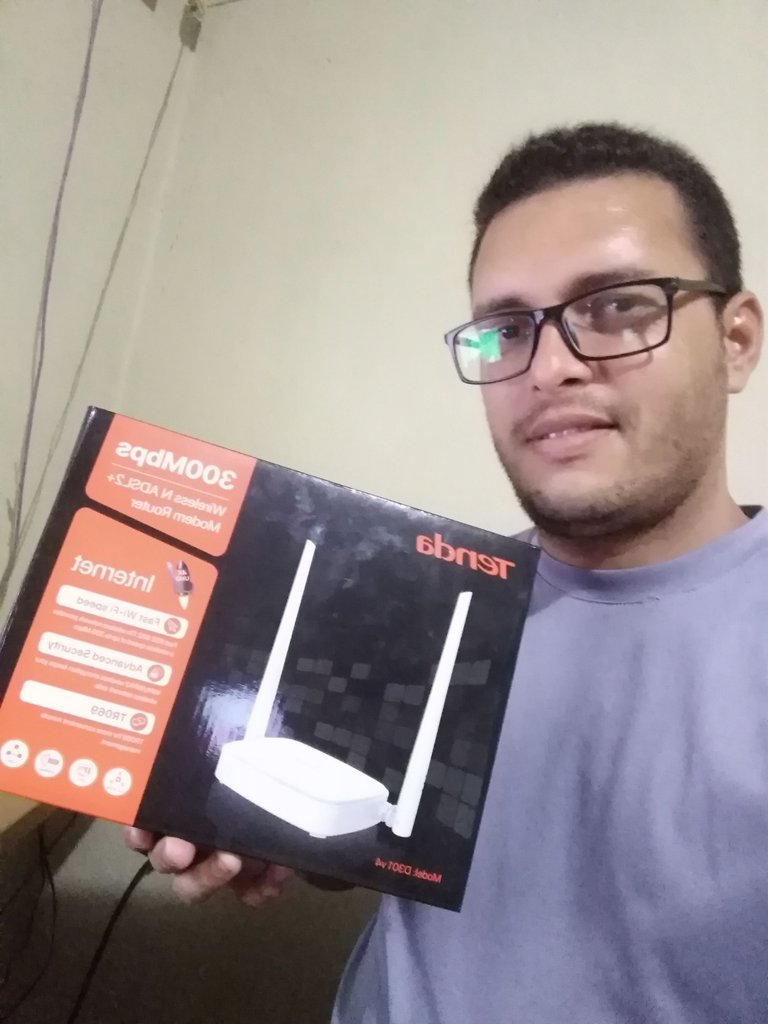 Unboxing y Configuración de Módem Router Tenda, modelo D301 v4
---
Este equipo fue adquirido por una clienta a quién le recomendé este dispositivo basado en mi experiencia.
Este dispositivo tiene una interfaz de configuración bastante comprensible,lo único es que no viene configurado para nuestra red telefónica CANTV y por esa razón hoy les enseñare como configurarlo también.
Dentro de sus características se encuentran, rapidez en la transmisión de datos, 300 mbps, con dos antenas de 5dbi omnidireccional,con una longitud de 25 CM, la cual ofrece un alcance bastante amplio con la posibilidad de traspasar varios muros.
Posee 4 puestos RJ45 para la conexión Lan, un puerto Rj11 para la conexión ADSL2+, lo que permite trabajar con banda ancha.
This equipment was purchased by a client to whom I recommended this device based on my experience.
This device has a very understandable configuration interface, the only thing is that it is not configured for our CANTV telephone network and for that reason today I will show you how to configure it as well.
Among its features are, fast data transmission, 300 mbps, with two 5dbi omnidirectional antennas, with a length of 25 CM, which offers a fairly wide range with the possibility of crossing several walls.
It has 4 RJ45 ports for Lan connection, one Rj11 port for ADSL2+ connection, which allows working with broadband.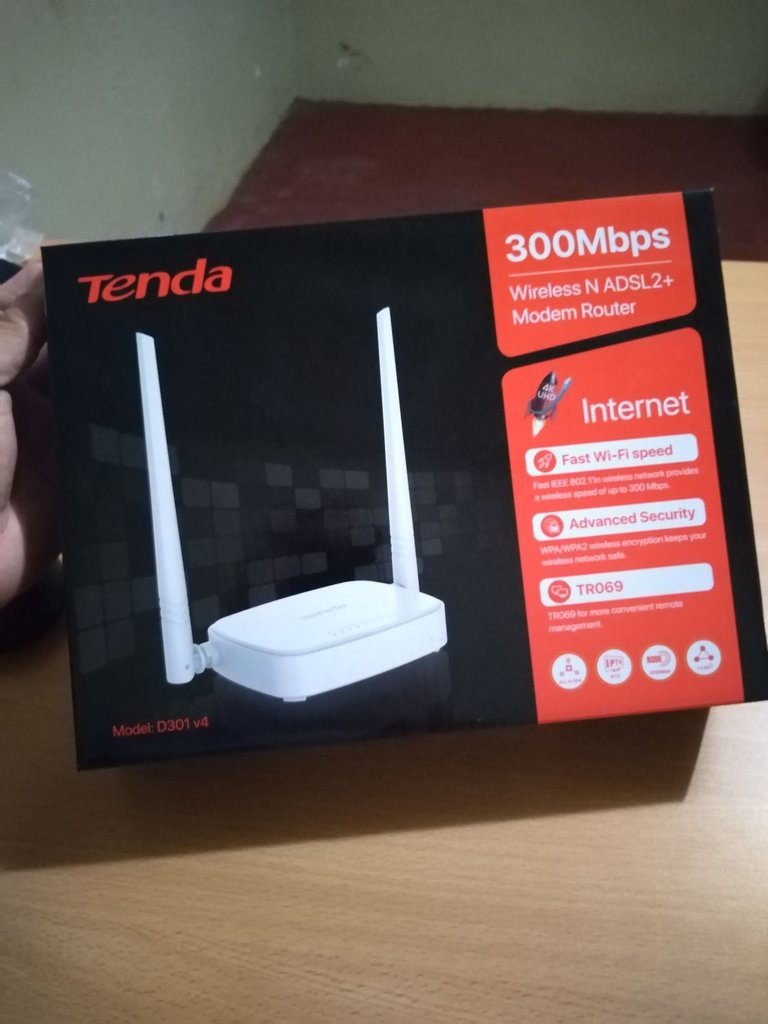 Unboxing y Configuración de Módem Router Tenda, modelo D301 v4
---
Además de trabajar con una frecuencia de 2.4 GHz. El módem rouer trae en su caja lo siguiente.
Un regulador de voltaje de 12 vdc, un filtro, un cable RJ45, un cable Rj11 y su manual de instalación.
In addition to working with a frequency of 2.4 GHz. The rouer modem comes with the following in its box.
One 12vdc voltage regulator, one filter, one RJ45 cable, one Rj11 cable and its installation manual.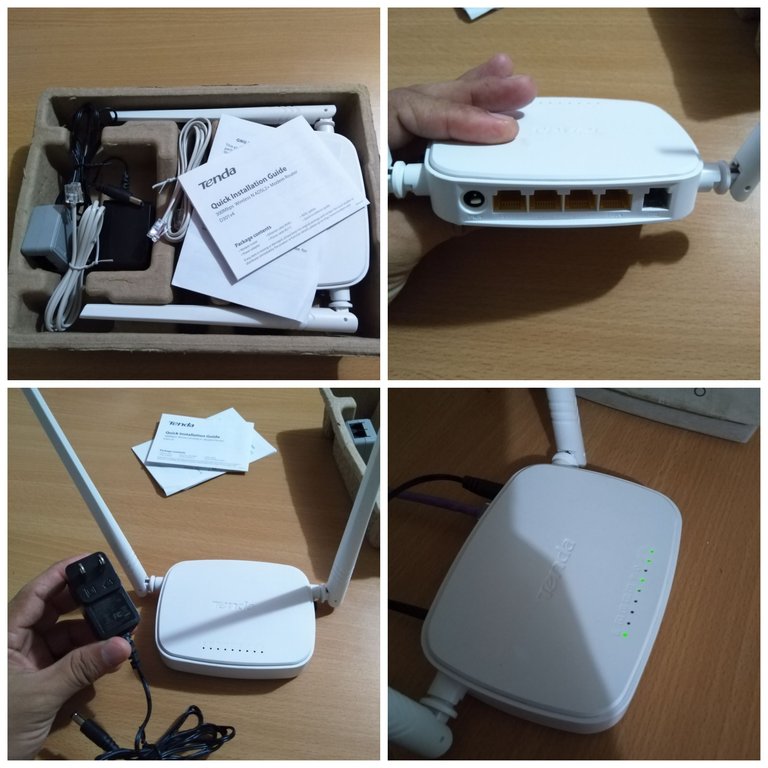 Unboxing y Configuración de Módem Router Tenda, modelo D301 v4/ Imágene diseñada en PicsArt por @rmm32


Instalación y Configuración/ Installation and Configuration:
La instalación de este dispositivo es similar a la de los demás, perontiene la particularidad de no veninncon la señal wifi libre, viene con su clave de acceso a WiFi configurada, está clave la encontramos en la parte inferior del dispositivo.
Por lo tanto al conectar nuestro módem router a nuestra computadora o andetsctar la señal en nuestro celular, debemos ingresar esa clave que ya viene por defecto.
The installation of this device is similar to the others, but it has the particularity of not coming with the free wifi signal, it comes with its WiFi access key configured, this key can be found at the bottom of the device.
Therefore when connecting our modem router to our computer or andetsctar the signal on our cell phone, we must enter that key that already comes by default.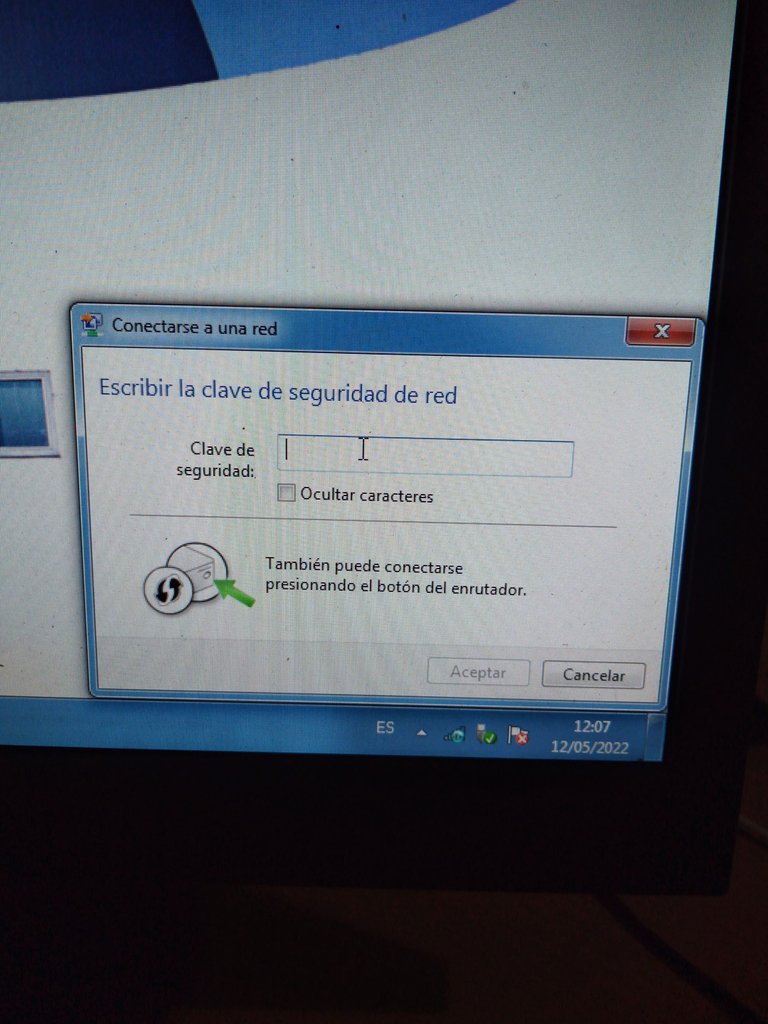 Unboxing y Configuración de Módem Router Tenda, modelo D301 v4
---
Una vez introducida la clave, nuestro equipo se conectará a la red, pero como aún no está configurado para nuestra red CANTV, no tendremos internet, por lo tanto necesitamos ingresar a su configuración.
Once the password is entered, our equipment will connect to the network, but as it is not yet configured for our CANTV network, we will not have internet, therefore we need to enter its configuration.
Para ello debemos colocar la dirección IP 198.168.1.1 en la barra de direcciones. Esta configuración la podemos hacer desde nuestro ordenador o nuestro equipo celular.
To do this we must place the IP address 198.168.1.1 in the address bar. This configuration can be done from our computer or our cellular equipment.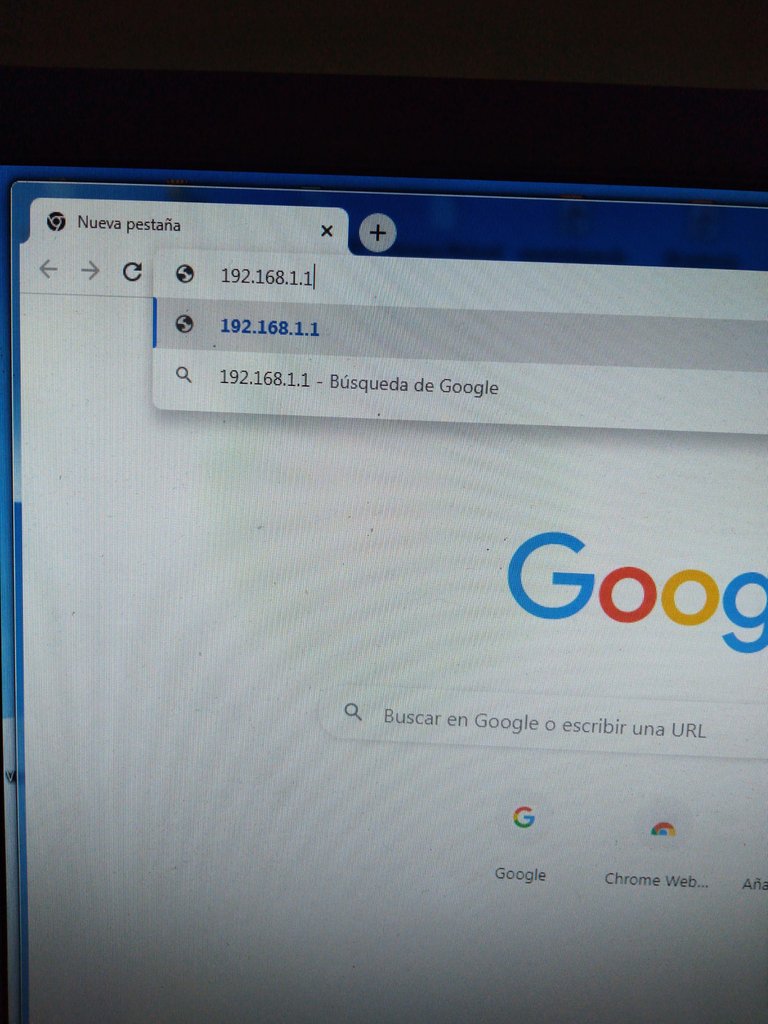 Unboxing y Configuración de Módem Router Tenda, modelo D301 v4
---
Una vez ingresamos nuestra dirección IP, nos aparecerá la ventana de acceso a la configuración, ingresamos el nombre y la clave por defecto. admin y clave admin.
Once we enter our IP address, the configuration access window will appear, enter the default name and password. admin** and password admin and admin..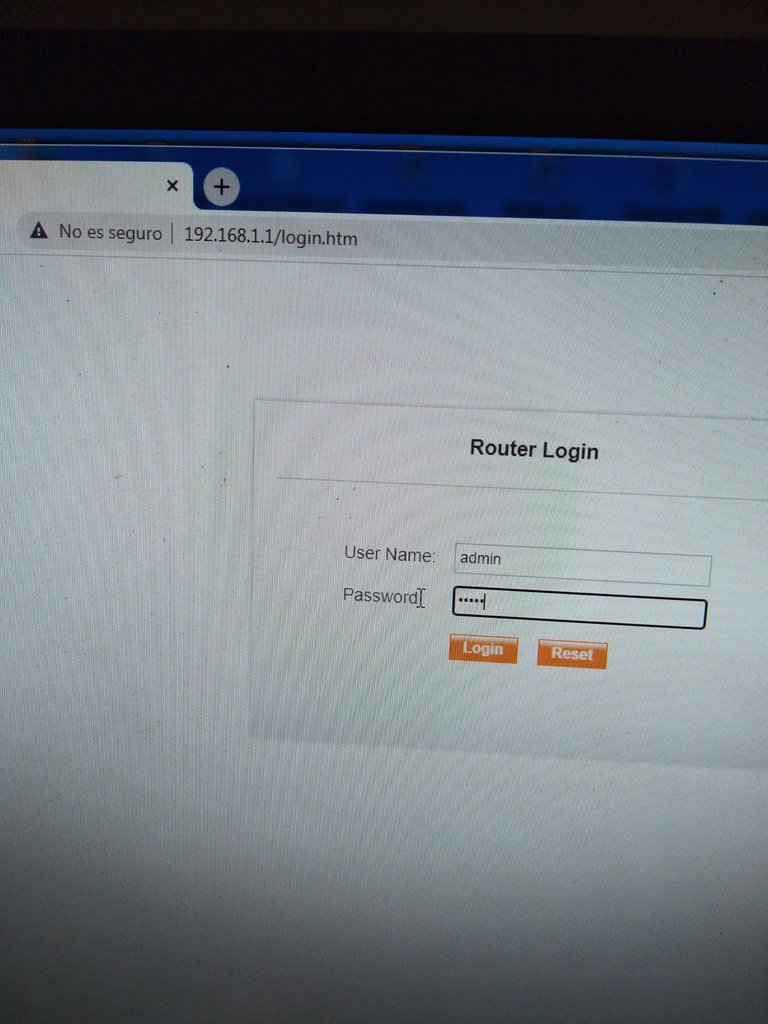 Unboxing y Configuración de Módem Router Tenda, modelo D301 v4
---
Ahora hemos ingresado al interfaz, inmediatamente nos vamos a la opción Wan luego bajamos a la parte inferior de la página y observaremos unas configuraciones predeterminadas.
Estas opciones debemos borrarlas, las dos configuraciones.
Now we have entered the interface, we immediately go to the Wan option, then we go down to the bottom of the page and we will see some default settings.
These options must be deleted, both configurations.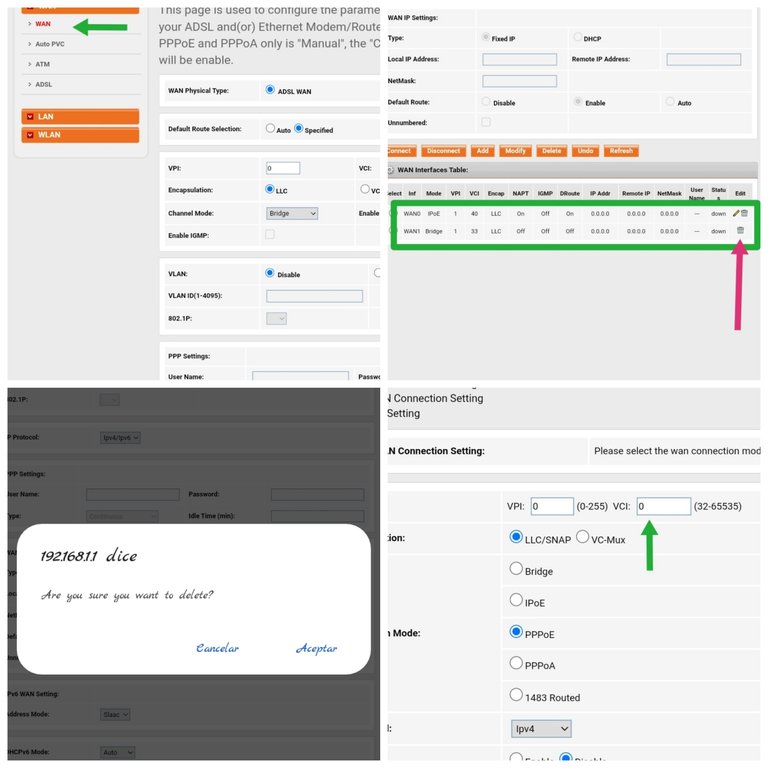 Unboxing y Configuración de Módem Router Tenda, modelo D301 v4/ Imágene diseñada en PicsArt por @rmm32
---
Nos aparecerá una ventana de advertencia, que nos pregunta si estamos seguros de borrarlas, aceptamos.
A warning window will appear, asking us if we are sure to delete them, we accept.
Ahora volvemos a la opción Wan y veremos qué se ha borrado la configuración anterior. La casilla de VCI ha quedado vacía.
Now we go back to the Wan option and we will see that the previous configuration has been deleted. The VCI box is now empty.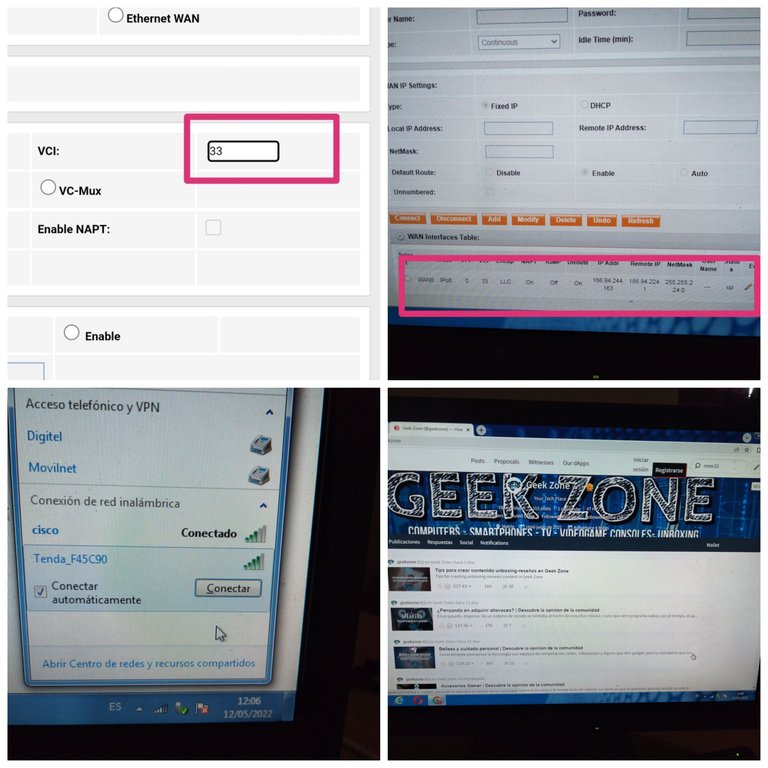 Unboxing y Configuración de Módem Router Tenda, modelo D301 v4/ Imágene diseñada en PicsArt por @rmm32
---
Ahora colocaremos en la casilla VCI el número 33 aceptamos y guardamos los cambios,el módem router procesará el cambio y en cuestión de unos 10 segundos aproximadamente, reconocerá la red CANTV, dándonos acceso a Internet.
Podremos buscar la página web que deseemos para verificar que el módem router está funcionando correctamente.
Hemos concluido nuestra instalación y configuración, ahora podremos disfrutar de las bondades del Internet.
Gracias a todos por prestarme su atención, espero que esta publicación que también lleva consigo un #tutorial, les pueda servir de utilidad.
Now we will place in the VCI box the number 33, accept and save the changes, the modem router will process the change and in about 10 seconds approximately, it will recognize the CANTV network, giving us access to the Internet.
We will be able to search for the web page we want to verify that the modem router is working correctly.
We have finished our installation and configuration, now we will be able to enjoy the benefits of the Internet.
Thank you all for your attention, I hope that this publication, which also includes a #tutorial, can be useful to you.
Publicación traducida con https://www.deepl.com/translator-mobile