Hi, Geeks! This is my first blog in this community and happy to share my first purchase of a mechanical gaming keyboard.
I was not really looking for a new keyboard, but one time I stumbled into @kneelyrac and saw a matcha-colored keyboard. Oh, a keyboard can be fun, I thought to myself. My keyboard is just the basic, black keyboard, and has no special features at all. This is when I start looking for a keyboard that has a nice design and ergonomic features.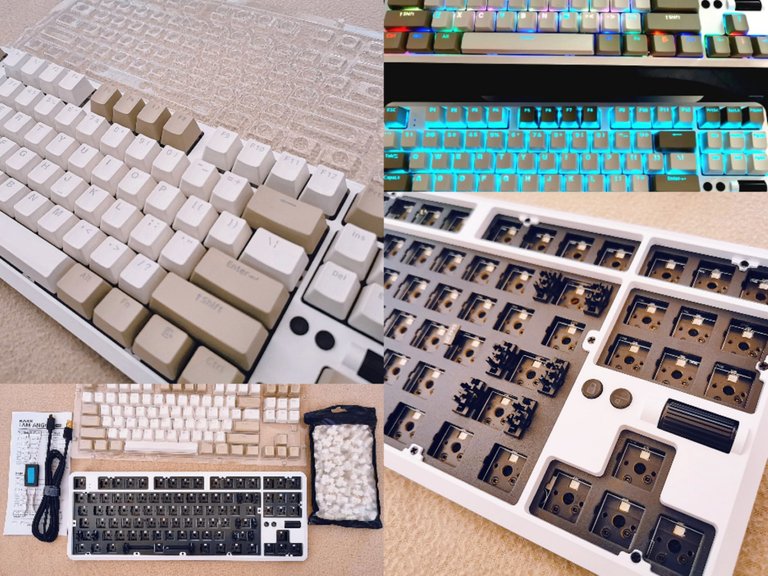 Since I do not have time to go in physical shops, I always opted to go online. In the Philippines, we have two major online shopping platforms which are Lazada and Shopee. When I am looking for gadgets, I trust Lazada more than Shopee. I think they really go thoroughly with their sellers' products in assessing the authenticity.
There were many choices of keyboards and I was overwhelmed. So what I did was jot down the features that I like. What I was looking for in a keyboard are nice key sound, compatibility with OS, nice aesthetics, rechargeable, and wireless. I was really specific about the color because I want to match it with the rest of my gadgets.
I ended up buying the RAKK Lam-Ang Pro Wireless RGB Mechanical Gaming Keyboard. I paid 43.10 USD (58 PHP = 1 USD~). It was a smooth process in buying, no hiccups at all. What I was annoyed with was the shipping process. It took more than a week for the item to be received.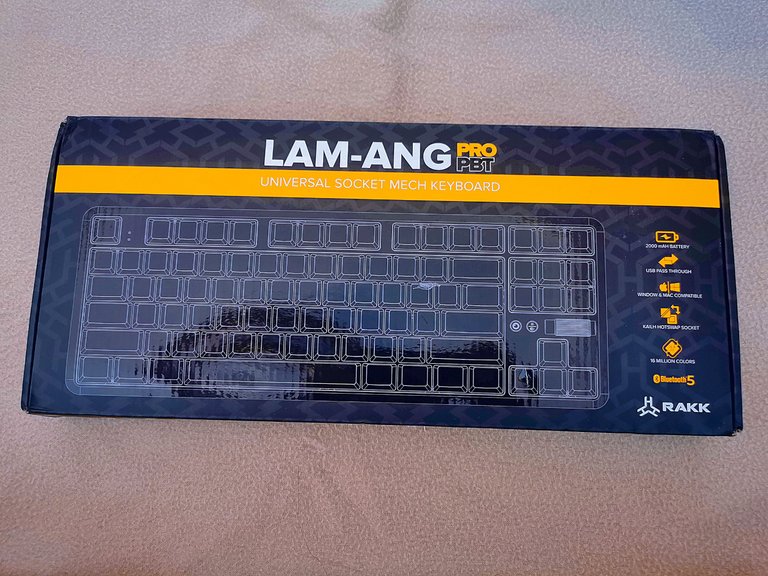 The package came with a thick layers of bubble wrap and tapes. I was impressed on how that take care of buyer's purchase. This is how the box of the keyboard looked like. The specifications and features were written in the box for a quick look. Nothing fancy but it is very informative.
Specifications
Series: Lam-ang Pro Barebone RGB Mechanical Gaming Keyboard PBT and Mechanical Switch
Bluetooth 5.0 wireless Gaming Mechanical keyboard
PBT Doubleshot Keycaps
Kailh Universal Hotswap
5 pin Switch Compatibility
2000mAh battery
48hours battery before drain
87 key Standard QWERTY Layout (ANSI)
Modular TKL Mechanical keyboard
1000Hz Ultra Polling Rate
USB pass-through Port
Type C Braided Cable
Fully Modular
Dedicated Volume and Brightness Control
Windows and Mac Compatible
Ergonomic Designed Keyboard,
Anti-Ghosting & N- Key Rollover
Over 16 Million Colors
Source
I honestly was surprised that you have to build your own keyboard. I think I missed that part in the description. Oh, well, I have no choice but to read the manuals, lol. I received a total of six items- manuals, a charger cord, the keyboard, caps, pull remover, and switches. I got a bit intimidated because it was my first time diy-ing a keyboard.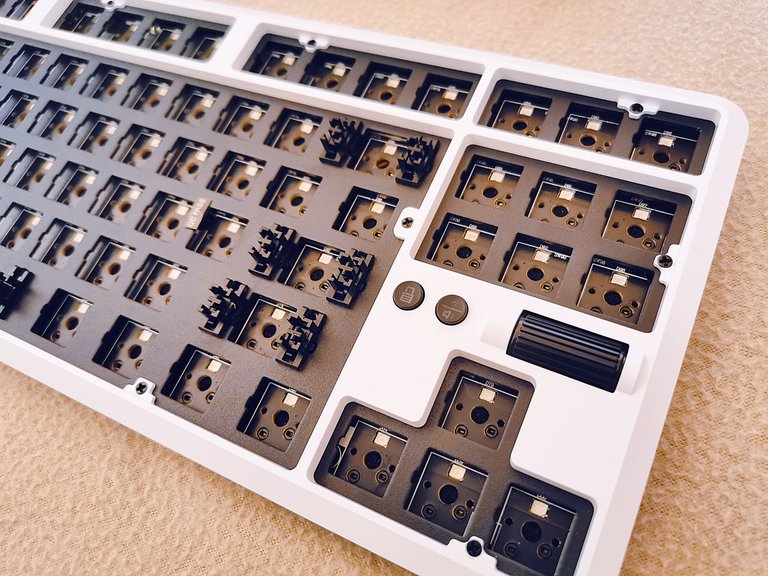 The skeleton of the keyboard with no switches and key caps
---
The keyboard was pretty heavy itself. Probably because of the built-in battery and all the mechanics inside. I like the black back color and the white cover. It is very simple and can be matched to any color.
What I liked more is that it was a rollover button for the sound and the brightness of the keyboard lights. It was satisfying to use it, hehe. At the upper side is where the charger port is and a USB pass-through port.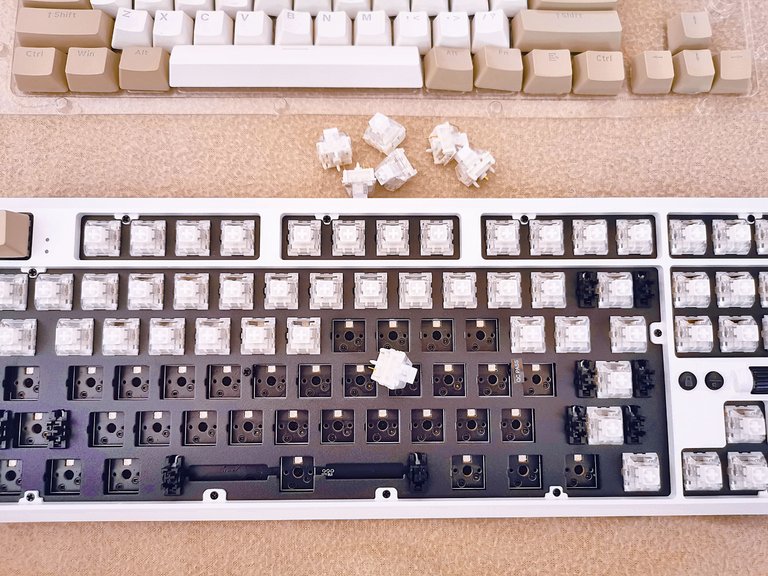 Putting the switches one by one.
---
Time to put those switches! It has very tiny, fine two sticking metals. I was so careful not to bend those because the keys will not work when pressed. There were extra two switches, so instead of 87 key switches, 89 key switches were given. I freaking bent 4 key switches, ugh. Glad that I managed to still fixed those or else, I will lose my marbles thinking about how I can mess this up.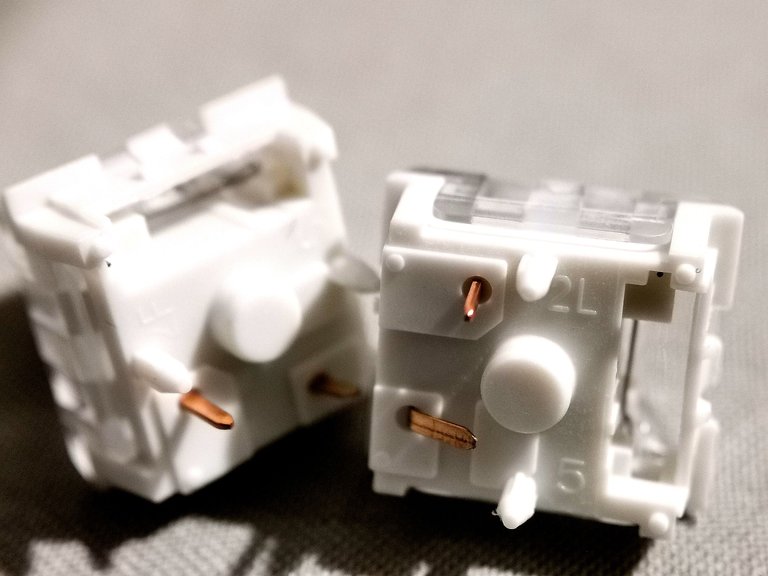 The two extra switches. The right one was bent.
---
Next were the keycaps. I made sure that I put the letters in the right places. This was easy to do but time-consuming to make. It was satisfying to hear the clicking sound.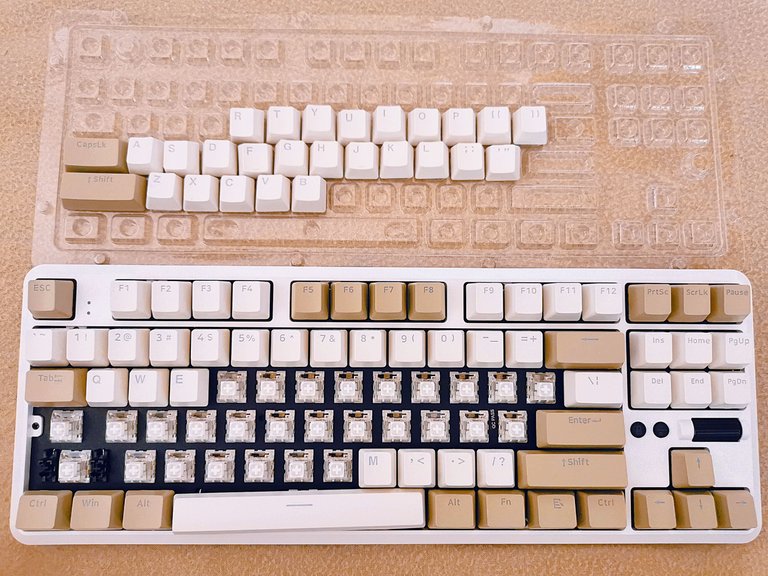 Putting the key caps one by one. Almost done.
---
After building this keyboard, I tested the wired and Bluetooth features. It turned out smooth and had no hassle at all. The keys are responding well, no ghosting of any keys. Also tried playing with the light colors. There were a lot of colors, light modes and patterns but these two are my favorite.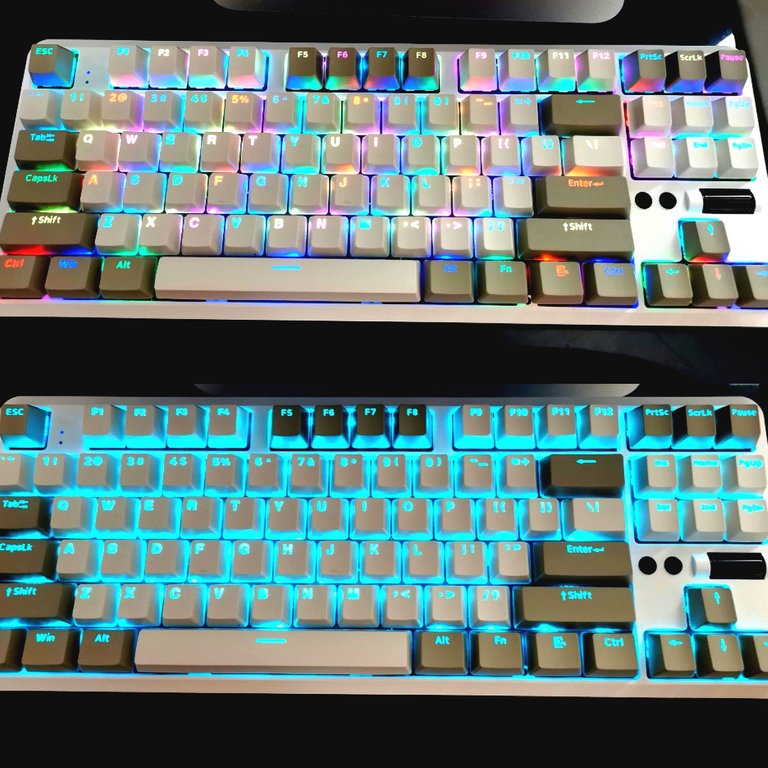 Conclusion
Before buying this keyboard, I researched about the make company so I was sure that this mechanical gaming keyboard is a good buy. With the price, I was so suprised how good the quality is. It is satisfying to hear the takatak sound when I am typing, especially when I am blogging. The color light also gives me the mood to be productive. The battery lasts for 5 days with a single charge for an hour. I use my keyboard about six hours a day on average.
Over a week of using this mechanical keyboard, I did not encountered any problem at all. One thing that I had a hiccup with was the deliver that took more than a week for the item to arrive. This did not matter at all as long as the item is delivered without damaged or got lost.
I am so happy that I purchased this keyboard. It was indeed a good buy! I recommend this brand if you are looking for a budget-friendly mechanical gaming keyboard.
Also, if you happen to look for other gaming products such as speakers, mice, computer fans, mouse pads, table, and even chairs, you might want to visit their official website on the link provided below. This is a local brand (Philippines) so I am not too sure if they shipped internationally. They also have a customer services through Facebook Messenger so might as well check their offfical Facebook page.
Check out Rakk's official website here
My over all rating is 9/10!
Hmm, what's next? Should I buy keycaps? (My wallet is crying right now-)
If you are interested with the product click here
---
That is it for this blog. I will see you at the next one!
📸 All photos are owned and taken by me, otherwise credited. ©️jijisaurart