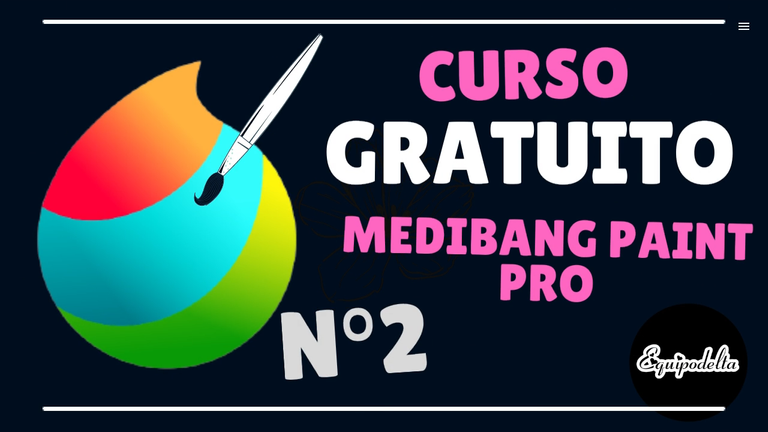 When you do something with a lot of love, it shows.
Greetings community!!!
Today I am happy to present the second part of the free course I am offering on the Medibang Paint Pro design program, as it has been long awaited by many of my friends and followers, who want to learn how to make their designs in it.
The tutorial that I present consists of several videos, you can see them at the end of this post or on my Youtube channel.
This program has very cool things, and as it is a free software, my tutorials will continue to have that spirit nonprofit but to help and give back the good things I have learned over time, which were also free and has served me as a stepping stone to get here, I invite you to learn more about Medibang ...
Cuando haces algo con mucho amor, se nota.
Saludos comunidad!!!
Hoy estoy feliz de poder mostrar la segunda parte del curso gratuito que estoy ofreciendo del programa de diseño Medibang Paint Pro, ya que ha sido muy esperado por muchos de mis amigos y seguidores, quienes quieren aprender a realizar sus diseños en él.
El curso o tutorial que presento consta de varios videos, los mismos puedes verlos al final de este post o en mi canal de Youtube.
Este programa tiene cosas muy geniales, y como es un softwar libre, gratuito, mis tutoriales seguiran teniendo ese espíritu sin fines de lucro mas que ayudar y retribuir las cosas buenas que he aprendido a traves del tiempo, que también fueron gratuitas y me ha servido de peldaño para llegar aquí, te invito a conocer más de cerca Medibang...
---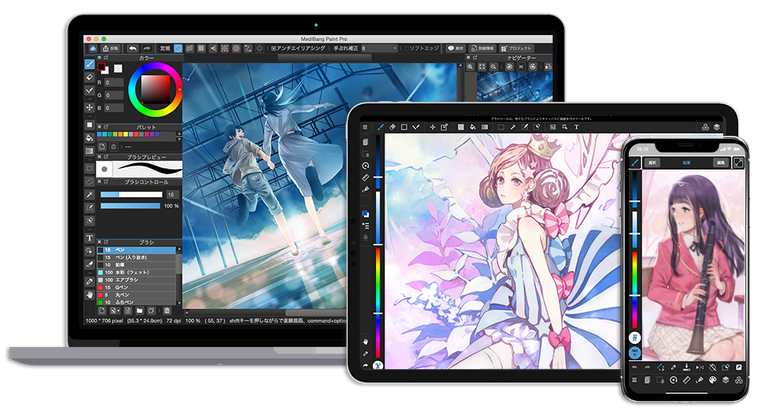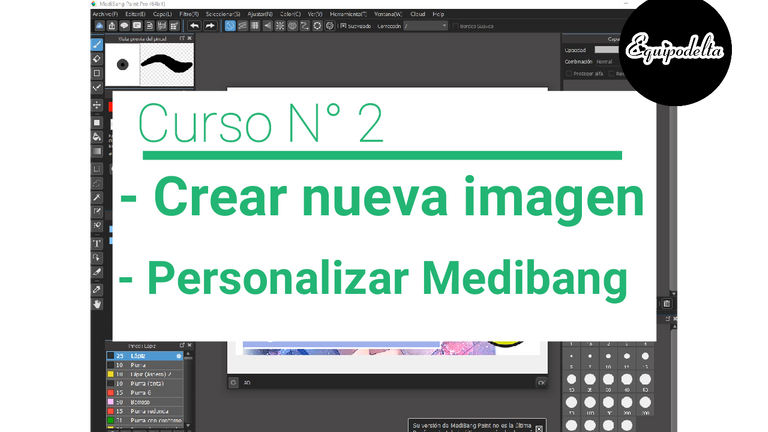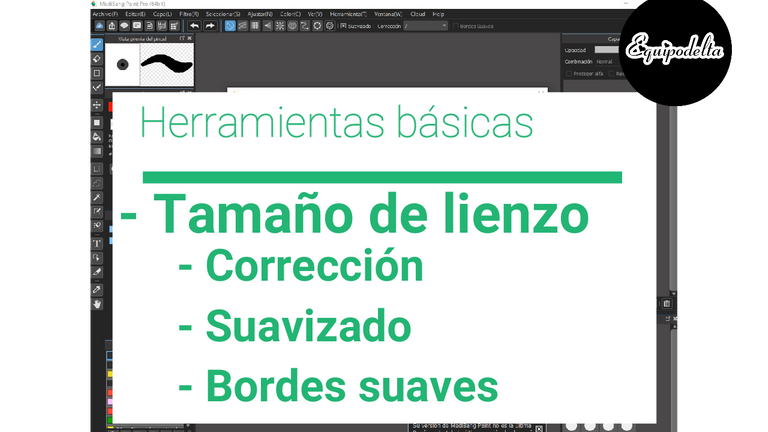 In this second tutorial you will learn:
👉 Create a new image.
👉 Customize Medibang.
📌 Canvas size.
📌 Correction tool.
📌 Smoothing tool.
📌 Smooth Edges tool.
With this part we get closer and closer to your first creation, your first design.
En este segundo tutorial aprenderás:
👉 Crear una nueva imagen.
👉 Personalizar Medibang.
📌 Tamaño de lienzo.
📌 Herramienta corrección.
📌 Herramienta suavizado.
📌 Herramienta Bordes suaves.
Con esta parte nos acercamos cada vez más a tu primera creación, tu primer diseño.
---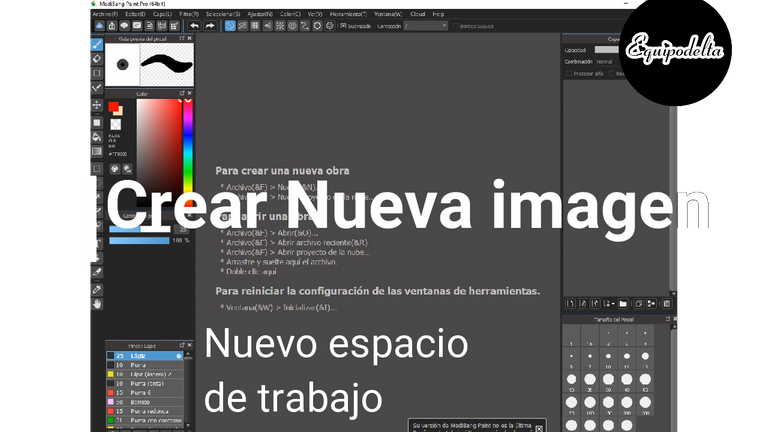 Create new image, new workspace.

We open the Medibang program, two advertising windows will appear that you can close, these advertising windows always offer us information about free brushes, updates, contests, tutorials and in the other window it will show us suggestions of workspaces.
You can explore these options later, for now I am only going to show basic themes to guide you to your first creation.
Abrimos el programa Medibang, aparecerán dos ventanas de publicidad que puedes cerrar, estas ventanas de publicidad siempre nos ofrecen información de pinceles gratuitos, actualizaciones, concursos, tutoriales y en la otra ventana nos mostrará sugerencias de espacios de trabajo.
Estas opciones las puedes explorar más adelante, por ahora solo voy a mostrar temas básicos para guiarte a tu primera creación.
---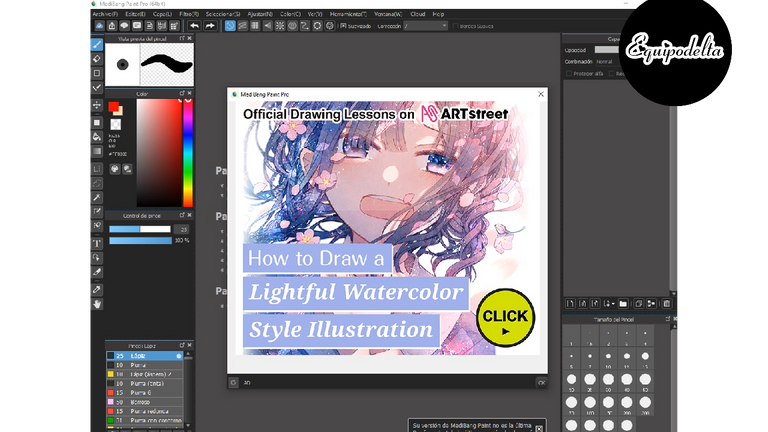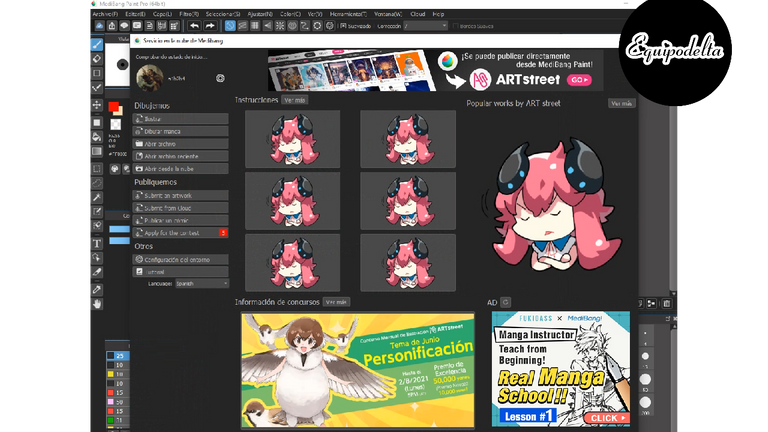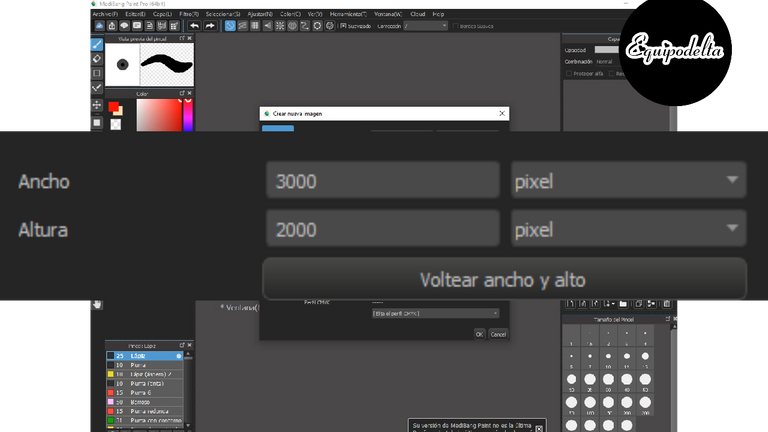 Length and width

Open a new document and we are going to customize some aspects such as:
Canvas size, in the first options we see the width and height in pixels. Medibang is a program that works by pixels, all the designs you make here will always pixelate a little, so to help it, it is suggested that you use a large canvas space.
I usually have it in width: 3000 Pixels and height 2000 pixels, which becomes my canvas size, this improves the quality of my designs and requirements, you can place more but it will consume more resources of your computer or smart phone.
You also have a default size options where you can choose letter size, legal size, stickers, web page header, among others.
For the moment we will use this configuration here... let's continue...
Abrimos un documento nuevo y vamos a personalizarle algunos aspectos como:
Tamaño de lienzo, en las primeras opciones vemos el ancho y el alto en pixeles. Medibang es un programa que trabaja por pixeles, todos los diseños que hagas aquí siempre se pixelaran un poco, por eso para ayudarlo, se sugiere que utilices un espacio de lienzo grande.
Yo por lo general lo tengo en ancho: 3000 Pixeles y de altura 2000 pixeles, lo cual se convierte en mi tamaño de lienzo, esto mejora la calidad de mis diseños y requerimientos, puedes colocar más pero consumirá más recursos de su computadora o teléfono inteligente.
También dispones de unas opciones de tamaño predeterminadas donde puedes elegir a tamaño carta, oficio, pegatinas, cabecera de paginas web, entre otros.
Por el momento usaremos esta configuración allí... continuemos...
---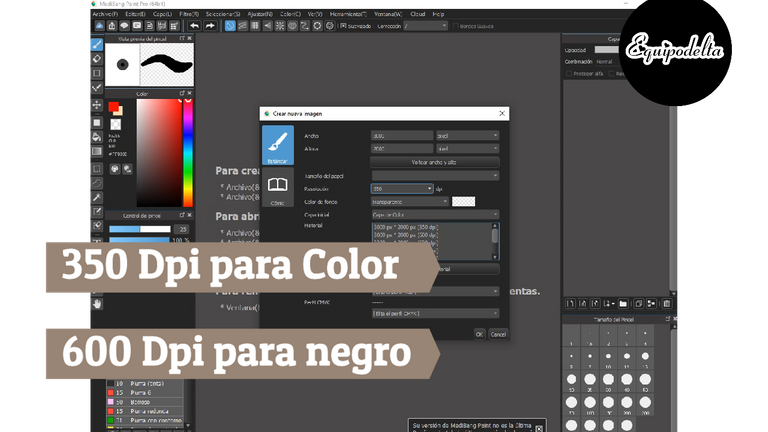 DPI option

The Dpi option is for the amount of color at the time of printing, so it is suggested to default to 350 Dpi for color prints and 600 Dpi for black prints.
Since I draw in color and want to print in color, I leave it at 350 Dpi.
To finish and save your settings, click on Ok.
La opción Dpi es para la cantidad de color a la hora de impresión, por lo cual se sugiere que sea 350 Dpi por defecto para impresiones a color y 600 Dpi por defecto para impresiones en negro.
Como yo dibujo a color y quiero imprimir a color, lo dejo en 350 Dpi.
Para finalizar y guardar tu configuración, haces clic en Ok.
---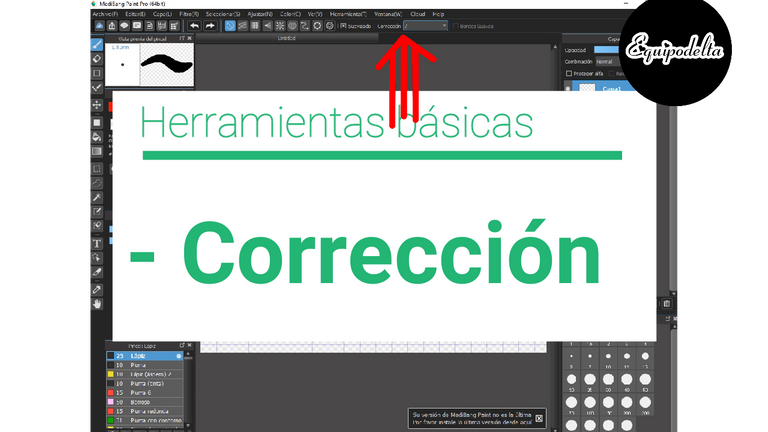 Basic Tools: Correction.

You can find this tool at the top of our program, this option is a stabilizer that helps us to smooth the stroke of the lines, whether you use the mouse to draw, a digital brush or smartphone, the higher the number you choose, the more neat your stroke will be, but as a result it will lose the speed of drawing.
When using the mouse to draw, the speed in this option is not very noticeable, but it does feel heavier, so it will consume more of your computer's resources.
When using a digital pencil, this will also depend on the way you set up your tablet, in terms of pressure and stroke speed, however from the Medibang interface you can also adjust it a little bit. I have it set to 7 but some people set it to 9 and 10.
For smart phones or tablets, you will also notice variation in the stroke if you modify this value. Set it and adjust it as you are comfortable with.
Esta herramienta la encuentras en la parte superior de nuestro programa, esta opción es un estabilizador que nos ayuda a suavizar el trazo de las líneas, bien seas que uses el ratón para dibujar, un pincel digital o teléfono inteligente, mientras mayor sea el número qué elijas, tu trazo será más pulcro, pero a consecuencia este perderá la velocidad de trazado.
Cuando usamos el ratón para dibujar la velocidad en esta opción no se nota mucho, pero si se siente como más pesado, a consecuencia consumirá más recursos de tu computadora.
Cuando usamos una lápiz digital, este estará en función también de la forma que configuraste tu tableta, en cuanto a la presión y velocidad de trazo, sin embargo desde la interfaz de Medibang también puedes ajustar un poco. Yo la tengo en 7 pero hay personas que las colocan en 9 y 10.
Para telefonía inteligente o tablets, también notarás variación en el trazo si modificas este valor. Colócalo y ajústalo como te sea más cómodo.
---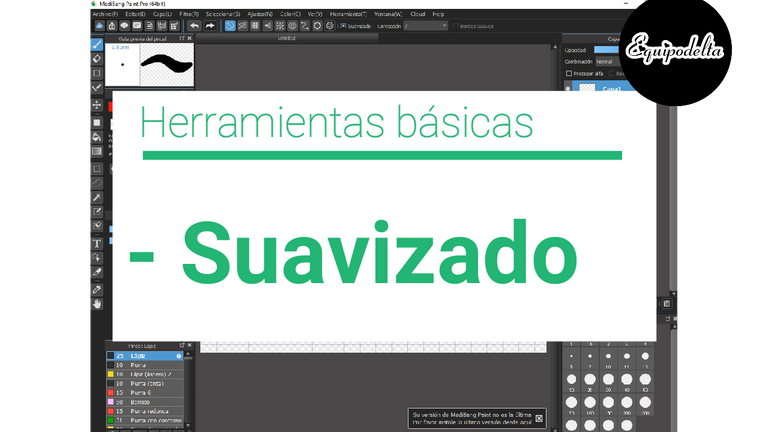 Smoothing tool

The smoothing tool is also located at the top, it allows us to see the edges of the brush more neatly, when we make the stroke we will notice that there are no imperfections on the edges. If we remove this option the lines will look irregular. Therefore leave this option activated.
La herramienta suavizado se encuentra de igual forma en la parte superior, nos permite ver los bordes del pincel más prolijos, cuando hacemos el trazo notaremos que no se ven imperfecciones en las orillas. Si quitamos esta opción las líneas se verán irregulares. Por lo tanto dejas esta opción activada.
---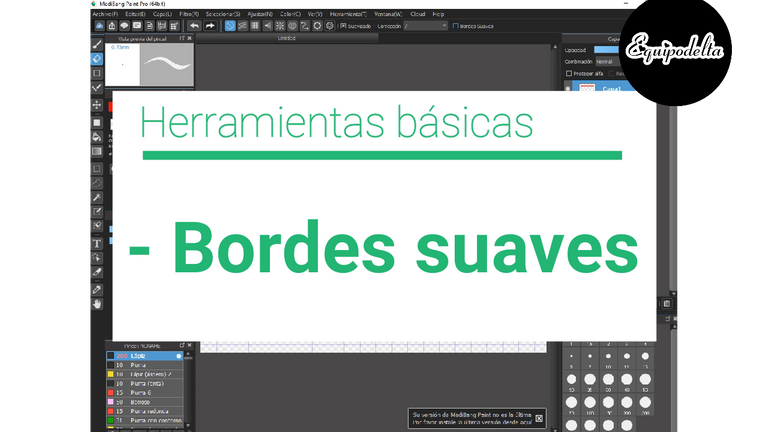 The next option that you also find in the top bar of Medibang and that is essential for you to know is one that appears only when you use the eraser tool, this option is "soft edges".
There are two options that we must take into account; if we need to erase in a flat way or if we need to erase in a gradient way, it adjusts according to our need, I almost always use it in its flat way so this option is always inactive.
That's all for this part of this great course I'm offering, see you in the next one.
Have fun creating and overflowing your creativity.
La siguiente opción que también encuentras en la barra superior de Medibang y que se hace imprescindible que conozcas es una que aparece solo cuando haces usos de la herramienta borrador, esta opción es "bordes suaves".
Existen dos opciones que debemos tener en cuenta; si necesitamos borrar de forma plana o si necesitamos borrar de forma que quede en degradado, se ajusta de acuerdo a nuestra necesidad, yo casi siempre lo uso en su forma plana por lo tanto esta opción siempre está inactiva.
Ha sido todo por esta parte de este gran curso que estoy ofreciendo, nos vemos en el siguiente.
Diviértete creando y desbordando tu creatividad.
---

Detalles Técnicos / Technical Details

Tutorial Video

Mi canal Youtube, tiene un montón de tutoriales muy útiles para ti.
My Youtube channel, has a lot of very useful tutorials for you.

Hacks, DIY, Crafts, handmade arts Community