Feedback from the July 1st Hive Power Up Day - ATH Volume record!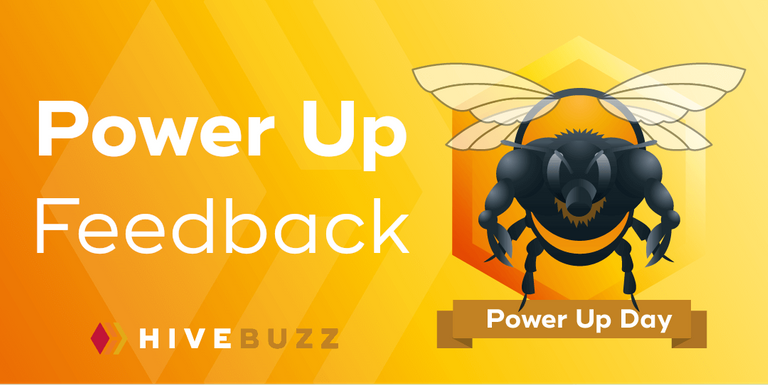 This edition of the Hive Power Up Day has been absolutely AMAZING with 2.5 million HIVE powered up!!! This is a new all-time high record that will be hard to beat!
A few words from the PUD organizers

@traciyork
Happy halfway through the year 2021, everyone!

Speaking of years, this Hive Power Up Day marks 12 months that I've been running this initiative and I couldn't be happier about how this #HivePUD has gone! I have to admit I was nervous given the timing of Hard Fork 25, but thanks to the amazing effort of our witnesses, developers, and other community members, the blockchain forked almost without a hitch. And while I don't have any actual numbers yet, I do know my GINAbot notifications have been going crazy today, as well as a busy little bee hinted that a record might be broken - what an awesome way to celebrate!

As always, a huge thank you to everyone who participated in Power Up Day in any way, either by powering up, posting, and/or shouting out on social media. All of those things help shine a light on our blockchain home, which in turn helps to grow our community. Special thanks to @hivebuzz for always BEEing such an incredible buzz-maker for Hive Power Up Day, as well as all the other cool initiatives you do for our Hive community!
What are the PUD stats of this month?
Before going straight to the volume and participant stats, let's start first with those who choose to help others grow, the Power Up Helpers as those are the ones who deserve the most attention.
We have 20 users who have made a power-up to another account and have thus allowed 26 people to get their PUD badge.
Special kudos to those who were helping several accounts:
@traciyork (3), @pusen (2), breelikeatree (2), notak (2) and tazi (2)
Together, the helpers gifted 3787.961 HIVE! Wow, that's a new record here too!
Here is the complete list of helpers and their donation:
@xyba (3000.00), @acidyo (447.00), @pusen (52.17), @penderis (50.00), @traciyork (33.33), @pizzabot (23.80), @tazi (20.00), @notak (20.00), @breelikeatree (20.00), @sydney.potts (15.00), @victoriabsb (11.93), @brittandjosie (11.72), @pegarissimo (11.01), @qwerrie (11.00), @acguitar1 (11.00), @remenzer (10.00), @melinda010100 (10.00), @dreemport (10.00),
@bashadow (10.00) and @ahmadmanga (10.00).
A huge thank you to them all for their generosity! Show them some love by upvoting one of their recent posts.
We now have 132 users who helped at least one less powerful user who never got any power-up from anyone. These benefactors got the so coveted Power Up Helper badge: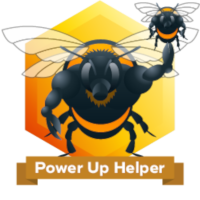 Congratulations to @traciyork (15), @junkfeathers (10), @tazi (9), @reiseamateur (8), @melinda010100 (7), @victoriabsb (6), @primersion (5), @louis88 (5), @ybanezkim26 (4), @bashadow (4), @ahmadmanga (4), @french-tech (4), @revisesociology (3), @carlagonz (3), @sandymeyer (3), @scorer (3), @ecency (3), @kubak (3), @fraenk (3), @breelikeatree (2), @remenzer (2), @pegarissimo (2), @kwame89 (2), @tibaire (2), @notak (2), @gr33nm4ster (2), @immanuel94 (2), @pusen (2), @blocktrades (2), @saleg25 (2), @schlafhacking (2), @shmoogleosukami (2), @lesiopm (2), @silversaver888 (2), @oliverschmid (2), @qwerrie (2), @schlees (2), @sammie (2), @p3ntar0u (2), @trangbaby (2), @trumpikas (2), @straykat (2), @condeas (2), @brittandjosie (2), @fw206 (2), @derangedvisions (2), @dannewton (2), @dawnoner (2), @jossduarte (2), @soulturtle, @theguruasia, @stormcharmer, @emsenn0, @androshchuk, @manuelmusic, @charsdesign, @vokus, @dreemsavingsfund, @dreemport, @dwinblood, @penderis, @bighungrypanda, @sydney.potts, @xyba, @wedacoalition, @acidyo, @keco, @pizzabot, @nomad-magus, @littlenewthings, @tribesteemup, @happyfrog420, @ramzimo68, @madefrance, @skylinebuds, @thatcryptodave, @fronttowardenemy, @ctrpch, @tsunsica, @valerianis, @russellstockley, @alexvan, @miriannalis, @stayoutoftherz, @muscara, @yolimarag, @pardinus, @maruskina, @pavelsku, @satren, @ph1102, @successchar, @phoenixwren, @walterjay, @pixiepost, @zirky, @quekery, @perceval, @recording-box, @richardfyates, @tarazkp, @improv, @arcange, @jeanlucsr, @acguitar1, @hive-data, @elianaicgomes, @jacobtothe, @eliezerfloyd, @jesusalejos, @jongolson, @gregory-f, @jznsamuel, @iamraincrystal, @cryptictruth, @inertia, @blue.rabbit, @jacuzzi, @forykw, @jeffjagoe, @brianoflondon, @joanstewart, @death-and-taxes, @deepresearch, @elizabeths14, @ksteem, @ervin-lemark, @laloretoyya, @felander, @fermionico and @engrave.
(List by number of helpees)
Remember that the number of people you are helping will significantly influence the delegations we will do.
And now, let's take a look at how you did against the previous editions: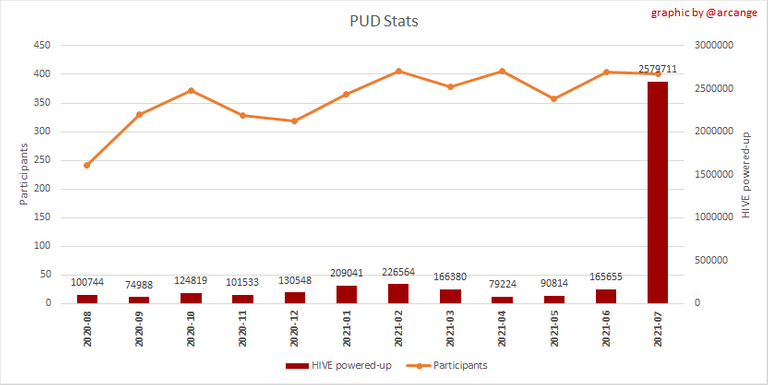 Wow, the amount of HIVE powered-up this month completely squashed the values from previous months. Compared to the last edition, we have a 1557% increase in the amount of HIVE powered up. That's absolutely insane! Congratulations to the 401 users who together performed a power-up of 2579712 HIVE!!!
Let's now look at what happened with the distribution of power-ups: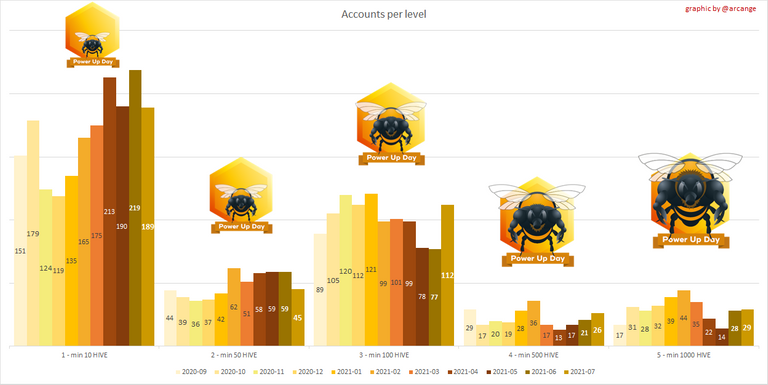 Congrats to devrim newsflash (1680488), @darthknight (639433), @peakd (122523), @notak (20000), @mahdiyari (15055), @galenkp (10002), @podping (7007), @dreemport (5000), @pouchon (4000), @xyba (3400), @kerrislravenhill (2270), @derbauarbeiter (2222), @jarvie (1800), @ddrfr33k (1645), @tattoodjay (1500), @taskmaster4450 (1400), @success-full (1292), @traciyork (1111), @ewkaw (1100), @hivetrending (1089), @deepresearch (1001), @uwelang (1000), @r1s2g3 (1000), @sicarius (1000), @calatorulmiop (1000), @tarazkp (1000), @justclickindiva (1000) and @aliento (1000).
They all powered up at least 1000 HIVE and got the Jumbo Power-Bee badge.
Hive Power delegations
Since the beginning of this year, we are rewarding regular participants and those who have also been generous in helping others by offering a 3 weeks Hive Power delegation.
To be eligible for a delegation:
you must have participated in this Power Up Day.
You must have performed at least 5 power-ups on Power Up Day. Power-up received from another user is not taken into account.
4 of these 5 power-ups must have been done on the last 5 Power Up Days (including this one).
To compute the amount of HP delegated to each user, we use the following criteria:
The number of power-ups performed.
The number and levels of power-ups you have performed (ex: you made two "level 3" and three "level 5" power-ups).
The number of people you helped to power up and the amount involved.
This month we will delegate no less than 5083 HP to 121 users
Congratulations to all of you!
See you on August 1st for the next PUD!
---
HiveBuzz is a project created by @arcange
---
---