This post is written in two languages and divided for ease of reading.
Este post está escrito en dos idiomas y dividido para facilitar la lectura.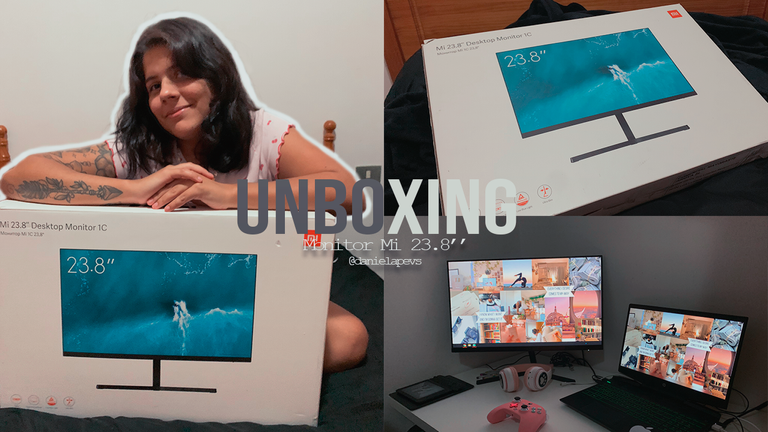 El espacio dónde invierto gran parte de mi tiempo es en mi portátil, especialmente porque la mayoría de mis clases son a nivel remoto y, mi trabajo también lo es. Y aunque mi portátil por sí misma es totalmente funcional, si que habían ciertas actividades que se me dificultaban a la hora de trabajar, un ejemplo de ellas era ver mis clases de diseño gráfico, parar la clase para luego minimizar la ventana y trabajar en el programa en sí mismo.
Es un poco difícil de explicar pero digamos que a mi en lo personal me dificultaba un poco más mi capacidad de aprendizaje. Soy de esas personas que toma apuntes mientras el profesor está dictando una clase y puedo prestarle atención a ambas tareas y, cuando detengo alguna de las dos pierdo el estado de flow durante el aprendizaje.
The space where I spend most of my time is on my laptop, especially since most of my classes are remote, and so is my work. And although my laptop itself is fully functional, there were certain activities that were difficult for me to work on, an example of which was watching my graphic design classes, stopping the class and then minimizing the window and working on the program itself.
It is a little difficult to explain but let's say that for me personally it made my learning ability a little more difficult. I am one of those people who takes notes while the professor is teaching a class and I can pay attention to both tasks and, when I stop either of them I lose the flow state during learning.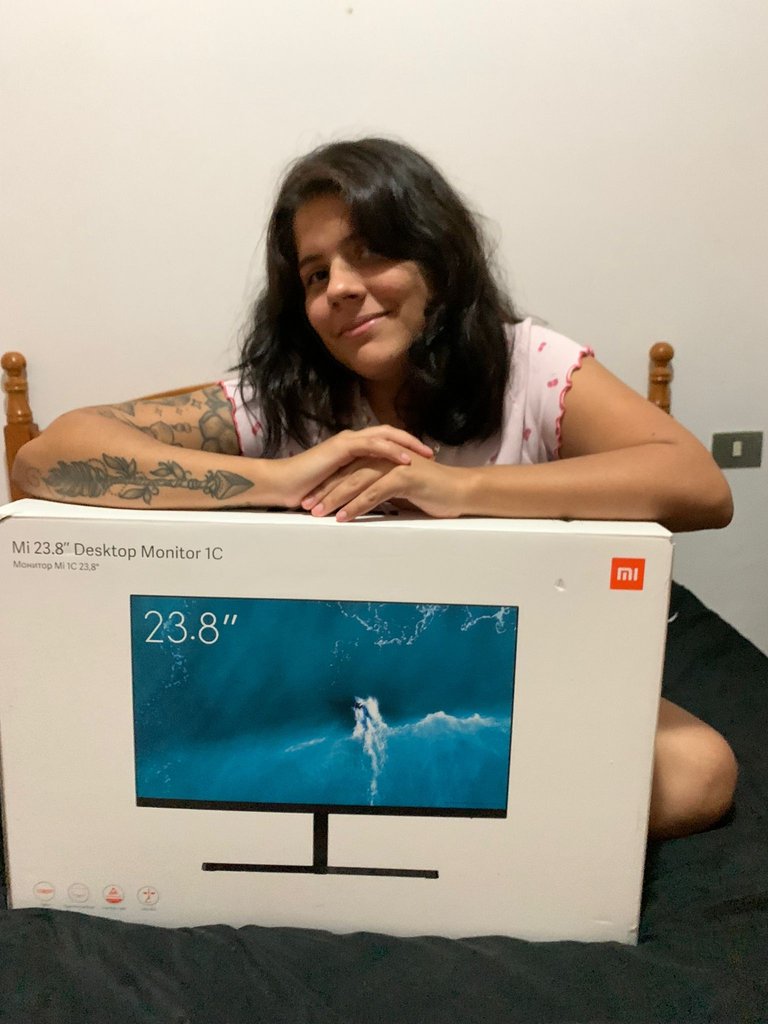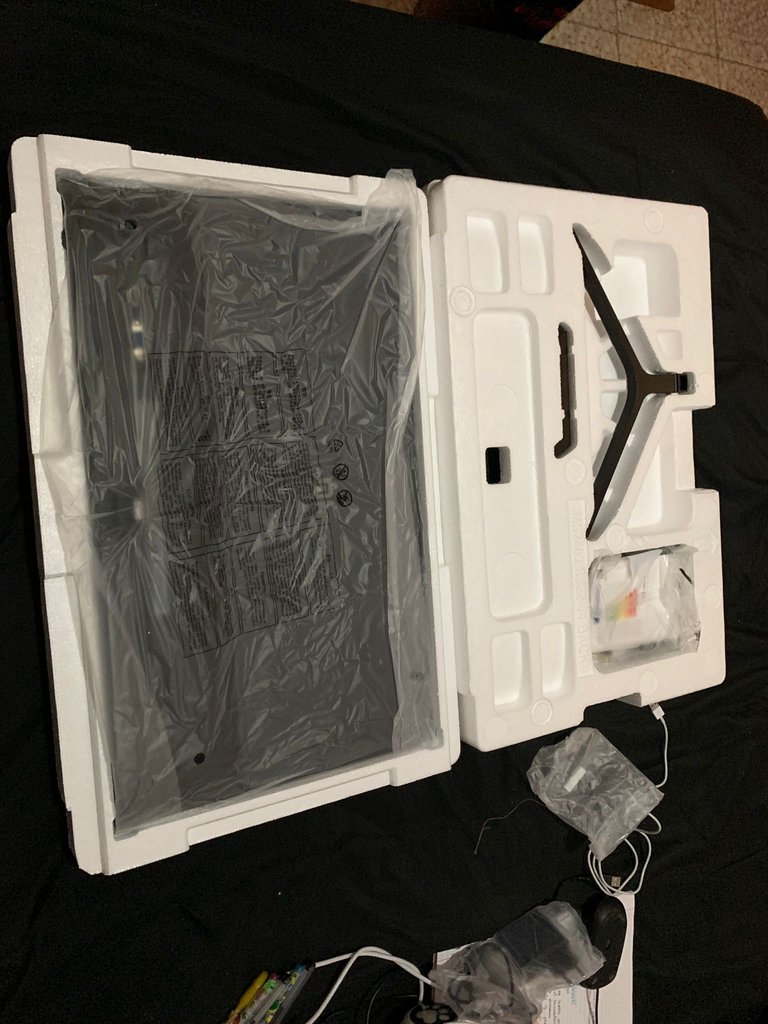 Y si quería conseguir ese mismo punto de flujo en mis clases de diseño debía buscar una solución para facilitarme el trabajo. Es ahí cuándo tomé la decisión de comprarme otro monitor y trabajar con las pantallas extendidas, es decir, en la pantalla de mi portátil puedo ver la clase y en mi nuevo monitor puedo ir a la práctica directamente en el programa que esté utilizando.
Suena increíble y lo es. Así que en la noche de éste miércoles 21 decidí adelantar mi regalo de navidad e ir a por el nuevo monitor, afortunadamente la tienda queda justo al lado de casa y el viaje no fue un trajín largo. Inmediatamente mi atención fue directo a éste monitor de la marca Xiaomi, estéticamente se me hizo precioso y no dudé en preguntar por sus características.
Tiene un peso de tan sólo 2,7 Kg y, es de 23.8 pulgadas. La tasa de refresco de éste monitor es exactamente la misma que el de mi portátil 60Hz, tiene una entrada HDMI y una entrada VGA.
And if I wanted to get that same point of flow in my design classes I had to find a solution to make my work easier. That's when I made the decision to buy another monitor and work with extended screens, that is, on my laptop screen I can see the class and on my new monitor I can go to practice directly in the program I'm using.
It sounds amazing and it is. So on the evening of this Wednesday 21st I decided to go ahead with my Christmas present and go for the new monitor, fortunately the store is right next to my house and the trip was not a long one. Immediately my attention went straight to this Xiaomi monitor, aesthetically it was beautiful and I did not hesitate to ask about its features.
It has a weight of only 2.7 kg and is 23.8 inches. The refresh rate of this monitor is exactly the same as my laptop 60Hz, it has an HDMI input and a VGA input.
Los colores en el monitor se ven más brillantes que en la pantalla de mi portátil, la cuál es un poco más opaca y oscura. La instalación fue relativamente sencilla, aunque la configuración me dejó pensando un poco hasta que lo conseguí y, me decanté por poner al monitor como mi pantalla principal.
Estoy muy contenta con mi compra, principalmente porque esto me permitirá fluir propiamente en mis estudios. Lo segundo es que ahora podré jugar a mayor escala, no es secreto para nadie que soy una amante de los videojuegos. Siempre he sido partidaria de buscar las herramientas que apoyen y refuercen tu crecimiento intelectual y profesional.
Hacía mucho tiempo que no publicaba nada en la comunidad debido a mi ausencia, pero la verdad es que me siento muy feliz de poder regresar una vez más a la colmena.
The colors on the monitor look brighter than on my laptop screen, which is a bit duller and darker. The installation was relatively easy, although the configuration left me thinking a bit until I got it right, and I decided to put the monitor as my main screen.
I am very happy with my purchase, mainly because it will allow me to flow properly in my studies. The second thing is that now I will be able to play games on a larger scale, it is no secret to anyone that I am a video game lover. I have always been in favor of looking for tools that support and reinforce your intellectual and professional growth.
It has been a long time since I posted anything in the community due to my absence, but the truth is that I am very happy to be able to return once again to the hive.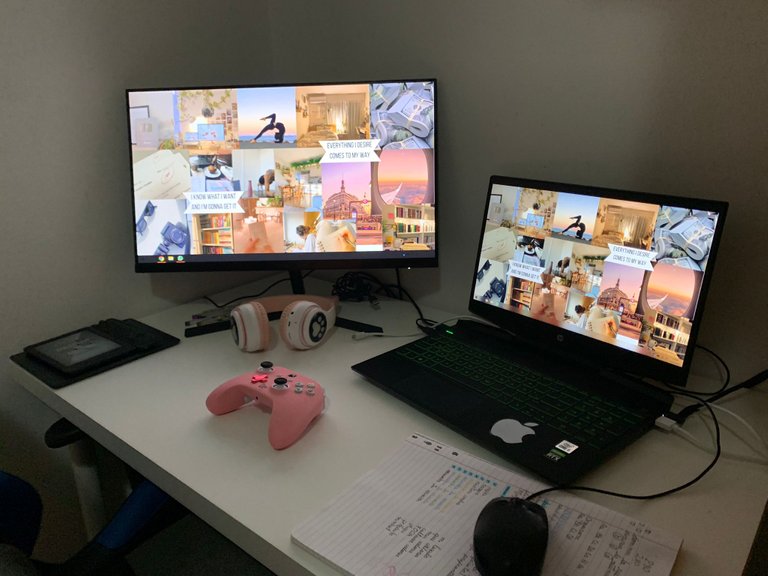 Así es como se ve ahora mi nuevo espacio de trabajo y, estoy bastante contenta con el resultado final. Una de las cosas que más me gusta de éste nuevo monitor es que es bastante delgado, diría que es casi igual que la pantalla de mi portátil, aproximadamente medio centímetro. Y sí, eso que ven de fondo es mi vision board jajajaja, nunca debe faltar para cada inicio de año.
Sin más nada por agregar, les deseo unas felices fiestas y nos veremos en la próxima. ❤️
This is what my new workspace looks like now, and I am quite happy with the final result. One of the things I like the most about this new monitor is that it is quite thin, I would say it is almost the same as my laptop screen, about half a centimeter. And yes, what you see in the background is my vision board hahaha, it should never be missing for the beginning of the year.
With nothing more to add, I wish you merry christmas and see u in the next time. ❤️
---
❥ translated with the help of deepL
❥ the pictures was taked with my iPhone XR