这篇文章来自加州大学圣地亚哥分校(UCSD)付向东老师课题组,当初付老师来我们学校做报告的时候,讲了这个未发表的结果,并且给我们看了小鼠治疗前后的对比,真的是令人振奋!犹如在平静的水面上,有一颗核弹炸开般。我没有找到公开的视频比对,我相信过几天之后,社交媒体上会公布这则新闻。
我会简单的介绍引用百科上的内容,作为背景,并且简单的说明了这篇文章做了什么。有兴趣的伙伴,可以参考文末的文章链接。
This article is from the research group of Fu Xiangdong, University of California, San Diego (UCSD). When Mr. Fu came to our school to give a report, he talked about this unpublished result and showed us the comparison of mice before and after treatment. Is exciting! As if on a calm water, a nuclear bomb exploded. I didn't find a public video comparison. I believe that the news will be published on social media in a few days.
I will briefly introduce the content on the Wikipedia as a background and briefly explain what this article does. Interested partners can refer to the article link at the end of the article.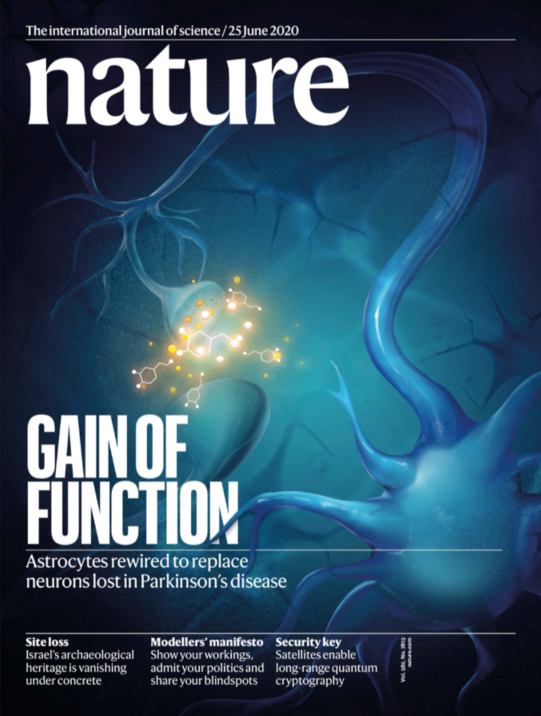 什么是帕金森?帕金森病(Parkinson's disease,简称PD)是一种影响中枢神经系统的慢性神经退化疾病,主要影响运动神经系统。
What is Parkinson? Parkinson's disease (PD ) is a chronic neurodegenerative disease that affects the central nervous system, mainly affecting the motor nervous system.
什么是星形胶质细胞?
星形胶质细胞,也称星状细胞(astrocyte、AS),为神经胶质细胞的一种。星形胶质细胞在大脑中的比例尚不明确。有研究发现,星形胶质细胞的比例因区域而异,占所有神经胶质细胞的20%至40%
What are astrocytes?
Astrocytes, also known as astrocytes (AS), are a type of glial cells. The proportion of astrocytes in the brain is unknown. Studies have found that the proportion of astrocytes varies from region to region, accounting for 20% to 40% of all glial cells
什么是神经细胞?
神经元(英语:neuron),又名神经原或神经细胞(英语:nerve cell),是神经系统的结构与功能单位之一。神经元能感知环境的变化,再将信息传递给其他的神经元,并指令集体做出反应。神经元占了神经系统约一半,其他大部分由胶状细胞所构成。
What is neuron?
Neuron, also known as neuron or nerve cell (English: nerve cell), is one of the structural and functional units of the nervous system. Neurons can sense changes in the environment, and then pass information to other neurons, and instruct them to respond collectively. Neurons account for about half of the nervous system, and most of them are made up of colloidal cells.
Wikipedia:
Parkinson
astrocytes
neuron
---
文章做了什么?
通过降解小鼠中脑PTB蛋白的生成,诱导星形胶质细胞转化为神经元。研究人员估计,神经元数量增加了约30%。 并且小鼠大脑中的多巴胺水平也在正常水平。经过一次治疗之后,3个月后,小鼠的四肢运动能力恢复正常,并且可以维持一生。
What did the article do?
By degrading the production of PTB protein in mouse midbrain, astrocytes are induced to transform into neurons. Researchers estimate that the number of neurons has increased by about 30%. The dopamine levels in the brains of these mice were also similar to normal values. After 3 months of one treatment, these mice's limb movement ability returned to normal, and can maintain for life.

中脑星形胶质细胞逐渐转化为NeuN +神经元。 三个时间点的代表性图像。
e, Gradual conversion of midbrain astrocytes to NeuN+ neurons. Representative images at three time points. Scale bar, 35 μm
展望未来
帕金森病领域目前的治疗手段多为控制,并不能治愈,这种能够让神经元重新生长的技术,有望带来真正的颠覆与变革。
Looking to the future
The current treatment methods in the field of Parkinson's disease are mostly controlled and cannot be cured. This technology that allows neurons to re-grow is expected to bring real disruption and change.
参考
Qian, H., Kang, X., Hu, J. et al. Reversing a model of Parkinson's disease with in situ converted nigral neurons. Nature 582, 550–556 (2020). https://doi.org/10.1038/s41586-020-2388-4
Reference
Qian, H., Kang, X., Hu, J. et al. Reversing a model of Parkinson's disease with in situ converted nigral neurons. Nature 582, 550–556 (2020). https://doi.org/10.1038/s41586-020-2388-4