Do you remember when you were a kid, and wrote your address on the back of an envelope, when envelopes were tactile, gluey and crisp things you could stuff with glitter, love letters, dollar bills and greeting cards?
Name, address, Earth, The Solar System, The Universe.
If you got all science geek about this, it went further. Provided you could afford to send said envelope to some one you loved on the other side of the known universe, and accept it might take many months and years to arrive (because only a physical envelope would do, and not an email, which would only take 21 minutes to reach Mars) you would have to get a little more specific for your space postman. You would need a more specific hierarchy of structures - of countless galaxies, planets, suns and infinitesimal stars.
Perhaps we could not articulate this as children, but as adults we know that this cosmic address was about our place in the universe.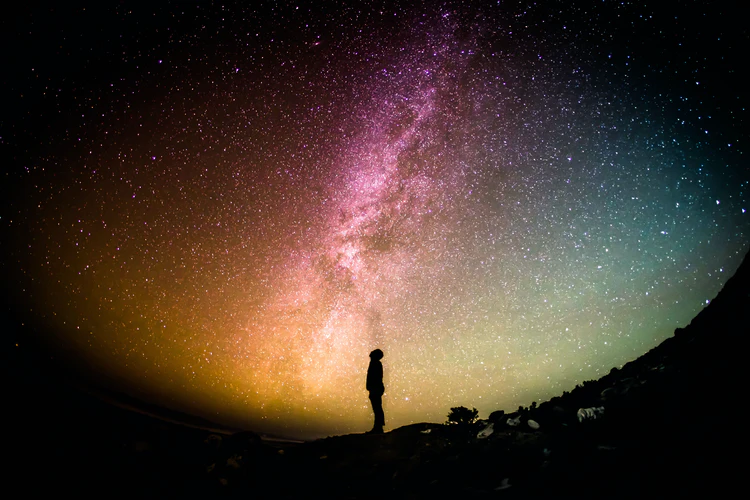 Our cosmic address is where we are in time and space
Finding 'our place' in the universe is always shifting. Like a postman navigating a town whose bridge collapsed yesterday and whose major roads disappeared in sinkholes, and is trying to do this in a snow storm, cosmic posties must consider dark energy (which powers the accelerating expansion of the universe), gravity and space-time weirdness that makes relativity quite difficult. That cosmic address would need to be pretty damn precise, and the navigational controls on the Galactical Space Postal Company ship would want to be well oiled.
One must also consider something about the culture that exists on the planet to which you are addressing your missive. Perhaps the objects we use to define our physical location and thus our identity - state, town, street, house number - are not the same objects used to locate our friend Uloguogiolio (not his real name) who we know is located on the planet we call Ulo (not a real planet). Perhaps their labels are less labels, but more a understanding of all that is.
The sun is no less the sun for being refracted off the glacial pools of Ulo or warming the wet flesh of an Ulogian or setting to the eastern mountains lit by it's three moons. The sun is all three things, and not one of them. Likewise, the foothills of the mountains where Uloguogiolo lives might not be labelled 'G'lio Foothills', as we might have naturally named it, being Earthians. Why label a 'foothill' as such, our friend might argue, if the dirt that forms it is the same as the dirt under your fingernails, the mud at the base of the river below, the dirt that covers your great grandparents bones, or the dust that sparkles in the Uloian moonlight? Perhaps too our friend Uloguogiolo would feel deeply offended if we asked him: please, could you give me your address, so I can label the envelope correctly? What is a label, he might argue, but something you Earthians use to divide one from the other? What is so important that must be addressed to only me, when the whole of my people communicate together, in synchronicity?
The one is the all.
I do not end here
My cosmic address does not end with my house and my street, tunnelling down from 'universe'. It is addressed to my name, but there are other objects to whom I connect myself in time and space. The earth-dirt under my fingernails. The worms in the vegetable garden. The precise time the sun sets in the west and melts gold over the grass fields. The memory of my child's foot held in my hand as we banana'd together in sleep. The deep blue sapphire on my engagement ring, coupled by two tiny diamonds, with at least three previous owners that I wonder if they loved as much as I love the man who drives past the postbox every evening and kisses my forehead and asks what's cooking. The blue flint he gave me that sits on the bookshelf, shot through with flecks of white: stars, he said, galaxies, infinity.
'Where do you fit?' you ask, in your need to label. 'Where are you, relative to me? How might I categorise you, so that I might know myself better?'
I think of how, when we hold our hands up to the light, the webs of our fingers are pink. I think of the heart that pumps blood in both our chests. I think of the way you love the winter sunlight on your face, just as I do when I am exhausted and overstretched. I think of how you love your grandchildren and how I love my son. I think of the shadows that scare us both.
Who am I? I am you.
I smile, and think of the planet Ulo, and the far away being that I cannot write to, but I love unconditionally.
I think of the universe. Of all there is. Of infinity.

This post was in response to a topic prompt 'label' and was first published here, about five minutes ago, in time.