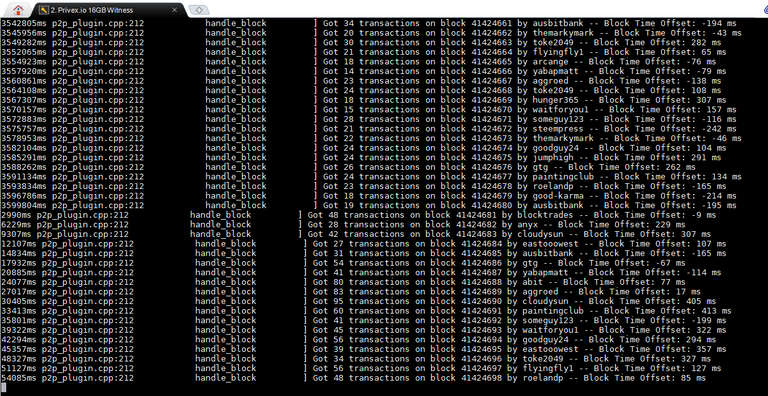 After a bit of issues getting the KLYE witness server going again, proud to announce that it is once again able to produce blocks. The server, once it hits a block, should be signalling v22.4444 which in essence is the same as v22.1.. But with the .4444 tagging in protest of the occupation of the STEEM blockchain top 20 list with invader sock puppets set up by @justinsuntron who convinced his friends and Binance and Huobi to illegally power up their users STEEM into STEEM power and use said SP to takeover the chain.

Currently sitting at rank #94 due to asking people to unvote my witness while it was restarting and going to vote our original top 20 witnesses in. I'm still urging people to vote the following witnesses in order to try and take back control of our chain, as currently it is in stalemate between our witnesses and the illegally voted sock puppet accounts.


Please go and vote on the current witnesses if you've not already:
@blocktrades
@good-karma
@roelandp
@anyx
@ausbitbank
@yabapmat
@gtg
@themarkymark
@aggroed
@steempress
@cervantes
@thecryptodrive
@drakos
@therealwolf
@followbtcnews
@lukestokes.mhth
@steempeak
@abit
@ocd-witness
@emrebeyler
@curie
@stoodkev
@actifit
@netuoso
@liondani
@arcange
@timcliff
@pharesim
@riverhead
@bhuz
@pfunk
There are roughly 30 witnesses listed above, however voting on these guys, especially the ones at the top of the list will help us take control over the software version our chain is running. If you're feeling rather kind you can substitute one of the votes for the lower guys for my @klye account in order to bump my witness rank from #94 to something higher. Thank you again to everyone who responded to the call to arms to help vote against our attackers. Every single vote counts and it is nice to watch the community come together in the face of a threat, put our differences aside and vote our own community witnesses back in. Last I checked we held 11/20 top witness spots, blocking the TRON foundation from running any sketchy software to bail out their exchange friends whom colluded together to utilize their custodial stakes in order to attack our STEEM network.
To be clear, my running of 22.4444 is NOT intended as an anti chinese statement but rather a protest of the hostile takeover of our chain from the TRON foundation. I've absolutely no issues with the chinese!
Thank you for reading, voting, supporting and replying!
( if you'd like to vote for my witness please click the Canadian flag below! )
---


Looking for an Affordable, Secure & Reliable Server Host for Your STEEM Witness Server or Other Web Related Projects? Check out Privex.io!