'Chemtrails' is one of the subjects that is most likely to attract claims of being a 'loony' 'conspiracy theorist' by those who haven't bothered to do research. Kirsten Meghan is one of several professional whistleblowers from within the system that have exposed what is most likely real 'classified' programs of aerial spraying of chemicals onto unsuspecting populations.
As I covered 2 years ago on steem, a wealth of credible evidence exists - spanning many years - that covert spraying of chemicals onto the public has taken place. You will see in my previous post that there is even an admittance from the UK government of having done this a long time ago - using cadmium sulphide to 'test the outcome of a russian chemical attack'. That chemical was claimed to be 'safe', yet turned out to be highly toxic. They stated then that they would 'do it again if they had to'!! These are the people we are dealing with here, make no mistake - they WILL spray you with poison in secret if they decide to (and claim it is in your best interests!).
We have recently been seeing more talk in the mainstream media of 'new ideas' to spray our atmosphere with a variety of chemicals to block out the sun to protect us from 'global warming'! Anyone who thinks this is a new idea and such things haven't been being done already for years, needs to do more research.
Kirsten Meghan
---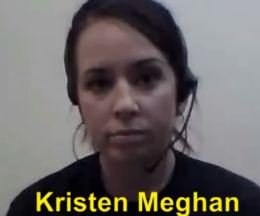 Kirsten states in this testimony that she worked in the US Air Force (reaching the level of sergeant) for many years as a science oriented specialist, tracking hazardous materials on air bases - ensuring that people were safe from the many polluting chemical in use there.
She initially thought that the talk of covert spraying programs was 'tin foil hat' material - however, the more she went through her career, the more she saw the effects of radioactive materials being brought onto the base and finding their way into soil and human populations from aerial spraying.
I highly recommend taking the time to research this subject and not to assume that such things 'must just be crazy'. Denial is a killer.