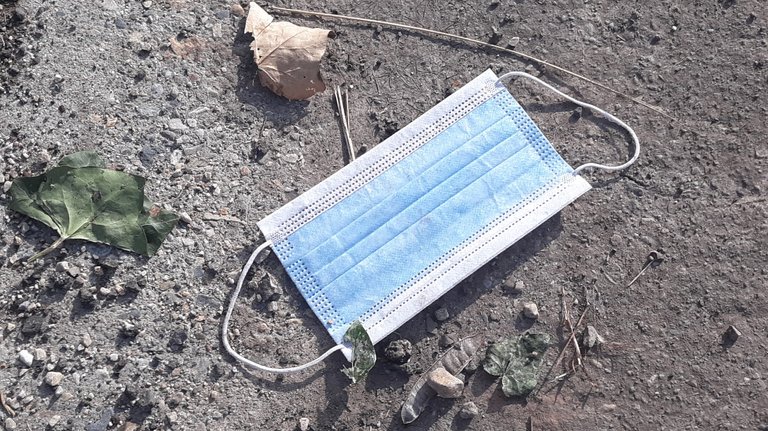 The world is being covered with discarded COVID19 masks. I usually walk past a dozen or so discarded masks on my daily walk.
I admit I have only one hand sewn cloth mask that I rarely wear. I periodically wash with an antibacterial soap.
I don't pick up the discarded masks. I believe that discarded masks should be treated as bio-hazards.
Think of it. These discarded masks covered a human face and picked up only God knows what during the mask's short life.
I am not the biggest fan of masks. I believe that they are useful when people are in crowded situations such as a crowded bus or train. IMHO: People shouldn't wear them all day long.
I should mention, I recently caught a cold from a little girl who was wearing a mask. She was wheezing and sneezing into her cute little mask. She was clearly uncomfortable and was constantly touching the mask ... and then touching people.
She was spreading germs everywhere. The mask probably increased the number of people she infected with her cold.
I can imagine nothing more futile than a mask wrapped on a child's head.
People sneeze for a purpose. It reduces the viral load. I would agree that people with COVID should wear a mask when in public. People with COVID should probably be spending their disease suffering in solitude with a big box of tissues and a bag for discarded tissues.
When it is my turn to get COVID, I think I will put my tissues in a paper box and end my quarantine by burning the box of tissues in my rocket stove.
World O Meters reports that there is currently 57,519,086 active COVID cases in the world. I suspect the real number is much higher.
Not to sound judgmental, but I suspect that a few of readers on HIVE had COVID without reporting the condition to the authorities.
I won't name names. But I will admit, I am not sure that I will report to the authorities when it is my turn to catch the disease.
But lets return to the discussion of the litter at hand.
I suspect that a high percentage of the discarded masks I encounter are infected with COVID.
The neighborhood raccoon will sniff the mask because it has a hint of saliva. The raccoon will then return to his raccoon family and the virus will try to jump into the raccoon population.
The Reason for the Post
Having driven away most my readers will the silly introduction, I can get to the reason for this post.
I dislike how the COVID debate has fallen into arguments between pro-maskers and anti-maskers.
A rational conversation about masks should be about the best times to wear a mask.
For example, one might ask: Should COVID patients wear masks.
Clearly COVID patients should try to avoid spreading the disease.
However, the data seems to suggest that the viral load determines the severity fo the disease.
People cough for a reason. Coughing expels pathogens and decreases the viral load. Wearing a mask while sick might increase the viral load and increase the severity of the disease.
i am fortunate to live in a place where I have a private bathroom. I figure that sneezing is a good thing. I plan to spend most of my quarantine period in the bathroom sneezing into a room that I can easily sanitize and I plan to sit there with a box of tissues and sneeze to my heart's content.
As for today, my mind is filled with questions about when and where I should wear a mask. I also wonder about proper mask usage.
It seems to me that the biggest problem occurs when one touches one's mask. Imagine that you wore a mask through a COVID infected crowd and your mask trapped the virus. Hooray your masks saved you.
Now, if you handled the mask improperly, you might still get the disease.
The question now is: When and where one should wear a mask and how should one dispose of masks.
Quite frankly, I think mask mandates are completely useless when the mandates are imposed on people who did not think through the proper use of masks.
The discarded masks I find in the park playground show that people are not thinking.
I have only one cloth mask. I rarely wear it. I only use it when I am in a crowd. So, I plan my exposure to crowds. I clean periodically and like to leave it in the sun between uses as the sun is a good disinfectant.
If I was in a situation where I had multiple contacts with people each day, I would probably have a collection of masks that I rotate during the day and clean at night. I really hate the idea of throwing out masks.
COVID is now Endemic
In the long term I don't think that masks will save us from COVID. World-O-Meter reports that there are currently 57 million active cases and 275 million closed cases. This thing is now endemic. It will probably linger on in the human population for the rest of our lives.
At this point I've given up on the idea that I will never catch COVID. The best I can hope for is that I catch the stupid thing in the Spring.
Immune health seems to affect severity of the disease. The human immune system is strongest in the Spring.
Conclusion
The public discussion about masks and COVID should have started with an open discussion about proper mask usage. I believe that healthy debate would have concluded that masks should be worn sparingly. One should only wear the foolish things when dealing with the public.
Forcing patients with COVID to wear a mask will increase the patient's viral load and might make the disease worse. Isolation with a place to sneeze would be the best way to quarantine.
There should be a discussion of proper disposal of masks. I assume that the discarded masks I encounter daily are bio-hazards. I only pick them up when i am wearing gloves.
The Omicron variant appears to be less severe than the variant that leaked from the Wuhan Lab.
Ooops I just committed a sin against science by implying that a lab leak is the most likely explanation for the origins of COVID.
Implying that scientists are not gods is a sin against science.
I think science is tough enough to take a few criticisms.
Omicron is more virulent but less severe. I've been thinking that this mutation is an example of the way that nature vaccinates populations. Personally I think that nature does a better job than Pfizer.
I think that a healthy discussion of masks should include a discussion of when people can stop wearing the foolish things.
Posted with STEMGeeks