---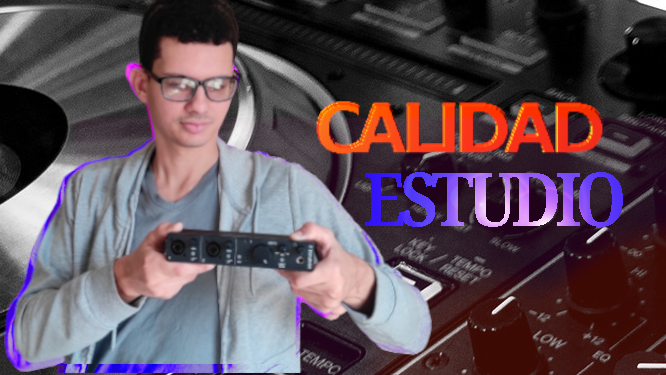 Iniciar en la industria musical no es fácil, nunca lo ha sido. Es sumamente abrumadora la cantidad de detalles que debemos tener controlados para producir nuestras propias canciones de una manera profesional. Siempre me gusta decir que el mayor recurso con el que contamos es nuestro talento, esfuerzo y dedicación. Sin estos elementos es muy difícil que cualquier emprendimiento salga adelante. Pero, si somos verdaderamente objetivos los recursos tecnológicos son inevitablemente una pieza vital en el arduo camino de la producción por lo que tarde o temprano debemos adquirir estos equipos si nuestra intención es progresar en el mundo de la música.
Siempre me ha apasionado la música pero la verdad es que no me dedico de manera profesional. Sin embargo, componer canciones y pistas de audio ha sido mi pasatiempo durante muchísimos años. En mi computadora tengo unos cuantos proyectos que constantemente he querido "llevar a realidad", es decir, tocar todas esas canciones con instrumentos reales pero, no había tenido la oportunidad de contar con los equipos apropiados para realizar las respectivas grabaciones.
Getting started in the music industry is not easy, it never has been. It is extremely overwhelming the amount of details that we must have under control to produce our own songs in a professional way. I always like to say that the greatest resource we have is our talent, effort and dedication. Without these elements it is very difficult for any project to succeed. But, if we are truly objective, technological resources are inevitably a vital piece in the arduous path of production, so sooner or later we must acquire this equipment if our intention is to progress in the world of music.
I have always been passionate about music but the truth is that I am not a professional musician. However, composing songs and audio tracks has been my hobby for many, many years. In my computer I have a few projects that I have constantly wanted to "bring to reality", that is to say, to play all those songs with real instruments but, I had not had the opportunity to have the appropriate equipment to make the respective recordings.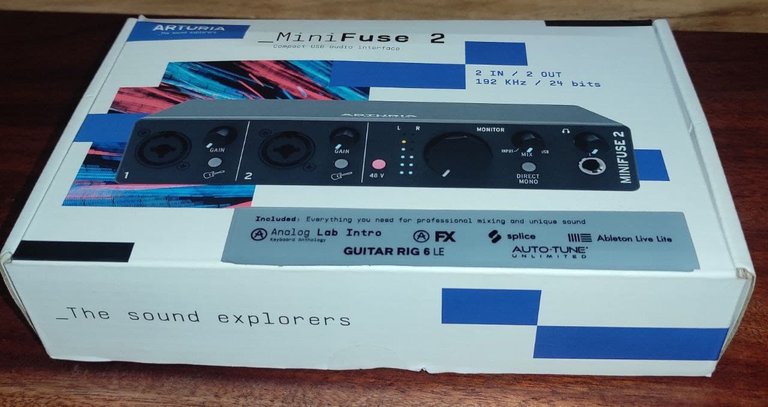 ---
Por esta razón me sumergí en una larga búsqueda esperando conseguir los materiales adecuados para grabarme de manera profesional. En mi gran recorrido identifiqué que uno de esos elementos necesarios era una interfaz de audio o también denominada placa de sonido. Este es un dispositivo electrónico cuya función consiste en convertir las señales analógicas de nuestros instrumentos a señales digitales que la computadora pueda procesar. Lamentablemente me dí cuenta que estos productos eran sumamente costosos y como anteriormente dije que la música no es algo a lo que me dedique profesionalmente así que dejé ese capitulo en espera.
Pasó el tiempo y vi que las interfaces de audio bajaron su precio considerablemente. En efecto, hacer música hoy en día es un poco más "barato" que hace unos años. Finalmente me decidí y luego de buscar toneladas de información adquirí la tarjeta de sonido Arturia Minifuse 2.
Esta es una interfaz que reúne todo lo necesario para grabar tus instrumentos de una manera profesional, sencilla y que gracias a sus dimensiones es muy versátil por lo que la puedes llevar a cualquier sitio y empezar a producir música.
For this reason I went on a long search hoping to get the right materials to record myself in a professional manner. In my long journey I identified that one of those necessary elements was an audio interface or also called sound card. This is an electronic device whose function is to convert the analog signals from our instruments to digital signals that the computer can process. Unfortunately I realized that these products were extremely expensive and as I said before that music is not something that I dedicate myself professionally so I left that chapter on hold.
Time went by and I saw that audio interfaces dropped in price considerably. Indeed, making music today is a bit "cheaper" than it was a few years ago. I finally made up my mind and after searching tons of information I purchased the Arturia Minifuse 2 sound card.
This is an interface that brings together everything you need to record your instruments in a professional and simple way, and thanks to its dimensions it is very versatile so you can take it anywhere and start producing music.

---
Hablemos de sus prestaciones
La Arturia Minifuse 2 cuenta con el estándar de grabación profesional de 192 Khz a 24 bits. Ofrece un sonido bastante limpio con una relación señal/ruido de -129 dB. En la parte delantera tenemos 2 entradas para conectar nuestros instrumentos (guitarra, bajo, piano, microfono, etc.) Su construcción está bien lograda con unos materiales bastante sólidos. Los potenciómetros de la ganancia son toda una experiencia pues se sienten muy bien al tacto. Contamos con Switches de alta impedancia, phantom power (48V) y salida de monitoreo para audífonos.
En la parte trasera encontraremos las salidas de audio. Entrada y salida para instrumentos MIDI, un hub USB para conectar por ejemplo un sintetizador o teclado. También tenemos la conexión USB tipo c . No necesita fuente de alimentación por lo que facilita aún más su transporte.
Adicionalmente, con la compra de este producto tendremos a 4 VSTs de Arturia los cuales están súper geniales y suenan de maravilla. Entre estos softwares tenemos: El analog Lab Intro, Delay TAPE 201, Reverb Plate 140 y Chorus Jun-6. Estos programas son de pago pero vienen totalmente gratis con la compra de la Minifuse.
Con tantas opciones en el mercado me terminé comprando este modelo pues su relación calidad precio es de las mejores (por no decir que es la mejor actualmente). Con un precio de 150$ obtendremos un prodcuto con prestaciones súper profesionales. No exagero cuando digo que esta Minifuse 2 es un estudio de grabación en miniatura. Al probar este equipo con mi guitarra pude percibir la extraordinaria nitidez que sus pre-amplificadores ofrece. Altamente recomendado para aquellos que quieran iniciarse en el mundo de la musica o que quieran llevar su sonido al siguiente nivel. En el video analizo un poco más en detalle esta placa de sonido.
Let's talk about its features
.
The Arturia Minifuse 2 features the professional 192 Khz 24-bit recording standard. It offers a fairly clean sound with a signal/noise ratio of -129 dB. On the front we have 2 inputs to connect our instruments (guitar, bass, piano, microphone, etc.) Its construction is well done with a fairly solid materials. The gain potentiometers are an experience because they feel very good to the touch. We have high impedance switches, phantom power (48V) and headphone monitoring output.
At the rear we will find the audio outputs. Input and output for MIDI instruments, a USB hub to connect for example a synthesizer or keyboard. We also have the USB type c connection. No power supply is required, making it even easier to transport.
Additionally, with the purchase of this product we will have 4 Arturia VSTs which are super cool and sound great. Among these softwares we have: Analog Lab Intro, Delay TAPE 201, Reverb Plate 140 and Chorus Jun-6. These programs are paid but come totally free with the purchase of the Minifuse.
With so many options on the market I ended up buying this model because its price-performance ratio is one of the best (if not the best at the moment). With a price of $150 we will get a product with super professional features. I am not exaggerating when I say that this Minifuse 2 is a miniature recording studio. When testing this equipment with my guitar I could perceive the extraordinary clarity that its pre-amplifiers offer. Highly recommended for those who want to get started in the world of music or who want to take their sound to the next level. In the video I analyze a little more in detail this sound board.

---
Creditos
La imagen de portada fue diseñada por mi @vjap55 usando el programa GIMP y una imagen de uso libre la cual encontrarán aquí
Las imágenes de este post fueron tomadas con mi teléfono Redmi note 9 pro
Gracias a @sawko por realizar las tomas del video
El vídeo usa música licenciada como CC BY 3.0 por Infraction - No Copyright Music
The cover image was designed by me @vjap55 using the GIMP program and a free image which you will find here
The images in this post were taken with my Redmi note 9 pro phone.
Thanks to @sawko for taking the video shots.
The video uses music licensed as Infraction - No Copyright Music
---
Related Posts
UNBOXING REVIEW Y ANALISIS DEL MICROFONO FIFINE T669 🎙️ ▶️ [ESP | ENG]


---
▶️ 3Speak