The advancement in the study of genetics has, without doubts, enable scientists to make several exploits relating to development in agriculture and food production. Through the understanding of chromosomes, genes, and their likes, breeders can carry out selective breeding of species for desirable traits to boost food or meat production.
Since scientists have been able to prove the existence of genes on chromosomes through several experiments, the feature has become something that can be manipulated to achieve specific objectives. One of such manipulations is sexing. The word generally refers to the genetic mechanisms of producing specific sex of organisms. Sexing is carried out simply because the specific sex is desirable for a particular purpose.
For example, in silkworms, sex is very important for the production of silk. The male silkworms weave cocoons with silks that are of higher quality than their female counterparts. As a result, male silkworms are more desirable for revenue generation in the silk production industry. Advancement in genetics thus enables producers to identify and separate male silkworms at a very tender age from the female. The females end up being destroyed in most cases.
In poultries, especially the ones set up specifically for egg production, male chicks are not desirable. Consequently, genetic mechanisms are put in place to separate male and female chicks at a very tender age. The females are thus nursed to maturity for egg production while the males are disposed of accordingly.
Male Chick Culling in Germany
A piece of news emerged in Germany a few days ago about the plan to ban male chick culling throughout the country come the year 2022. The process which is widely practiced in Germany has to do with sexing (separating males from females) of the males from the females and then getting rid of the males by killing them off. The females are more economically profitable in that they are optimized for egg and meat production.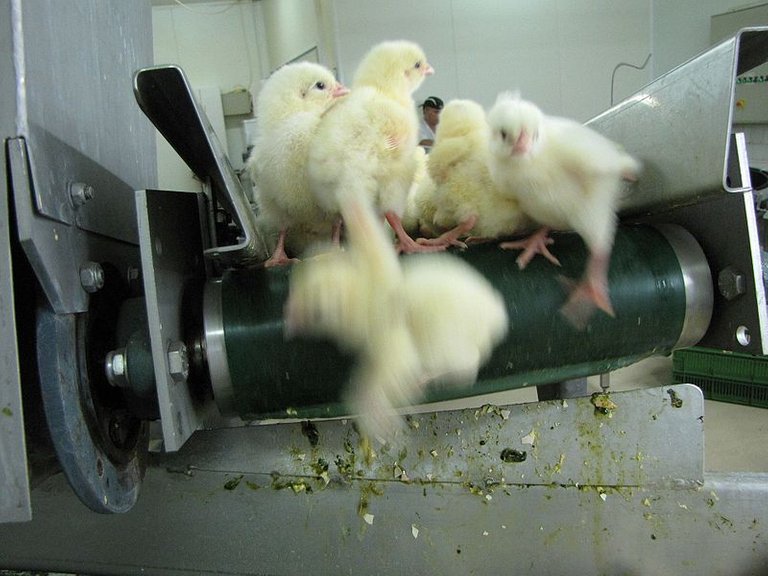 Male chicks on a macerator about to be culled because they are economically undesirable. By אנונימוס לזכויות בעלי-חיים - נפילות בלתי פוסקות, CC BY 2.0, https://commons.wikimedia.org/w/index.php?curid=59338820
This practice is as old as when scientific advancement has made it possible to separate sexes at tender age using the appropriate genetic mechanism but is now being queried in the ethical sense. Perhaps due to continuous pressure from animal rights groups, especially those concerned with animal cruelty.
According to the news, a bill has now been passed that will abolish the practice that has been tagged 'unethical' by protagonists. In its place, a novel technology that is capable of identifying the sex of a fertile egg prior to its hatching will now be used. This means that the eggs that will result in male chicks can be destroyed before the process of differentiation and becoming a chick.
In-ovo Sex Determination Technology
The technology to be utilized in determining the sex of a fertilized egg before hatching uses later beam technology. Seventy-two (72) hours after fertilization, a trained laser would be used to drill a tiny hole through the eggshell down to the fertilized yolk. The light scattering pattern of the fertilized yolk is then analyzed and utilized in the determination of the sex through a procedure known as Raman spectroscopy.
A Welcome Development
While I cannot really call myself an animal rights advocate, I am totally opposed to unreasonable animal cruelty even though I am a meat-eater. Having to annihilate millions of chicks annually simply because they are not economically profitable sounds very cruel to me. An alternative way of identifying the sex when still at the egg stage and destroying such eggs is far more welcoming. The practice of male chick culling is widespread all over the world and, hopefully, the rest of the world will adopt the in-ovo technological identification of sex at the egg stage in order to limit such practice.
Your thoughts are welcomed in the comment section.
Resources
---
Posted via proofofbrain.io