In a news release on Tuesday, 6th October, MetaMask announced their introduction of a feature that allows users of the mobile application and web extension to swap one token for another. With this, MetaMask have delved into the trending decentralized exchange aggregation business.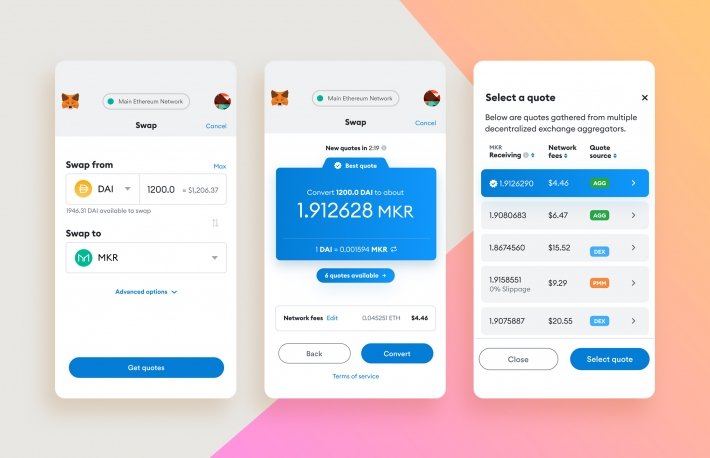 ---
MetaMask which functions like a crypto allet is a product of the Ethereum software company ConsenSys. It offers an easy way for its users to access the Ethereum blockchain and at the same time allows users to sign in to decentralized applications and use them through a regular browser.
---
With these features, MetaMask have gained a lot of users and as at 5th October, MetaMask announced their reaching one million active users per month. That's a huge one for them. And with the impending token swapping feature, MetaMask is likely to record a new all time high in terms of active users.
---
One interesting thing about this new MetaMask's feature is that it will take away the stress of having to always visit a specific decentralized exchange or exchange aggregator to run a swap. MetaMask looks to improve the user experience by automatically routing users to a needed swap service.
According to the news, the token-swapping feature on MetaMask will be released first on its Firefox browser extension, before it is being added to other browser's extensions and MetaMask mobile application.
---
MetaMask will seek the best exchange rate for any given trade, accessing all the best-known places to conduct an exchange. The MetaMask announcement lists services such as Uniswap, Kyber, ParaSwap, 1inch.exchange and dex.ag.
It should be noted this service really isn't any different than what existing decentralized exchange aggregators (like 1inch or ParaSwap) purport to do, but MetaMask has a big advantage. Odds are, most users of those aggregators already used MetaMask to access them, so if the same users can do the same thing directly in MetaMask, many likely will.
---
This new development is a means through which MetaMask will monetize its services. Before now, MetaMask had begun monetizing by charging users fees for fiat to Ethereum exchange.
Read full news here:
https://www.coindesk.com/metamask-gets-into-the-decentralized-exchange-aggregation-business-with-tokenswaps?amp=1
Posted Using LeoFinance Beta