Ayahuasca, a traditional Amazonian shamanic drink, has become popular in modern society as a life-transforming tool in terms of transcendental experience. It left its traditional cradle to inhabit the alternative culture that seeks ways to spiritualize and connect with other "layers" of reality or sometimes revisit its own life in a dive of self-awareness. Numerous studies show possible benefits or at least any absence of danger in a conscious and careful use of the substance for a healthy person. Many people literally spend their entire lives drinking Ayahuasca tea, mainly along traditional Amazonian and Brazilian religious lines (but spreading to all corners of the country) in Santo Daime churches. And such a defense of this ritualistic drink makes the space for more detailed research on the substances present in tea more difficult. In this article I intend to address exactly the risks present in the substance and not its benefits, which can be paradoxical. The internet is full of content in favor of Ayahuasca, so there's nothing like going against the grain and showing the other side, after all, everything has two sides (or would there be infinite sides?).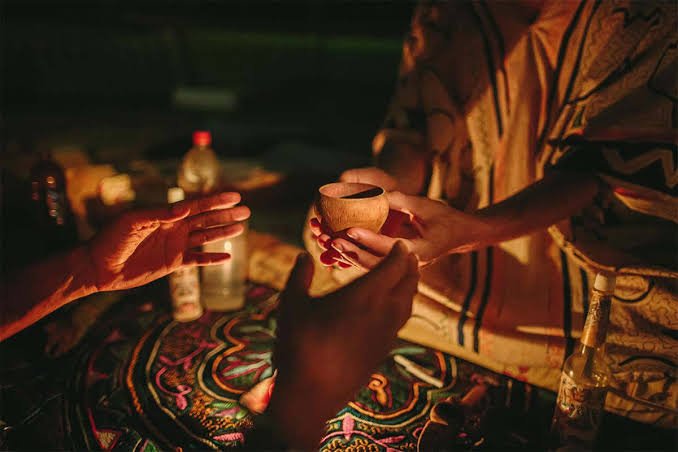 Source
Ayahuasca is originally made up of two plants, Banisteriopsis Caapi and Psychotria Viridis. The origin of this composition is somewhat mysterious and refers to Amazonian indigenous knowledge. B caapi, an Amazonian vine, has in its composition Harminas, Harmalinas and Tetrahydroharminas iMAOs A (reversible monoamine oxidase inhibitors), by itself, this substance is not far from some classic drugs used in psychiatry (such as Cabergoline or Selegiline), the second plant, a shrub called Psychotria Viridis, has 2A, 2C and 1A receptor agonists in its composition, in addition to the famous molecule Dimethyltryptamine (or DMT), also called the "molecule of the spirit". Thanks to the chemical process present in Banisteriopsis Caapi and its components with β-carbolines, DMT becomes active and provides the famous psychedelic experience of Ayahuasca.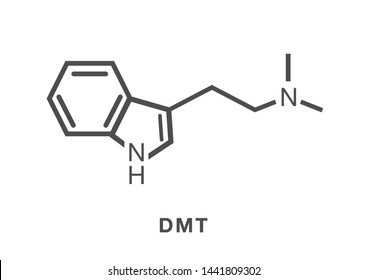 Source
The Ayahuasca experience can be summed up in a psychedelic dive into self-research, with intense memory-revival, kaleidoscopic psychedelic visions, euphoria, torpor, out-of-body experiences, a sense of "ego death" and intense well-being. In the same way, you can still have some common side effects during the experience, such as vomiting, diarrhea and general malaise. Usually the doctrines that administer the tea tend to consider these purging effects as an important part of the process and call it "cleansing", perhaps because although the discomfort of vomiting copiously is immense, the fact of being under an intense state of altered consciousness gives the moment an opportunity to re-signify the experience. So far so good, all this is usually part of the Ayahuasca rite. But there is a less talked about and studied side of the ritual, which are the side effects and possible unnoticed interactions, psychotic crises, triggering of schizophrenia and panic, seizures and all kinds of disorders that can come along with an experience "too strong" for the patient. person.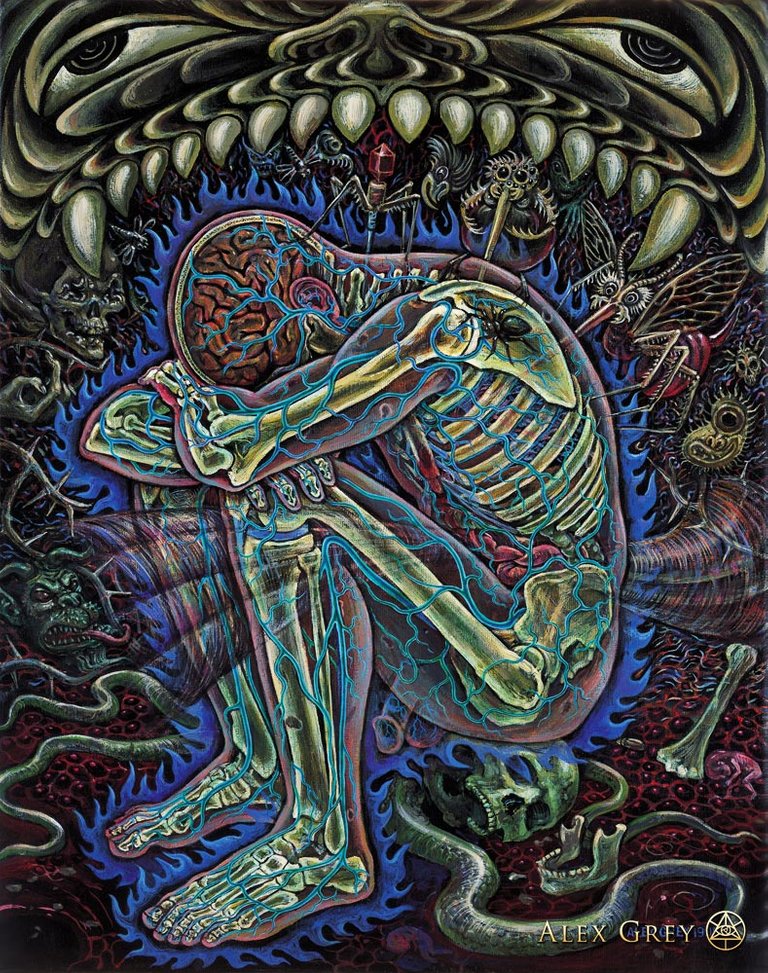 Source
The system activated by Ayahuasca together with DMT is very similar to LSD (which has recently been very well studied for treatment of post-traumatic syndrome, for example), through 5HT2a receptors, but at a high dose, together with the potentiating effect of iMAOa. It is not uncommon for some people who drink the tea to have convulsive crises, states of psychosis and panic. Psychosis, schizophrenia and panic are more easily treatable conditions, but a seizure can be much more serious and dangerous in a torrent of chemical compounds circulating inside you and can lead to death. Most of these less serious (but severe in terms of quality of life) effects are triggered during the process but take weeks to show themselves clearly, and it is not uncommon for people to have psychotic crises or schizophrenia after using ayahuasca. Many even ending their own lives some time later, as an effect directly related to the transformation brought about by the hallucinogenic drink. Naturally, this occurs in a small number of people when we think of the thousands of tea users, but it is still a considerable number, especially when we think about the results it brings.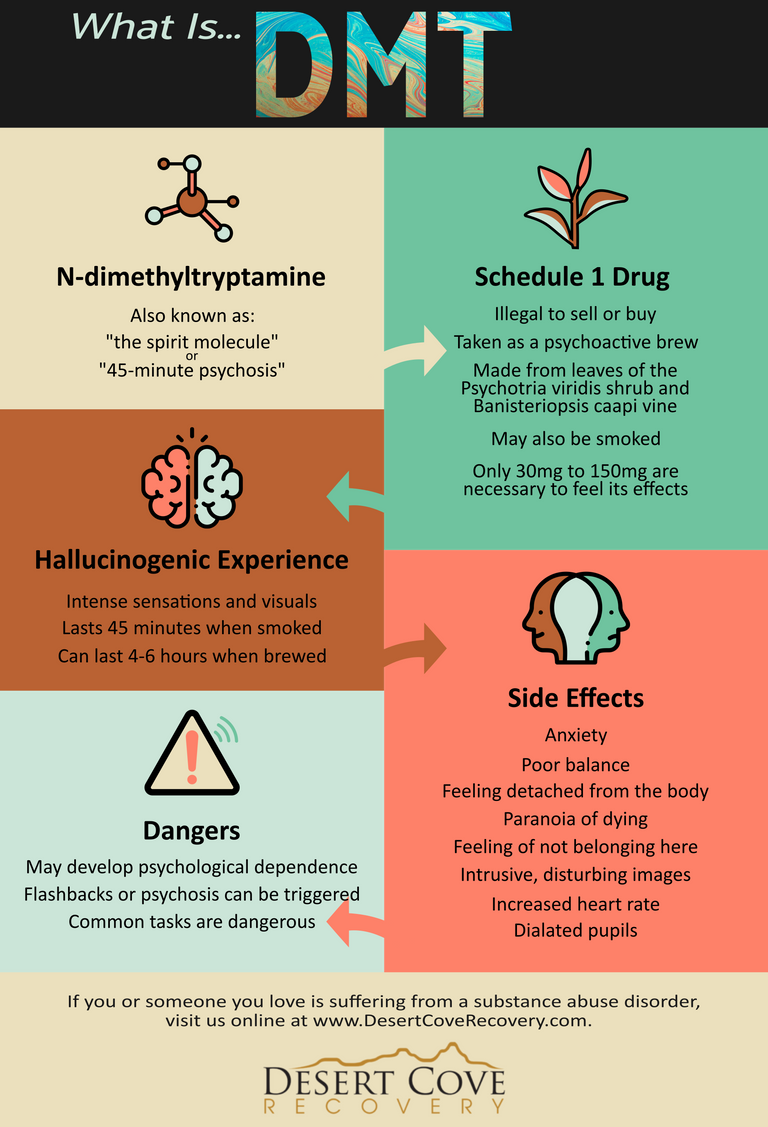 Source
Many users even live in a kind of bipolar disorder caused and at the same time treated by the drug, taking it every 15 days or sometimes weekly (if not daily in microdoses) and simply do not realize that their fluctuating state of mood, often with anxiety and panic attacks in the meantime between one dose and another is exactly the rebound effect of the intense cocktail of alkaloids present in the tea. And the intoxicating and sticky doctrine that governs the culture of Ayahuasca never allows such an open view on the subject, considering that because it is a natural infusion of two plants, this existing chemistry is completely different from a synthetic combination (for example, if used an analogous composition of LSD + an iMAOa, the infamous "farmahoasca"). The idea that nature perfectly governs her children can be quite dangerous when you don't select who your "children" are and among the common fallacies you hear things like: "you are not prepared to receive so much light, that's why you went crazy " or worse still. The enlightened sectarianism present in this type of doctrine is veiled and subliminal but constant and only those who have closely experienced such habits can confirm this.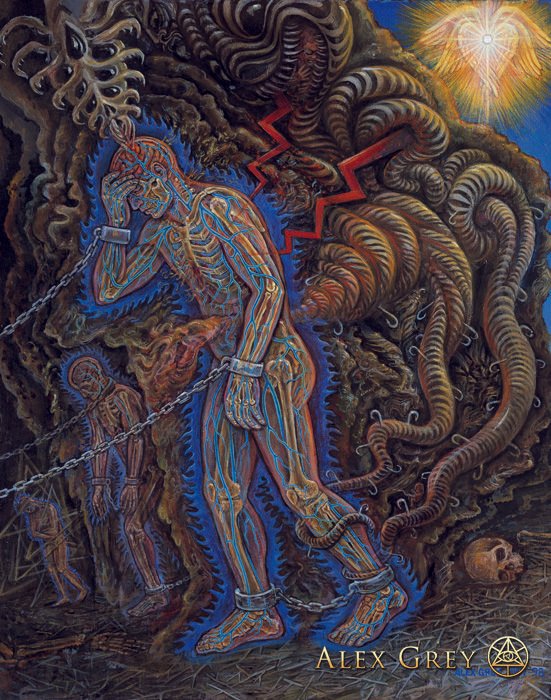 Source
The fact that we see elderly people from these doctrines who have spent their entire lives taking Ayahuasca does not necessarily mean that this substance is safe, the user analysis is very unreliable and it is not uncommon for the people who go to seek "help" in Ayahuasca to already be people of a disturbed profile, with panic attacks, anxiety, borderline disorder, bipolarity, OCD, schizophrenia and psychosis, heavy drug users and so on. Some more isolated communities of Ayahuasca/Santo Daime specialize in treating chemical users/addicts and even have a good success rate in this, doing good for many people, but even so, everything is governed and filtered by the veils of the religious license that makes any report on what happens in these kinds of places quite hazy and the only way left to look for information about Ayahuasca's "disastrous effects" is through reports from former users.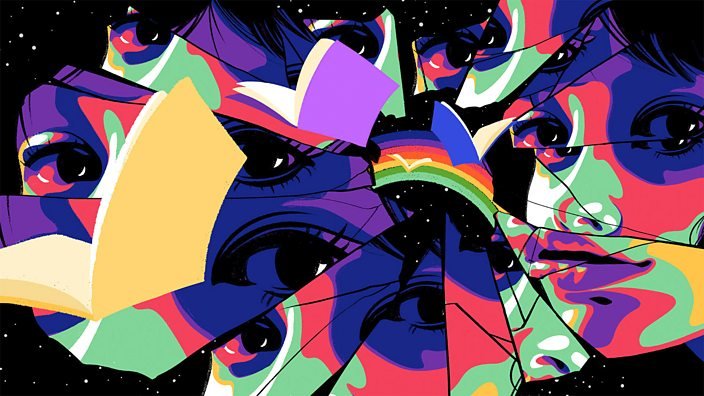 Source
Anyway, Ayahuasca, like psilocybin, like LSD, like so many other psychedelics, has a therapeutic potential still practically not understood and of immense scientific value, it is backed for now only by tradition and history. We will continue to experience news of cure and disorders caused by the substance and it will be up to the user himself to decide whether he will face these risks or not.
Research source: Ayahuasca, dimethyltryptamine, and psychosis: a systematic review of human studies
Thômas Helon Blum

Português
A Ayahuasca, bebida tradicional xamânica amazônica tornou-se popular na sociedade moderna como uma ferramenta transformadora de vida em termos de experiência transcendental. Saiu do seu berço tradicional para enfestar a cultura alternativa que busca meios de espiritualizar-se e conectar-se com outras "camadas" da realidade ou as vezes revisitar sua própria vida num mergulho de auto-consciência. Inúmeros estudos mostram possíveis benefícios ou ao menos qualquer ausência de perigo num uso consciente e cuidadoso da substância para uma pessoa saudável. Muitas pessoas passam literalmente a vida inteira tomando o chá de Ayahuasca, principalmente nas linhas religiosas tradicionais amazônicas e dos confins do Brasil (mas espalhando-se por todos os cantos do país) em igrejas do Santo Daime. E tamanha defesa desta bebida ritualística torna o espaço para pesquisas mais minuciosas sobre as substâncias presentes no chá mais difíceis. Nesse artigo pretendo abordar exatamente os riscos presentes na substância e não seus benefícios, que podem ser paradoxais. A internet está lotada de conteúdo à favor da Ayahuasca e então, nada como ir na contramão e mostrar o outro lado, afinal, tudo tem dois lados (ou seriam infinitos lados?).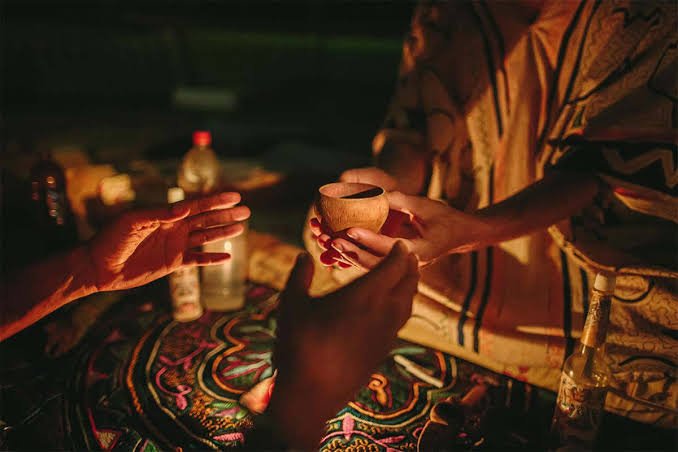 Source
A ayahuasca originalmente é composta de duas plantas, Banisteriopsis Caapi e Psychotria Viridis. A origem dessa composição é de certa forma misteriosa e remete ao conhecimento indígena amazônico. B caapi, um cipó amazônico possúi em sua composição Harminas, Harmalinas e Tetrahidroharminas iMAOs A (inibidores reversíveis de monoamina-oxidase), por si só, essa substância não está muito distante de alguns fármacos clássicos utilizados na psiquiatria (como Cabergolina ou Selegilina), já a segunda planta, um arbusco chamado de Psychotria Viridis tem em sua composição agonistas de receptores 2A, 2C e 1A além da famosa molécula Dimetiltriptamina (ou DMT), também chamada de "molécula do espírito". Graças ao processo químico presente no Banisteriopsis Caapi e seus componentes com β-carbolinas, o DMT se torna ativo e proporciona a experiência psicodélica famosa da Ayahuasca.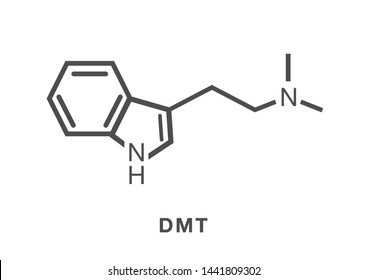 Source
Pode-se resumir a experiência da Ayahuasca em um mergulho psicodélico de auto pesquisa, com reavivamento intenso de memórias, visões psicodélicas caleidoscópicas, euforia, torpor, experiências fora do corpo, sensação da "morte do ego" e intenso bem estar. Da mesma forma ainda pode se ter com certa frequência alguns efeitos colaterais comuns durante a experiência como vômito, diarreia e mal estar geral. Normalmente as doutrinas que administram o chá costumam considerar esses efeitos purgantes como parte importante do processo e o chamam de "limpeza", talvez por que ainda que o desconforto de vomitar copiosamente seja imenso, o fato de estar sob um intenso estado de alteração da consciência dá ao momento uma oportunidade de ressignificação da experiência. Até aqui tudo bem, tudo isso costuma fazer parte do rito da Ayahuasca. Mas existe um lado menos comentado e estudado do ritual, que são os efeitos colaterais e possíveis interações não percebidas, crises psicóticas, desencadeamento de esquizofrenia e pânico, convulsões e todo tipo de transtorno que pode vir junto com uma experiência "forte demais" para a pessoa.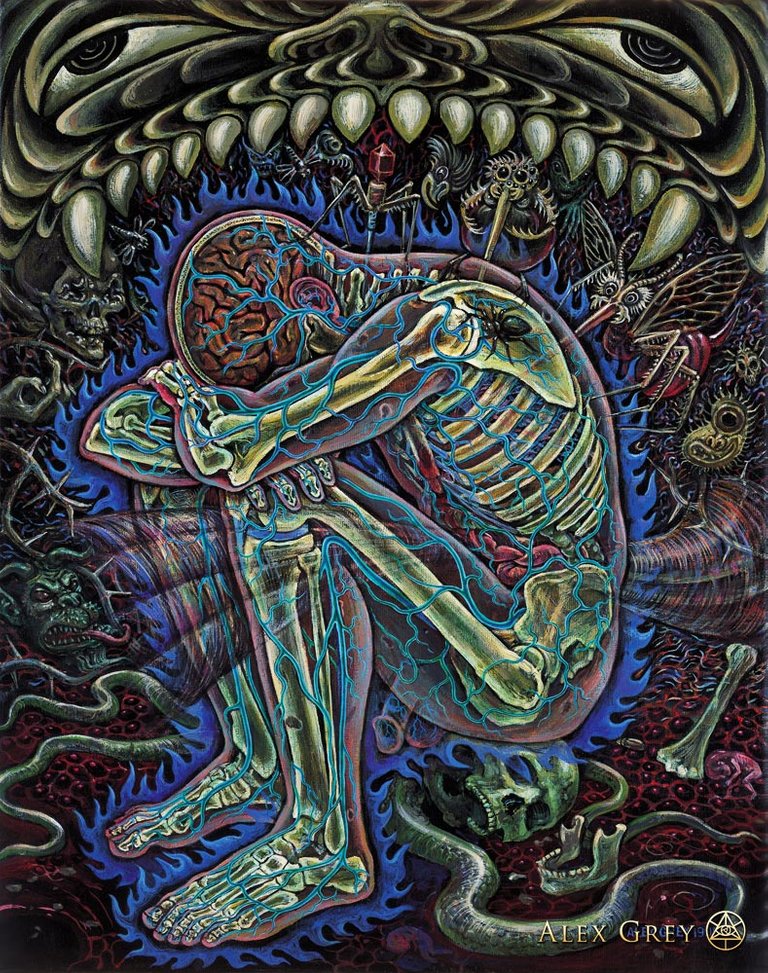 Source
O sistema ativado pela Ayahuasca junto ao DMT assemelha-se muito ao LSD (que recentemente tem sido muito bem estudado para tratamentos de síndrome pós traumática por exemplo), através dos receptores 5HT2a, porém numa dose cavalar, juntamente com o efeito potencializador do iMAOa. Não raro observa-se algumas pessoas que tomam o chá terem crises convulsivas, estados de psicose e pânico. A psicose, esquizofrenia e pânico são situações tratáveis com mais facilidade, mas uma crise convulsiva pode ser muito mais séria e perigosa em uma torrente de compostos químicos circulando dentro de você e podendo lhe levar à óbito. A maioria desses efeitos menos graves (porém severos em termos de qualidade de vida) são disparados durante o processo mas levam semanas para mostrarem-se claramente, e não são raros os casos de pessoas que desencadearam crises psicóticas ou esquizofrenia pós uso de ayahuasca. Muitos inclusive acabando com a própria vida tempos depois, como um efeito diretamente relacionado à transformação acarretada pela bebida alucinógena. Naturalmente que isso se dá em um número pequeno de pessoas quando pensamos nos milhares de usuários do chá, mas ainda assim é um número considerável, principalmente quando pensamos nos resultados que isso traz.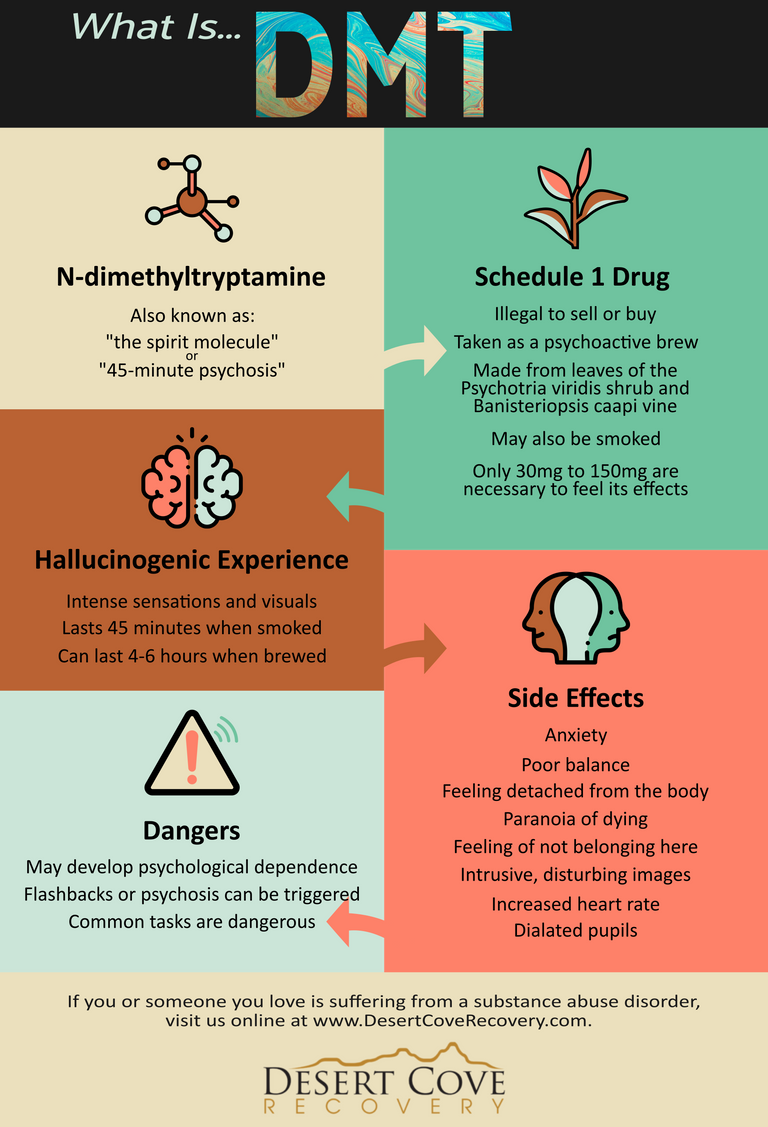 Source
Muitos usuários inclusive vivem em uma espécie de desordem bipolar ocasionada e ao mesmo tempo tratada pelo medicamento, tomando-o de 15 em 15 dias ou as vezes semanalmente (quando não diariamente em microdoses) e simplesmente não dão se conta de que seu estado oscilante de humor, muitas vezes com crises de ansiedade e pânico no meio tempo entre uma dose e outra é exatamente o efeito rebote do intenso coquetel de alcalóides presentes no chá. E a inebriante e grudenta doutrina que rege a cultura da Ayahuasca jamais permite uma visão sobre o tema com tamanha abertura, considerando que por se tratar de uma infusão natural de duas plantas essa química existente difere-se completamente de uma combinação sintética (por exemplo se utilizasse uma composição análoga de LSD + um iMAOa, a infame "farmahoasca"). A ideia de que a natureza rege com perfeição os seus filhos pode ser bastante perigosa quando não se seleciona quem são os "filhos" e entre as falácias comuns ouve-se coisas como: "não está preparado para receber tanta luz, por isso ficou louco" ou coisas piores ainda. O sectarismo iluminado presente nesse tipo de doutrina é velado e subliminar mas constante e só quem vivenciou de perto tais hábitos é que pode confirmar isso.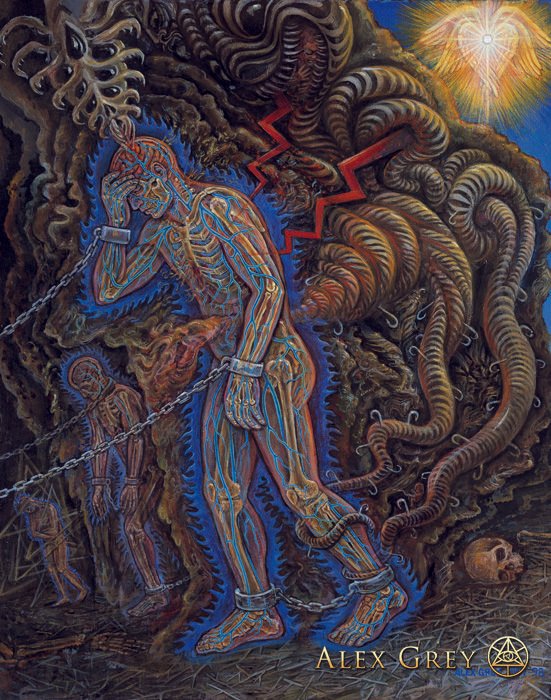 Source
O fato de vermos idosos dessas doutrinas que passaram a vida toda tomando Ayahuasca não quer dizer necessariamente que essa substância é segura, a anáise dos usuários é muito pouco confiável e não raro as pessoas que vão procurar "ajuda" na Ayahuasca já são pessoas de um perfil transtornado, com crises de pânico, ansiedade, transtorno borderline, bipolaridade, TOC, esquizofrenia e psicose, usuários de drogas pesadas e assim por diante. Algumas comunidades mais isoladas de Ayahuasca/Santo Daime especializam-se em tratar usuários/dependentes químicos e inclusive tem uma boa taxa de sucesso nisso, fazendo o bem para muitas pessoas, mas ainda assim, tudo está regido e filtrado pelos véus da licença religiosa que torna qualquer relatório sobre o que acontece nesse tipo de lugar bastante nebuloso e a única forma que resta para buscar informações sobre "efeitos desastrosos" da Ayahuasca é através de relatos de ex-usuários.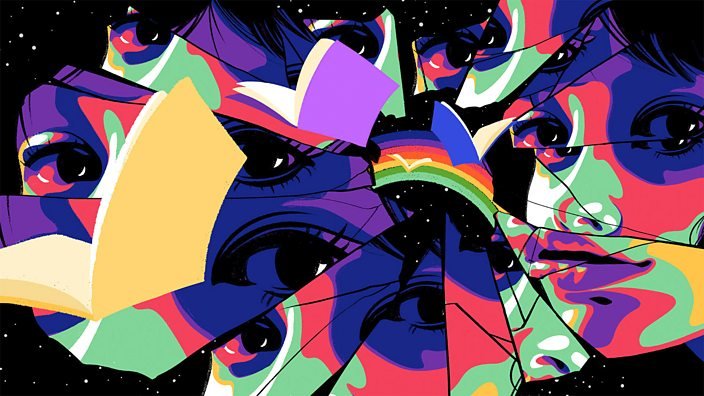 Source
Enfim, Ayahuasca, assim como a psilocibina, como o LSD, como tantos outros psicodélicos, tem um potencial terapêutico ainda praticamente não compreendido e de imenso valor científico, está respaldado por hora apenas pela tradição e história. Seguiremos vivenciando notícias de cura e de transtornos ocasionados pela substância e caberá por hora apenas ao próprio usuário decidir se irá enfrentar estes riscos ou não.
Fonte de pesquisa: Ayahuasca, dimethyltryptamine, and psychosis: a systematic review of human studies
Thômas Helon Blum