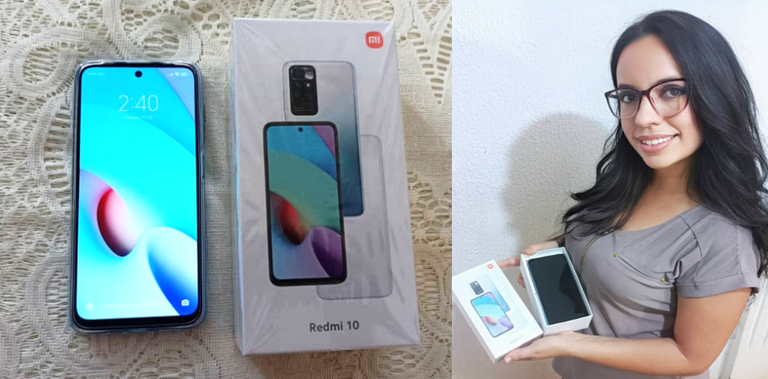 Hola chicos hoy quiero compartir con ustedes un regalo inesperado, pero que me gustó muchísimo y fue un detalle que me hizo mi esposo por nuestro aniversario y digo que fue inesperado porque estábamos pasando por tantas cosas de salud y en tantas consultas, que lo menos que pensé fue en esperar un regalo ese día y mucho menos un teléfono tan bonito.
Hi guys today I want to share with you an unexpected gift, but that I really liked and it was a detail that my husband gave me for our anniversary and I say it was unexpected because we were going through so many health things and in so many consultations, that the least I thought was to expect a gift that day and much less such a nice phone.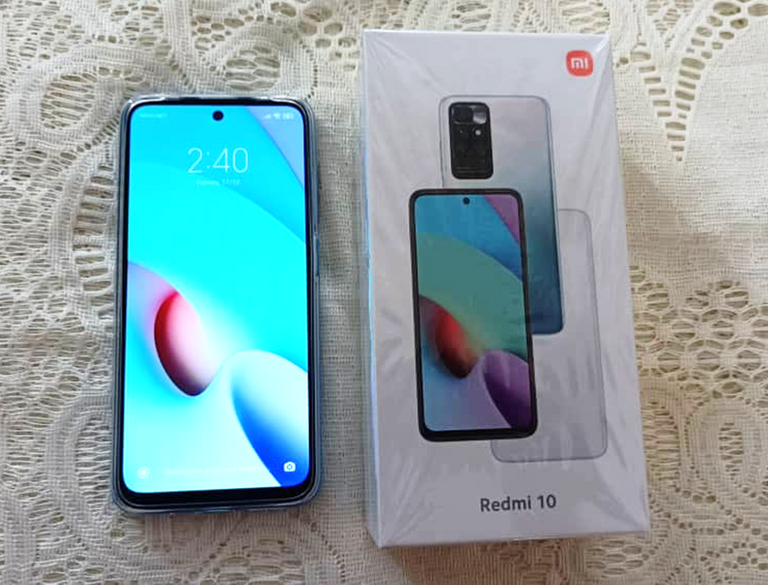 Mi esposo me regaló un Xiaomi Redmi 10, admito que me gustó mucho porque es bastante delgado, al menos comparado con el que él tiene, además de ser liviano, lo veo bastante sensible por el delicado diseño que tiene. Reconozco que su color azul cielo mezclado con gris, me encanto y considero que desde mi punto de vista le da un toque muy femenino. Además, por ser tan nuevo mi esposo no encontró un forro adecuado para el teléfono en toda la ciudad. Así que decidimos ponerle el forro que trae, el Xiaomi Redmi 10, pero ese forro casi no lo protege, por lo menos la cámara queda completamente descubierta y puede rayarse. Quizás soy un poco dramática, pero para mi lo más importante es la cámara, por eso cuando lo coloco en una superficie, le pongo un trapito primero, esto lo haré por lo menos hasta que comiencen a vender los forros para este equipo.
My husband gave me a Xiaomi Redmi 10, I admit that I really liked it because it is quite thin, at least compared to the one he has, besides being light, I see it quite sensitive by the delicate design it has. I recognize that its sky blue color mixed with gray, I love it and I consider that from my point of view gives it a very feminine touch. In addition, because it is so new my husband did not find a suitable lining for the phone in the whole city, so we decided to put the lining that brings, the Xiaomi Redmi 10, but that lining almost does not protect it, at least the camera is completely uncovered and can be scratched. Maybe I'm a little dramatic, but for me the most important thing is the camera, so when I put it on a surface, I put a cloth first, I will do this at least until they start selling the covers for this equipment.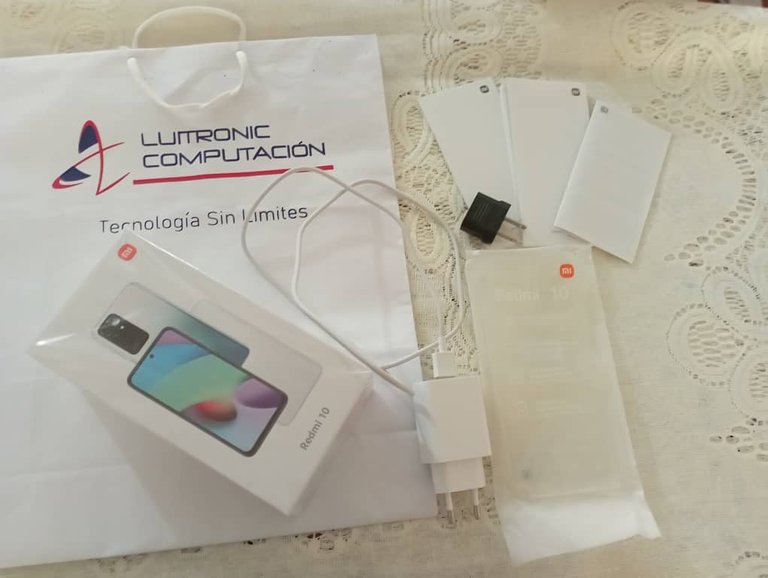 El teléfono tuvo un costó 245 dólares y mi esposo tuvo que pagar en bolívares venezolanos a la conversión del día, porque aquí en mi ciudad aún no aceptan Binance, eso me pareció mal, porque entre cambio y cambio uno le pierde mucho y bueno con las fallas de Internet fue más difícil hacer transferencias para el pago.
En cuanto al teléfono, su cámara es cuádruple, la principal es de 50 MP, la angular de 8MP, con 2MP de profundidad y 2MP de macro, lo que garantiza mejores fotos para mi post y para mis trabajos, aparte de eso puedo hacer mejores vídeos de manualidades con una excelente resolución. Si soy sincera con ustedes estoy enamorada de la cámara frontal de mi Redmi porque las fotos salen muchos mas claras, algo que pasa con el teléfono de mi esposo es que su cámara tiende a hacer las fotos mas cálidas, como amarillas o anaranjadas quizás, pero con este las veo más claras, definitivamente me gusta la calidad y la resolución de las fotos de este teléfono, considero que es mucho mejor que el de mi esposito...
The phone cost 245 dollars and my husband had to pay in Venezuelan bolivars at the conversion rate of the day, because here in my city they still do not accept Binance, that seemed bad to me, because between change and change one loses a lot and well with the Internet failures it was more difficult to make transfers for payment.
As for the phone, its camera is quadruple, the main one is 50 MP, the angular 8MP, with 2MP depth and 2MP macro, which guarantees better photos for my post and for my work, besides that I can make better videos of crafts with an excellent resolution. If I am honest with you I am in love with the front camera of my Redmi because the photos come out much clearer, something that happens with my husband's phone is that his camera tends to make the photos warmer, like yellow or orange maybe, but with this one I see them clearer, I definitely like the quality and resolution of the photos of this phone, I consider it is much better than my husband's...
Creo que no soy una persona adicta a la tecnología, pero para ser sincera se siente muy bien tener un equipo nuevo, admito que me gustó cada vez que preguntamos por el forro y nos decían que todavía no había salido porque el teléfono era muy nuevo, creo que es la primera vez que tengo un equipo tan nuevo, ya que anteriormente me limitaba a comprar equipos de segunda mano y usados, que era para lo que podía pagar.
I guess I'm not a technology addicted person, but to be honest it feels great to have a new device, I admit I liked it every time we asked about the liner and they told us, it's not out yet because the phone is so new, I think it's the first time I have such a new device, as previously I was limited to buying second hand and used equipment, which was what I could afford.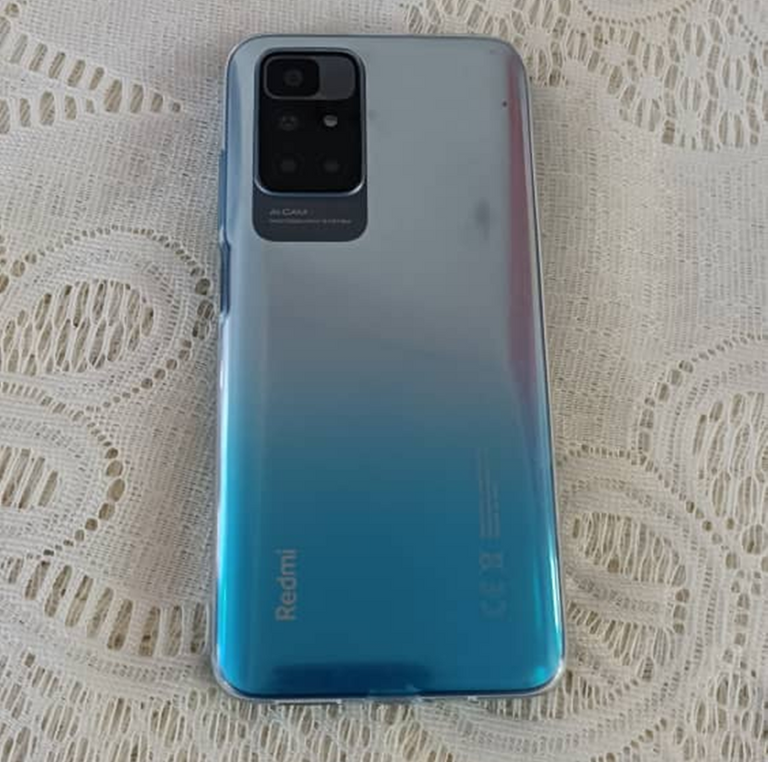 Algo que realmente me pareció innovador y me gustó un mundo fue el lector de huellas dactilares lateral y el desbloqueo, ya que con solo girar el dedo puedo desbloquear el teléfono y esto me sirve tanto para los bancos nacionales, como para Binance, además, con solo colocar el dedo reconoce que soy yo. eso me pareció maravilloso y me recordó a Tony Stark y sus inventos de tecnología, jejeje, creo que nos lleva una buena ventaja, pero vamos por buen camino. También jugué un rato con el asistente de Google, y me ayudaba a mandar los mensajes y a investigar cosas, todo un éxito.
Something that I really found innovative and I liked a world was the side fingerprint reader and facial unlocking, because with just turn your finger I can unlock the phone and this serves me both for national banks, as for Binance, in addition, just by placing your finger recognizes that it is me. that seemed wonderful and reminded me of Tony Stark and his technology inventions, hehehe, I think we have a good head start, but we are on the right track. I also played for a while with the Google assistant, and it helped me to send messages and research things, all a success.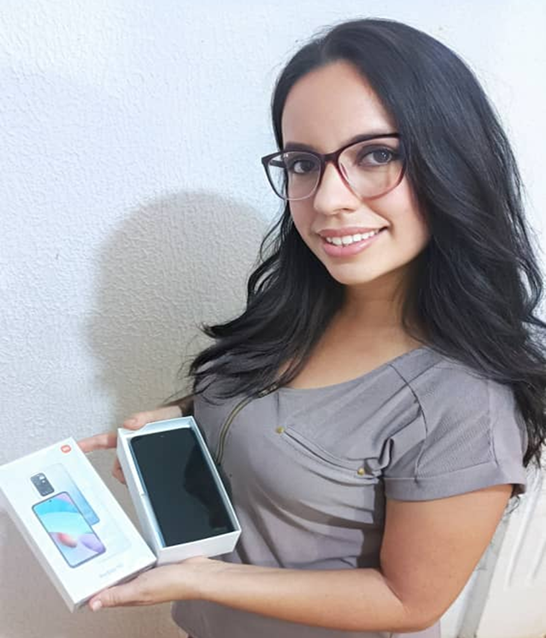 Todavía no se muchas cosas del teléfono y con la ayuda de mi hijo he ido instalándole programas y App, aspiro conocerlo poco a poco , aunque a uno le da un poco de miedo, tocar una tecla y desconfigurar algo, pero si iré investigando para sacarle el mayor provecho. Gracias Hive y amigos, estas cosas son posibles gracias a la plataforma, que se ha convertido en nuestro trabajo y nuestra forma de subsistir, en un país donde la inflación es el pan de cada día, jamás hubiese aspirado tener un teléfono de tanta tecnología, mucho menos dos, pero ahora todo esto es posible gracias a nuestra casa Hive.
I still do not know many things about the phone and with the help of my son I have been installing programs and app, I aspire to know it little by little, although one is a little scared, touch a key and disconfigure something, but if I will investigate to get the most out of it, Thanks Hive and friends, These things are possible thanks to the platform, which has become our job and our way of subsisting, in a country where inflation is the daily bread, I would never have aspired to have a phone with so much technology, much less two, but now all this is possible thanks to our house Hive.
---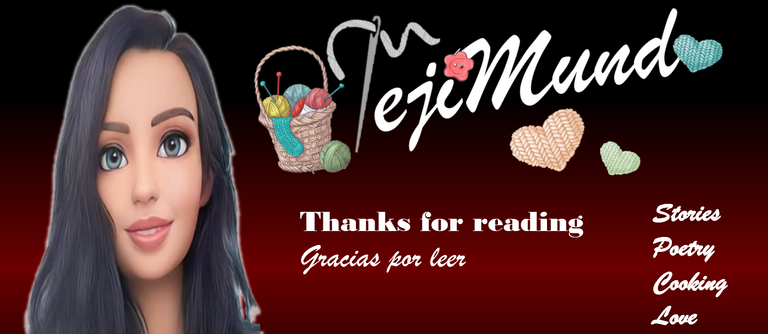 Editado en PowerPoint utilizando ToonArt
Fotografias tomadas por mi con un Redmi Note 9T y Redmi 10