I like a good science book. This is one my daughter (a biologist) had in her collection. The Immortal Life of Henrietta Lacks tells the story of a woman who made great contributions to science after her death.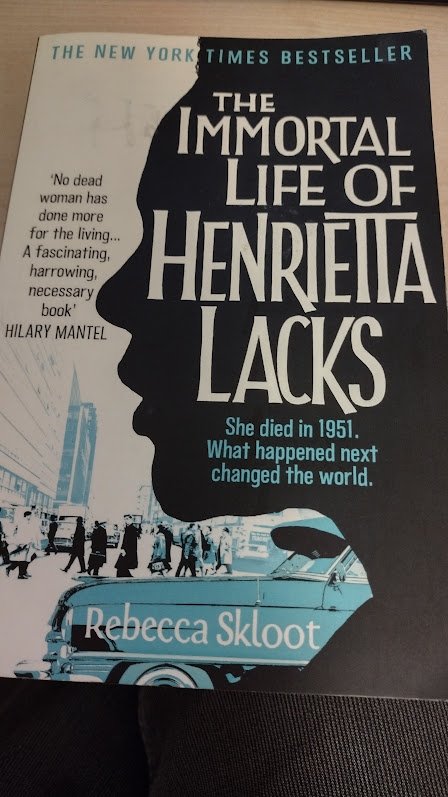 Henrietta Lacks was a poor black woman who lived in Maryland, USA. After having five children she contracted cervical cancer that would kill her at just 31. She was treated at the Johns Hopkins Hospital that was still segregated at the time. A doctor took some cells from her tumours and it was standard practice to try and grow those, but scientists struggled to make them last long. Hers were the exception and were very prolific. They went on to be used by laboratories all over the world to study diseases and general cell biology. They were named HeLa cells after the patient they came from, but few people knew her actual name.
Writer Rebecca Skloot learned about Henrietta at school and decided her story needed to be told. She spent years try to talk to the family who resisted as they had had many journalists after them and felt they were being exploited. Some of them still feel they should have been paid something from the vast sums made from trading in the cells. The book has a section on the ethical and legal issues around this.
There is a fair bit of the science in the book, but a lot of it is about the people, including some of the scientists, but mostly Henrietta's family. As someone who has limited experience of life in America it gave an insight into the tough life poor black people still struggle with. The writer travels around with Henrietta's daughter Deborah who wants to understand what happened to her mother. She did not know for decades that these cells were still alive and being used. That has to be a shock when you know little of cell biology. She worried her mother was being cloned and experimented on. Given some of the experiments that were done on black people back then these were not such fantastic ideas.
The book has contributed to Henrietta being recognised in various ways.
It is quite an emotional read at times, but very compelling and well written. A good combination of social history and medical science.