Lieber Kryptonauten,
irgendwann wird es Quantencomputern möglich sein, herkömmliche Primzahlfaktorenzerlegungen zu knacken, die heute die Grundlage vieler Verschlüsselungsverfahren (z.B. RSA) und asymmetrischer Schlüsselsysteme (z.B. Bitcoin- und auch Hive-Wallets) sind.
Derzeit besteht laut der Mehrheit der Experten noch keine Gefahr für Bitcoin, aber alte Bitcoinwalletadressen, die vor 2010 erzeugt wurden, sind nach einem älteren Verfahren gehasht worden und daher anfälliger. Auch Bitcoinadressen, die schon einmal benutzt wurden, sind transparent und damit vulnerabel für sog. "Storage"-Attacken (also durch das Wissen um den öffentlichen Schlüssel den privaten zu berechnen). Man schätzt, dass 4 Mio. Bitcoinadressen diese Vulnerabilität haben. Genug, um falls gehackt, das Vertrauen in Bitcoin völlig zu ruinieren!
Der zweite Angriffsvektor, die "Transit"-Attacke ist zwar gefährlicher, da sie potentiell alle Bitcoin-Transaktionen betrifft, aber viel schwieriger. Dazu müsste man innerhalb der Zeit, die benötigt wird, einen neuen Bitcoin-Block zu erzeugen, also 10 Minuten, den Signieralgorithmus knacken. Laut einer Untersuchung der UK-Firma Universal Quantum, bräuchte man dazu einen Quantencomputer mit knapp 2 Milliarden qubits (1), derzeit ist man aber erst dabei, die 1000 qubit-Marke zu erreichen (2).
Unlängst haben aber chinesische Wissenschaftler eine Methode publiziert, mit der eine RSA-2048-Verschlüsselung angeblich mit einem 372-qubits Quantencomputer lösbar sei (3).
Das trifft insbesondere die Online-Kommunikation wie Messangerdienste oder Online-Shopping. Niemand will seine Kreditkarteninformation anfällig für Hacks wissen.
Daher hat sich das NIST (National Institute of Standards and Technology), eine US-Behörde des Handelsministeriums, daran gemacht, neue und verbesserte Verschlüsselungsverfahren zu identifizieren und standardisieren (4). Aus 101 Kandidaten wurden 4 ausgewählt.
Einer davon, Crystals-Kyber oder einfach Kyber (5) genannt, arbeitet statt mit Primzahlen mit Polynomen, die multipliziert und addiert werden. Obwohl die Werte eher klein sind, macht die Kombination der Verfahren es ungleich schwerer, die Lösung zu berechnen.
Kritiker fürchten, die Behörde könnte auf Befehl der NSA die neuen Verschlüsselungsmethoden so standardisieren, dass den US-Geheimdiensten Hintertüren offen bleiben. Keine Verschwörungstheorie, denn genau das in der Vergangenheit in zumindest einem Fall geschehen, so Peter Schwabe, Leiter einer Forschungsgruppe am Max-Planck-Institut für Sicherheit und Privatsphäre, der bei der Crystals-Kyber-Entwicklung mitbeiteiligt ist (5). Das soll aber heute nicht mehr so leicht möglich sein, denn bei den neuen Verfahren sei die Wissenschaft, wie etwas das erwähnte MPI, und die weltweite Kryptocommunity viel stärker beteiligt und können die Verfahren auf Herz und Nieren prüfen. Die NIST-Standards werden sich daher wohl weltweit durchsetzen, wie auch schon in der Vergangenheit. Das Bundesamt für Sicherheit in der Informationstechnik (BSI) empfiehlt dagegen zwei andere Methoden, die zwar sicherer, aber nicht so effizient sein sollen. Für das NIST ist aber Effizienz wichtiger als Sicherheit.
Google, Amazon, Cloudflare, aber auch manche Autohersteller arbeiten schon heute versuchsweise mit quanten-sicheren Verschlüsselungsverfahren, da z.B. die Software von Autos, die heute verkauft werden (zumindest im Premiumbereich), auch noch in 10 Jahren sicherheitstechnisch entsprechend upgradefähig sein muss.
Noch ist Zeit genug, auf solche höherwertigen, post-quanten-Verschlüsselungen umzusteigen. Das Problem: Man muss rechtzeitig damit anfangen, denn es braucht seine Zeit, bis ein neuer Konsensus dafür gefunden ist, in dezentralen Systemen wie Bitcoin grundsätzlich länger, als in zentralisierten wie einer Online-Shoppingseite. Bis zum letztmöglichen Zeitpunkt damit zu warten ist keine Option, da man leider immer erst im Nachhinein weiss, wann dieser Punkt genau war und es dann zu spät sein könnte!
Geldbörse der Zukunft, ohne Bargeld, aber mit Bitcoinwallet als zentralem Element?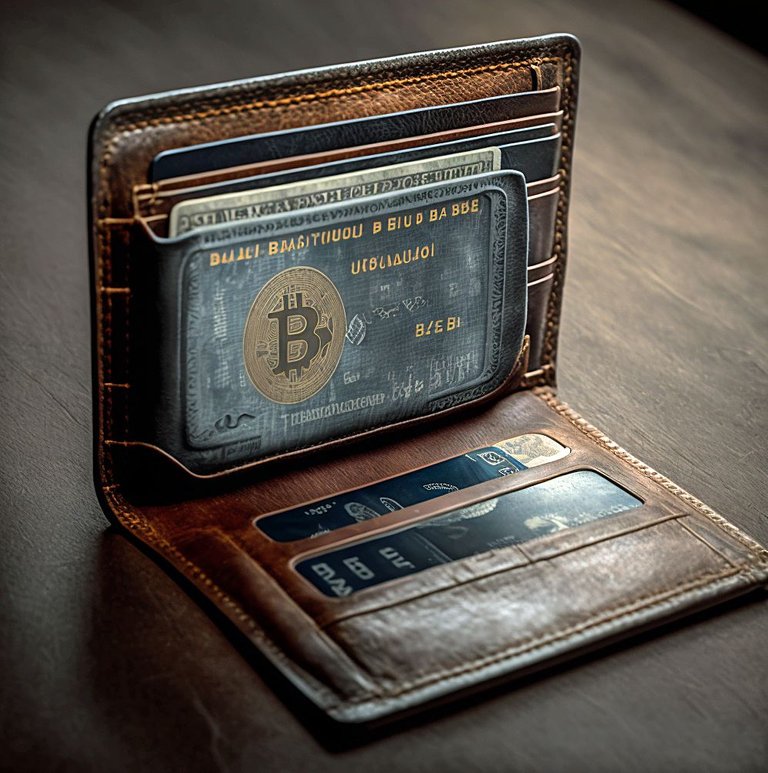 Oder wird es in der Zukunft Geldbörsen gar nicht mehr geben, weil ohnehin alle einen Chip implantiert haben? Der wird dann hoffentlich nicht anfällig für Hacks sein...
Quellen:
(1) https://www.investmentmonitor.ai/tech/quantum-computing-bitcoins-crypto-encryption/
(2) https://spectrum.ieee.org/ibm-condor
(3) https://arxiv.org/pdf/2212.12372.pdf
(4) https://www.mpg.de/19310068/W004_Material-Technik_060-063.pdf
(5) https://de.wikipedia.org/wiki/Kyber_(Kryptosystem)