See fireworks exploding as users claim their rewards on the Steem blockchain. Go to https://spelmakare.se/steem/fireworks to check it out! You can even claim your own reward and see the rocket explode on the site.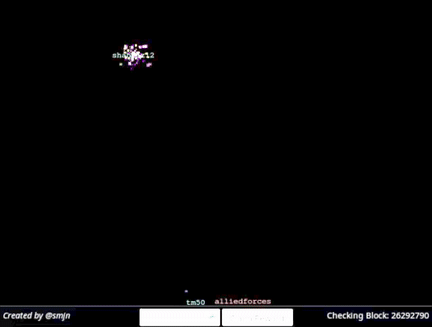 What's new
Lots of improvements for the final release!
Can claim rewards directly on the site using Steem Connect.
More colors and diversified explosions that better indicates the size differences of the rewards claimed.
Better support for smaller screens. Rockets keep within screen and names are always written fully visible.
Improved performance and many small tweaks.
Some notes
If you claim a reward it will take about 45-60 seconds before the rocket launches, so sit tight and stay focused!
Had a great experience while working on the project today. As almost no one could use the blockchain due to HF20, there was only about 1-2 rockets a minute, if even that, when testing. Then all of the sudden... 10 rockets every 5 seconds or so! Was quite clear that people could start using the blockchain again!
For the tech interested
Project site at https://spelmakare.se/steem/fireworks
Source can be found at https://github.com/smjnab/RewardFireworks
Steem Projects page at https://steemprojects.com/projects/p/reward-fireworks/