I'm finally Platinum - Marvel Snap [ENG/ESP]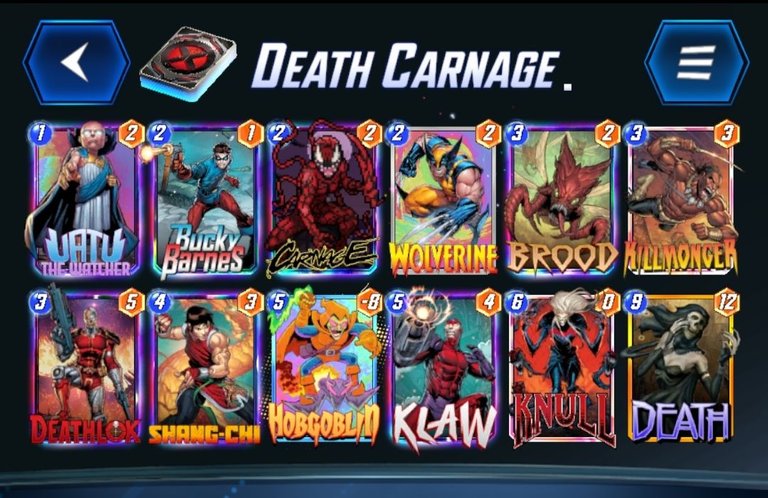 All the pictures in this post were taken directly from the game by me

After several weeks of pure suffering I have finally managed to surpass my personal record in Marvell Snap, reaching the rank of "Platinum" in the season of "animals assemble".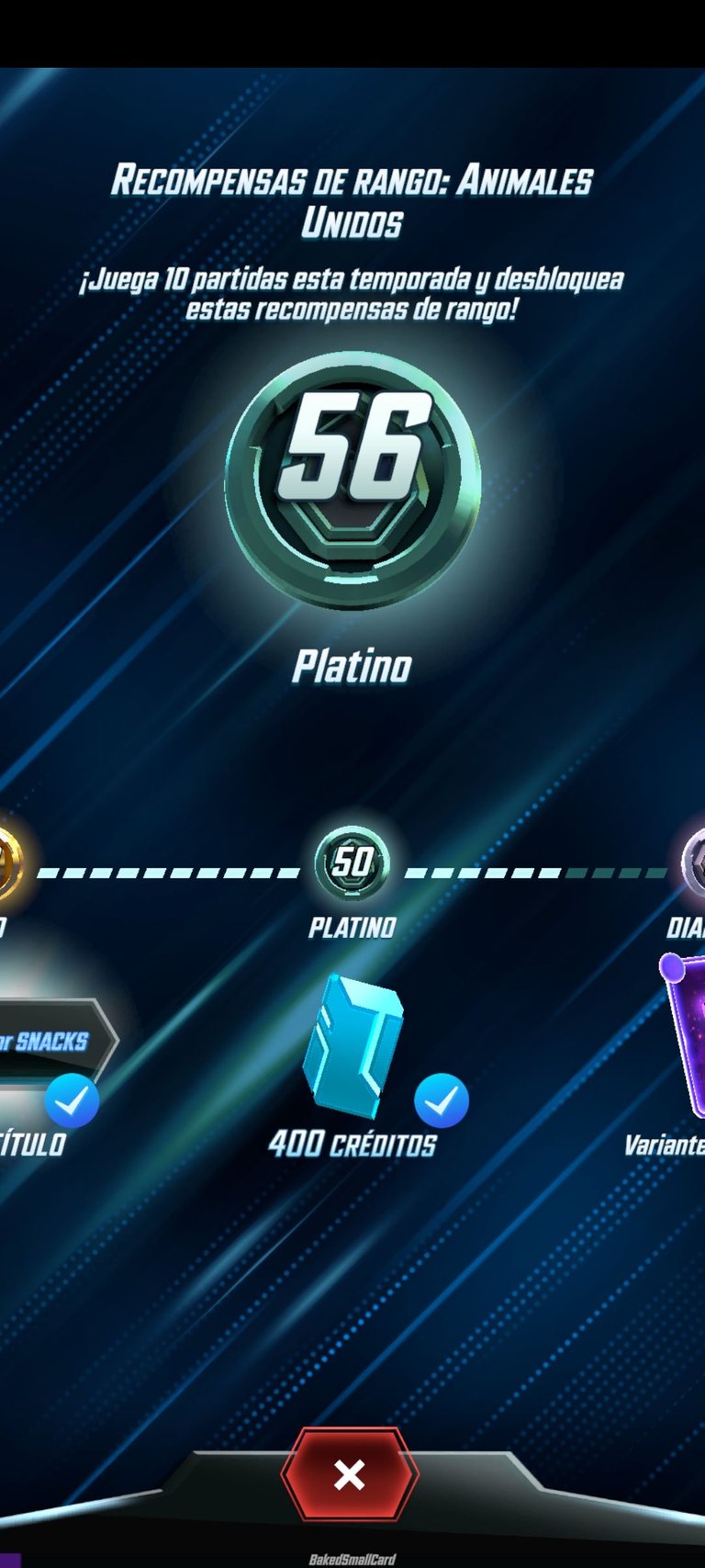 It hasn't been a particularly easy task, and it took a lot of tweaking to my deck along the way, however the key was going back to basics, using the destruction deck that I built around Carnage and The Death.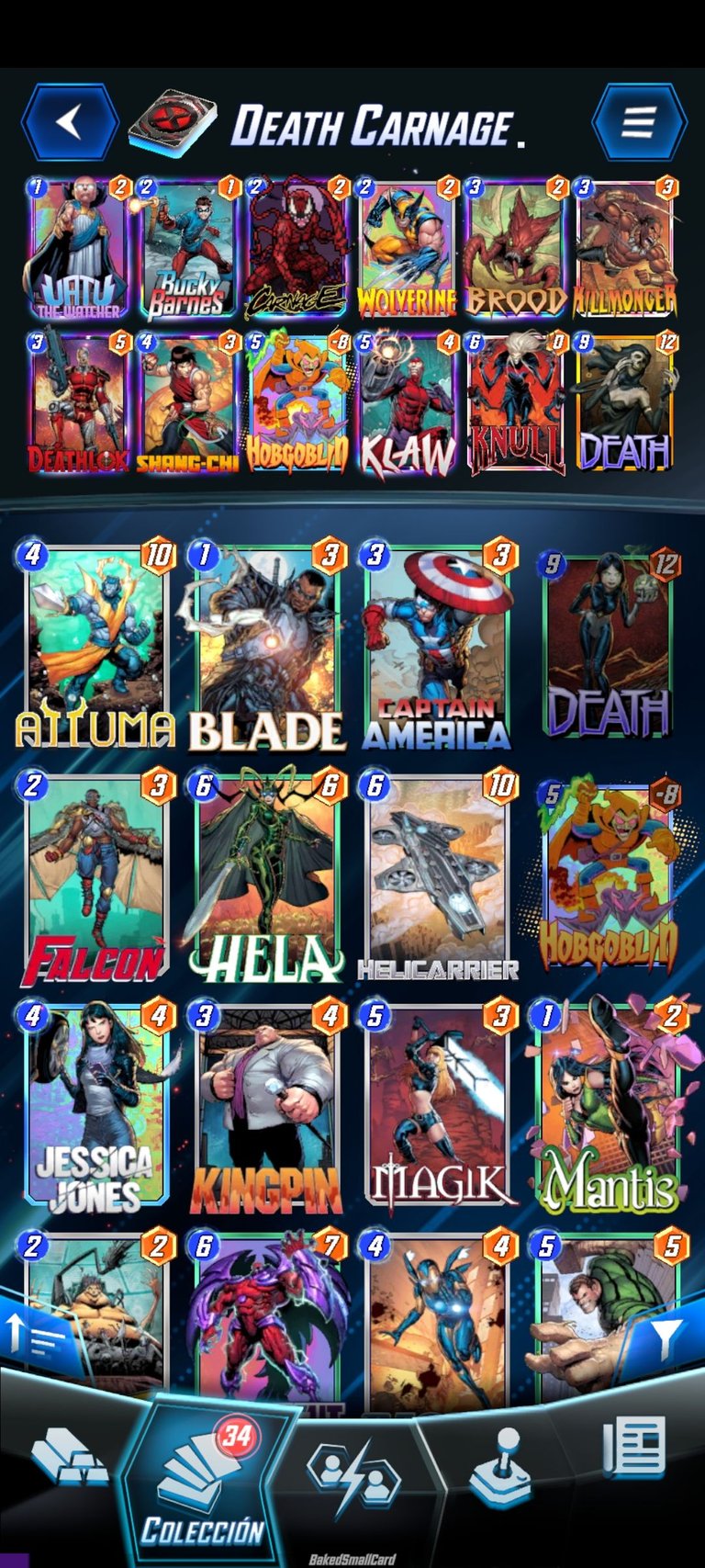 Marvel Snap is a card game with a particularly addictive structure, still, I feel that overall it could be categorized as fair, the gap between those of us who enjoy it without paying a dime and those who prefer to go for the premium pass is not very big, and Players like me who are not very experienced in the genre have the chance to progress considerably if they know how to manage losses and wins well.
You see, the ranking system in Marvel Snap works with cubes, which we can bet with a shortcut at the back of the board as the game progresses.
The idea, logically, is to be able to increase the bet when we are sure of victory, and minimize losses in cases in which we know that we have no chance of winning, interspersed with a simple combat system (with small decks and the impossibility of repeating cards) make Marvel Snap an accessible experience at first, but challenging when we increase the level of our collection, our rank, and as a consequence, the ability of our opponents.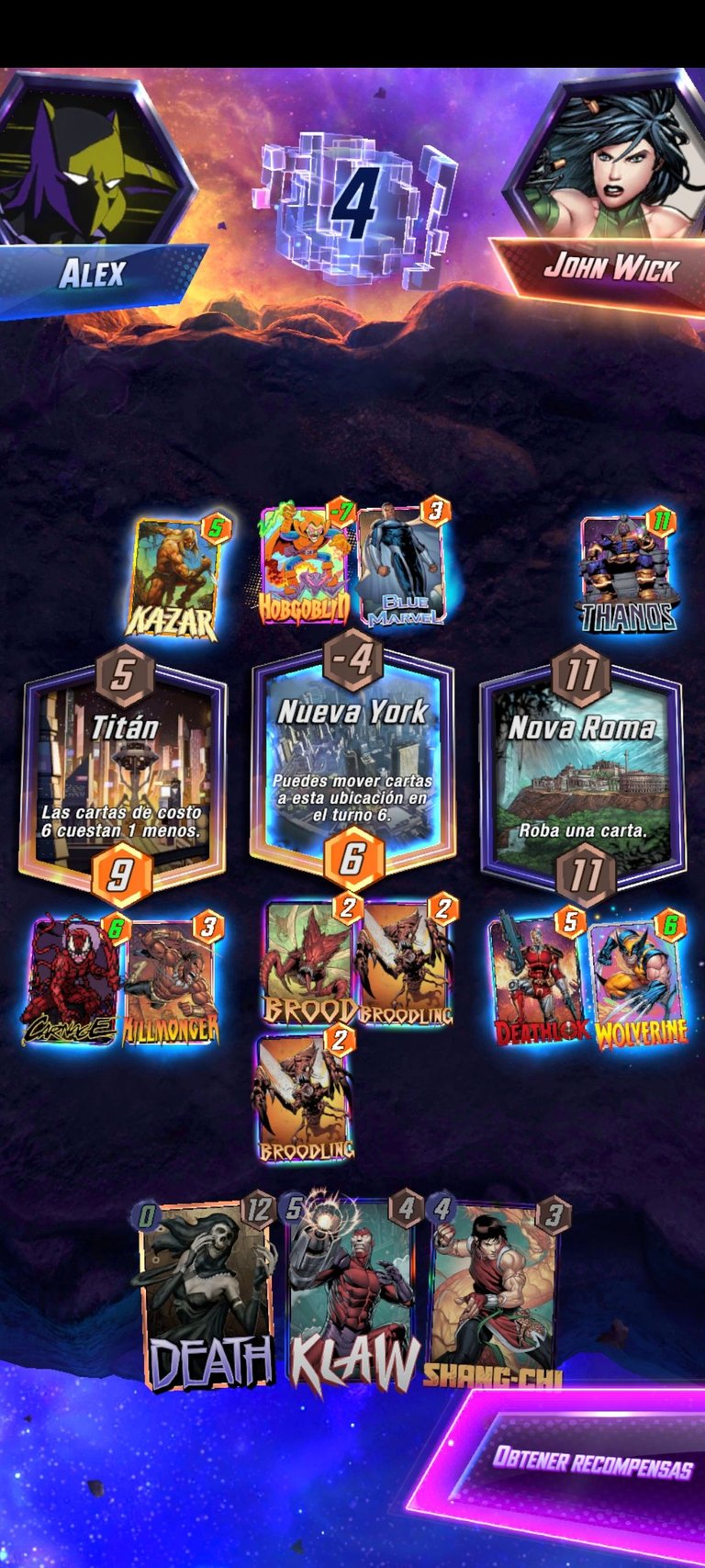 Beyond the technical/strategic aspect, there is a psychological aspect that comes into play in every game of Marvel Snap, especially when our opponent increases the cube bet without necessarily having a chance of winning, as if it were a game of Poker. .
My previous record was Gold, and honestly, I felt that I would never be able to beat it, for this very reason I am very happy that my days of effort were rewarded, apart from all this, my current deck is quite fun.
As I've explained on previous occasions, all Marvel Snap cards can be divided into three categories: Those with continuous effects, those with reveal effects, and those without effects.
As their names indicate, continuous effects are maintained throughout the entire game, while reveal effects operate only on the turn the card is placed in a given location.
My deck focuses on destroying cards, taking advantage of those that ironically benefit from it. For example, when Bucky is destroyed, he makes the Winter Soldier appear, a card that has a much higher power level (from 1 to 6 points).
Carnage, one of the center pieces of my deck, destroys all cards in a given location, earning an extra two points for each card consumed, this makes it particularly useful for gaining points in locations without needing to cover a lot of spaces for the first 2- 3 shifts.
Death, on the other hand, is one of my favorite cards in the entire game, capable of reducing its cost by one point of energy for each card that has been destroyed in the entire game, this means that I am not only benefited by my own destructions but also those of my rival.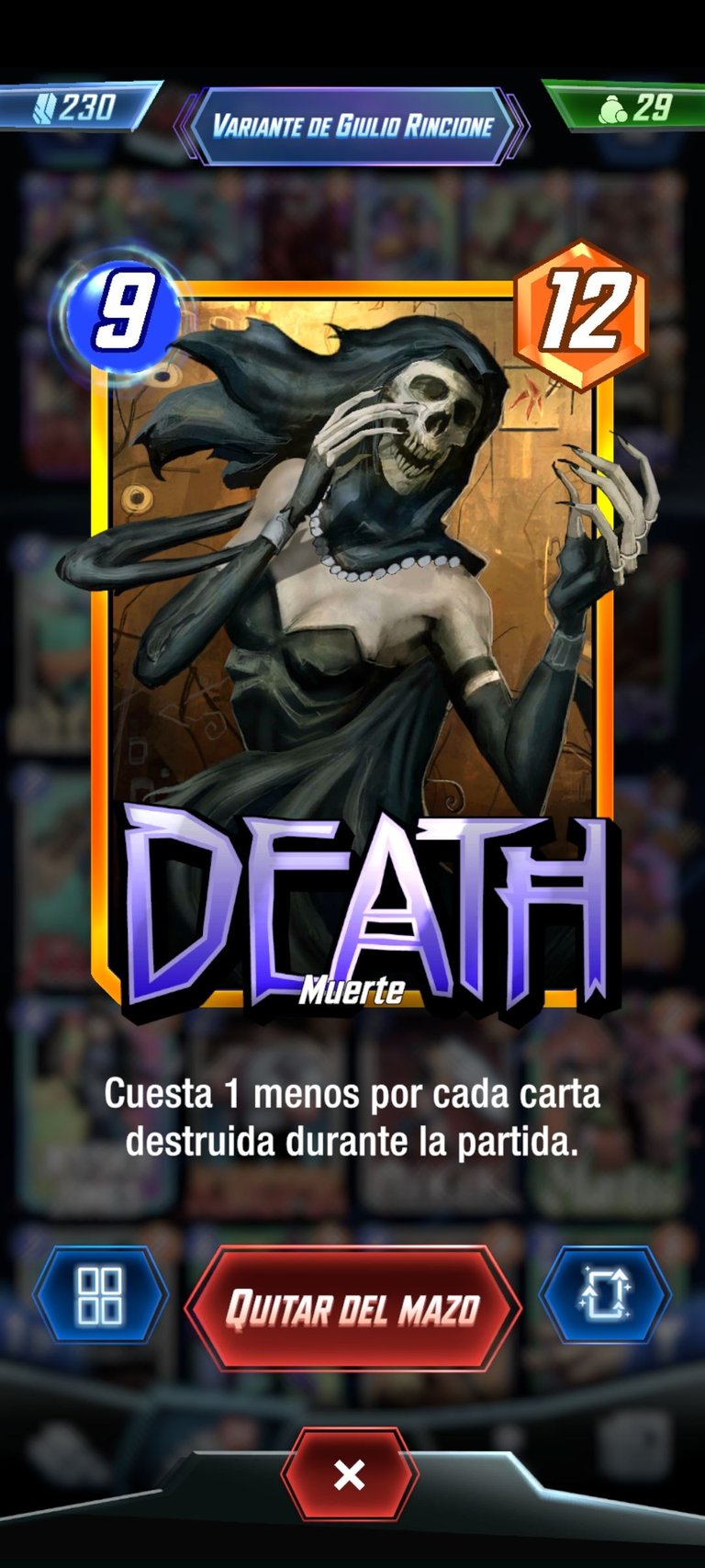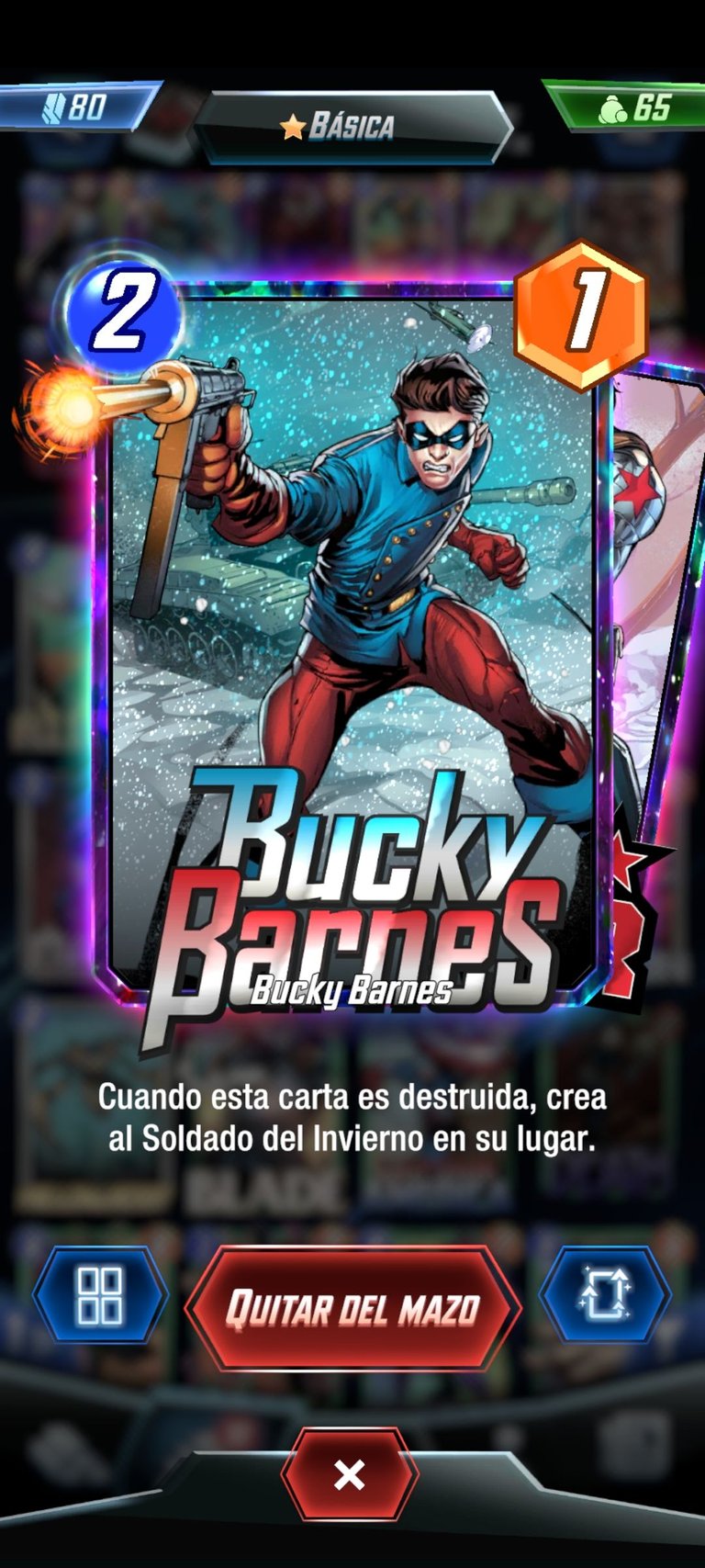 That is the purpose of my deck, and although I had used it previously (and I had also talked about it there) this is the first time that it allows me to go that far.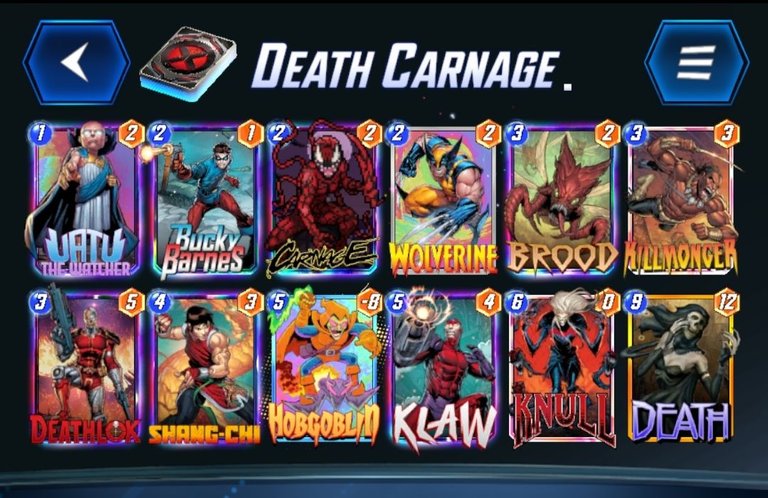 Todas las imágenes en este post fueron sacadas directamente desde el juego por mi

Luego de varias semanas de sufrimiento puro finalmente he logrado superar mi record personal en Marvell Snap, alcanzando el rango de "Platino" en la temporada de animals assemble.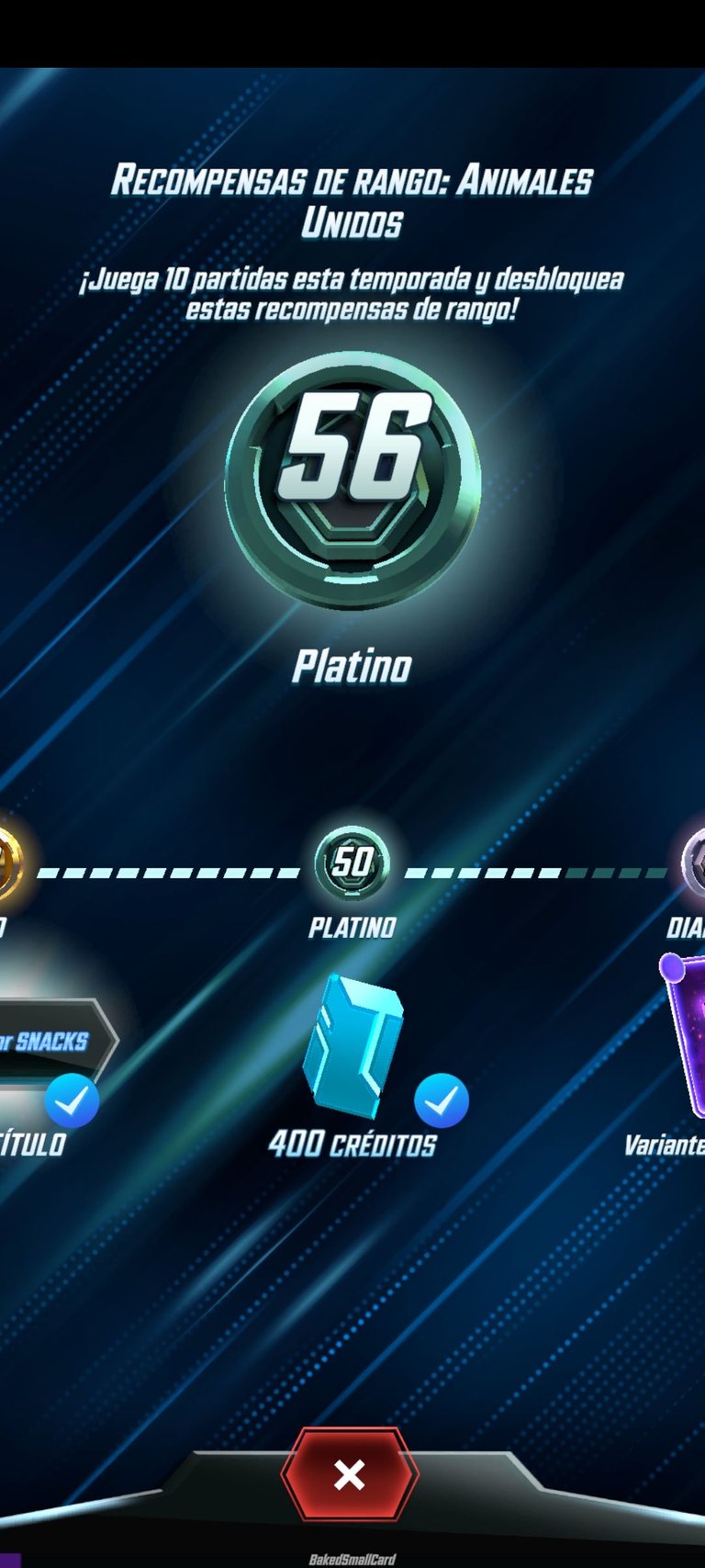 No ha Sido una tarea particularmente fácil, y llevó en el camino realizar una gran cantidad de ajustes a mi deck, no obstante, la clave estuvo en volver a lo básico, utilizando el deck de destrucción que se construye al rededor de Carnage y la Muerte.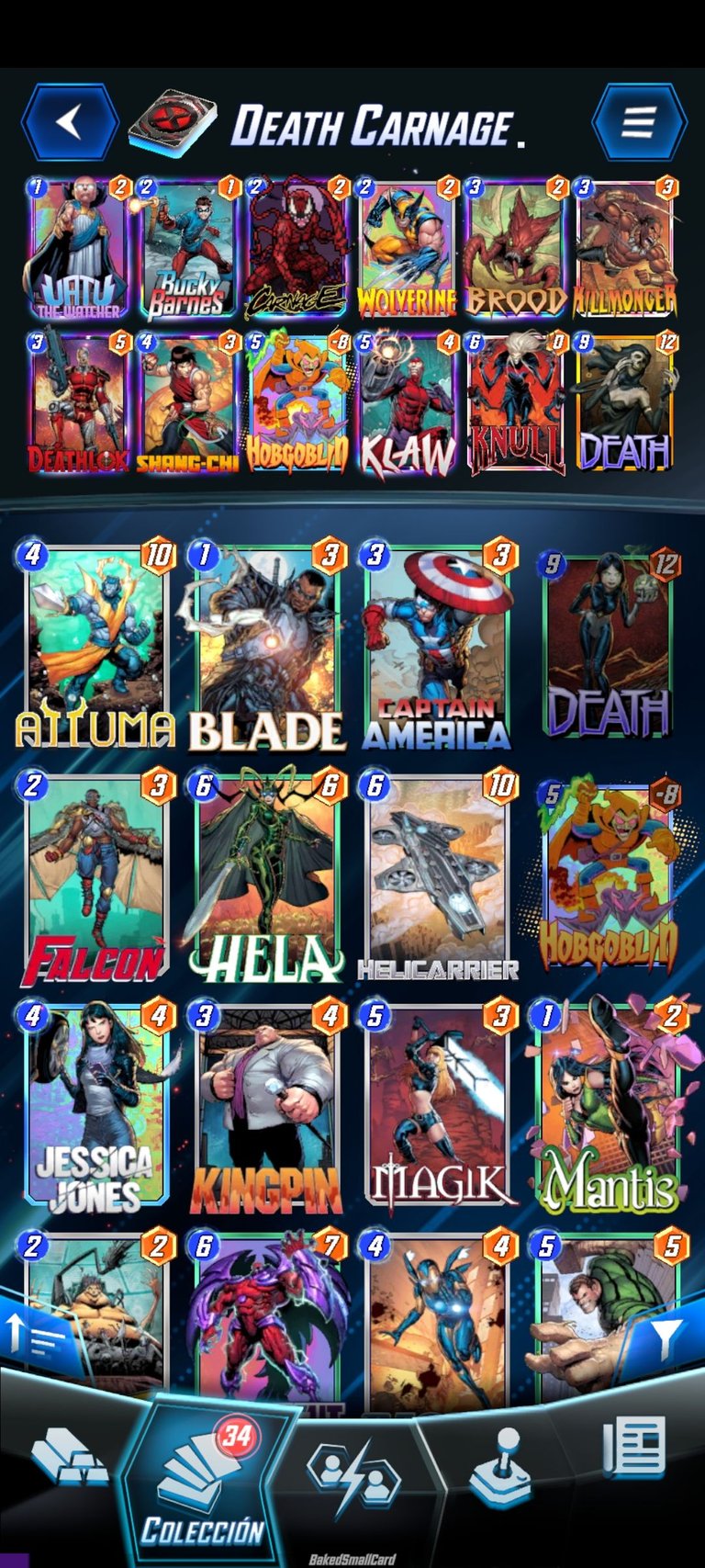 Marvel Snap es un juego de cartas con una estructura particularmente adictiva, aún así, siento que generalmente podría catalogarse como justo, la brecha entre aquellos que lo disfrutamos sin pagar un centavo y aquellos que prefieren pagar por el pase premium no es muy grande, y aquellos jugadores sin mucha experiencia en el género como yo tienen la posibilidad de progresar considerablemente si saben administrar bien las pérdidas y victorias.
Verán, el sistema de rankeo en Marvel Snap funciona con cubos, los cuales podemos apostar con un acceso directo en la parte posterior del tablero a medida que va avanzando la partida.
La idea, lógicamente, es ser capaces de aumentar la apuesta cuando estamos seguros de la victoria, y minimizar las pérdidas en los casos en los que sabremos que no tenemos posibilidades de ganar, esto entremezclado con un sistema de combate simple (Con mazos pequeñas y la imposibilidad de repetir cartas) hacen de Marvel Snap una experiencia accesible en principio, pero desafiante cuando vamos aumentando el nivel de nuestra colección, nuestro rango, y como consecuencia, la habilidad de nuestros contrincantes.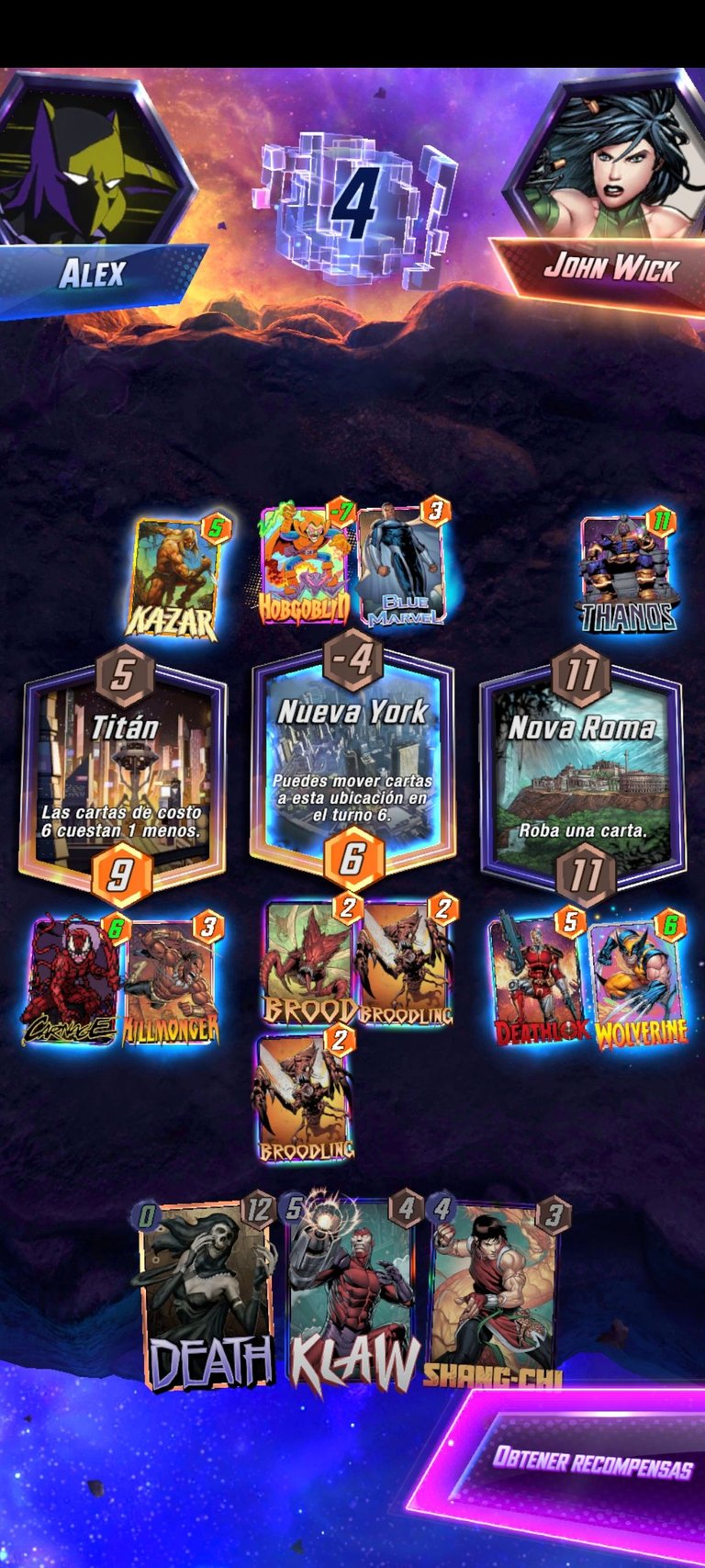 Más allá del aspecto técnico/estratégico, existe un aspecto psicológico que entra en juego en cada partida de Marvel Snap, especialmente cuando nuestro contrincante aumenta la apuesta de cubos sin que necesariamente cuente con posibilidades de ganar, como si se tratara de una partida de Póker.
Mi record anterior correspondía al Oro, y honestamente, sentí que nunca iba a ser capaz de superarlo, por esto mismo me alegra mucho que mis días de esfuerzo se vieran recompensados, aparte de todo esto, mi deck actual es bastante divertido.
Cómo he explicado en ocasiones previas, todas las cartas de Marvel Snap se pueden dividir en tres categorías: Aquellas que cuentan con efectos continuos, aquellas que cuentan con efectos de revelación, y aquellas que carecen de efectos..
Cómo sus propios nombres lo indican, los efectos continuos se mantienen a lo largo de toda la partida, mientras que los efectos de revelación operan únicamente en el turno en el que se pone la carta en una ubicación determinada.
Mi deck se enfoca en la destrucción de cartas, aprovechando a aquellas que irónicamente se ven beneficiadas por la misma. Por ejemplo, cuando Bucky se destruye hace aparecer al soldado del invierno, una carta que cuenta con un nivel de poder muy superior (de 1 a 6 puntos).
Carnage, una de las piezas centrales de mi deck, destruye todas las cartas de una ubicación determinada, ganando dos puntos extra por cada carta consumida, esto lo hace particularmente útil para ganar puntos en ubicaciones sin necesidad de cubrir muchos espacios durante los primeros 2-3 turnos.
La muerte, por otro lado, es una de mis cartas favoritas de todo el juego, capaz de reducir su costo por un punto de energía por cada carta que se haya destruido en toda la partida, esto quiere decir que no solo me benefician mis propias destrucciones sino también las de mi rival.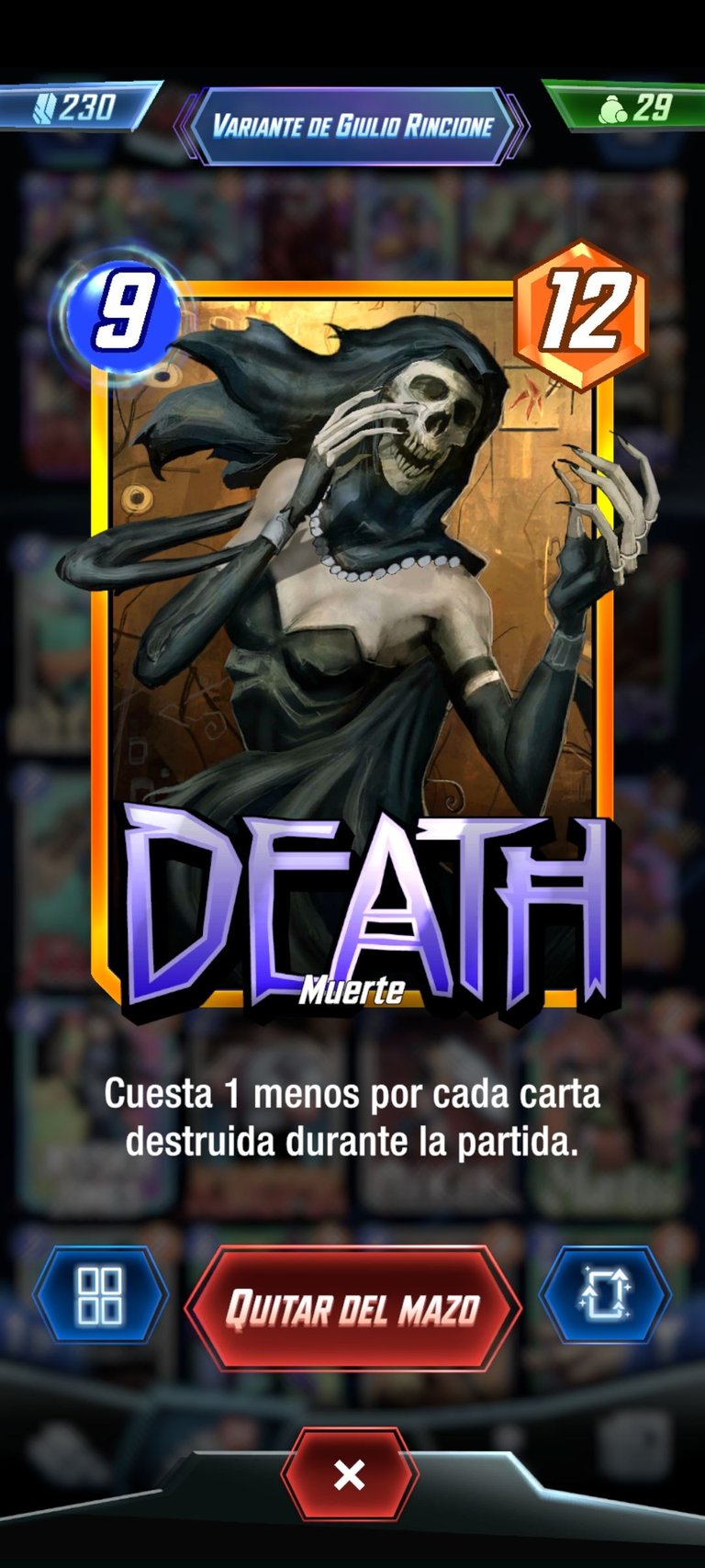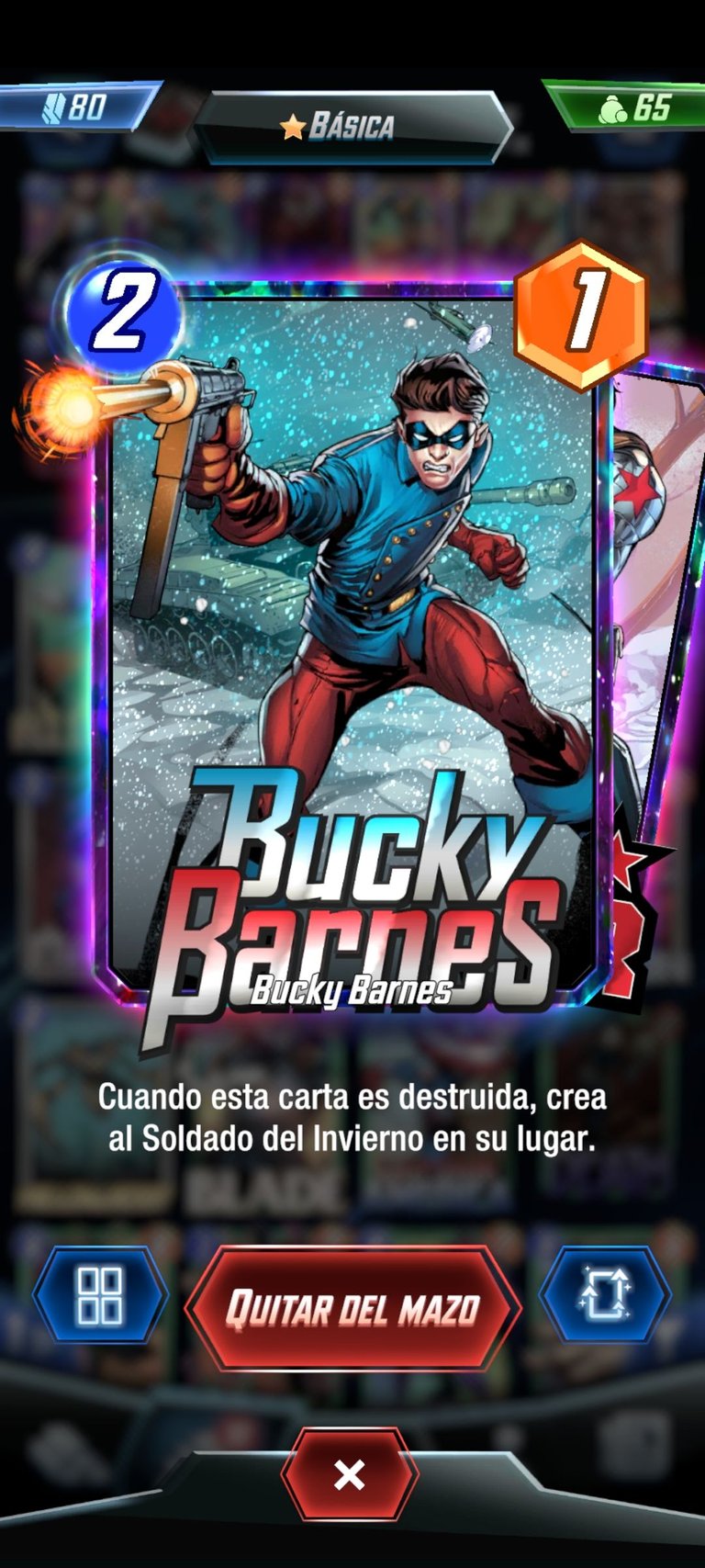 Esa es la finalidad de mi deck, y aunque lo había usado previamente (Y también había hablado de el ahí) está es la primera vez que me permite llegar tan lejos.

Twitter/Instagram/Letterbox: Alxxssss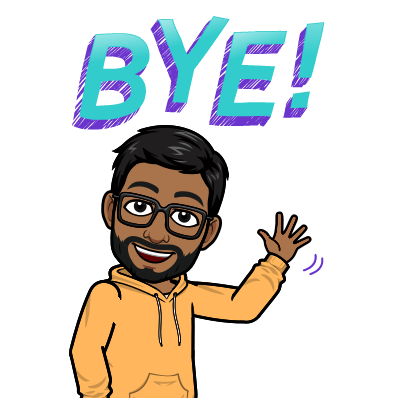 ---
---