In no particular order, here are today's links from Steem and RSS. Please consider clicking through to read and upvote any Steem post(s) on the list.
(Note: Sharing does not imply agreement or endorsement.)
---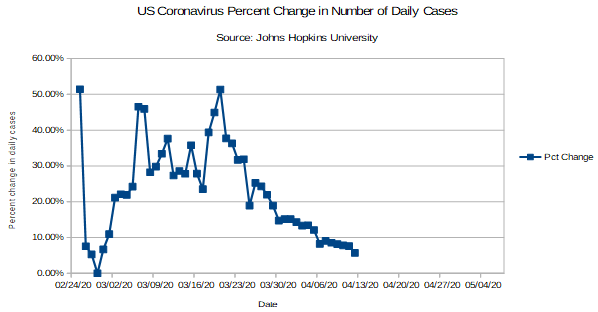 Just for fun, here's a graph of new cases as a percentage of total cases in the US since I started logging numbers on February 24.
---
As mentioned in previous posts, here is a visualization tool for mapping the cases of COVID-19 occurrences.
According to the site, this morning's worldwide number of reported cases was 1,792,899 with 412,534 recoveries, 110,042 deaths, and 530,200 in the US. The site is also reporting two new numbers, which are 2,688,766 total tests and 82,809 total hospitalized in the US. With a decline of 6,731 in new cases in the US, today becomes the second biggest drop in new cases since I've been logging the data. The biggest drop was six days ago, on April 6.
Of the cases reported in the US, there have been 32,314 recoveries, 20,614 deaths, and 21,942 cases in the state of Pennsylvania (with 530 fatalities).
---
















---
Consistent with the rules for the
Share n Burn
community, a beneficiary setting of 100% has been applied to this post for
@null
.