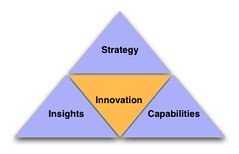 Individualized learning x social emotional learning
Technology has placed Innovation in the middle of education. From the use of Chromebook, iPads, smartboards and more, our student are at a much higher advantage than students 10 or more years prior.
The segmented pyramid chart presented in this post demonstrates the balance that students need to grow with the times. Innovation is placed in the middle because it acts as an input and output. Its role can be used to gain all sections: strategy, insights, and capabilities; or the sections can influence innovation. There is no linear equation.
For educators to create a more innovative environment for students, it will take some strategies. They will need to collaborate with others and research. Evidence-based strategies are useful in planning a lesson and curriculum; for example project based learning. With this, students are learning in a more hands on engaging way. With this comes student capabilities. Students will have to apply themselves and take the lead in how and what they learn. When students are encouraged and confident they have higher student success and those habits are carried on with them throughout life. The use of social-emotional learning strategies to encourage students to be self-aware and active in their goals and community.
In all, to create an environment that is not just inclusive but still unique, strategic involves collaborations or insights from all stakeholders: students, teachers, administrators, lawmakers, and other parties. This benefits not just the student but the teacher and administrator as well because it takes loads of stress of them from discipline, to lack of time and assessment of students. Making for a welcoming and open environment for everyone.
Changes are as subtle as introducing talking circles in classroom to not just discuss content but to maintain the positive environment by healthy talking, debating and collaborating. All students deserve equity in education and their learning environment regardless of what that might look like for them. Technology in education will further advance how students learn and its imperative to always keep the humanistic aspects (social emotional) in tact.