Personal presentation.
Hello everyone, receive a cordial greeting from me. I am a young mathematician apprentice, Venezuelan and enthusiastic about science in general. At present I am pursuing a "degree in mathematics" career, in which I am in the middle of the degree. On the other hand, I am currently doing research in the area of ​​number theory at the University of Carabobo (UC).
Well, with great pleasure I will be uploading math content, tips to increase your performance in the study and science in general.
I hope you will accompany me on the arduous but beautiful path of mathematics and science.
English.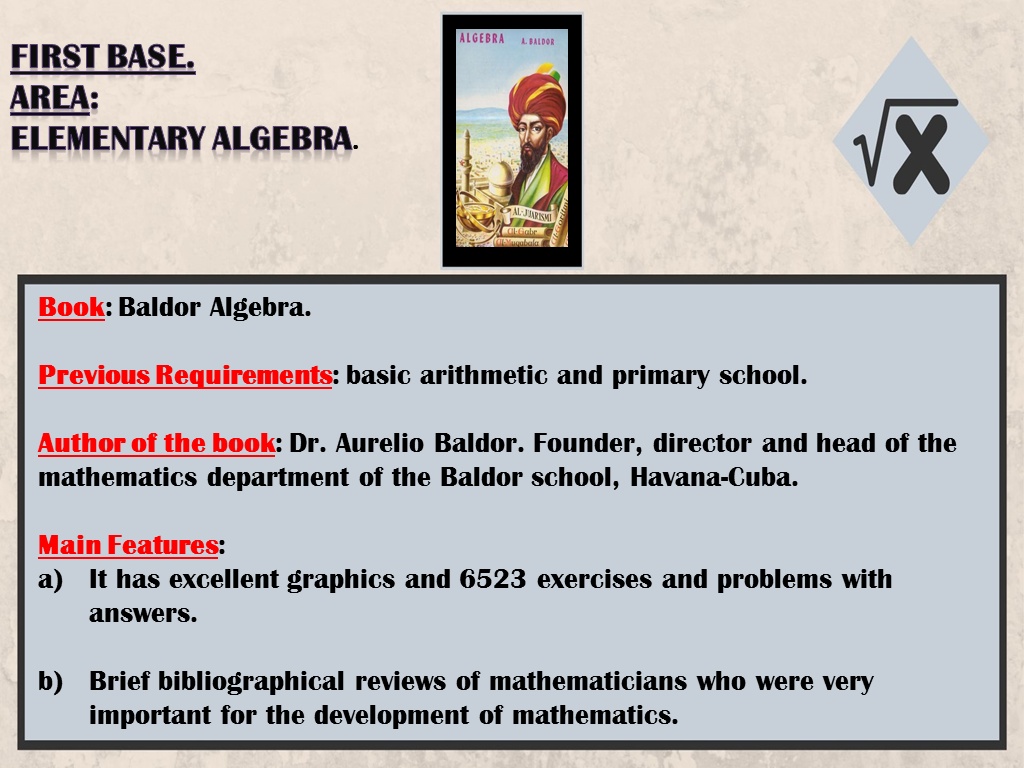 First Base.
As a first base, I always recommend the book that helped me to build the first foundation to tackle the mathematical problems I have encountered during my university career. And that book I always recommend is none other than the very popular one: "Baldor's Algebra ", which I consider--always from my opinion, of course--to be the best book for learning elementary algebra and thus mastering the most basic mathematical tools, in order to later be able to aspire to master more complex subjects, such as, for example: Calculus and Set Theory, etc.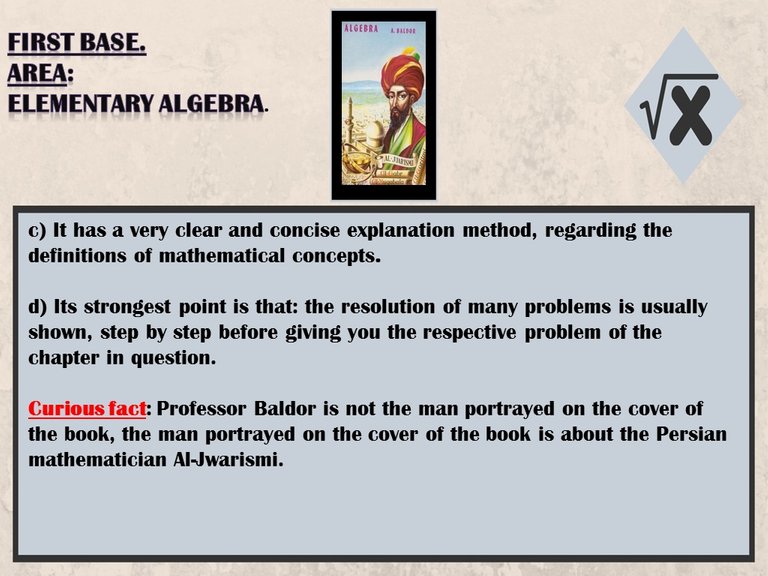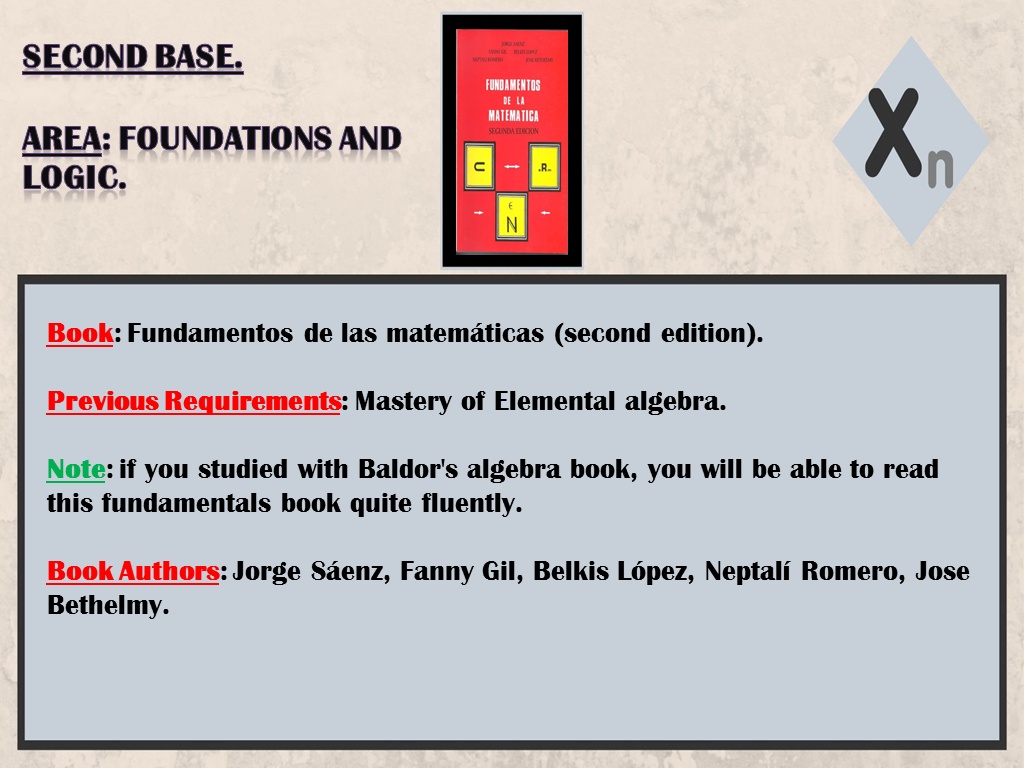 Second base.
As a second base, I highly recommend this book, if you want to learn the basics of logic and set theory in a very user-friendly way, which is what one usually looks for when starting out in the world of higher mathematics.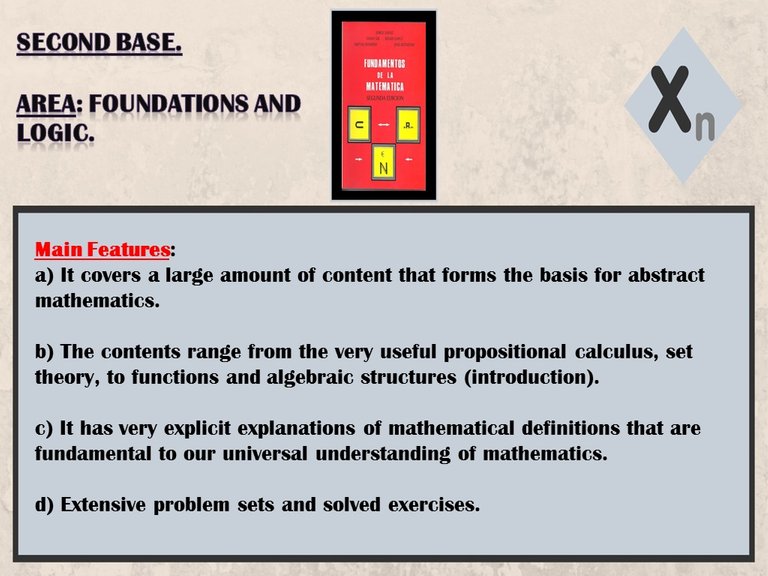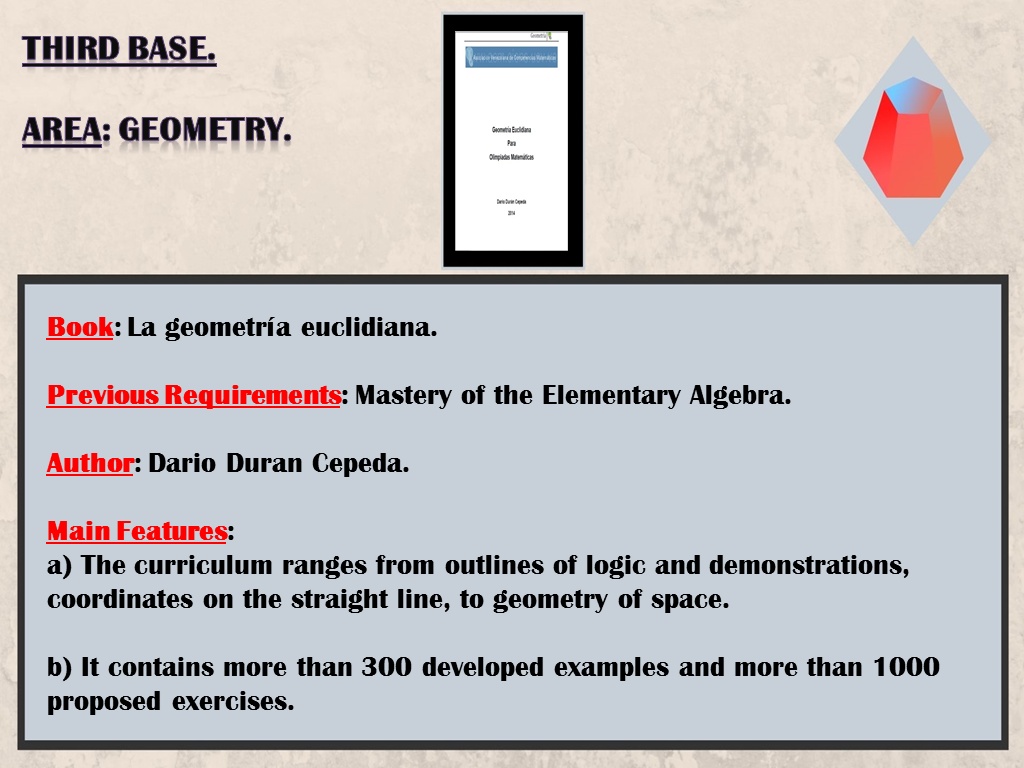 Third base.
In third base, which deals with the area of Geometry, I recommend the book Euclidean Geometry by Professor Dario Duran Cepeda. I recommend this book, because of its extensive subject matter, which covers everything you need to know about Euclidean geometry, always emphasising geometric proofs through formal mathematical methods.

Fourth Base.
If you are thinking of starting a course in mathematical calculus from scratch, it is necessary for me to recommend the book Calculus and Analytic Geometry by the authors Larsson & Hostetler. I make the above suggestion because of the clarity with which the mathematical definitions are usually given in this mathematical calculus book.
It will also be useful for courses in differential, integral and vector calculus.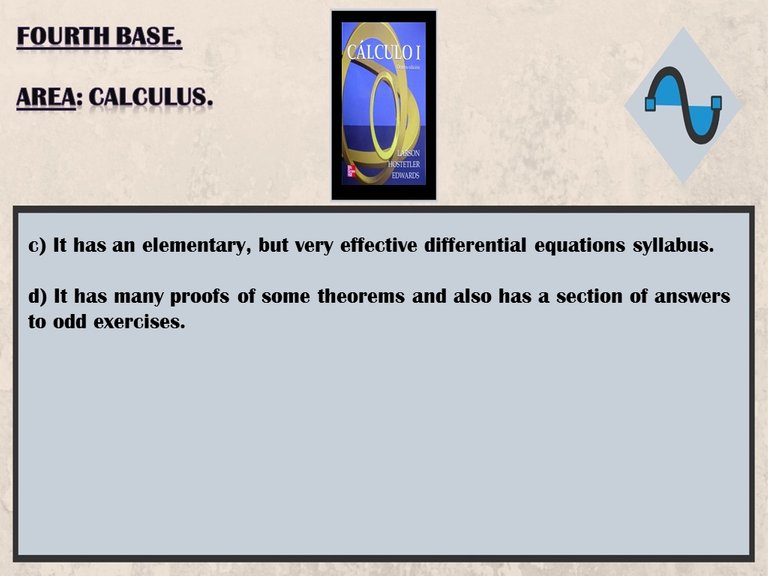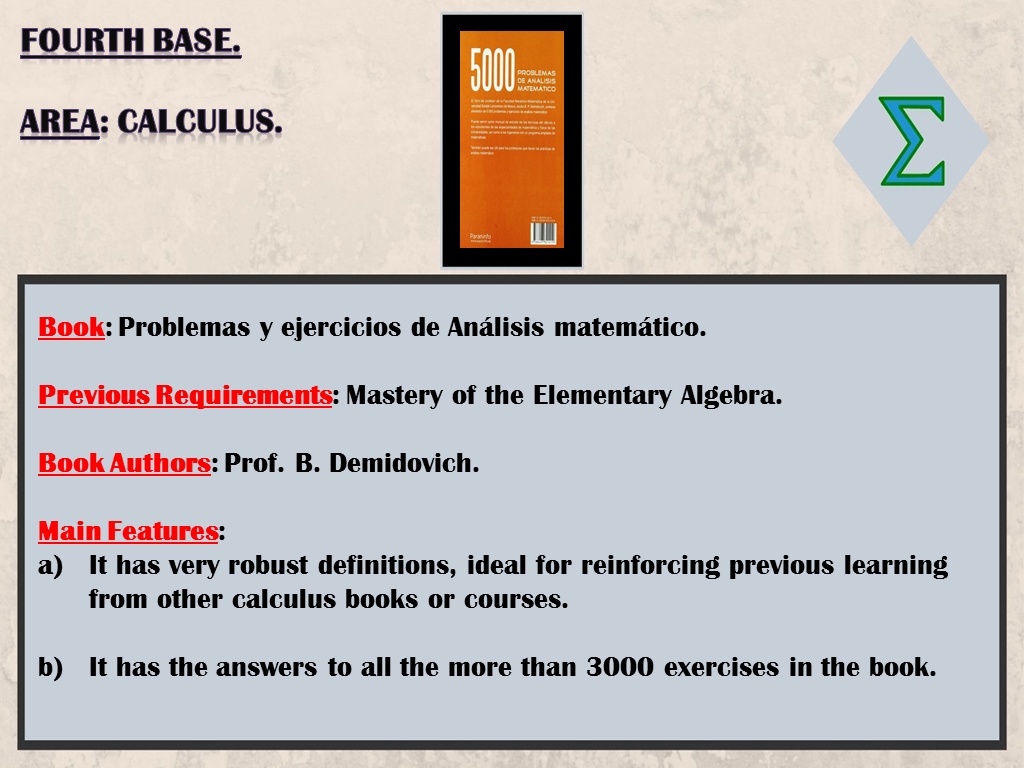 As a reinforcement, I suggest that you purchase the calculus book by Prof. B. Demidovich, which belongs to the legendary editorial MIR.
I suggest that you approach the above book only after you have studied the concepts you will be tested on, with the previous calculus book. This book is very rigorous for beginners in calculus.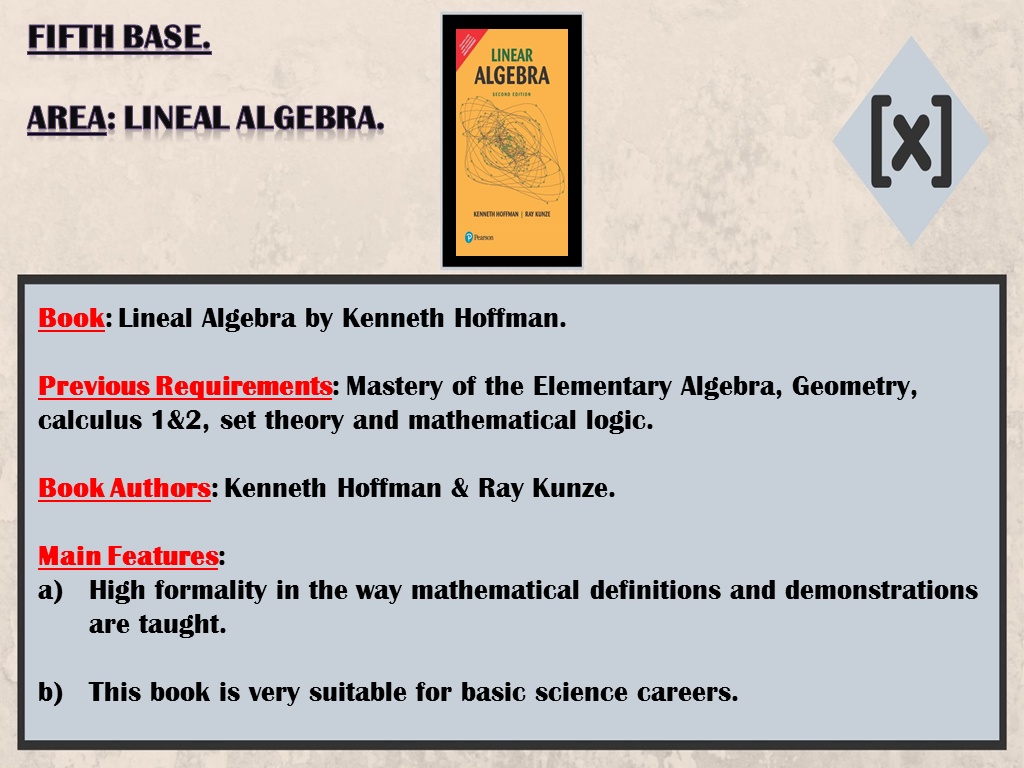 Fifth base.
If you are a basic science student, in my opinion, there is no better book for the study of Linear Algebra than Professor Kenneth Hoffman's book.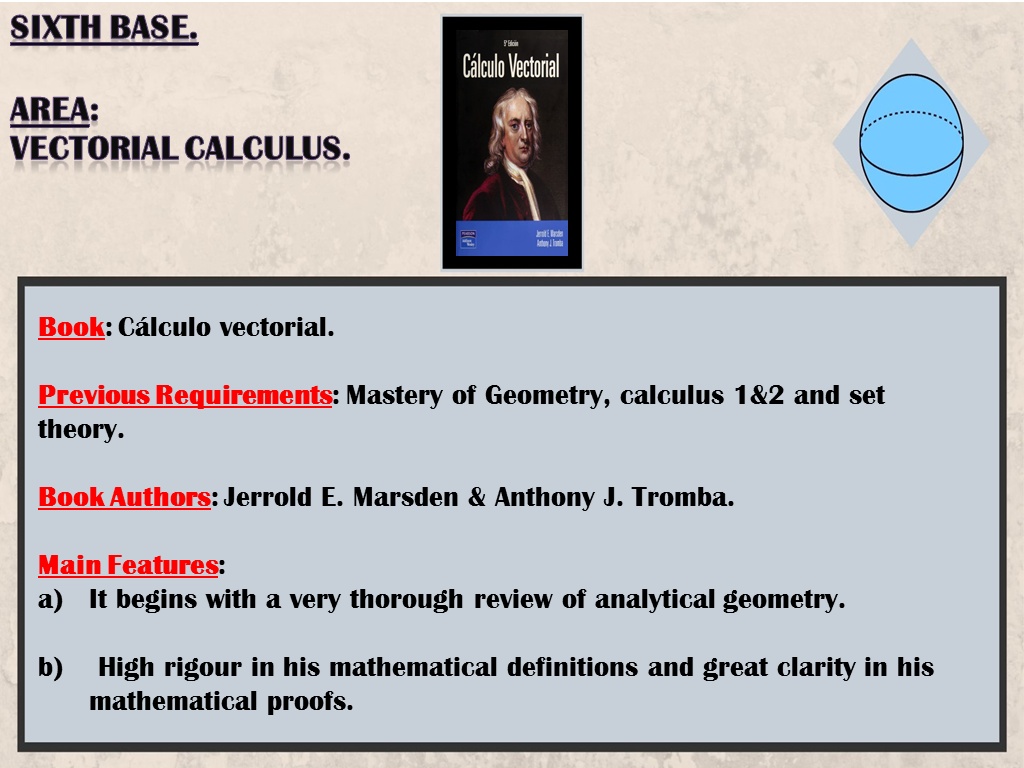 Sixth base.
As part of the sixth base, I recommend Professor Tromba's book. If you don't want to have problems understanding the epsilon-delta definition of the limit of a function; follow the course dictated by this book.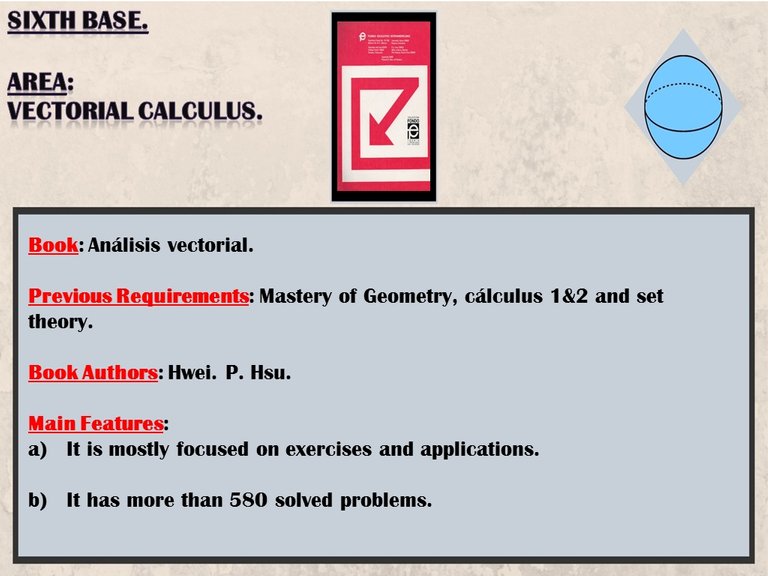 The Hsu Professor's Book is often used as a reinforcement to the theory learned in lectures, or in other books, because of its extreme orientation towards the applications of vector calculus.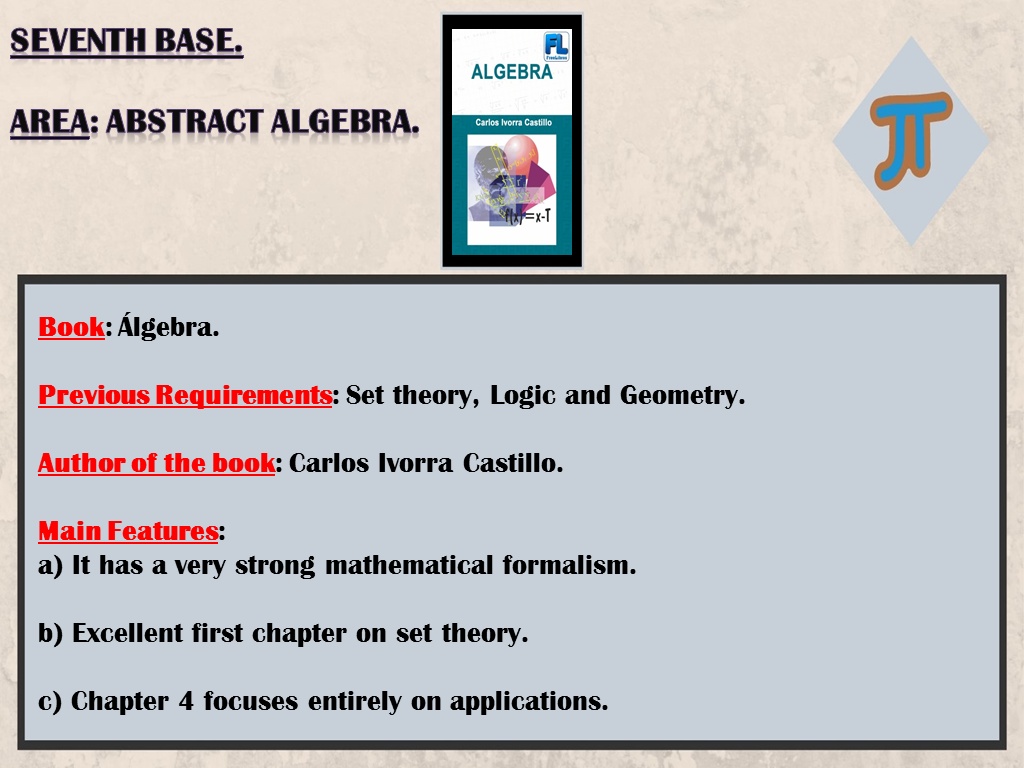 Seventh base.
At this point, your mathematics fundamentals should be solid enough to be able to tackle this abstract algebra book, which, if you manage to master, I don't think you will have any problems with abstract topics from then on, or so I believe.
As an additional piece of information, I can tell you that: you can look for all the books in the collection of Professor Carlos Ivorra, as all his books are usually of a very high quality.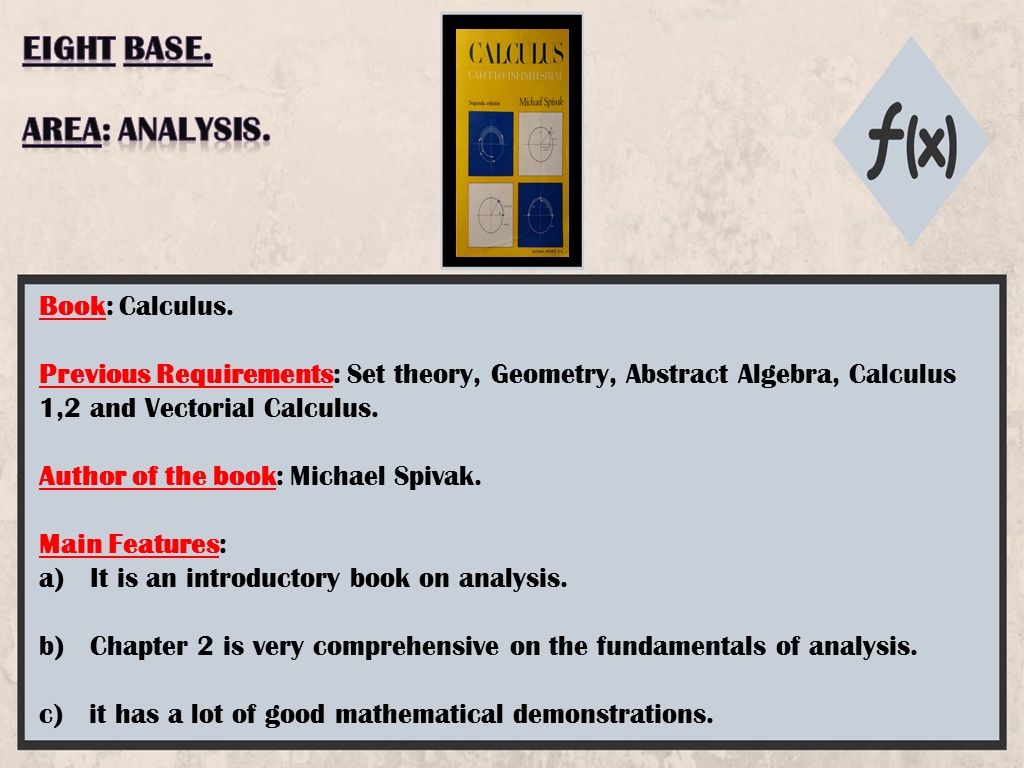 Eight base.
Finally, I suggest that you, without shame or glory, choose this book by Professor Spivak, which is a classic among mathematical circles, due to the simplicity with which it deals with the topics of mathematical analysis. This is really an introductory book on analysis.
i) Explanatory and reinforcement video (video made by me):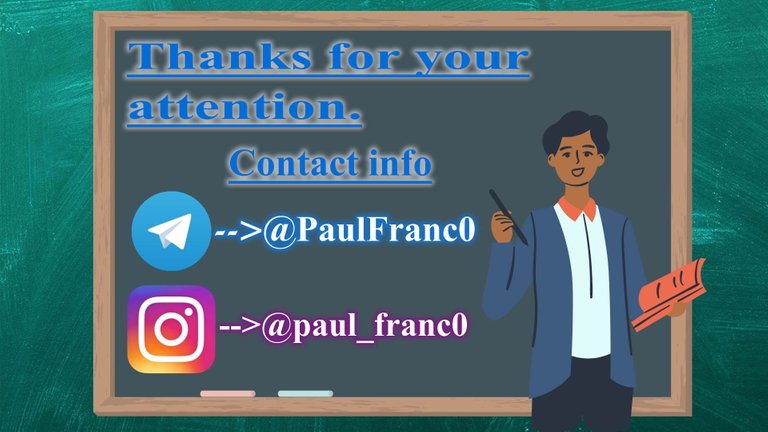 Post en Español.
Presentación personal.
Hola a todos, reciban un cordial saludo de mi parte. Soy un joven aprendiz de matemático, venezolano y entusiasta de la ciencia en general. En la actualidad me encuentro cursando la carrera de "licenciatura en matemáticas", en la cual estoy a la mitad de la carrera. Por otra parte, actualmente estoy realizando investigación en el área de teoría de números en la universidad de Carabobo(UC).
Bueno, con mucho agrado voy a estar subiendo contenido de matemáticas, consejos para aumentar tu desempeño en el estudio y ciencias en general.
Espero me acompañen en el camino arduo, pero bonito de las matemáticas y la ciencia.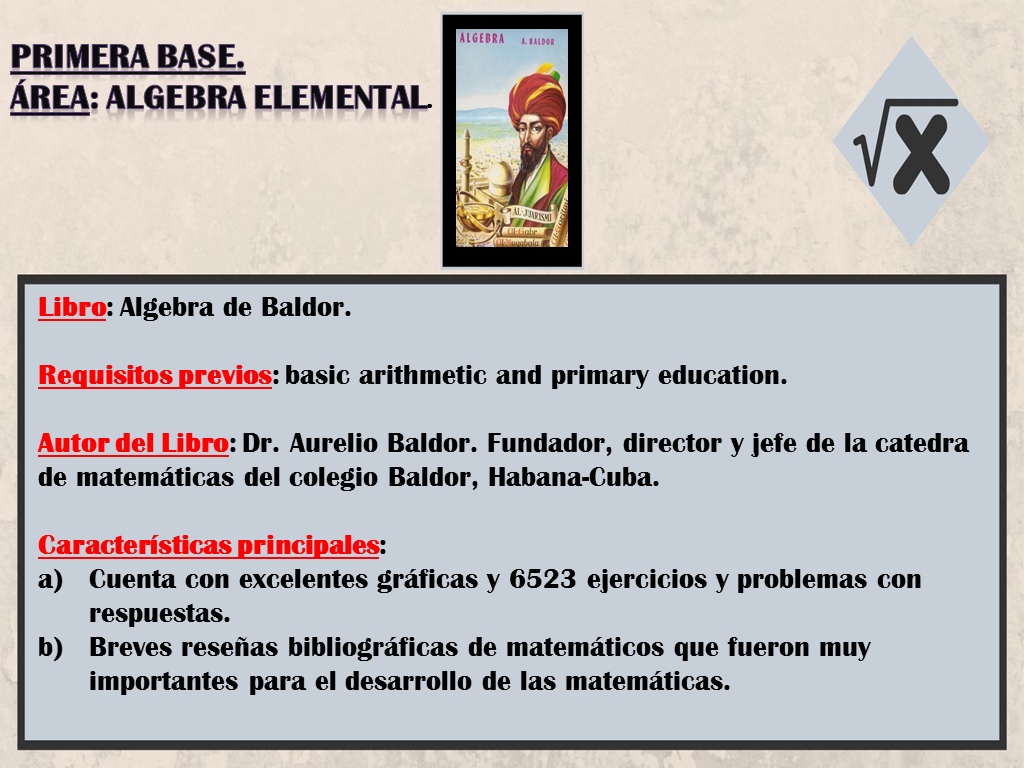 Primera Base.
Como primera base, siempre suelo recomendar al libro que me ayudó a construir el primer cimiento para abordar los problemas matemáticos con los que me he topado durante el desarrollo de mi carrera universitaria. Y ese libro que siempre recomiendo no es más que el muy popular: "Algebra de Baldor", el cual considero--siempre desde mi opinión, claro esta-- que es el mejor libro para aprender algebra elemental y así dominar las herramientas matemáticas más básicas, para posteriormente poder aspirar a dominar materias mas complejas, como por ejemplo: Cálculo y Teoría de Conjuntos, etc.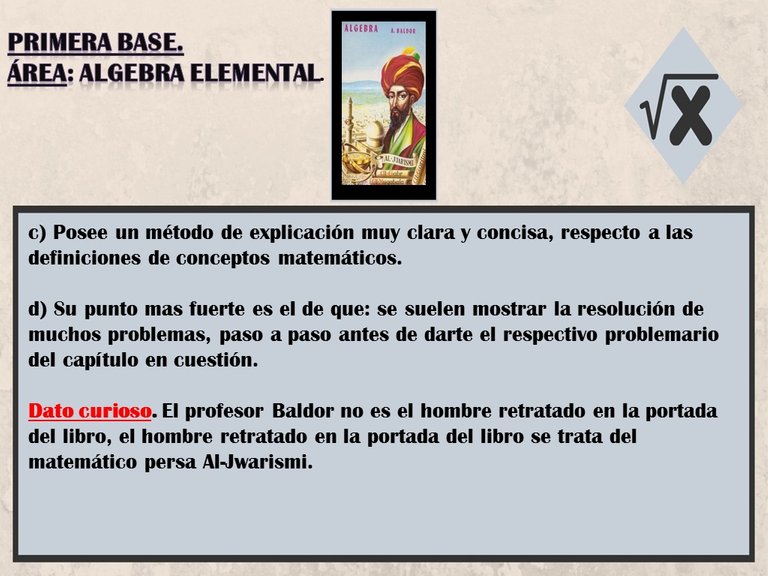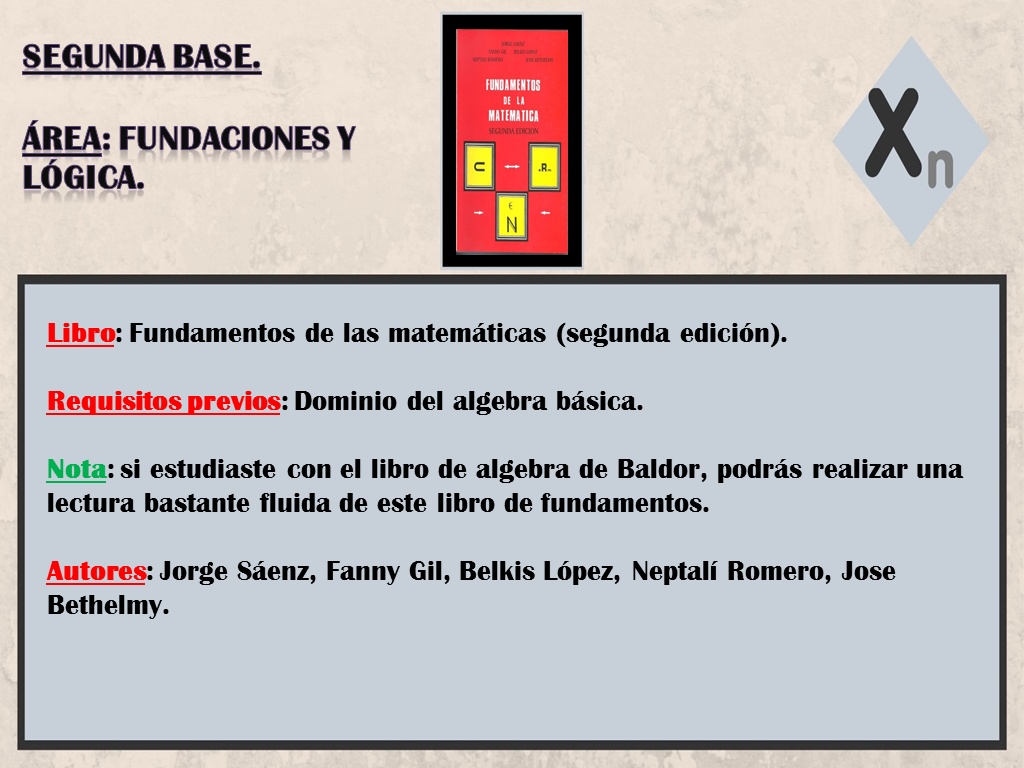 Segunda base.
Como segunda base, te recomiendo fervientemente este libro, si quieres aprender lo básico de lógica y teoría de conjuntos de una manera muy amigable, que es lo que uno suele buscar cuando se esta comenzando en el mundo de las matemáticas superiores.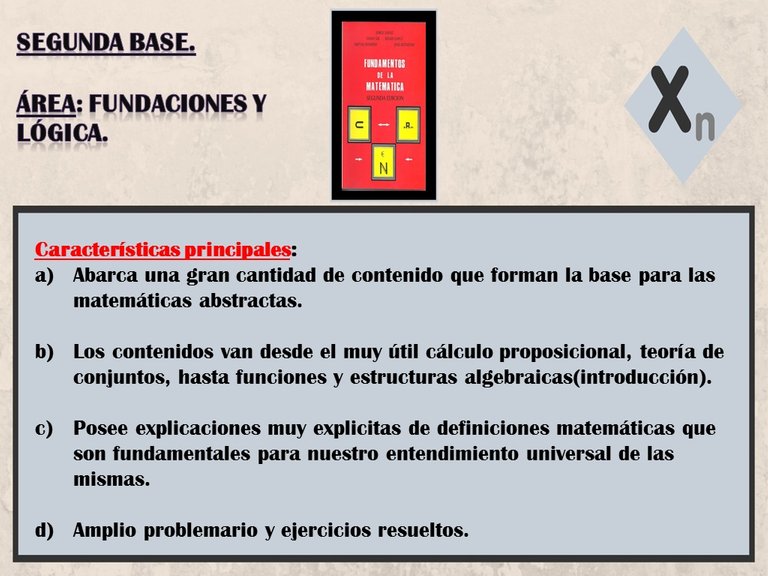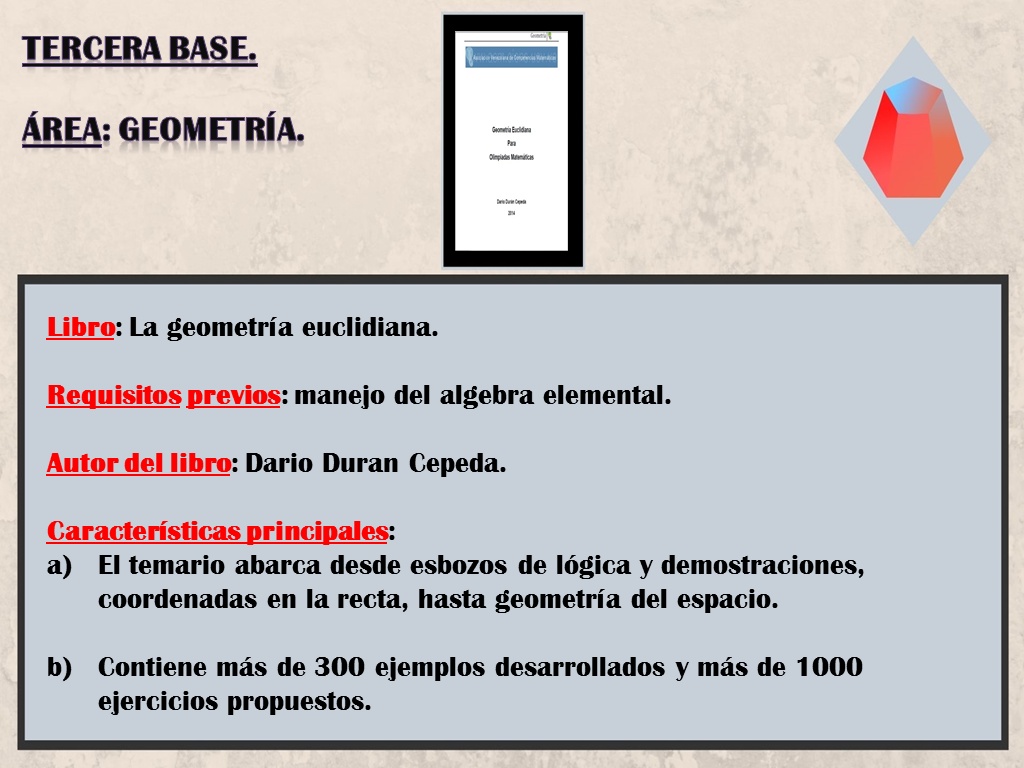 Tercera Base.
En tercera base, la cual se trata del área de Geometría, yo te recomiendo el libro de la geometría euclidiana del profesor Dario Duran Cepeda. Te recomiendo este libro, debido a su ampio temario, que abarca todo lo necesario respecto a la geometría euclidiana, siempre haciendo énfasis en las demostraciones geométricas a través de métodos matemáticos formales.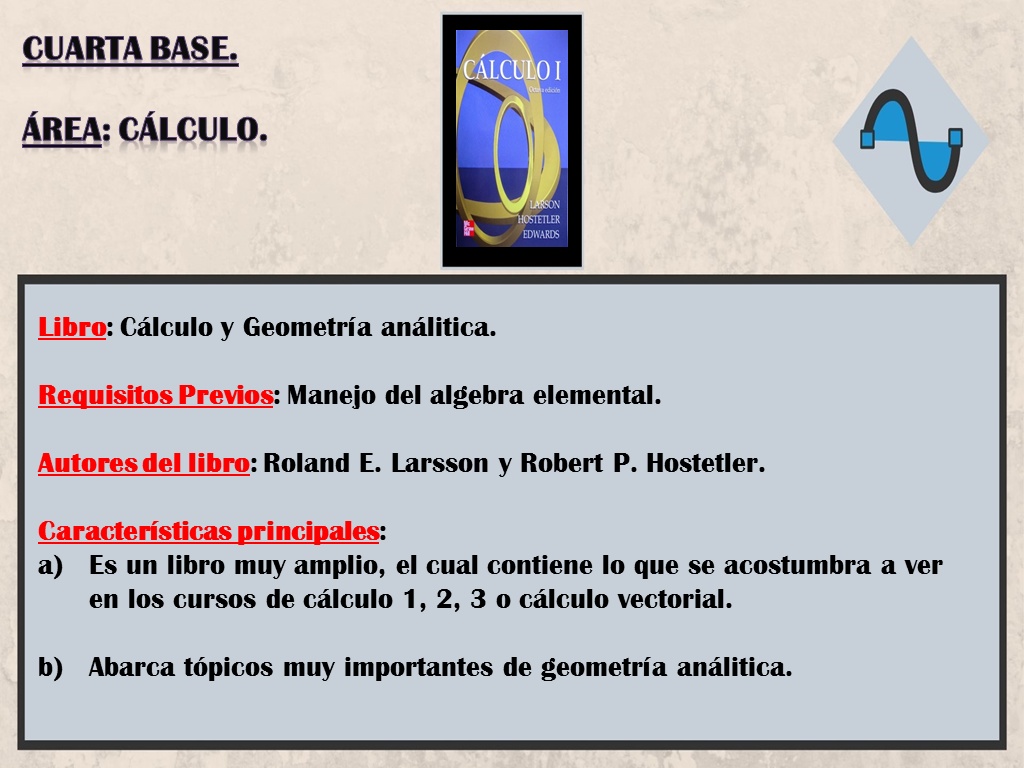 Cuarta Base.
Si piensas comenzar un curso de cálculo matemático desde cero, me es necesario recomendarte el libro de Cálculo y Geometría análitica de los autores Larsson & Hostetler. Te hago la sugerencia anterior, debido a la claridad con la que suelen impartir las definiciones matemáticas en este libro de cálculo matemático.
Además te servirá para los cursos de cálculo diferencial, integral y vectorial.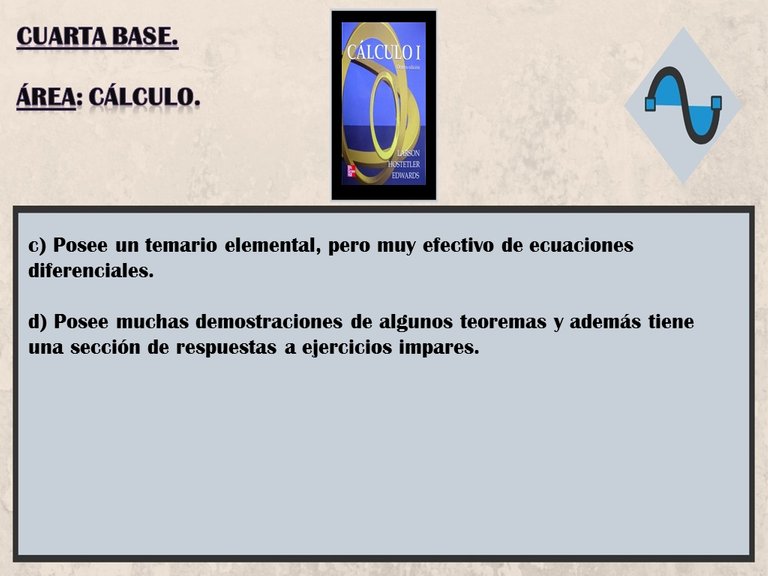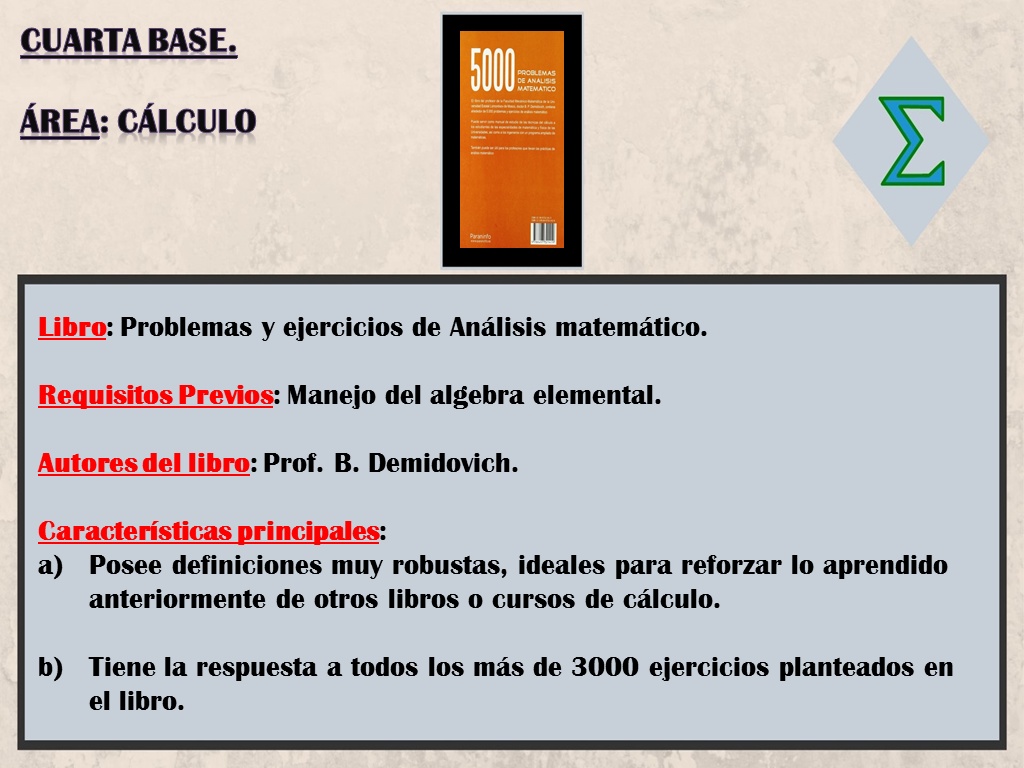 Como refuerzo, te hago la sugerencia de que adquieras el libro de cálculo del profesor B. Demidovich, el cual pertenece al legendario editorial MIR.
El libro anterior te sugiero que lo abordes solo después de haber estudiado los conceptos que te van a ser evaluados, con el libro anterior de cálculo. Este libro es muy riguroso para principiantes en el cálculo.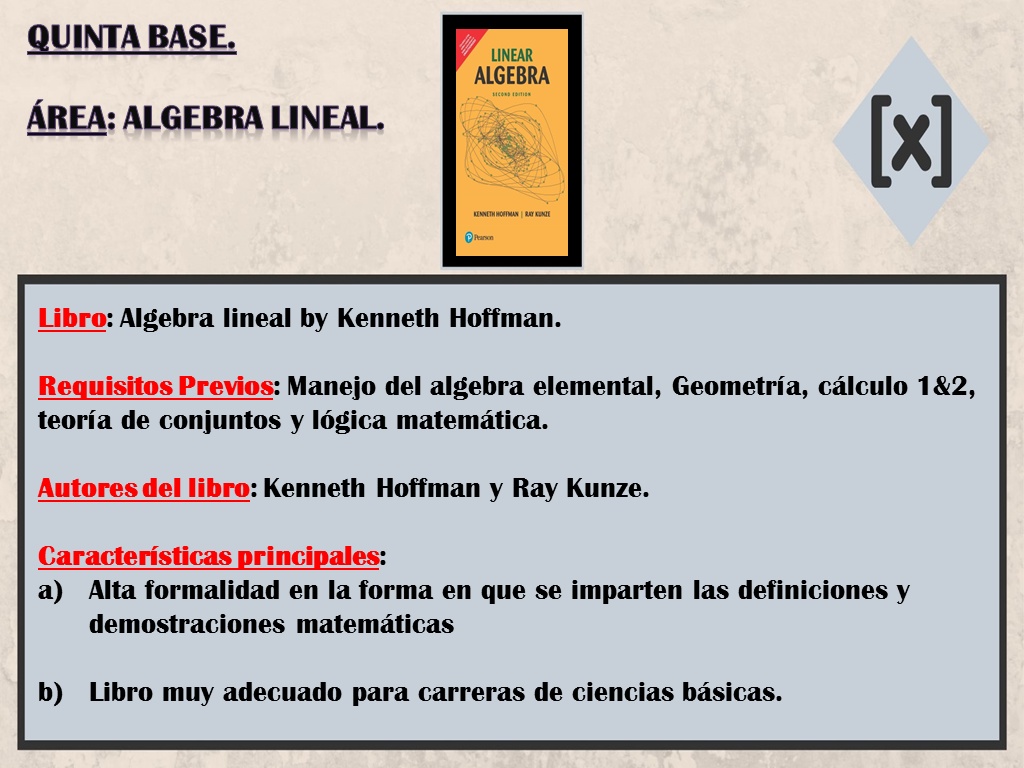 Quinta base.
Si eres estudiante de ciencias básicas, dentro de mi opinión, creo que no hay mejor libro para el estudio del Algebra Lineal que el de el Profesor Kenneth Hoffman.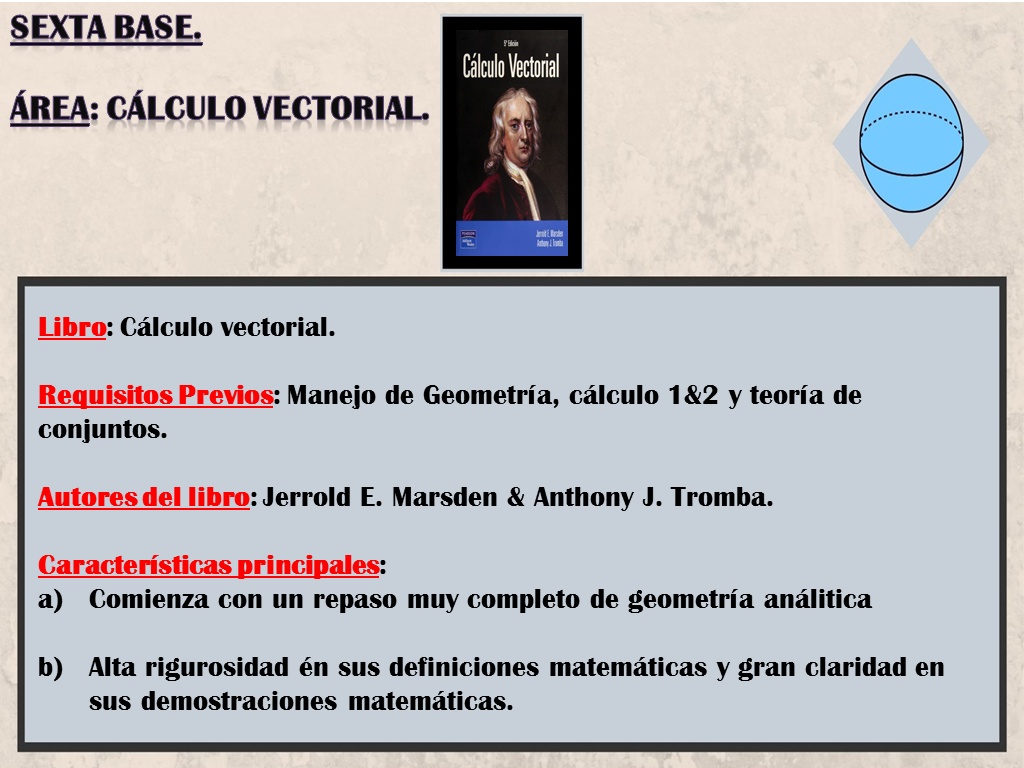 Sexta base.
Como parte de la sexta base, te recomiendo el libro del Profesor Tromba. Si no quieres tener problemas para entender la definición epsilón-delta del límite de una función; sigue el curso dictado por este libro.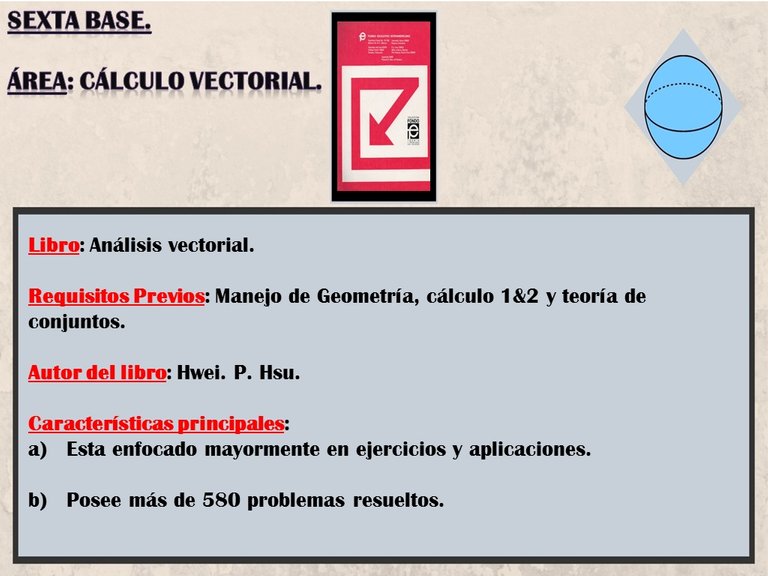 El Libro del Profesor Hsu se suele usar a menudo como refuerzo a la teoría aprendida o en clases, o en otros libros, debido a su extrema orientación hacía las aplicaciones del cálculo vectorial.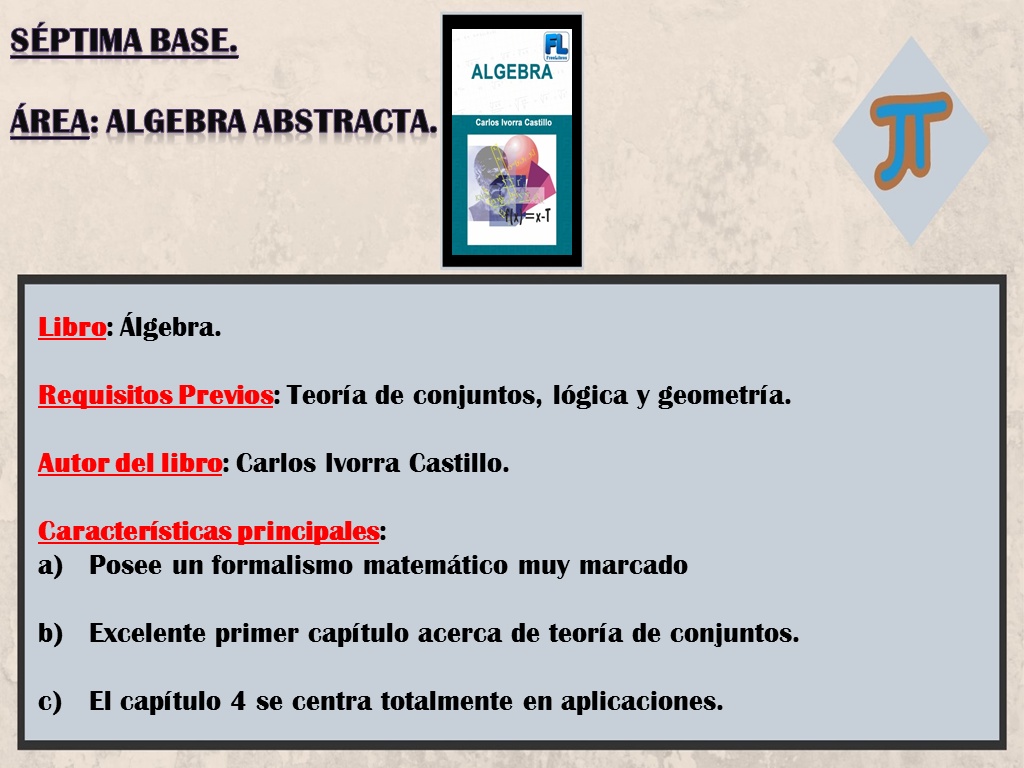 Séptima base.
Ya en este punto tus fundamentos de matemáticas se deben encontrar bastante sólidos como para poder abordar este libro de algebra abstracta, el cual, si logras dominar, no creo que tengas problemas con temas abstractos de ahí en adelante, o bien eso creo yo.
Como dato adicional, te puedo decir que: puedes buscar todos los libros de la colección del profesor Carlos Ivorra, ya que todos sus libros suelen ser de una calidad mágnifica.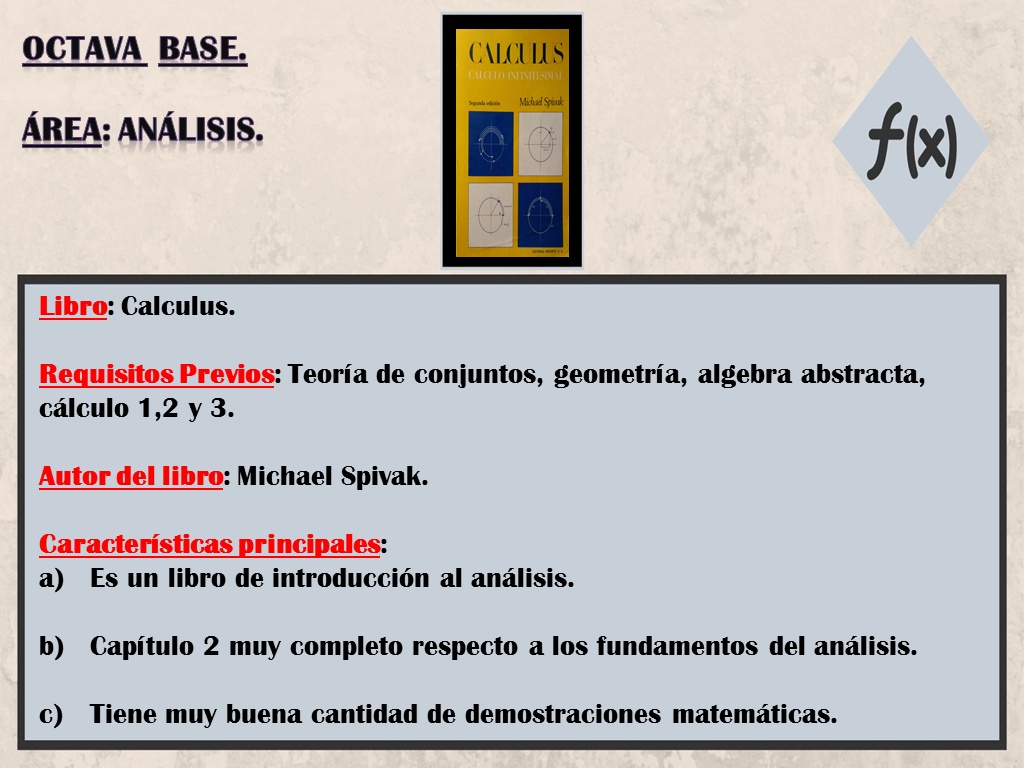 Octava base.
Finalmente, te sugiero que sin pena ni gloría, elijas este libro del profesor Spivak, el cual es un clásico entre los círculos matemáticos, debido a la sencillez con los que aborda los temas referentes al análisis matemático. Este en realidad es un libro de introducción al análisis.
i) El Vídeo explicativo y de refuerzo(vídeo realizado por mi persona).