The biggest change I need to make in this crypto bull run is profit-taking. Like most I know, during the last bull run we stacked a lot of coins and tokens only to watch the value of them go to almost zero because we did not have a profit-taking strategy. And I bet most reading this did the same.
This time I have a plan. Making myself stick to it will be the hard part. Based on previous Bitcoin cycles, this bull run is due to end around September. However, there is a curveball this time round and that is the institutional money and mainstream adoption by the likes of Via and Paypal. his curveball could have a major impact on the cycle and the bull run in general.
The plan is very simple. Take 10% into stable coin in April, May, June, July, and Aug. This will still leave me with just over 50% of my coins and tokens for any blow-off top if there is one. If there is not a blow-off top, the chances are it will be a supercycle. Either way, I'm holding some so it will be good. and sure if the third alternative happens, a massive correction, I have taken profits and can hold again for another few years :-)
Defi is going to play an important role in my profit-taking strategy. I don't have much intention of cashing out so I want to make my stable coins work for me. And this is where Defi steps in. Finding a good Defi Project with good returns will ensure I am still making gains.
CUB Finance has really grabbed my attention. I'm not so fond of liquidity pools. Price movement on the pair you provide liquidity for can have a big impact on the ratio of coins you are returned when you exit the pool. However, these liquidity pools used for Farming, on CUB pay a really good reward. The CUB-BUSD LP currently provides over 400% APR.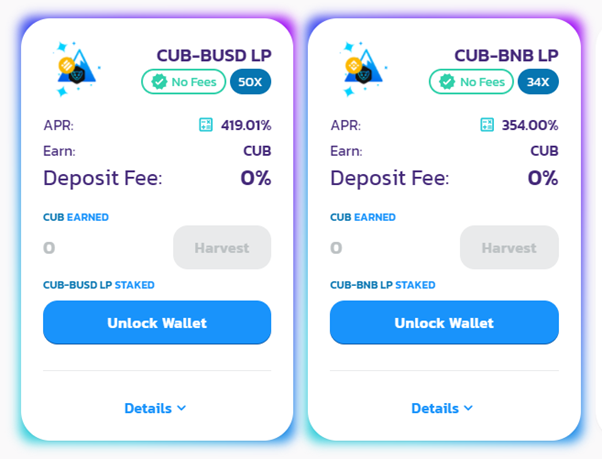 I was holding most of my CUB in a den. Dens require you to stake only one coin to get a return, and with almost 200% on CUB alone, it's a really good opportunity. However today I decided to take a little of my April profits, BNB is up considerably. So I sold enough BNB to match my CUB holding and moved by CUB from the Den to the Farm.
I had been staking some of my DOT in the Cub Den since Cub launched. During the week I decided to move ALL of my DOT to the pool as I have become more confident with the Defi space and CUB in general.
With the move of my DOT and taking profits today and adding it to the liquidity pool, I now have around 8% of my portfolio in Cub Finance. If CUB can continue to perform as it has, I will happily deposit more as I take more profits.
Overall I think this gives me a good head start on risk management. What is your profit-taking strategy? Would you consider it an exit plan? What about risk management? How are you reducing your risk? What tips can you give me to reduce my risk?
Posted Using LeoFinance Beta