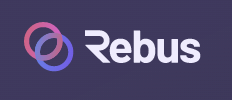 COSMOS AIRDROPS
The Cosmos ecosystem is one of the best for airdrops. In my view, anyway. This year we've already seen significant drops from Evmos, Crescent and Stargaze, along with a host of smaller offerings. And there are more to come, with Quicksilver and Gnoland knocking at the door.
Today was the turn of Rebus.
REBUS - TAKING DEFI MAINSTREAM
Rebus promises to take DeFi mainstream by bridging the worlds of crypto and traditional finance. It already has a number of partners and designed use cases and seems better thought out than most new crypto projects. You can read more about these in their blog on medium:
https://medium.com/@RebusChain/the-future-of-defi-beyond-cryptocurrencies-4e201e7c93c0
CHAIN ARCHITECTURE
The chain architecture looks similar to the Evmos twin-address approach:
A sovereign level 1 app-chain complete with IBC communication to other Cosmos chains like Atom Hub or Osmosis and a Cosmos address for use with Keplr wallet.
An Ethereum style EVM for smart contracts with an 0x address for use with Metamask.
It's a difficult architecture to get right: Evmos had to restart their chain after an initial flaw was discovered. And their airdrop process wasn't particularly smooth (but was worth persevering with!)
AIRDROP REQUIREMENTS
The snapshot date was 14 July 2022. Atom, Osmosis and Evmos stakers were rewarded. Minimum stakes were: Atom 80, Osmosis 100, and Evmos 100 with increasing airdrop amounts by banded levels.
It's one of those airdrops where you wish you'd spread tokens over a few wallets at the minimum level (100 OSMO is cheapest of the three). If only you'd known what the level would be in advance! It's also a reminder (to me anyway) to round any staking amounts to key levels. I have 97 OSMO staked in a wallet for example. Grrrr!
The levels are detailed here:
https://medium.com/@RebusChain/airdrop-rules-update-c183c0fe178b
WAX
There is also an airdrop for the WAX community. I hold no WAX but I know it's pretty popular among the LEO community in particular. So just a heads up from me.
CLAIM PROCESS
The airdrop claim process is pretty simple. Like many Cosmos airdrops there is some basic gamification with "missions" to get you involved in the community. 60% is available now:
Initial claim.
Staking claim.
Voting claim.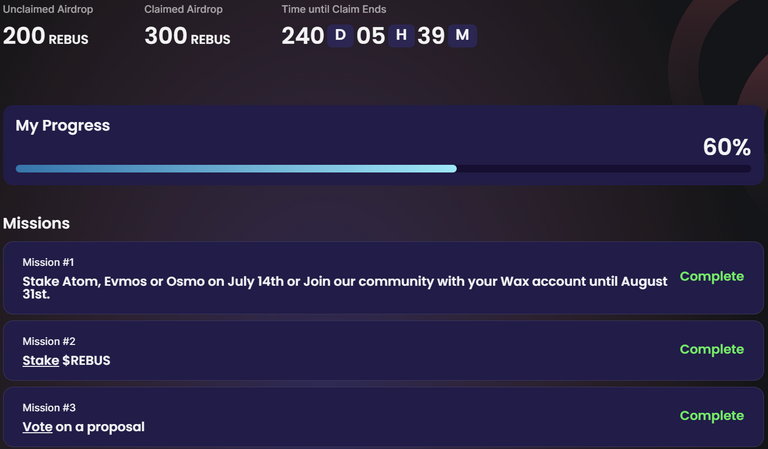 Done!
The only complication is that the Cosmos and EVM elements currently seem to be separated. So if you are claiming for both Atom/Osmosis and Evmos you have to go through two claim processes and delete the chain from Keplr in-between.
There's no particular hurry to claim. You have 240 more days until the claim ends! I've also heard there are no staking rewards until 1 October, so there's no bunfight with early adopters and validators grabbing all the first day rewards.
Good luck!
Not financial advice. Please do your own research.
Posted Using LeoFinance Beta