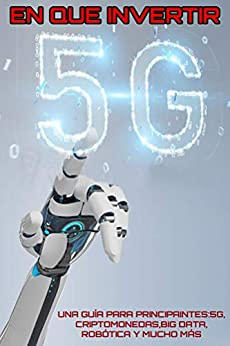 Source: https: //www.amazon.es/%C2%BFEN-QU%C3%89-INVERTIR-principiantes-electrificaci%C3%B3n-ebook/dp/B07TVKMPQ1/ref=asap_bc? Ie = UTF8
In the previous installment, we commented on the characteristics of 5G, one of the technologies called to star in the fourth industrial revolution. However, we know that the portfolio is the portfolio, and many will be looking to benefit personally from the rise of this technology.
However, to warn that it is better to wait for the bursatile storm, to which everything is pointing, still has enough to roar.
So without further preliminaries, I leave you with this article where I talk about three companies with possibilities of revaluation with the rise of 5G.
Nokia: The telephone giant has been looking for a place in the world of these new mobile networks. It has great advances in infrastructure development, counting as a candidate to offer support to those who develop their products through their infrastructure.
Likewise, it has also entered the world of patents. It seems that Nokia will charge 3 euros for each phone with 5G sold, a moderate royaltie compared to those charged by its competitors in the past. At the listing level, the Finnish company is trading at 4.40, offering a dividend of over 4% .After its latest flops, 5G may return Nokia to the pinnacle of stardom.
Cellnex: Spanish company, little trotted on the IBEX and which has not stopped increasing in value since it stepped on parquet. Cellnex has a discreet capitalization of more than 14,000 million euros, and its shares are close to 30 euros.
Regarding its scope of development, it has bought important European companies in the field of mobile and wireless networks. His Smart cells project stands out, with which he intends to solve technical problems and thus offer an effective 5G service.
If progress in this technology continues, and the upward trend in stocks continues, this will undoubtedly be a company to watch.
Qualcomm: This company will develop modems for 5G, and it seems to be in a more than advantageous position. Months ago, Apple began legal litigation with them, in connection with the manufacture of these modems. However, after a few days, Apple withdrew the lawsuit and announced that it will buy the Modems built by Qualcomm.
This leaves the company in a very privileged position, and its shares have experienced a sudden movement in the past few weeks that has taken them from 50 to 86 dollars. Right now, it is facing resistance from its all-time high at $ 88, which it has surpassed at times but cannot hold solid.
Anyway, I hope you found this list of companies useful for making a small investment. However, I recommend caution here, since the American stock market is at its highest, the trade war between the United States and China threatens the advance of 5G and an economic crisis is expected to break out soon.