Ginkgo biloba - Maidenhair tree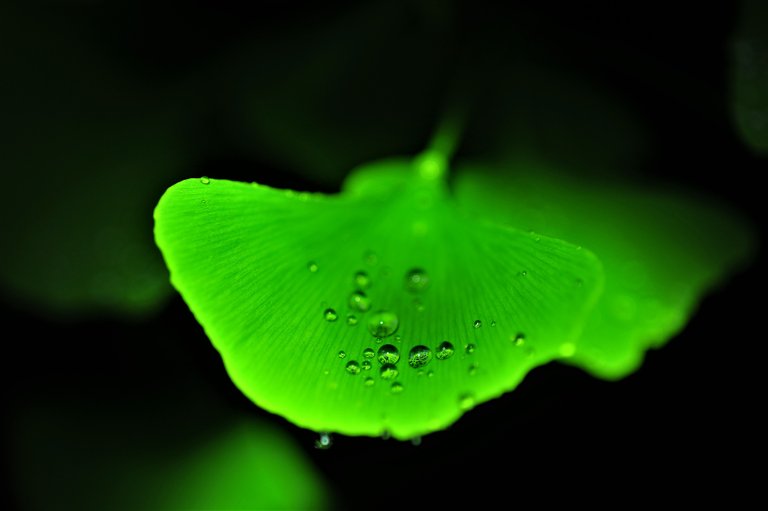 Pixabay - photo source
In my senior year of college, I extracted and isolated the flavanoids from the leaves of the Ginkgo biloba tree for my independent study research project. This beautiful tree grew in the courtyard of the biology building as well as throughout the university. I collected leaves from all over campus. I also collected the stinky seeds that had fallen from female trees.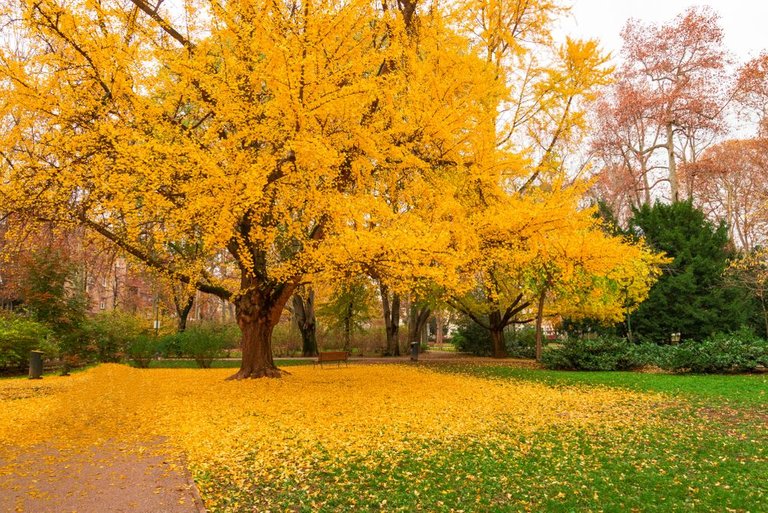 Image source
Ginkgo biloba is a deciduous tree that is native to China, Japan and Korea. It is considered a "living fossil" and believed to have originated 200 million years ago. The first recording as a medicinal plant was about 2,000 years ago. The leaves have been cited for the treatment of heart and lung diseases. In China, it has even been used to treat erectile dysfunction. Research suggests the extract from leaves increases circulation and even crosses the blood brain barrier.
Why Chinese medicine is heading for clinics around the world
"The earliest-found writings, on pieces of tortoise shells and bone, date back to the Shang Dynasty (15th to 11th centuries BCE). Foundational Chinese medicine texts date back to the Han Dynasty (206 BCE to 220 CE). These ancient writings describe a medicine that focused on the circular movement of qi ("chee" air or vapor) and xuè ("shui" blood). Ill health is understood as stagnation, deficiency, or the improper movement of qì or xuè, and may result in an imbalance of yīn and yáng." - What Is Chinese Medicine?
My Experience with Ginkgo
I became very interested in medicinal plants during my first pregnancy at age 19. My mother took me to see a Naturopathic Doctor in my last trimester. Her knowledge about plants fascinated me. Nearly 30 years later, I am still captivated by the healing power of Nature. When most people hear the word Ginkgo, they think about the brain and memory.
I was completely enamored with Ginkgo biloba. When I discovered this tree on campus and began studying it intimately, I realized this plant could possibly help heal my Grandfather. He was diagnosed with Alzheimer's disease. He was part Cherokee and an avid gardner. I learned all about gardening from this precious man.
"Alzheimer's disease (AD) is an age-related neurodegenerative disorder, characterized clinically by insidious onset of memory and cognition impairment, emergence of psychiatric symptoms and behavioral disorder, and loss of activities of daily living (ADL). The histopathological hallmarks of AD include the formation of senile plaques (SP), neurofibrillary tangles (NFTs) and the loss of neurons." - Traditional Chinese medicine: a promising candidate for the treatment of Alzheimer's disease
He ended up in a nursing home because my grandmother could no longer take care of him. The family took turns helping for a while, but his care became increasingly difficult for everyone. Sending him to a facility was the hardest decision his children had to make.
Unfortunately, not much research had been done at that point on the benefits of Ginkgo in Alzheimer's. He was on so much medication that his doctor advised against adding an herbal supplement. My Grandfather passed away soon after he moved there of congestive heart failure.
I decided to take Ginkgo myself. I took 120mg of a standardized extract of 24% ginkgo flavoneglycosides and 6% terpene lactones. This was the dosage that showed the most significant improvement in memory. I was in my senior year at that point and I definitely noticed an improvement in my ability to concentrate.
12 Benefits of Ginkgo Biloba (Plus Side Effects & Dosage)
Ginkgo Biloba: Benefits, Side Effects & How to Take It
Today, the flavanoids and terpenes have been studied in numerous clinical research studies.
"Over 400 clinical trials have been performed looking at a variety of medicinal properties and clinical uses. Ginkgo leaf extract has been used for its antioxidant properties, for a number of vascular problems, and for the treatment of memory loss, dementia, and macular degeneration" - Clinical use of ginkgo biloba
Topical uses of Ginkgo biloba
Validation of a 16th Century Traditional Chinese Medicine Use of Ginkgo biloba as a Topical Antimicrobial
Pharmacology of Ginkgo biloba
Pharmacotherapy Update - Ginkgo Biloba and Memory
Traditional Uses of Ginkgo
Circulatory problems
Asthma
Vertigo
Fatigue
Tinnitus
Memory loss
Cognitive disorders
As with any new regimen, you should consider consulting your physician before beginning a new supplement, especially if you take medication. If you do decide to take Ginkgo to improve your health, be sure to find a reputable company that offers a standardized extract. As we grow older, cognitive decline does not have to be inevitable. Continue to read, learn and laugh often. Eat well, exercise often and drink plenty of water.
Peace be with you 😇
Sources: