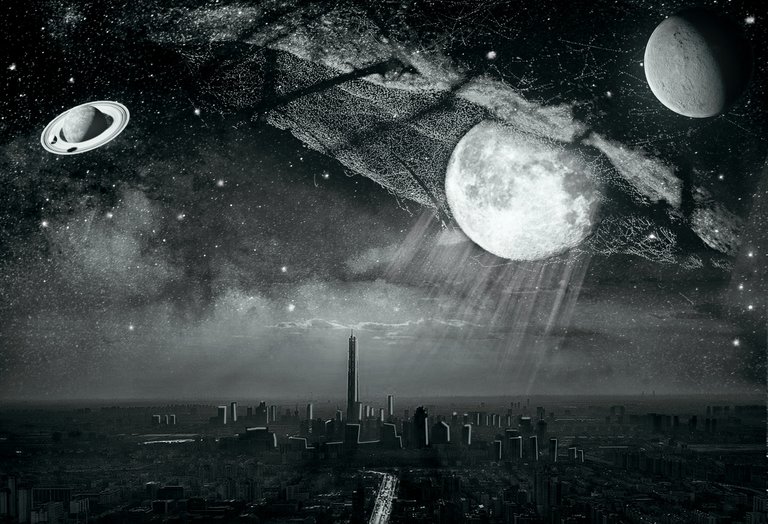 Hello, community! Today I am late sharing my collage from the Art and Science Special by @Lmac and @StemSocial. I honestly couldn't share it before the contest ended, even though my entry is not entered into the competition I always like to share it during the contest.
I'm not very knowledgeable about physics and of course much less about dark matter, for my very primitive mind that's too complicated. But I am sure that there are many things that even though we cannot touch or understand, exist in the immensity of the universe.
For me, the universe is like a spider's web, a great network that unites each element and communicates through the threads of the cosmos. And starting from this premise, here I explain how I made my collage.
---
Hola comunidad! Hoy estoy compartiendo tarde mi collage del Especial Arte y Ciencia por Lmac y StemSocial. Honestamente no pude compartirlo antes que acabara el concurso, aunque mi entrada no entra en la competencia siempre me gusta compartirla durante el concurso.
No soy muy entendida de la física, y por supuesto mucho menos de lo que respecta a la materia oscura, para mí mente tan primitiva eso es demasiado complicado. Pero estoy segura que hay muchas cosas que aunque no podemos palpar ni entender, existen en la inmensidad del universo.
Para mí, el universo es como una telaraña, una gran red que une cada elemento y se comunica por medio de los hilos del cosmo. Y partiendo de esta premisa, aqui les explico como hice mi collage.

First I downloaded a spider web image which I placed over the contest template, this spider web is in my composition, a black hole from where the moon emerges.
Then add other planets extracted from our image library. And to make it look more dramatic I added a city and put a black and white filter.
---
Primero descargue una imagen de telaraña la cual coloque sobre la plantilla del concurso, esta telaraña es en mi composición, un agujero negro de donde emerge la luna.
Luego agregue otros planetas extraídos de nuestra biblioteca de imágenes. Y para hacerlo más dramático agregue una ciudad y coloque un filtro blanco y negro.
---
Images I used
***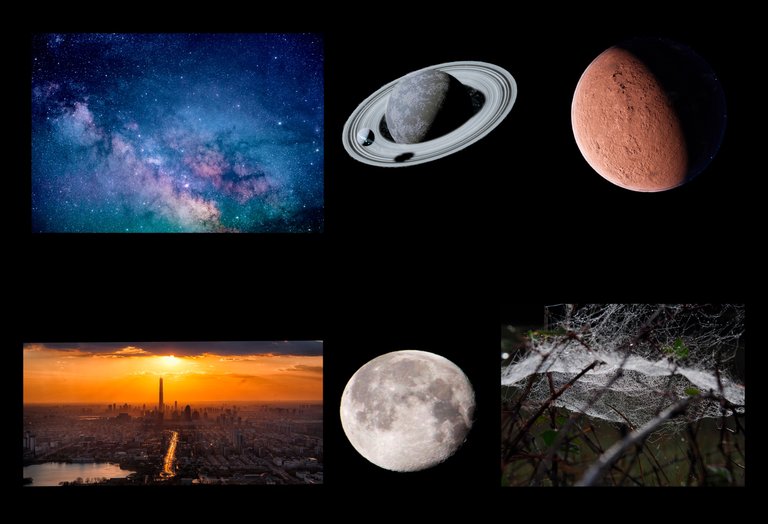 Sources:
https://unsplash.com/photos/E0AHdsENmDg
https://pixabay.com/de/photos/natur-tau-spider-web-tautropfen-4510579/
https://pixabay.com/de/photos/tianjin-sonnenuntergang-stadt-2185510/
https://lmac.gallery/lil-gallery-image/6647
https://lmac.gallery/lil-gallery-image/7835
https://lmac.gallery/lil-gallery-image/6328
---
🏆Congratulations to all those who participated and who are now in the selected list. To vote for your favorite collage, please take a look at this post. https://peakd.com/hive-120019/@shaka/art-and-science-an-lmac-stemsocial-special-the-final-poll-vote-for-your-favorite-entries-and-help-decide-who-the-winners-will-be-202-hive-to-be-awarded

💬If you wish to learn more about the LMAC or connect to your fellow LMACians please feel invited to our dedicated Discord at:
The LMAC community is very much looking forward to your contribution!

---
---
🎨 The LMAC | 🏠 Our Community | 🚂 The LMAC Curation Trail | 🏅 The LMAC Contributor Badge | 🎓 The LMAC School | ❤️ Our Delegators: 🟠Bronze ⚪️Silver 🟡Gold 💎Diamond | 💬 Our Discord |🧑‍💻 Our Github | 🏞 The LMAC Image Library (LIL) | 🌎 Our Website