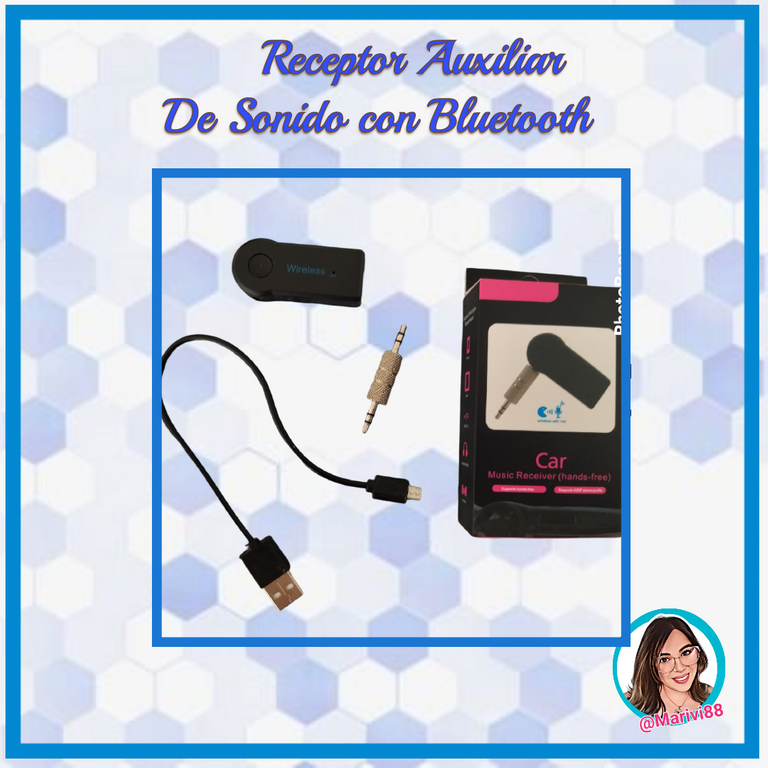 Good morning my dear community of geek zone in this opportunity buy a CAR WIRELESS out of curiosity, presenting a bugle that I buy in the community for my home one of @marcoquin the desire to acquire this product for its price and functionality, that is why I could innovate my special bugle to watch movies and series VIZIO brand this bugle has a spectacular sound in hd to watch movies I hear the sound when it falls to a pin when I refer to hd is that it is a digital sound.
Buenos días mi querida comunidad de geek zone en esta oportunidad compre un CAR WIRELESS por curiosidad, presentando una corneta que compre en la comunidad para mi hogar uno de @marcoquin las ganas de adquirir este producto por su precio y funcionabilidad, es por eso que pude innovar mi corneta especial para ver películas y series marca VIZIO esta corneta tiene un sonido espectacular en hd para ver películas escucho el sonido cuando cae hasta un alfiler cuando me refiero a hd es que es un sonido digital.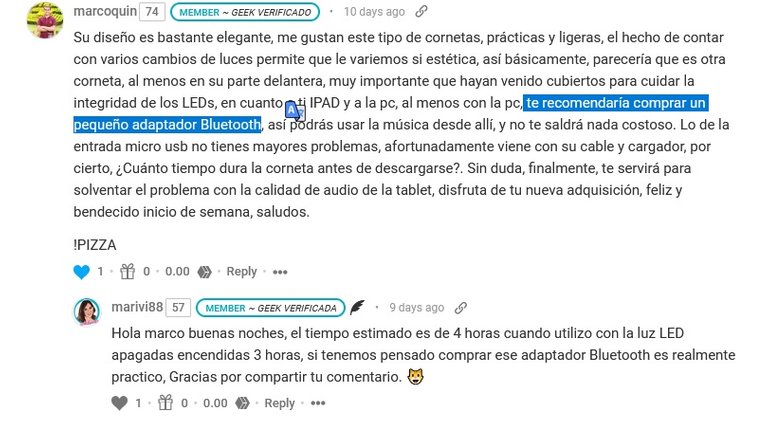 One of the things that motivates me of the community in general of hive, is that we have suggestions and participation of all members to improve every day, this so economic gadget should not be missing in our home I acquired it by mercadolibre for a price of 3 dollars, entering the subject that concerns us will wonder what this bluetooth device called CAR WIRELESS works for.
Unas de las cosas que me motiva de la comunidad en general de hive, es que tenemos sugerencia y participación de todos integrantes para mejorar cada día, este aparatico tan económico no debe faltar en nuestro hogar lo adquirí por mercadolibre por un precio de 3 dólares, adentrándonos al tema que nos compete se preguntaran para que funciona este dispositivo bluetooth llamado CAR WIRELESS.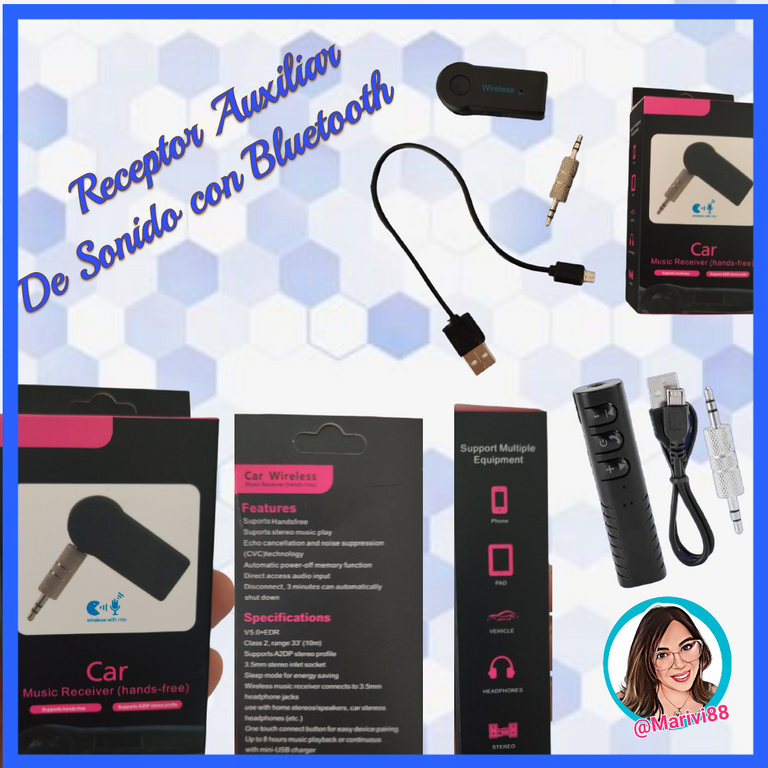 With this device we will eliminate the use of 3.5mm auxiliary cable but we must take into account that to transmit audio we require devices that have bluetooth as phone, Tablet, computer, game console, televisions, among other equipment. That is why our audio devices that we have in our home if they have this Jack 3.5mm input we are going to innovate them. To have a current sound equipment.
Con este dispositivo vamos a eliminar el uso de cable auxiliar de 3.5mm pero debemos tomar en cuenta que para trasmitir el audio requerimos de dispositivos que tengan bluetooth como teléfono, Tablet, computadora, consola de juegos, televisores, entre otros equipos. Es por ello que nuestros dispositivos de audio que tenemos en nuestro hogar si cuentan con esta entrada Jack 3.5mm vamos a innovarlos. Para tener un equipo de sonido actual.
The CAR WIRELESS brings a charger cable from my micro USB to USB, this we can to shit with any phone charger that has USB input or we can charge from the computer or laptop, has a double 3.5mm connector on each side of silver color, the device is plastic is small to synchronize has a button.
El CAR WIRELESS trae un cable cargador de mi micro USB a USB, este lo podemos a cagar con cualquier cargador de teléfono que tenga entrada USB o podemos cargar desde la computadora o laptop, tiene un doble conector de 3.5mm en cada lado de color plateado, el dispositivo es plástico es pequeño para sincronizar tiene un botón.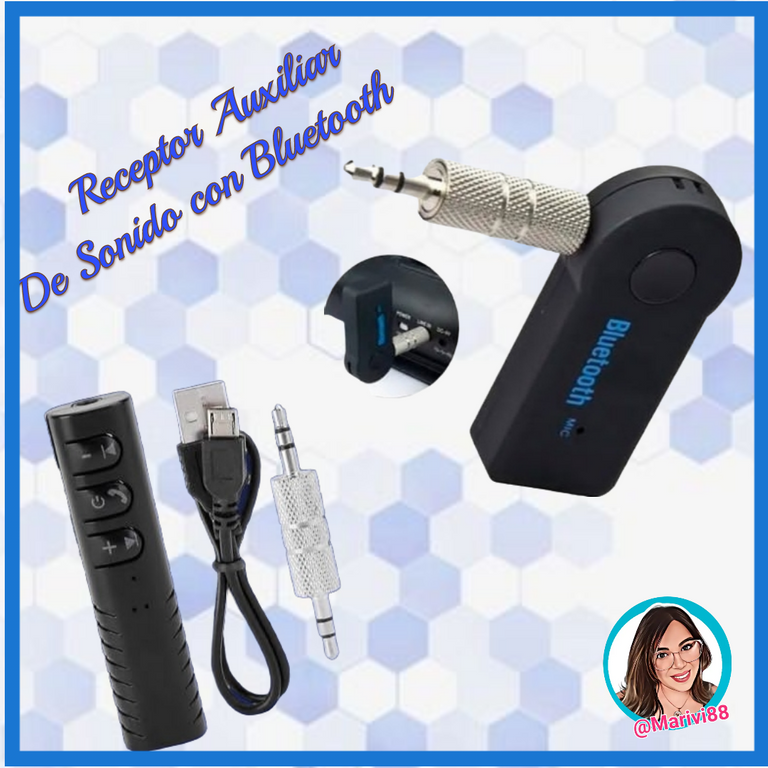 Functions to turn it on we leave pressed for 3 seconds the button, it turns on 2 lights one red and one blue those colors indicates that it is on, off or is synchronizing with any device, the device has the name BTR-302, that we must look in the menu of our team to transmit the music to pair with our stereo.
The device for the small that is fast charging, its time duration is about half an hour charging, we can enjoy long hours keeps for a long time the load estimated time of 6 hours listening to music, this team surprised me by the quality of the audio that transmits does not distort, it happens to me with the 3.5mm auxiliary cables, if the cable is of poor quality the sound is heard horrible, is really a very favorable point because buy an original cable that is more expensive than it is worth the CAR WIRELESS, to enjoy a sound quality.
Funciones para encenderlo dejamos presionado por 3 segundo el botón, prende 2 luces una roja y otra azul esos colores nos indica que esa encendido, apagado o está sincronizando con cualquier dispositivo, el dispositivo tiene el nombre BTR-302, ese lo debemos buscar en el menú de nuestro equipo para transmitir la música para emparejar con nuestro equipo de sonido.
El dispositivo por lo pequeño que es de carga rápida, su tiempo duración es alrededor de media hora cargando, podemos disfrutar de largas horas mantiene por largo tiempo la carga tiempo estimado de 6 horas escuchando música, este equipo me sorprendió por la calidad del audio que trasmite no distorsiona, me pasa con los cables auxiliares de 3.5mm, si el cable es de mala calidad el sonido se escucha horrible, es realmente un punto muy favorable porque compre un cable original que es más costoso de lo que vale el CAR WIRELESS, para poder disfrutar de una calidad de sonido.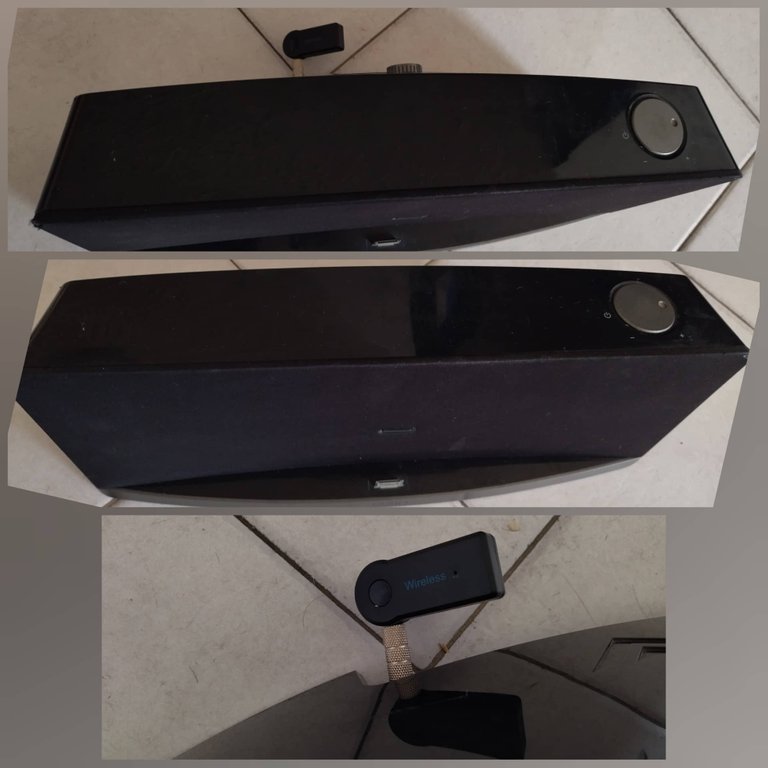 Conclusion in particular my advice is to the entire community of hive that if you have the opportunity to purchase this product do not hesitate to buy it, we can have a current team for very low price, the sound that transmits although not wired does not distort is a quality sound we can give our home a modern touch and technological style, as we will enjoy and we can share with our friends different variety of music to the taste of each because they can synchronize our sound equipment of our home. Until a new opportunity give thanks to our friends hiver who share interesting information to improve every day until a new opportunity.
Conclusión en particular mi consejo es a toda la comunidad de hive que si tiene la oportunidad de adquirir este producto no duden en comprarlo, podemos tener un equipo actual por muy bajo precio, el sonido que transmite a pesar que no alámbrico no distorsiona es un sonido de calidad podemos darle a nuestro hogar un toque moderno y con estilo tecnológico, ya que vamos disfrutar y podemos compartir con nuestro amigos distintas variedad de música para el gusto de cada uno porque se pueden sincronizar a nuestro equipo de sonido de nuestro hogar. Hasta una nueva oportunidad darle gracias a nuestros amigos hiver que comparten información interesante para mejorar cada día hasta una nueva oportunidad.