Hola hivers, hoy les hablaré sobre lo que trata la cromatografía en papel y su utilidad en el laboratorio clínico. Espero les guste el post ✨
Hi hivers, today I will tell you about what paper chromatography is all about and its usefulness in the clinical laboratory. I hope you like the post ✨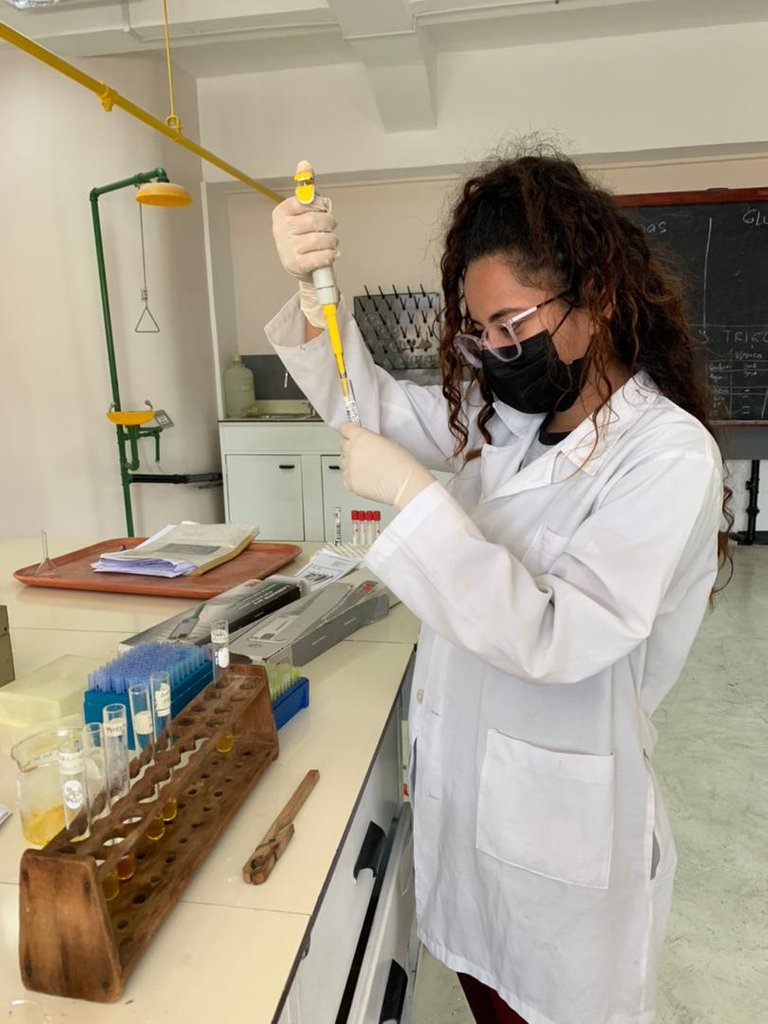 | Muestras: Glicina y cisteína / Reactivo: Ninhidrina / Solvente de la fase móvil: Butanol, ácido acético y agua | Samples: Glycine and cysteine / Reagent: Ninhydrin / Mobile phase solvent: Butanol, acetic acid, and water |
| --- | --- |
Fundamento | Chemical basis
| Este método trata de una fase móvil que se desplaza por capilaridad en el seno de una hoja de papel la cual hace soporte en una fase estacionaria, pero ¿Cuál es la fase estacionaria y cuál la móvil? La fase móvil es de tipo orgánica saturada en agua, en pocas palabras es el solvente que va a desplazarse por la fase estacionaria que es el soporte impregnado en agua (papel) | This method deals in a few words with a mobile phase that moves by capillarity within a sheet of paper which is the support, but what is the stationary phase and what is the mobile phase? The mobile phase is an organic phase saturated in water, in short, it is the solvent that is going to move through the stationary phase which is the support impregnated in water (paper). |
| --- | --- |
Siembra de la muestra |Sample seeding
| Para iniciar con la cromatografía debe sembrarse la muestra, en un papel (no cualquiera) de celulosa para que se realice el recorrido por capilaridad y el solvente pueda cumplir su rol de arrastrar la muestra problema; se inicia realizando una línea paralela al final del papel, está debe ser de 1 cm aproximadamente, sobre la misma realizamos tres pequeñas cruces, las cuales vamos a identificar y sobre las cruces colocamos con un capilar la muestra problema, es importante que sea la misma cantidad de muestra en las diferentes marcas | To start with the chromatography, the sample must be sown on a cellulose paper (not just any paper) so that it can travel by capillarity and the solvent can fulfill its role of dragging the problem sample; we start by making a parallel line at the end of the paper, this should be about 1 cm, on it we make three small crosses, which we will identify and on the crosses we place the problem sample with a capillary, it is important that the same amount of sample in the different marks is the same |
| --- | --- |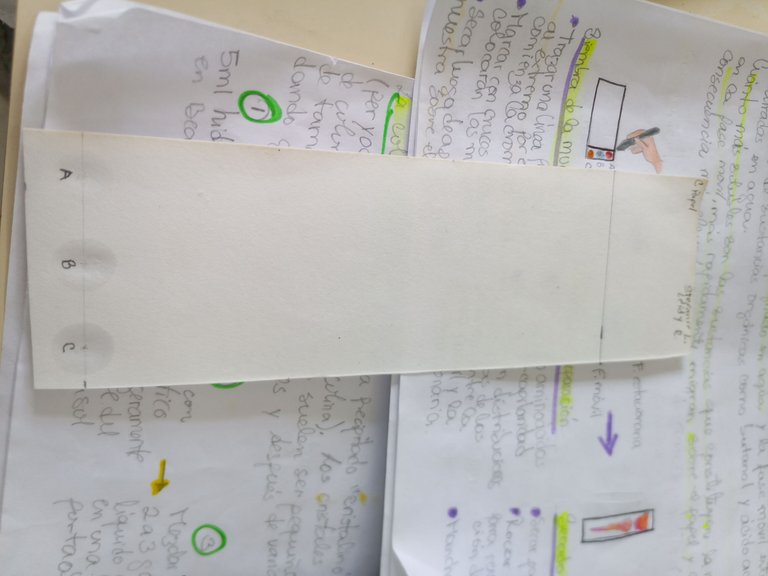 Desarrollo de la Cromatografía |Development of Chromatography
| Una vez lista la muestra en el papel se lleva a una cámara especial de cromatografía dónde se va a encontrar la fase móvil (compuesta por= Butanol: ácido acético : agua; en proporciones de (8:2:10)) la cual a entrar en contacto con el papel comenzará el proceso de capilaridad; y algo que tiene que tomarse en cuenta es que las sustancias solubles ubicadas en la muestra migran sobre la hoja de papel mucho más rápido que las no solubles y esto trae como consecuencia que el Rf (distancia recorrida por la muestra/la distancia recorrida del solvente) sea más elevado | Once the sample is ready on the paper, it is taken to a special chromatography chamber where the mobile phase (composed of = butanol: acetic acid: water; in proportions of (8:2: 10)) which upon contact with the paper will begin the capillary process; and something that has to be taken into account is that the soluble substances located in the sample migrate on the paper sheet much faster than the non-soluble ones and this brings as a consequence that the Rf (distance traveled by the sample / distance traveled by the solvent) is higher. |
| --- | --- |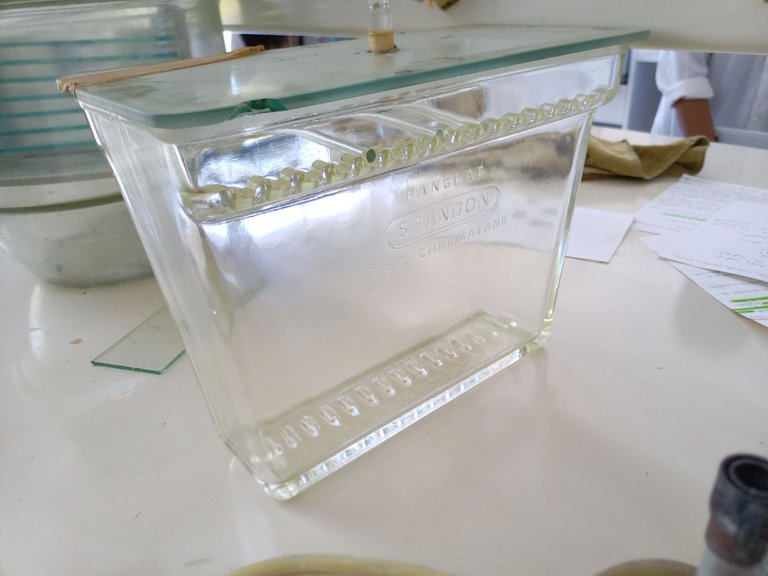 | Una vez hecho el recorrido se retira el papel y se deja secar muy bien al aire libre; una vez seco se rocía el reactivo de Ninhidrina que refleja proteínas, aminoácidos, peptidos y peptonas, lo que va a permitir que con calor se reflejen los compuestos presentes; una mancha azul-violeta es característico de positivo para estos compuestos aquí la dejo una imagen | Once the tour is done, remove the paper and let it dry very well in the open air; once dry, spray the Ninhydrin reagent that reflects proteins, amino acids, peptides and peptones, which will allow heat to reflect the compounds present; a blue-violet stain is characteristic of positive for these compounds; here is an image of it |
| --- | --- |
| | |
Resultados |Results
| Es importante destacar que en la Cromatografía se pudo evidenciar compuestos proteicos y aminoácidos, por lo que las muestras que nos dieron si corresponden a su etiqueta; otro aspecto importante a destacar es que así se evidencie las proteínas en el momento hay que dejar reposar la Cromatografía para ver si refleja más resultados, ya que podría dar falsos negativos, ¿A qué me refiero? Pues en el momento de revelarse los compuestos hubo uno en particular que no se reflejo (la cisteína) y al momento se concluyó que la muestra no la contenía y probablemente no era el compuesto del que se hablaba, pero unos minutos después la cisteína se reflejo dando como indicio que si se trata del compuesto pero en baja concentración | It is important to emphasize that in the chromatography it was possible to demonstrate protein compounds and amino acids, so the samples that were given to us if they correspond to their label; another important aspect to emphasize is that even if the proteins are evidenced at the moment it is necessary to let the chromatography rest to see if it reflects more results, since it could give false negatives, what do I mean? At the moment of revealing the compounds there was one in particular that was not reflected (the cysteine) and at the moment it was concluded that the sample did not contain it and probably it was not the compound that was spoken about, but a few minutes later the cysteine was reflected giving as an indication that it is the compound but in low concentration. |
| --- | --- |
| | |
¿Por qué es importante la Cromatografía en el ámbito clínico?| Why is Chromatography important in the clinical setting?
| La Cromatografía aunque parezca simple es un gran método para separar e identificar compuestos dentro de una solución problema; funciona de utilidad tanto para estudios en humanos y saber la composición de una muestra o en animales y plantas. Hay diferentes tipos de cromatografía y unas más efectivas que otras, pero la mayoría busca separar e identificar que componentes se encuentran e una muestra problema | Chromatography, although it may seem simple, is a great method for separating and identifying compounds within a problem solution; it is useful for studies in humans to know the composition of a sample or in animals and plants. There are different types of chromatography and some are more effective than others, but most seek to separate and identify what components are found in a problem sample. |
| --- | --- |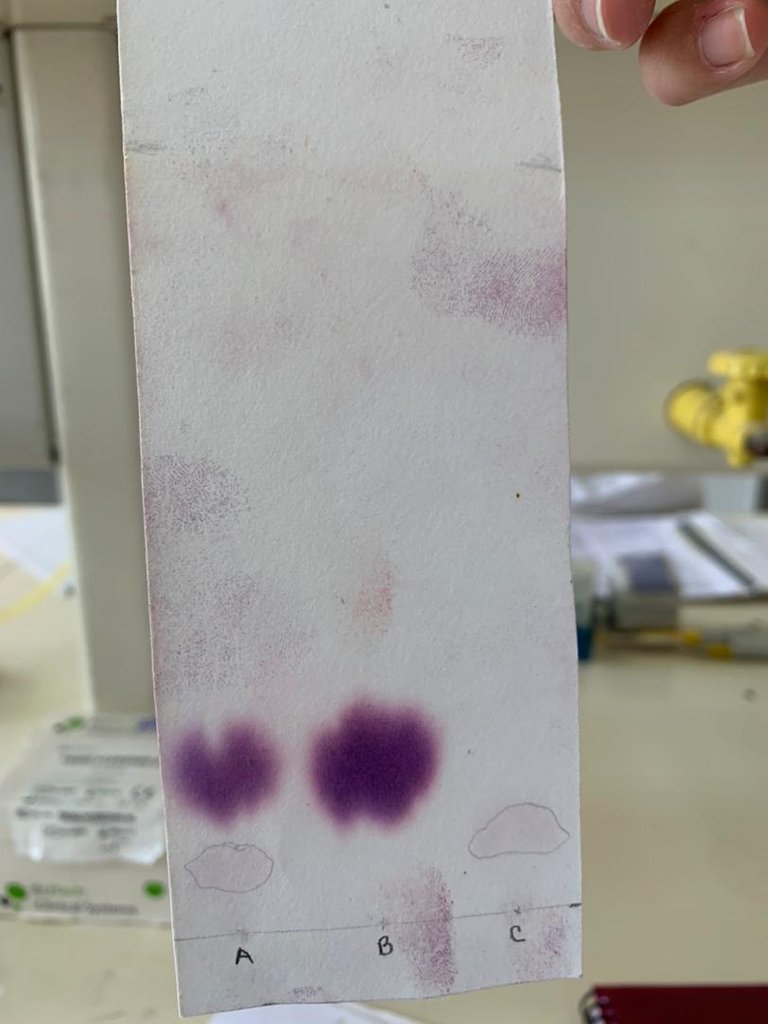 Espero les haya gustado el post, recuerden que sin prueba de laboratorio no hay diagnóstico y sin diagnóstico no hay tratamiento, aquí la importancia del laboratorio clínico|I hope you liked the post, remember that without laboratory test there is no diagnosis and without diagnosis there is no treatment, here the importance of clinical laboratory.
Recuerden que nada es imposible, los límites los colocas tu♥️ nos vemos en un próximo post
Remember that nothing is impossible, the limits are set by you♥️ see you in a future post

Gifs made on Canva.com
Translator DeepL.com
Text by myself, Bibliography: Biochemistry Guide "A", Protein Unit, School of Bioanalysis, Faculty of Medicine, UCV.
Photos are my property until proven otherwise.