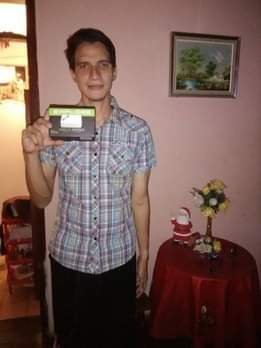 ¡Hola! Muy buenos días, tardes y noches para toda la comunidad de Hive, espero que hayan tenido un gran viernes. A continuación, publicare mi primer post en esta genial comunidad, después de mucho esfuerzo, trabajo, investigación y trasnochos, ahorrando poco a poco una cantidad de dinero en mi cuenta de Hive, hoy decidí publicar esta nueva adquisición para mi hogar, que nos pone muy felices tanto a mi como a mi familia y quiero compartir esta alegría con todos ustedes.
Hello! Very good morning, afternoon and evening to all the Hive community, I hope you had a great Friday. Next, I will publish my first post in this great community, after a lot of effort, work, research and late nights, saving little by little a lot of money in my Hive account, today I decided to publish this new acquisition for my home, which makes me and my family very happy and I want to share this joy with all of you.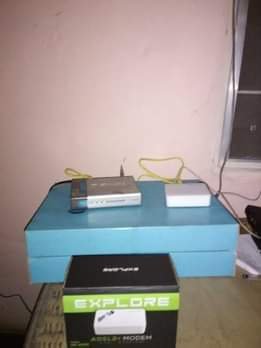 Para nadie es un secreto que el internet es una de las principales herramientas de trabajo para muchas personas y puede ser la entrada de dinero de muchas familias, sobretodo en Venezuela que la red no es la mejor que digamos, siempre presenta fallas, va y viene, llueve y se va, pero gracias a Dios y a Hive, hemos podido solucionar con todos esos inconvenientes y poder avanzar en nuestros proyectos a futuro, originalmente estaba reuniendo para comprarme un teléfono inteligente, pero ¡sin internet no hay fiesta! como se presentaron algunos problemas con la conexión a internet en mi casa y mi vecina había cambiado su clave de wifi, nos vimos en la necesidad de comprar un nuevo equipo para el hogar.
For no one is a secret that the internet is one of the main work tools for many people and can be the income of many families, especially in Venezuela that the network is not the best to say, always has failures, comes and goes, rains and goes, but thanks to God and Hive, we have been able to solve all these problems and to move forward in our future projects, originally I was gathering to buy a smartphone, but no internet no party! Since there were some problems with the internet connection in my house and my neighbor had changed her wifi password, we had to buy new equipment for the home.


Siempre que obtengo ganancias en esta plataforma una parte va para mi casa colaborando con lo que se necesite y la otra parte es para comprarme algo para mí o por si se presenta una emergencia poder disponer de ese dinero, tuve que pasar algunos $Hive a bolívares y luego comprar dólares en físicos. Una vez con el dinero en mano, salimos a comprar nuestro modem y el día de ayer jueves mi mamá y yo emprendimos el viaje al centro de Maturín en busca del dichoso artefacto, en los muchos de los locales había diferentes modelos, con distintos precios, desde 40 dólares en adelante. Nosotros buscábamos uno que hiciera el trabajo para poder hacer transacciones, de fácil uso, ver las noticias, saber de la familia y amigos en el exterior y en mi caso para seguir publicando en esta genial plataforma de Hive.
Después de caminar literal todo el centro de Maturín, en un local muy conocido en la ciudad llamado Musicalísimo que está ubicado en la Avenida Bicentenario mi mamá y yo compramos el Modem Explorer Adsl2 a 30 dólares, ya que ese modelo me lo habían recomendado algunos amigos y familiares que saben de electrónica, a pesar de ser pequeño a mi punto de vista funciona perfectamente con todos sus accesorios.
Whenever I get profits on this platform a part goes to my house collaborating with what is needed and the other part is to buy something for me or if an emergency arises to have that money available, I had to spend some $Hive to bolivars and then buy physical dollars. Once we had the money in hand, we went out to buy our modem and yesterday, Thursday, my mom and I started the trip to downtown Maturin in search of the device, in many of the stores there were different models, with different prices, from 40 dollars and up. We were looking for one that would do the job to make transactions, easy to use, to see the news, to know about family and friends abroad and in my case to continue publishing on this great Hive platform.

After walking literally all over downtown Maturin, in a very well known store in the city called Musicalísimo, located on Avenida Bicentenario, my mom and I bought the Modem Explorer Adsl2 at 30 dollars, since that model had been recommended to me by some friends and relatives who know about electronics, despite being small in my point of view, it works perfectly with all its accessories.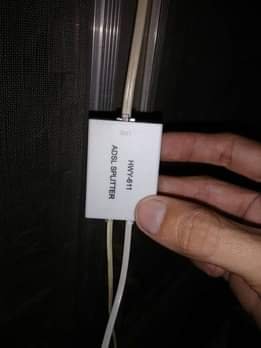 Cuando llegamos a casa sentimos que nos quitamos un peso de encima, porque en verdad pensé en todas las noches que tuve que recargar saldo o pidiendo la clave del wifi a terceros, ya no iba a suceder, en verdad a pesar del sol que estaba haciendo ese día todo el trayecto valió la pena y sentir orgullo por poder resolver un problema en mi casa y pensar que en esta maravillosa y bendecida plataforma me ayudo a comprar este modem porque el esfuerzo al final valió la pena.
When we got home we felt that we took a weight off our shoulders, because I really thought about all the nights that I had to recharge the balance or asking for the wifi key to third parties, it was not going to happen, in truth despite the sun that was doing that day the whole journey was worth it and feel proud to solve a problem in my house and think that in this wonderful and blessed platform helped me to buy this modem because the effort was worth it in the end.


Ya para finalizar este post especial quisiera agradecer a Dios, a esta plataforma que ha cambiado la vida de muchas personas, a mi hermano
@Anthony2019
por animarme a volver a esta plataforma, a las diferentes comunidades y usuarios que hicieron esto posible y bueno chicos esfuércense por lo que quieren, nada en esta vida es imposible cuando todo se hace con amor y pasión y ya puedo ofrecer café y wifi en mi casa gracias a Hive ☺.
Already to end this special post I would like to thank God, this platform that has changed the lives of many people, my brother @Anthony2019 for encouraging me to return to this platform, the different communities and users who made this possible and well guys strive for what you want, nothing in this life is impossible when everything is done with love and passion and I can already offer coffee and wifi in my house thanks to Hive ☺.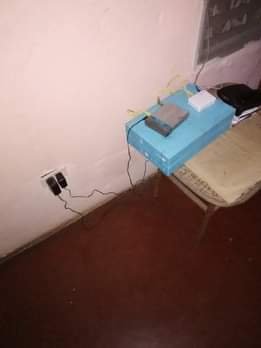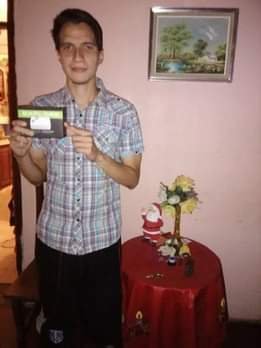 Muchas gracias por tomar parte de tu tiempo en leer esto en verdad que estoy muy contento, si te gusto déjame un comentario y ayúdame a compartirlo para que llegue a más personas que a ti no te cuesta nada y a mí me ayudaría muchísimo.
Thank you very much for taking part of your time to read this, I am very happy, if you like it, leave me a comment and help me to share it so that it reaches more people, it doesn't cost you anything and it would help me a lot.

Las fotos que coloque en este post son de mi propiedad.
The photos in this post are my property.
Traducido con www.DeepL.com/Translator (versión gratuita).
Translated with www.DeepL.com/Translator (free version).
Dios los bendiga a todos. | God bless you all.