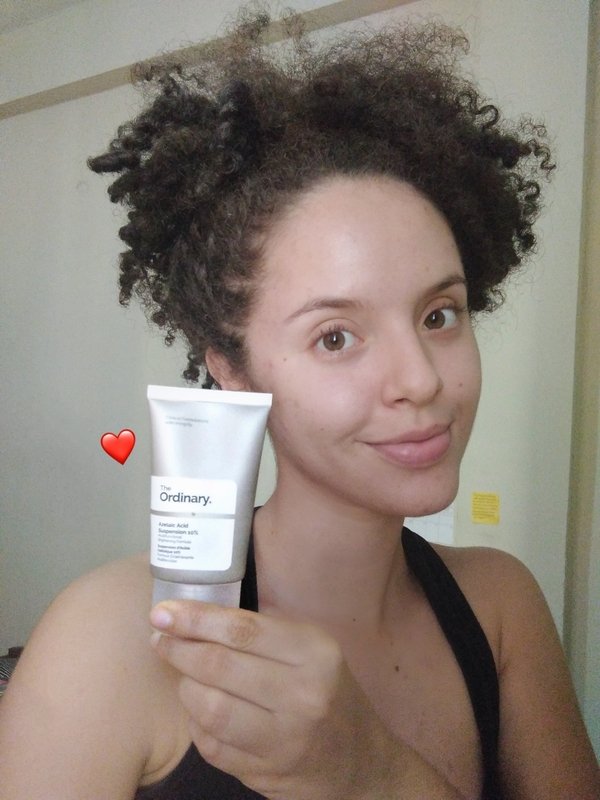 ---
[Español]
¡Saludos, hivers!
A partir de la reseña que realicé acerca de la Niacinamida, me propuse comentarles también mi experiencia usando el Ácido azelaico de la misma marca canadiense "The Ordinary", cuya calidad me ha dejado gratamente sorprendida, además de que son productos veganos, no testeados en animales.
[English]
Hello, hivers!
From the review I did about Niacinamide I also wanted to tell you about my experience using Azelaic Acid from the same Canadian brand "The Ordinary", whose quality has left me pleasantly surprised, besides the fact that they are vegan products, not tested on animals.
---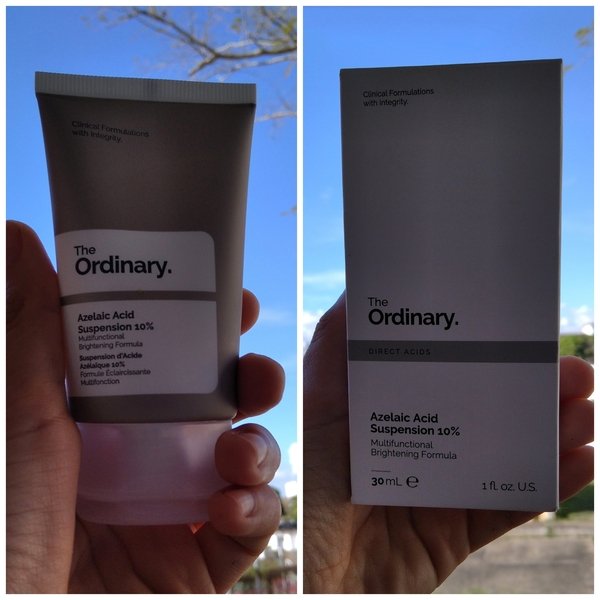 ---
🔸 ¿Qué es el ácido azelaico?
Es un ácido de origen natural derivado del centeno, el trigo y la cebada.
🔸 Acciones del ácido azelaico en la piel
Queratolítico: desobstruye el poro y disminuye su tamaño.
Antimicrobiano de amplio espectro: actúa contra bacterias que favorecen el acné.
Antiinflamatorio: disminuye síntomas ocasionados por el acné.
Acción despigmentante: aclara las manchas producidas luego de los brotes.
Antiseborreico: disminuye la producción de sebo, exacerbada en cutis graso.
🔸 Ácido azelaico VS. Peróxido de benzoilo
He usado ambos tratamientos para el acné leve que suelo presentar y he notado que tolero mejor el ácido azelaico, en contraste con el peróxido de benzoilo que ocasionaba descamación localizada en mi piel luego de un par de días usándolo. El ácido azelaico no destiñe la ropa, a diferencia del peróxido de benzoilo que me decoloró un par de franelas de pijama en mi adolescencia.
🔸 Mi experiencia
Luego de dos meses usando este producto con una concentración del 10%, he notado excelentes resultados en mi piel y esta será la máxima concentración recomendada en productos de dermocosmética. Al inicio tenía mis dudas, pues pensé que me podría irritar el rostro al igual que otros tratamientos tópicos que he usado anteriormente, por lo que me lo aplicaba interdiario. Días después, al ver lo bien que lo toleraba mi piel, comencé a usarlo a diario por las noches, de forma localizada sobre los comedones, evidenciando efectos positivos a corto plazo.
Para mí, la acción más notoria es el efecto antiinflamatorio, haciendo menos doloroso el brote y progresivamente se observa como disminuye la frecuencia de aparición de los comedones y se aclaran las manchas ocasionadas.
En cuanto a la textura del producto, es una suspensión de textura ligera como crema, se absorbe rápidamente y no es grasoso, ideal en piel con tendencia acneica. Lo uso en la noche, luego de la limpieza y una vez que se absorbe, uso una crema hidratante.
🔸 What is azelaic acid?
It is a naturally occurring acid derived from rye, wheat and barley.
🔸 Actions of azelaic acid on the skin
Keratolytic: unclogs the pore and reduces its size.
Broad-spectrum antimicrobial: acts against bacteria that promote acne.
Anti-inflammatory: reduces symptoms caused by acne.
Depigmenting action: lightens spots produced after outbreaks.
Antiseborrheic: reduces sebum production, exacerbated in oily skin.
🔸 Azelaic acid VS. Benzoyl Peroxide
I have used both treatments for my mild acne and have noticed that I tolerate azelaic acid better, in contrast to benzoyl peroxide which caused localized flaking on my skin after a couple of days of use. Azelaic acid does not discolor clothing, unlike benzoyl peroxide which discolored a couple of my pajama flannels in my teens.
🔸 My experience
After two months of using this product with a 10% concentration, I have noticed excellent results on my skin and this will be the maximum concentration recommended in dermo-cosmetic products. At the beginning I had my doubts, because I thought it could irritate my face like other topical treatments I have used before, so I applied it every day. Days later, when I saw how well my skin tolerated it, I began to use it daily at night, in a localized way on the comedones, showing positive effects in the short term.
For me, the most noticeable action is the anti-inflammatory effect, making the outbreak less painful and progressively decreasing the frequency of the appearance of comedones and clearing up the spots caused.
As for the texture of the product, it is a suspension with a light cream-like texture, absorbs quickly and is not greasy, ideal for acne-prone skin. I use it at night, after cleansing and once it is absorbed, I use a moisturizer.
---
¡Gracias por leerme! Espero sea de utilidad esta información y recuerden que la mejor opción es consultar al dermatólogo para obtener un tratamiento específico e individualizado según los requerimientos de cada tipo de piel.
Besos.
Thank you for reading! I hope this information is useful and remember that the best option is to consult a dermatologist for a specific and individualized treatment according to the requirements of each skin type.
Kisses.
---
Translated with Deppl
---