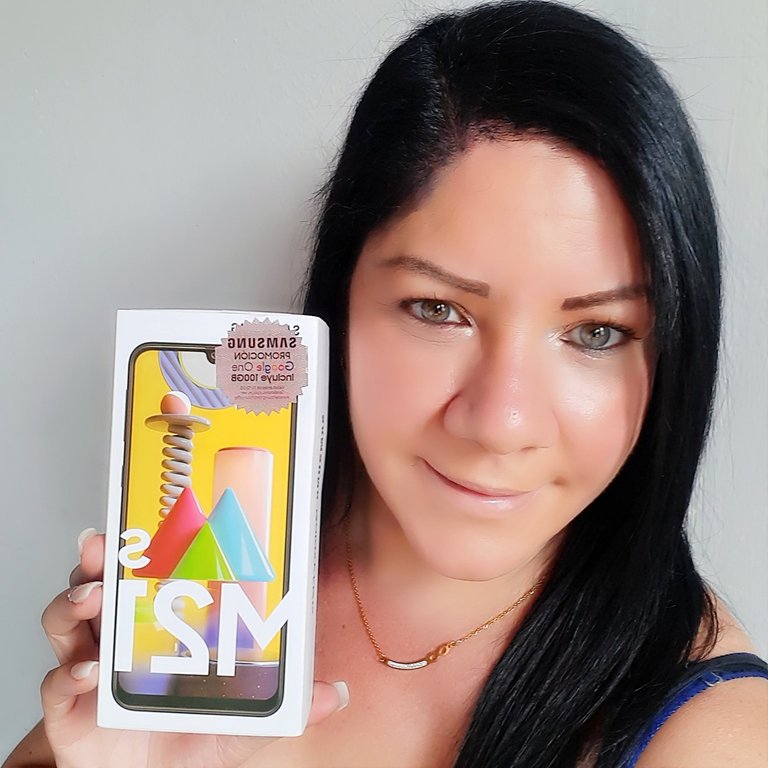 Once again hive is doing its thing, in a good way; and this time is that thanks to this community and their votes today I was able to buy a new cell phone, although I have not yet finished canceling it because they lent me the most of the money, because I know that soon I will pay off that debt.
I am a person who likes photos, in fact, I had a boss who called me "Photo Pepper" 😆 you can imagine why. Previously I had a cell phone Krip K7 and despite its low range and that it is not a recognized brand I can tell you that it behaved at the height, but since I started in this community I knew I had to improve since the publications require better quality photographs and a cell phone with more storage and Ram, is when I propose to search for a new team.
On the recommendation of @josecarrerag I bought the Samsung Galaxy M21S, he suggested it to me through my brother @jauregui98, and let me tell you that he knows better, the guy at the store while explaining the features realized that I was already well advised and told me - From what I see you come with your eyes closed, you're getting a "machine" to which I replied - yes I come well advised because who recommended it to me is a technology hardcore.
Una vez màs hive haciendo de las suyas, en el buen sentido; y esta vez es que gracias a esta comunidad y sus votos hoy pude comprar un nuevo celular, que aunque aun no lo término de cancelar porque me prestaron la mayor parte del dinero, pues se que próximamente saldare esa deuda.

Soy una persona a quien le gustan las fotos, de hecho tuve una Jefa que me decía "Foto Pimienta" 😆 se podrán imaginar porque. Anteriormente tenía un celular Krip K7 y pesar de su baja gama y que no es una marca reconocida les puedo decir que se portó a la altura, pero desde que me inicié en esta comunidad sabia que tenía que mejorar ya que las publicaciones requieren de fotografías de mejor calidad y de un celular con mas almacenamiento y Ram, es cuando me propongo a la búsqueda de un nuevo equipo.

Por recomendación de @josecarrerag compre el Samsung Galaxy M21S, me lo sugirió a través de mi hermano @jauregui98 , y pues déjenme de decirles que el que sabe sabe, el chico de la tienda mientras explicaba las características se dio cuenta de que yo ya estaba bien asesorada y me dijo - Por lo que veo vienes con los ojos cerrados, te estas llevando una máquina" a lo que le respondí - sí vengo bien asesorada, pues quien me lo recomendó es un duro en eso de la tecnología.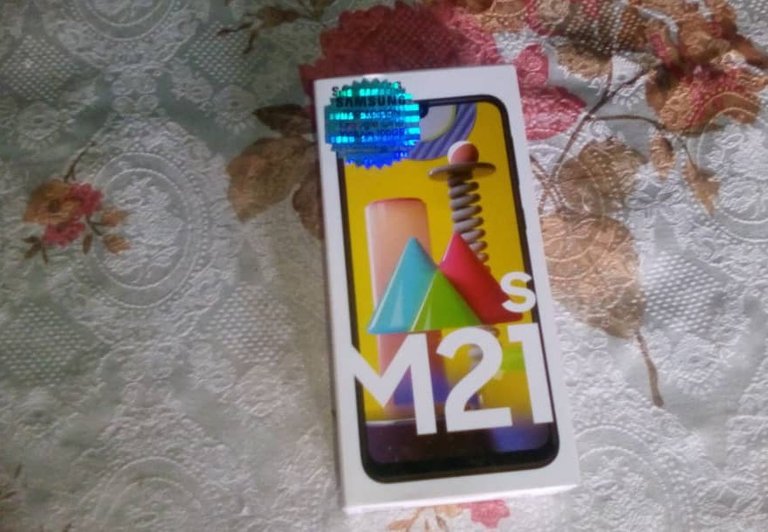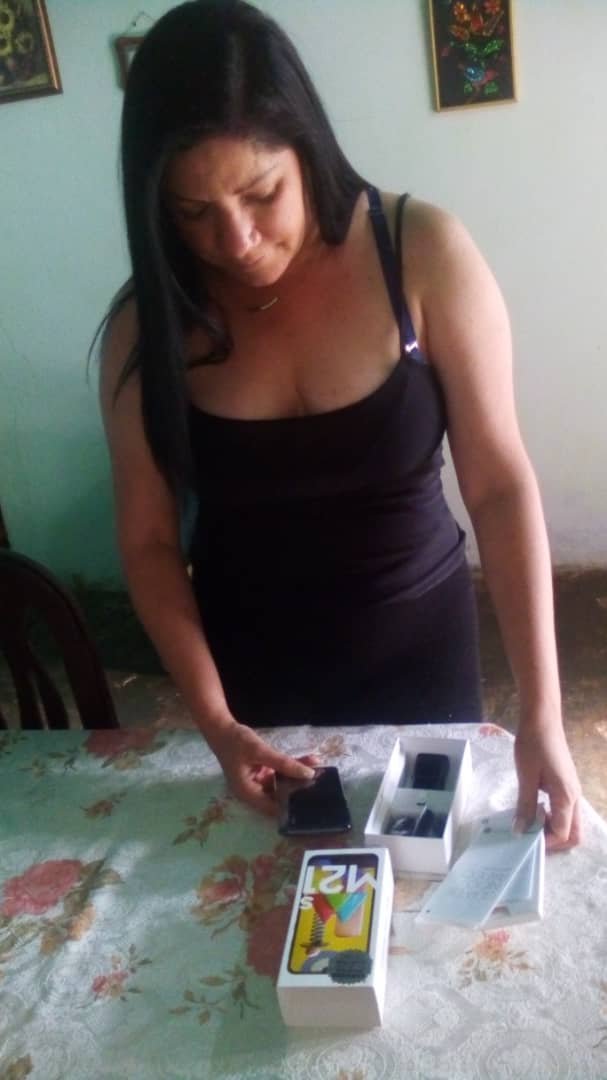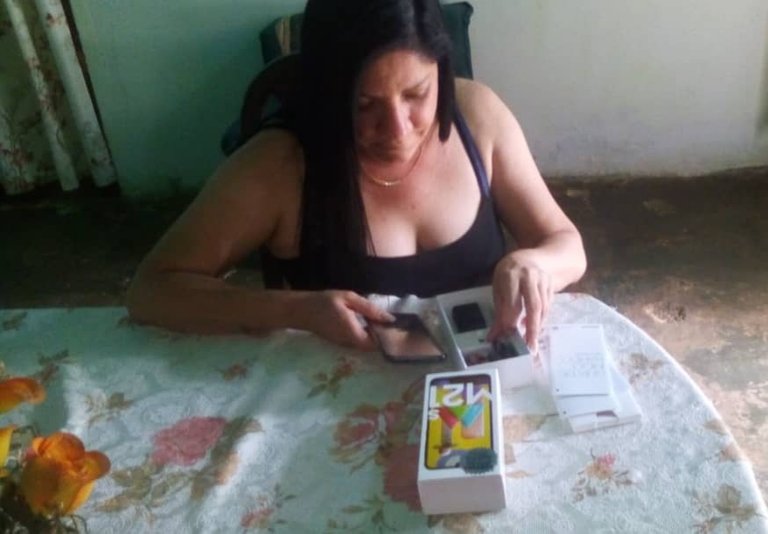 When I got home, I immediately opened the box, I was like a child with a new toy, anxious, happy, and excited, not only because of the new cell phone but of the satisfaction it gives when you get things with effort and perseverance.
Al llegar a la casa, enseguida abrí la caja, estaba como niño con juguete nuevo, ansiosa, feliz y emocionada, no solo por el hecho del celular nuevo, sino por la satisfacción que da cuando se obtienen las cosas con esfuerzo y constancia.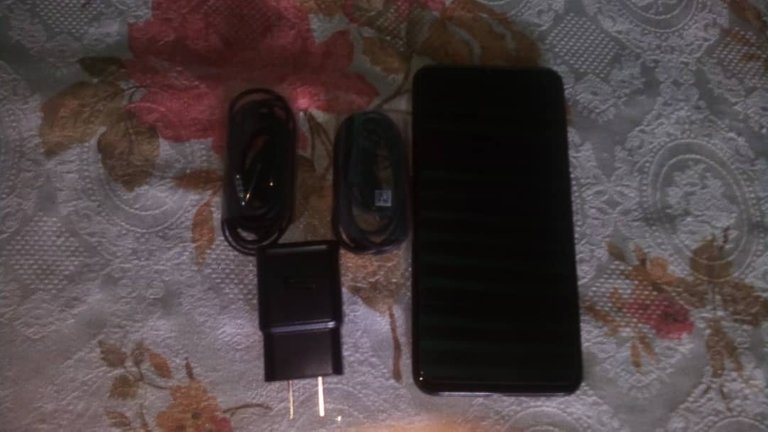 The cell phone came with its earphones, USB cable and quick-charge charger.
El celular vino con sus auriculares, cable USB y cargador de carga rápida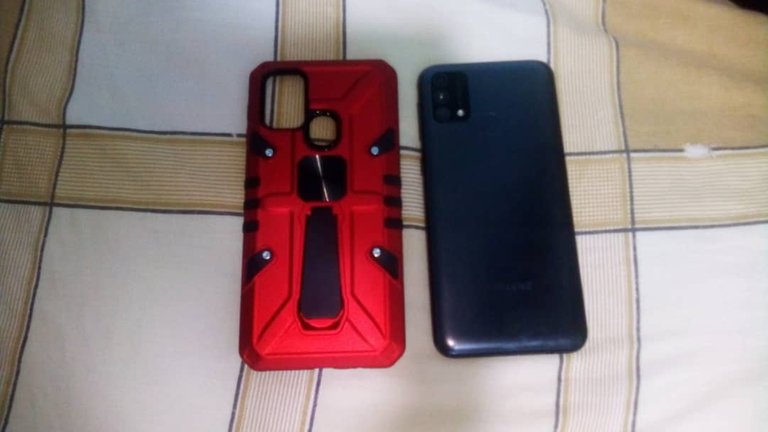 In addition, I bought an anti-shock liner because the casing is delicate.
A parte le compre un forro anti-golpe ya que la carcasa es delicada
Moment of excitement THE POWER ON
Momento de emoción EL ENCENDIDO
From here on I will begin to configure it to my needs, and download the applications I need, it is a cell phone with a 64 MP rear camera, front 32 MP 4 of RAM, and 64 of internal memory, enough for me.
See you in the next post to tell you about my experience with it.
De aquí en adelante comenzare a configurarlo a mi gusto, y bajar las aplicaciones que necesito, es un celular con una cámara trasera de 64 MP, frontal de 32 MP 4 de RAM y 64 de memoria interna, suficiente para mi.
Nos vemos en él Siguiente post para contarles mi experiencia con él.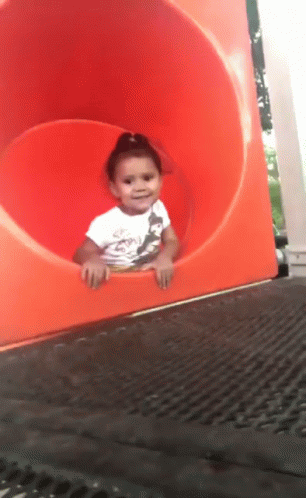 BYE!
¡CHAITO!