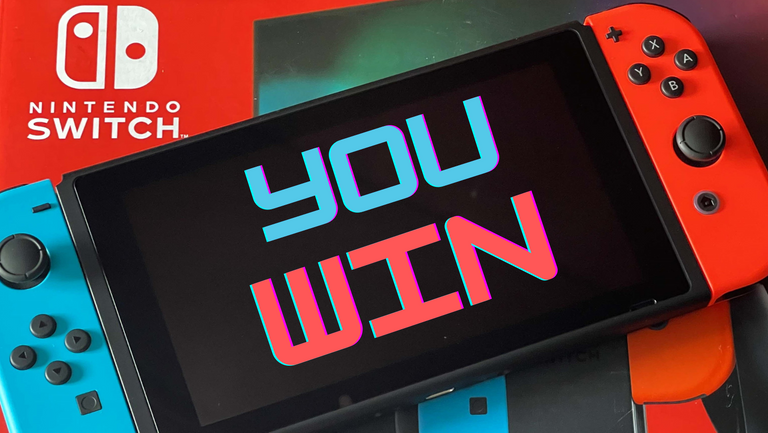 Hola hola, mis estimados geeks.
Hacer un unboxing siempre es emocionante. Ese momento de desempaque no significa solo un nuevo dispositivo más, muchas veces es el resultado de sacrificios previos para lograr hacer esa compra soñada. Por supuesto, que cuando algo nos ha costado sudor y lágrimas tiene un valor emocional superior; es un cóctel de satisfacción personal, orgullo y felicidad. Esa es una de las razones por las que disfruto leer las historias que acompañan muchos unboxing aquí en la comunidad, en su mayoría son testimonios de superación y compromiso.
Ahora bien, no todos los unboxing se corresponden a logros por los que hemos trabajado duro, en ocasiones, y de manera absolutamente fortuita, son producto del azar. Y ese es precisamente el caso de esta publicación, una historia que he querido compartirles y que les relato a continuación.
! [ENGLISH VERSION]
Hello hello, my dear geeks.

Making an unboxing is always exciting. That moment of unboxing doesn't mean just another new device, many times it's the result of previous sacrifices to make that dream purchase. Of course, when something has cost us sweat and tears it has a higher emotional value; it is a cocktail of personal satisfaction, pride, and happiness. That's one of the reasons why I enjoy reading the stories that accompany many unboxings here in the community, most of them are testimonies of overcoming and commitment.

However, not all unboxings correspond to achievements that we have worked hard for, sometimes, and absolutely by chance, they are the product of chance. And that is precisely the case of this publication, a story that I wanted to share with you and that I tell you below.


En el mes de enero, un día antes de mi cumpleaños, participé en un concurso en twitter de la empresa Worten España en el que se estaba sorteando una consola Nintendo Switch. La primera en ver ese tweet fue Sophi, mi hija, pero en lugar de ella participar directamente, me envío el link para que yo participara, y me dijo en tono jocoso: "má, mira, tu regalo de cumpleaños…de nada". Y yo dije: "si, me gusta, ese será mi regalo de cumpleaños". En paralelo, me estaba llegando una notificación en twitter en la que mi esposo me había mencionado en ese mismo concurso, con un comentario que decía: "el que quieres…".
! [ENGLISH VERSION]
In January, a day before my birthday, I participated in a contest on Twitter of the company Worten Spain in which they were raffling a Nintendo Switch console. The first to see that tweet was Sophi, my daughter, but instead of her participating directly, she sent me the link for me to participate, and told me in a joking tone: "mom, look, your birthday present...you're welcome". And I said: "yes, I like it, that will be my birthday present". At the same time, I was receiving a notification on Twitter that my husband had mentioned me in that same contest, with a comment that said: "the one you want...".

Pasaron los días y yo me olvidé del concurso, hasta que el 03 de febrero recibí un mensaje directo de la gente de Worten España, en el que me anunciaban que era la ganadora de la Nintendo Switch. No lo podía creer, de verdad que no, pues días antes ya me había ganado otros dos premios: uno de $20 en $DASH y otro de 100 USDT...¡wow, vaya suerte! literalmente grité y salté de emoción…¡GANÉ, GANÉ!
! [ENGLISH VERSION]
Days went by and I forgot about the contest, until February 3rd I received a direct message from the guys at Worten Spain, announcing that I was the winner of the Nintendo Switch. I couldn't believe it, I really couldn't, because days before I had already won two other prizes: one for $20 in $DASH and another one for 100 USDT...wow, what luck! I literally screamed and jumped with excitement...I WON, I WON!
Desde ese momento comenzó una cuenta regresiva de mucha ansiedad, casi un mes de espera…hasta que finalmente el pasado 01 de marzo recibí la llamada del repartidor para que bajara a recibir mi paquete, mi premio, mi regalo de cumpleaños…mi Nintendo Switch.
! [ENGLISH VERSION]
From that moment began a countdown of great anxiety, almost a month of waiting...until finally on March 1st I received the call from the delivery man to come down to receive my package, my prize, my birthday gift...my Nintendo Switch.

Unboxing
Obviamente este unboxing nunca estuvo planificado. En mi tablero de sueños no estaba una Nintendo Switch, lo confieso, tal vez si una PlayStation 5, pero no como un plan inmediato, ahorita mis prioridades son otras, quizá por esa misma razón el destino lanzó sus dados a mi favor. Este unboxing es producto de la buena suerte y el azar, por lo que está cargado de muchas emociones: alegría, sorpresa, risas, esperanza, gratitud.
! [ENGLISH VERSION]
Obviously, this unboxing was never planned. In my dream board was not a Nintendo Switch, I confess, maybe a PlayStation 5, but not as an immediate plan, now my priorities are others, and perhaps for that reason, fate threw its dice in my favor. This unboxing is a product of good luck and chance, so it is full of many emotions: joy, surprise, laughter, hope, and gratitude.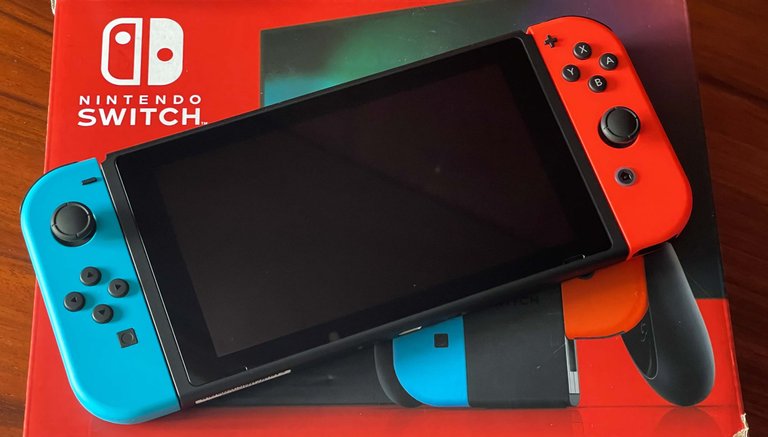 Bien, comencemos. Se trata de una consola Nintendo Switch estándar con capacidad de 32GB, pantalla IPS/LCD de 6.2". Esa pantalla es lo primero que vemos al abrir la caja, y justo al lado, está el par de mandos inalámbricos (Joy-Con) en azul y rojo. Debajo, en el segundo compartimiento de la caja, están todos los demás accesorios que acompañan la consola: el adaptador de corriente, la base del Nintendo Switch, dos correas para los Joy-Con, un cable HDMI, y un soporte para los mandos.
! [ENGLISH VERSION]
Well, let's get started. This is a standard Nintendo Switch console with 32GB capacity, 6.2" IPS/LCD display. That screen is the first thing we see when we open the box, and right next to it, is the pair of wireless controllers (Joy-Con) in blue and red. Underneath, in the second compartment of the box, are all the other accessories that come with the console: the power adapter, the Nintendo Switch dock, two Joy-Con straps, an HDMI cable, and a grip for the controllers.

La base de la consola nos permite cargarla, y también, conectarla al TV a través de un puerto HDMI. Por su parte, el soporte de mandos nos da la posibilidad de acoplar ambos controles y usarlos como uno solo, tal cual lo haríamos con un mando tradicional; ahora bien, en el caso de querer usarlos por separado, entonces podemos hacer uso de las correas individuales de cada Joy-Con. Del resto, todos los demás son accesorios básicos de conexión y carga.
! [ENGLISH VERSION]
The console dock allows us to charge it, and also, connect it to the TV through an HDMI port. For its part, the controller grip gives us the possibility to attach both controllers and use them as one, just as we would do with a traditional controller; however, in the case of wanting to use them separately, then we can make use of the individual straps of each Joy-Con. Otherwise, all the rests are basic connection and charging accessories.
Como todo equipo nuevo, al encenderlo por primera vez, será necesario completar la configuración inicial del dispositivo, ya saben, idioma, región, hora, configuración de WIFI, etc. Completado ese paso, creamos un perfil de usuario, nos registramos en la tienda de aplicaciones, y voilá…a jugar.
! [ENGLISH VERSION]
Like all new devices, when you turn it on for the first time, it will be necessary to complete the initial configuration of the device, you know, language, region, time, WIFI configuration, etc. Once this step is completed, we create a user profile, register in the app store, and voila...let's play.
Lo primero que hice fue descargar Fall Guys, me encantó que pude vincular mi cuenta de EpicGames e iniciar sesión con el usuario con el que ya venía jugando en el computador sin perder mis avances en el juego. Lo siguiente, a muy corto plazo, será sin duda Hogwarts Legacy, que es un autoregalo que me daré a placer.
! [ENGLISH VERSION]
The first thing I did was to download Fall Guys, I loved that I could link my Epic Games account and log in with the user I was already playing with on the computer without losing my progress in the game. Next up, in the very short term, will undoubtedly be Hogwarts Legacy, which is a self-gift that I will give myself to my heart's content.

Y bueno mis estimados geeks, como verán, a veces el universo, el cosmo, las energías y la suerte conspiran a favor. Alguien me dijo que si la buena suerte es un tema de actitud, yo creo que es un tema de energías, de vibrar positivamente, de alegrarnos cuando nos pasan cosas maravillosas y de celebrar genuinamente en esa misma medida cuando son otros los protagonista. Creo sinceramente que las buenos deseos y las buenas intenciones que tengamos hacia el prójimo se replican en nuestras vidas.
Así que, nada, a celebrar los momentos bonitos que nos regala la vida...que la suerte les sonría a ustedes también. 🤞🍀
! [ENGLISH VERSION]
And well my dear geeks, as you will see, sometimes the universe, the cosmos, energies, and luck conspire in our favor. Someone told me that if good luck is a matter of attitude, I think it is a matter of energies, of vibrating positively, of rejoicing when wonderful things happen to us, and of genuinely celebrating to the same extent when others are the protagonists. I sincerely believe that the good wishes and good intentions we have towards others are replicated in our lives.

So, nothing, to celebrate those beautiful moments that life gives us...may luck smile on you too. 🤞🍀

Todas las imágenes de esta publicación son de mi autoría y propiedad tomadas con un iPhone 12 Pro Max
All images in this post are my authorship and property taken with an iPhone 12 Pro Max.