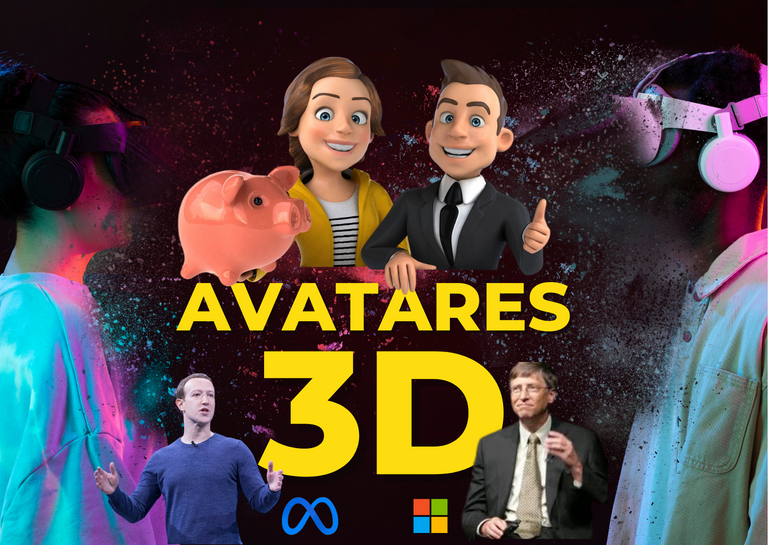 ¿Cómo utilizar avatares 3D en reuniones de trabajo en el metaverso? - Ventajas y Preocupaciones
"Meeting together is a beginning; staying together is progress; working together constitutes success."
Henry Ford
"Reunirse es un comienzo; permanecer juntos es un progreso; trabajar juntos constituye el éxito" Henry Ford
---
Hello #Hive friends and lovers of new technologies, the metaverse is undoubtedly one of the most controversial things in technology, but now Bill Gates has revealed that its execution could happen much sooner than we think. In a recent post published on his personal website, Bill Gates said he predicts that most virtual meetings will move from traditional applications using 2D cameras to spaces where 3D avatars will be used. About this, let's talk...
Hola amigos de #Hive y amantes de las nuevas tecnologías, el metaverso es sin duda uno de las cosas más controvertidas de la tecnología, pero ahora Bill Gates ha revelado que su ejecución podría ocurrir mucho antes de lo que pensamos. En un reciente post publicado en su sitio web personal, Bill Gates dijo que predice que la mayoría de las reuniones virtuales se trasladarán de las aplicaciones tradicionales que utilizan cámaras 2D a espacios donde se utilizarán avatares en 3D. Sobre esto, hablemos...


Microsoft's CEO believes that most workers will have their virtual meetings inside the metaverse, within the next two to three years. As many have already said, the Covid19 pandemic has revolutionized the workplace, as most companies now offer flexibility for employees who want to work remotely.
El CEO de Microsoft cree que la mayoría de los trabajadores tendrán sus reuniones virtuales dentro del metaverso, en los próximos dos o tres años. Como muchos ya han dicho, la pandemia de Covid19 ha revolucionado el lugar de trabajo, ya que la mayoría de las empresas, ahora ofrecen flexibilidad para los empleados que quieran trabajar a distancia.
---
This means that one of the activities we do, such as work, could be heading one of the first needs to be satisfied by the Metaverse. Of course there is still work to be done, but we are approaching a threshold where technology begins to offer new experiences for all of us to be together in the office.
Esto quiere decir que uno de las actividades que realizamos, como lo es el trabajo podría estar encabezando una de las primeras necesidades a satisfacer por el Metaverso. Claro todavía hay trabajo por hacer, pero estamos acercándose a un umbral en el que la tecnología comienza a ofrecer nuevas experiencias para estar todos juntos en la oficina.


Why should startups and SMEs organize a virtual office?
Working in the metaverse will be a significant step up from what we currently achieve with videoconferencing platforms such as Meet, Zoom or Microsoft Teams. Those of us who have participated in these, know clearly that distractions are difficult to overcome after this modality.
¿Por qué los emprendimientos y las pymes deberían organizar una oficina virtual?
Trabajar en el metaverso será un paso significativo respecto a lo que actualmente logramos con las plataformas de videoconferencia como Meet, Zoom o microsoft teams. Los que hemos participado de estas, sabemos con claridad que las distracciones son difíciles de vencer tras esta modalidad.
---
Virtual reality proposes a totally different experience, where we would have a 3D avatar that would be able to attend meetings in a virtual office environment or other destination in an immersive way, where you can interact with the avatars of co-workers, see the body language and listen to the audio of the space.
La realidad virtual propone una experiencia totalmente distinta, donde tendríamos un avatar en 3D que sería capaz de asistir a reuniones en un entorno virtual de oficina u otro destino de manera inmersiva, donde se podrá interactuar con los avatares de los compañeros de trabajo, ver el lenguaje corporal y escuchar el audio del espacio.
---
We will speak naturally without waiting for turns, we will be able to use hand gestures, turn our face and tilt it to generate attention, among many other options that are a guarantee of better communication with team members than that achieved with 2D platforms.
Hablaremos naturalmente sin necesidad de esperar turnos, podremos utilizar gestos con nuestras manos, voltear nuestra cara en inclinarla para generar atención, entre otras muchas opciones que son garantía de una mejor comunicación con los miembros del equipo, que la lograda con plataformas en 2D.
---
What would these metaverse meetings be like?
Mark Zuckerberg CEO of Meta, is cautiously optimistic about the future of the metaverse, and predicts that components such as: VR glasses, gloves and special headsets; will become the new assets for companies in the next five to ten years. Already earlier this year, Meta introduced Horizon Workrooms, a VR application where people can meet in virtual workspaces (only available for North America).
¿Cómo serían estas reuniones de metaverso?
Mark Zuckerberg CEO de Meta, es cautelosamente optimista sobre el futuro del metaverso, y predice que los componentes tales como: lentes VR, guantes y audífonos especiales; se convertirán en los nuevos activos para las empresas en los próximos cinco a diez años. Ya principios de este año, Meta presentó las salas de trabajo de Horizon, una aplicación de VR donde la gente puede reunirse en espacios de trabajo virtuales (solamente disponible para Norte América).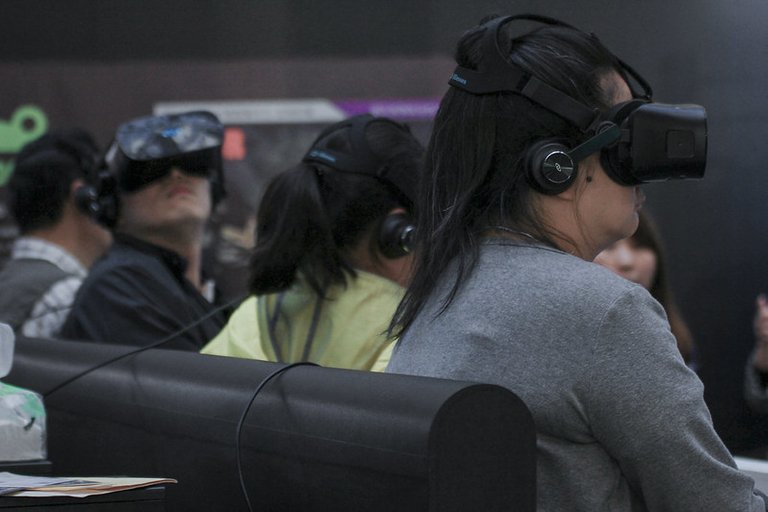 Image source / Fuente de la imagen: Flickr
---
In the universe of Meta's Oculus VR users, people connect and are able to create a world where avatars have no legs, but have the ability to explore the virtual world, and then they can interact with other avatars and play games in an interactive and realistic way, this is the best play of the old facebook so far, while building their Meta vision.
En el universo de los usuarios de Oculus VR de Meta, las personas se conectan y son capaces de crear un mundo donde los avatares no tienen piernas, pero tienen la capacidad para explorar el mundo virtual, y luego pueden interactuar con otros avatares y jugar a juegos de forma interactiva y realista, este es la mejor jugada de la antigua facebook hasta los momentos, mientras se construye su visión Meta.
---
In the near future, our customers will be able to interact with us using virtual reality, augmented reality and artificial intelligence. The idea is that customers will be able to set up a session using their unique 3D avatars and move around a space set up for the meeting. All this will provide new experiences that will allow interaction with peers, detect new potential customers and make communication more human, without many distractions.
En el futuro próximo, nuestros clientes podrán interactuar con nosotros utilizando realidad virtual, la realidad aumentada y la inteligencia artificial. Lo que se quiere es que los clientes establezcan una sesión utilizando sus avatares únicos en 3D y puedan desplazarse por un espacio configurado para la reunión. Todo esto otorgará experiencias nuevas que permitirá interactuar con pares, detectar nuevos clientes potenciales y que la comunicación sea más humana, sin muchas distracciones.
---
What are the advantages of the metaverse?
I think that the metaverse will take some time and will depend a lot on the willingness of users before virtual meetings in the metaverse become a reality.
¿Cuáles son las ventajas del metaverso?
Pienso que la apuesta del trabajo en el metaverso llevará algo de tiempo y dependerá mucho de la voluntad de los usuarios, antes de que se haga realidad las reuniones virtuales en el metaverso.
---
But once this idea is fully understood, it will be possible to deliver highly interactive experiences, where people will be able to move around without deprivation and engage in two-way conversations without leaving their homes.
Pero una vez se comprenda por completo esta idea, se podrán transmitir experiencias altamente interactivas, en la que las personas podrán moverse sin privaciones y participar en conversaciones bidireccionales sin salir de sus casas.
---
This is exciting to talk about, because many of the barriers we currently have such as location or language will be overcome by this proposal. It would even be very beneficial for the planet, as it would save traveling long distances to meet.
Es emocionante hablar de esto, porque muchas de las barreras que tenemos actualmente como la ubicación o el idioma serán superados por esta propuesta. Sería hasta muy beneficioso para el planeta, ya que se ahorrarían los viajes a largas distancias para reunirse.
---
There is still work to be done, but it won't be long before the metaverse makes remote work feel a little less remote.
Aún queda trabajo por hacer, pero no pasará mucho tiempo antes de que el metaverso haga que el trabajo a distancia se sienta un poco menos a distancia.
---
What's the concern?
Considering the experiences during the pandemic, two possible problems can be clearly visualized: first security and second the costs of the devices to be used in order to connect to the metaverse.
¿Qué preocupa?
Considerando las experiencias durante la pandemia, se pueden visualizar claramente dos posibles problemas: primero la seguridad y segundo los costos de los dispositivos a ser usados para poder conectarse al metaverso.
---
During the confinement by Covid 19 many of us suffered when people outside our Zoom meetings hijacked the rooms by mockery or aggression. The different layers of security should be something that the developers of meetings in the metaverse should consider.
En el universo de los usuarios de Oculus VR de Durante el confinamiento por Covid 19 muchos sufrimos cuando personas ajenas a nuestras reuniones en Zoom secuestraban las salas por burla o por agresión. Las diferentes capas de seguridad deben ser algo que los desarrolladores de las reuniones en el metaverso deben considerar.
---
Currently it can be seen that the costs of VR goggles are from $450 US and up, which means a possible increase in costs that companies will incur to equip their employees. Although Microsoft is working so that with the same Smartphone or portable equipment this experience can be experienced, based on the experience gained with its Minecraft game.
En la actualidad se puede observar que los costos de las gafas VR están desde los 450$ US en adelante, lo que significa un posible aumento en los costos que incurrirán las empresas para dotar a sus empleados. Aunque Microsoft está trabajando para que con el mismo Smartphone o equipo portátil se pueda experimentar esta experiencia, basado en la experiencia adquirida con su juego Minecraft.


Post Pandemic has left us with virtual 2D meetings as the norm, but it is very likely that we will continue to progress towards a significantly more virtual perspective on our jobs in the metaverse. If all of this seems unattainable to you, like a dream, Mr. Bill Gates believes it is just "around the corner" away. While there is much to be done, it would be good to consider a corporate strategy that mitigates the possible reality of virtual meetings.
La Post Pandemia nos ha dejado como norma a las reuniones 2D virtuales, pero es muy probable que sigamos progresando hacia una perspectiva significativamente más virtual en nuestros empleos en el metaverso. Si todo esto te parece algo inalcanzable, como un sueño, el sr Bill Gates cree que está a la "vuelta de la esquina" de distancia. Aunque hay mucho que hacer, sería bueno considerar una estrategia corporativa que mitigue la posible realidad de las reuniones virtuales.
---
Goodbye my dear reader, I hope this article, written with much affection, will be to your liking.
Hasta luego mi apreciado lector, anhelo que el artículo realizado con mucho cariño, resulte de su agrado.
---
I would greatly appreciate your visit to @gerardoguacaran, follow me and value my work.
---

---
---
---