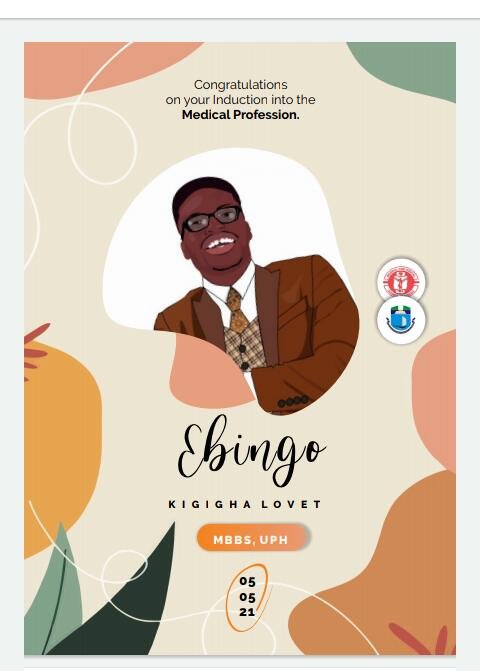 Graphic design by me and @gamsam
I can't keep reminding
myself that I'll miss you
I'll just embrace it for the
longest and try to see if I can let it go.
It has been more than 9 years since I picked up a form for medicine, saying that I wanted to be a doctor. That I wanted to save lives and that I would take it seriously. After failing the first time I tried to get in, I thought it would be a nice idea to do a pre-degree to aid in getting into the university.
I don't know what my parents always wanted me to be, but I always wanted to be a little different from what everyone would expect me to be. 5 of my brothers at the time of choosing to study medicine and surgery were on their way to being Engineers and my sister tried out for medicine and didn't make it.
I wish I could say I never considered myself the brightest in any congregation, that use to be me. I wanted to be the brightest in the room at every moment. But I have found more merits over time in being simple and loving what I love and not what people think I should love.
The competition is not for me
We the guys who were more distracted with our anxiety for the future and tried often to deal with our anxiety formed a group. Well, not really "formed" because the group always existed. The name was the "Local Men" referring to the group of guys who just wanted to pass and did not want anything other than an average.
Although to outshine others would be cool or nice, really we just wanted to pass out of this school. After making a decision when we were young when we're about 17 to take up what was supposed to be a calling.
When I was 17
With the infinite possibility of having any amount of money from a work of life, we chose a course we think at that time would not only provide that infinite amount but would give us that satisfaction.
When I got here, moved by the distractions and my anxiety, I chased after things that showed that I am no more than the men before me.
When I see stories play out like this..in a book or a movie, I scream at the main character to be more focused and try harder.
When it's my life, I find myself being the character that I would have shouted at. If I was watching my movie I'd have screamed out:
BE FOCUSED!
CAN'T YOU SEE YOU ARE MADE FOR THIS?!
CAN'T YOU SEE YOU AREN'T MADE FOR THIS?!
STOP CHASING THIS!
KEEP UP!!
But I am as human as Adam, I'm just more sophisticated and the least spiritual.
The Future
I plan on being more human now, and getting to know myself a little bit more. A friend of mine pronounces beautiful as Be-You-tiful. What a corny cringy thing to hold on to. But I need to know myself, the good and the bad. That way I can be the best I can be, maybe even be a good doctor.
I still feel my personality needs improvement, but that is not how nature works. Forcing my way to be better won't automatically make me better, but choosing my good sides just might.
Hope you enjoyed this!