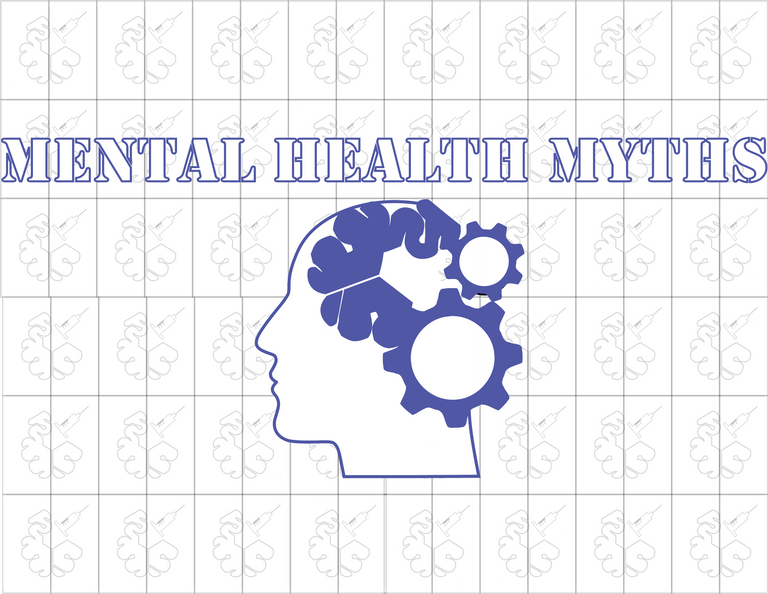 Mental Health Awareness Month (May), Ends soon. I planned on making this post a long while ago, ever since I saw a video about the topic from Science Insider on Youtube. With the month coming to an end, I thought it would only be right for a medical doctor and an aspiring psychologist to educate people on the myths about mental health.
The World Health Organisation says one out of four Nigerians has some form of mental health problem. Read more about that here. About 30 percent of patients in a study done were found to be living with major depressive disorder.
This is an issue that is yet to be addressed in the country due to the allocation of funds to issues thought to be more pressing. It is also a bigger problem than how it looks on the surface because about nine of every ten doctors you see want to leave the country.
I put together this post to help raise awareness about mental health myths that are so common in society so that we can grow past them as a society.
The prevalence of depression in Nigeria is about 3.9% (7 million Nigerians) and the risk of suicide is affected directly by the severity of depression in every population. Read more here
Suicide rates in Nigeria have been shown to be declining as sources show. Check here for more.


Source
With cases unreported, more still needs to be done to make a suicide-free society and it starts with knowledge about mental health.
Here are some common mental health myths in Nigeria
Myth 1
𝐌𝐄𝐍𝐓𝐀𝐋 𝐇𝐄𝐀𝐋𝐓𝐇 𝐏𝐑𝐎𝐁𝐋𝐄𝐌𝐒 𝐀𝐑𝐄 𝐒𝐏𝐈𝐑𝐈𝐓𝐔𝐀𝐋
Most of the myths about mental health started out with being what I would call a "spiritual misconception". Most people in ancient times believed that mental illness was not a health problem, they believed it was spiritual.
Even though Nigeria as a society is more progressive towards medical sciences and understanding there is still the air of disbelief in the general population of the scientific backing behind mental illness.
Myth 2
𝐌𝐄𝐍𝐓𝐀𝐋 𝐇𝐄𝐀𝐋𝐓𝐇 𝐏𝐑𝐎𝐁𝐋𝐄𝐌𝐒 𝐀𝐑𝐄 𝐑𝐀𝐑𝐄
In Nigeria and all over the world there are people dealing with one problem or the other...like that bible saying goes as our faces are different so are our problems.
Some people go through life depressed, some are on medications, some are having therapy sessions actively to deal with the issue.
The data on the prevalence of mental health problems was given earlier in this post.
If one in four Nigerians is stipulated to have mental health issues, that means there are close to 50 million people dealing with mental health problems in the country.
It is very possible that you might have been interacting with a person who has one form of mental health problem or the other.
Myth 3
𝐘𝐎𝐔 𝐂𝐀𝐍 𝐍𝐎𝐓 𝐄𝐌𝐏𝐋𝐎𝐘 𝐓𝐇𝐎𝐒𝐄 𝐖𝐈𝐓𝐇 𝐌𝐄𝐍𝐓𝐀𝐋 𝐇𝐄𝐀𝐋𝐓𝐇 𝐏𝐑𝐎𝐁𝐋𝐄𝐌𝐒
Employers in various industries struggle with thoughts about employing those who are in therapy for mental health problems but do not realize how common the issue they are concerned about is.
Besides how common the problem is, there is also the fact that mental illness does not automatically equate to no functionality.
A 2014 study done in the United States found that the severity of mental illness correlated inversely with employment.
The study also related the unemployed to age distribution and found that in the active population (18-25) those unemployed and that suffered from mental health problems made up only 1% but as the study population reached age 50-64 the percentage rose to 21%.
Although there are mental illnesses that make it unsafe to work, this is a notion that can be done away with.
Myth 4
𝐎𝐍𝐋𝐘 𝐋𝐎𝐍𝐄𝐑𝐒 𝐍𝐄𝐄𝐃 𝐀 𝐓𝐇𝐄𝐑𝐀𝐏𝐈𝐒𝐓
While having friends have a place in a healthy mental state, it does not take away the importance of a well-structured conversation with a therapist.
Therapy in psychology and psychiatry was developed after centuries of work on different cases of maybe close to billions of people who have lived in the past.
It is not based on trial and error it's based on factual information that has its backing in actual results in the lives of different people.
And just because someone does not have friends it does not automatically mean they need therapy. There are many reasons for a person not to have friends and the person should not be looked down on for that.
Myth 5
𝐏𝐄𝐎𝐏𝐋𝐄 𝐖𝐇𝐎 𝐇𝐀𝐕𝐄 𝐌𝐄𝐍𝐓𝐀𝐋 𝐇𝐄𝐀𝐋𝐓𝐇 𝐏𝐑𝐎𝐁𝐋𝐄𝐌𝐒 𝐀𝐑𝐄 𝐖𝐄𝐀𝐊
This is like saying that a person who has had a fracture is weak, or that a person suffering from some illness is weak.
The truth is just like people find themselves in unfavorable circumstances that leave them vulnerable.
As a society, we should protect the most vulnerable in society rather than looking for opportunities to label them as weak.
People tend to think that people can just stop being depressed, for example, immediately if they tried to, it is like saying someone with malaria can just stop having the symptoms.
Myth 6
𝐌𝐄𝐍𝐓𝐀𝐋 𝐇𝐄𝐀𝐋𝐓𝐇 𝐏𝐑𝐎𝐁𝐋𝐄𝐌𝐒 𝐂𝐀𝐍 𝐍𝐎𝐓 𝐁𝐄 𝐓𝐑𝐄𝐀𝐓𝐄𝐃
This is probably why people do not go for therapy, in addition to believing that if you have friends you do not need to go to therapy.
This is like admitting to defeat in some people's cases. They know they have a problem but they do not want to seek professional help because they are not sure it will give any positive result.
And the idea of being "treated" for a mental illness is not a static one. Sometimes during therapy, the individual might return to a state that he or she feels is normal. It is also possible that they may sense that the process made the condition worse but that doesn't necessarily mean they are not getting better.
It is very similar to losing weight, the journey is not static and the process might frustrate those who are not mentally prepared to do what it takes...which is not to give up on themselves.
The main thing to note is that many people will get a greater or lesser extent of treatment.
Myth 7
𝐓𝐇𝐎𝐒𝐄 𝐁𝐀𝐓𝐓𝐋𝐈𝐍𝐆 𝐖𝐈𝐓𝐇 𝐀𝐃𝐃𝐈𝐂𝐓𝐈𝐎𝐍 𝐃𝐎 𝐍𝐎𝐓 𝐇𝐀𝐕𝐄 𝐖𝐈𝐋𝐋 𝐏𝐎𝐖𝐄𝐑
There are so many people battling with one form of addiction or the other, not because they do not want to stop but because they simply are addicted to the substances.
There are multiple factors involved with addiction and the number one factor is genetics. Studies have shown that half of the people suffering from addiction are due to genetic components.
It is also true that if a person suffers from addiction, his or her family members are more likely to suffer from addiction.
Myth 8
𝐎𝐍𝐋𝐘 𝐅𝐄𝐌𝐀𝐋𝐄𝐒 𝐀𝐑𝐄 𝐀𝐅𝐅𝐄𝐂𝐓𝐄𝐃 𝐁𝐘 𝐄𝐀𝐓𝐈𝐍𝐆 𝐃𝐈𝐒𝐎𝐑𝐃𝐄𝐑𝐒
Recent studies are showing a shift in those affected by eating disorders. The most recent finding is that males and those who make less are becoming more affected by this condition.
Also, age is becoming a new factor to consider as those older than 45 are being considered at risk of having eating disorders.
Myth 9
𝐌𝐄𝐍𝐓𝐀𝐋 𝐈𝐋𝐋𝐍𝐄𝐒𝐒 𝐌𝐀𝐊𝐄𝐒 𝐀 𝐏𝐄𝐑𝐒𝐎𝐍 𝐌𝐎𝐑𝐄 𝐕𝐈𝐎𝐋𝐄𝐍𝐓
Many people think that those on the street will harm them. If you've been around any of them you'd find that they just want food or money or some substance they survive on.
I think what is making it worse is social media videos that propagate this message.
While there are some mental illnesses that make a person more prone to violent tendencies, most of those who suffer from mental health problems show equal levels of violence with the general public.
There is also data that those with mental health problems are more likely to be victims of violence.
Myth 10
𝐂𝐇𝐈𝐋𝐃𝐑𝐄𝐍 𝐀𝐑𝐄 𝐍𝐎𝐓 𝐀𝐅𝐅𝐄𝐂𝐓𝐄𝐃 𝐁𝐘 𝐌𝐄𝐍𝐓𝐀𝐋 𝐇𝐄𝐀𝐋𝐓𝐇 𝐏𝐑𝐎𝐁𝐋𝐄𝐌𝐒
Some signs of mental health problems start showing from early periods of childhood. The factors that bring about this are biological, psychological, and social.
There is relevant data that half of all mental health issues first show signs from as early as 14 and two-third of them will present before 24.
Only less than 20% of those with mental health problems in childhood receive the treatment they need.
If they receive treatment early enough they won't be in such terrible conditions later in life.
---
Mental health problems are an issue that has not been properly dealt with in Nigeria. There is also the issue of the tendencies for male divorcees in their 30's who are unemployed to commit suicide.
𝐑𝐄𝐅𝐄𝐑𝐄𝐍𝐂𝐄𝐒