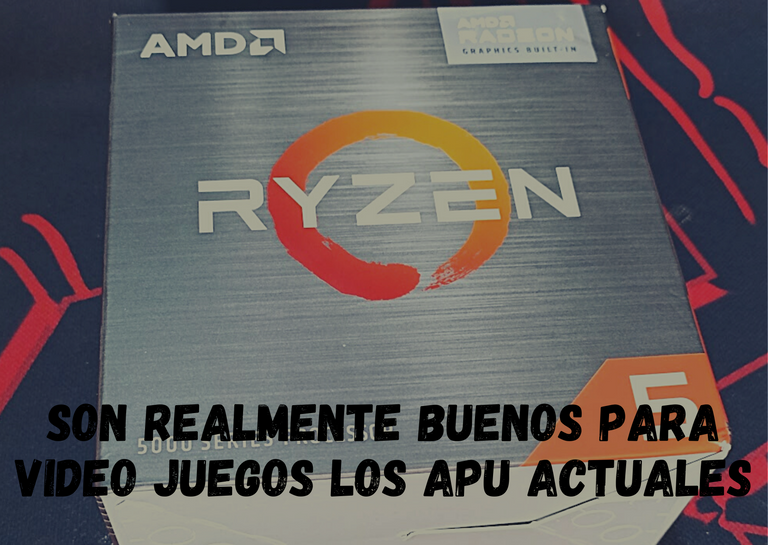 ---
Antes de actualizar a mi actual computador, tuve muchos dilemas antes de mi compra, indecisión con referencia al procesador, el componente que para mí es crucial al momento de decidir armar un computador nuevo, ya que es como digo yo, el corazón de nuestro equipo, es el que tiene la potencia para mover todos esos programas y juegos que utilizaremos, así que fue una decisión que pensé mucho, pero una sola característica me facilito todo al momento de decidir, los "Graficos Integrados".
Actualmente, hay una gran cantidad de procesadores en el mercado, con y sin gráficos, ciertamente los dos bandos lo hacen excelente con sus últimos lanzamientos, ambos ofrecen rendimientos buenos, incluso desde su gama de entrada, pero hay algo en la que destacan unos más que otros, y para mí era un valor muy importante, a pesar de que mi nuevo setup estaría acompañado de una GPU dedicada, aunque modesta, tome mi decisión en base de, que si algún día se dañara la gráfica y no tuviese en el momento para reemplazarla, necesitaba algo que me permitiera salir del paso, y no privarme en mis horas libres de jugar una que otra partida de cualquier videojuego que fuese de mi interés en el momento.
Before upgrading to my current computer, I had many dilemmas before my purchase, indecision with reference to the processor, the component that for me is crucial when deciding to build a new computer, because it is as I say, the heart of our team, is the one that has the power to move all those programs and games that we will use, so it was a decision that I thought a lot, but a single feature made everything easier for me when deciding, the "Integrated Graphics".
Currently, there are a lot of processors on the market, with and without graphics, certainly both sides do excellent with their latest releases, both offer good performances, even from their entry range, but there is something in which some stand out more than others, and for me it was a very important value, although my new setup would be accompanied by a dedicated GPU, although modest, I made my decision on the basis that if someday the graphics card was damaged and I did not have at the time to replace it, I needed something that would allow me to get out of the way, and not deprive me in my free hours to play a game or two of any video game that was of interest to me at the time.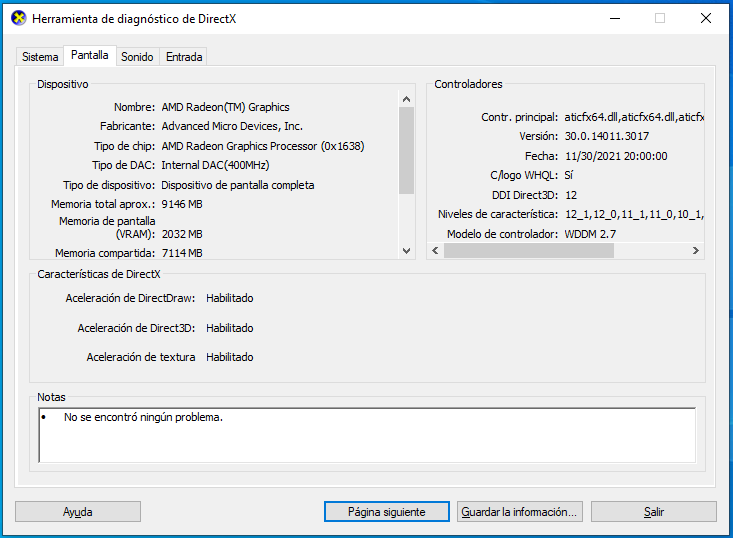 ---
Por muchos videos de comparativas, análisis, y pruebas que había visto en internet, sobre este procesador que elegí para mi ensamble, este Ryzen 5 5600G el cual prometían una solución para la escasez de gráficas actualmente, decidí probar por mi mismo, y los resultados aunque no fueron los mejores, fueron acertados y gratificante el saber que si en algún momento falla la GPU este apañara esos días de ausencia.
Realice las pruebas a los tres juegos que tengo actualmente y que dedico mi tiempo libre, mi selección es League Of Legends, Horizon Zero Dawn y Days Gone, el primero estaba totalmente seguro de que su jugabilidad estaría más que asegurada, debido a que no es un juego demandante, bien optimizado y de paso competitivo, a lo que no necesito gráficos excelentes para disfrutar de una buena experiencia de juego, sino un rendimiento óptimo en cada partida, en lo que cumplió perfectamente.
For many videos of comparisons, analysis, and tests that I had seen on the internet, about this processor that I chose for my assembly, this Ryzen 5 5600G which promised a solution to the shortage of graphics currently, I decided to try for myself, and the results although they were not the best, were accurate and rewarding to know that if at some point the GPU fails this will fix those days of absence.
I tested the three games that I currently have and that I dedicate my free time, my selection is League Of Legends, Horizon Zero Dawn and Days Gone, the first one I was totally sure that its playability would be more than assured, because it is not a demanding game, well optimized and competitive, so I do not need excellent graphics to enjoy a good gaming experience, but an optimal performance in each game, in which it complied perfectly.

League of Legends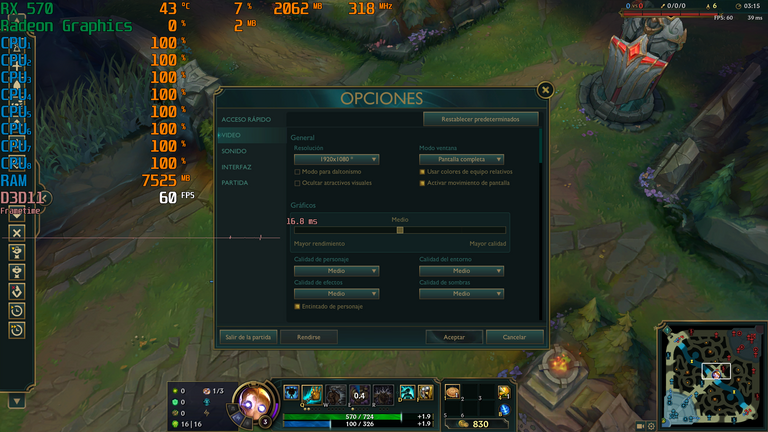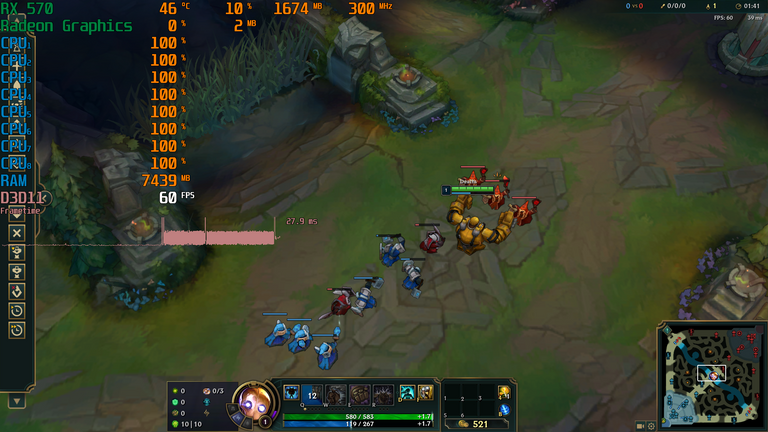 Test with Radeon Graphics @1900 MHz, Resolution 1366x768, Low Graphics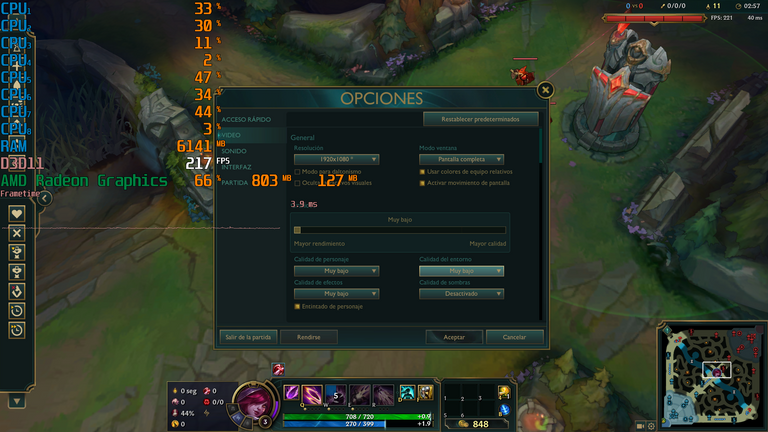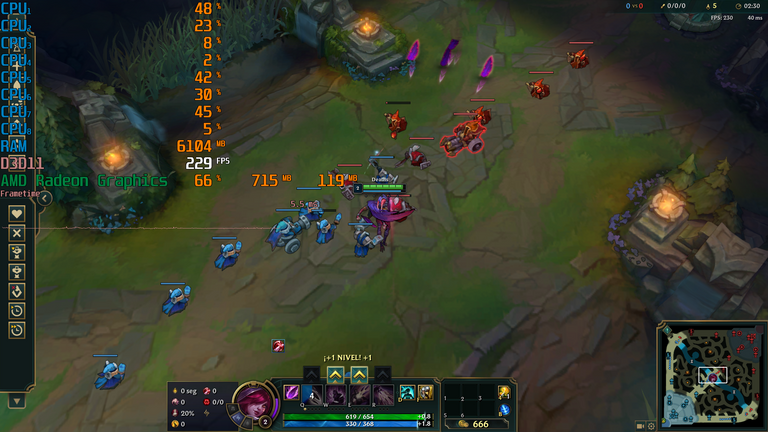 Test with RX 570-4GB, Resolution 1366x768, Low Graphics

Los otros dos si son títulos más exigentes, en todos los sentidos, necesitan una buena CPU y GPU sin dejar a un lado un mínimo recomendado de RAM, estos dos AAA, mis pruebas las efectúe con una GPU "RX570" con 4 GB de VRAM, contra los gráficos integrados "Radeon Graphics @1900 MHz", todas las pruebas las hice en gráficos bajos y resolución de 1366x768, para tener una percepción real del rendimiento visual y en jugabilidad de cada prueba y puedo decir que los resultados en el caso de la gráfica integrada fueron los esperados.
The other two if they are more demanding titles, in all senses, they need a good CPU and GPU without leaving aside a recommended minimum of RAM, these two AAA, my tests were performed with a GPU "RX570" with 4 GB of VRAM, against the integrated graphics "Radeon Graphics @1900 MHz", all tests were done in low graphics and resolution of 1366x768, to have a real perception of the visual performance and gameplay of each test and I can say that the results in the case of integrated graphics were as expected.

Horizon Zero Dawn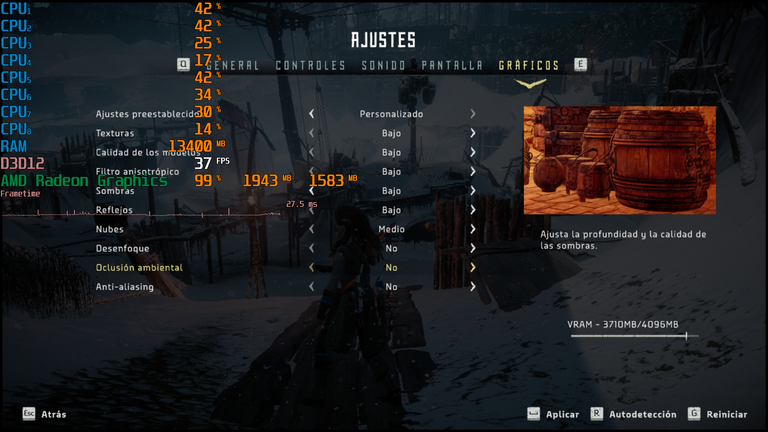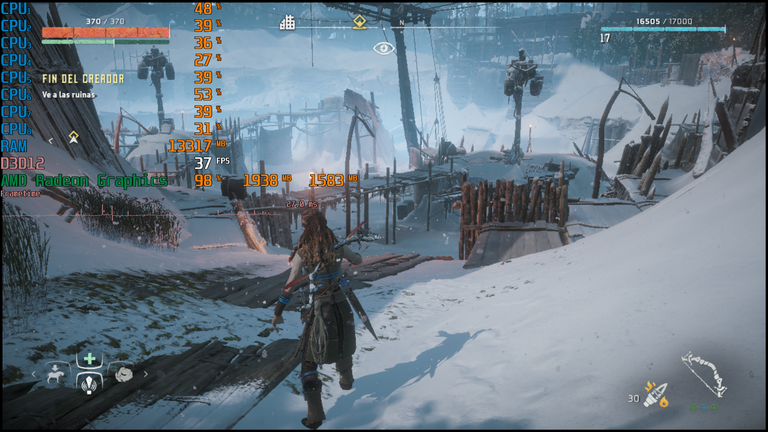 Test with Radeon Graphics @1900 MHz, Resolution 1366x768, Low Graphics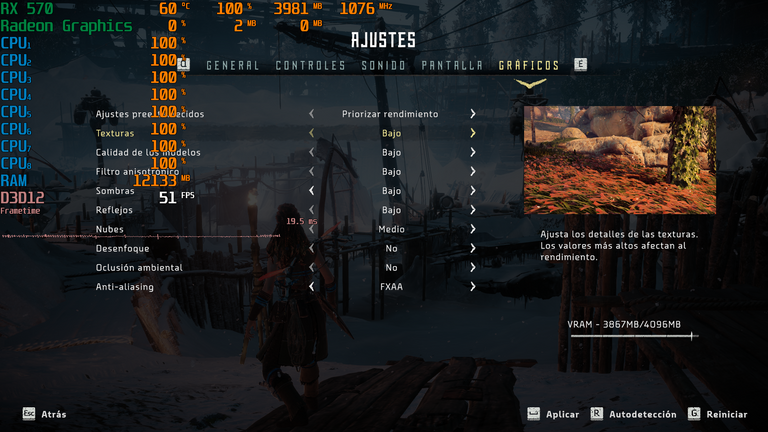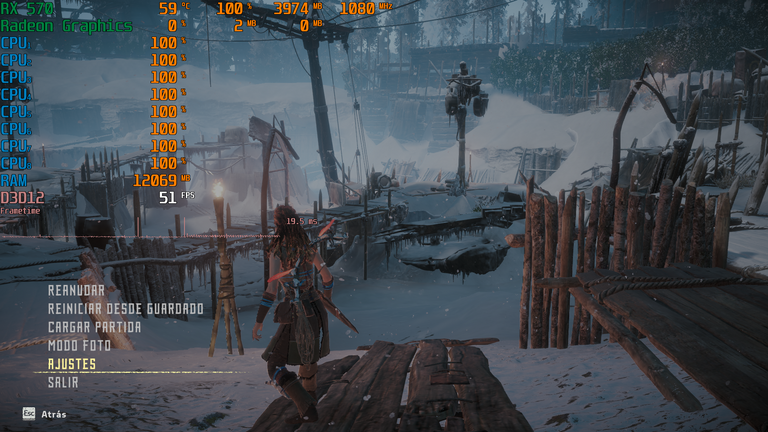 Test with RX 570-4GB, Resolution 1366x768, Low Graphics

Days Gone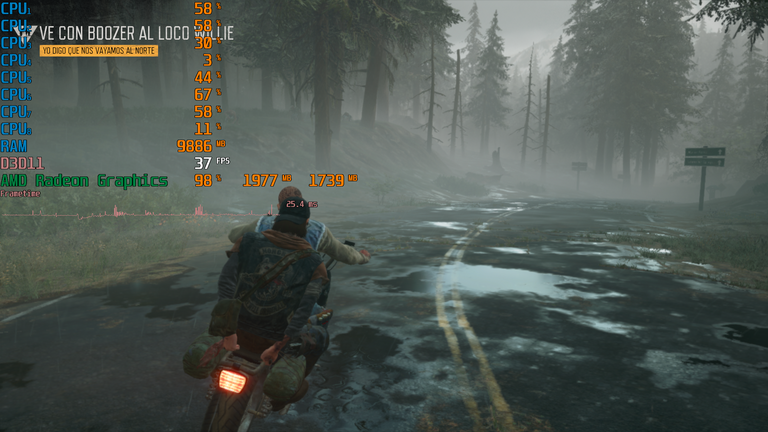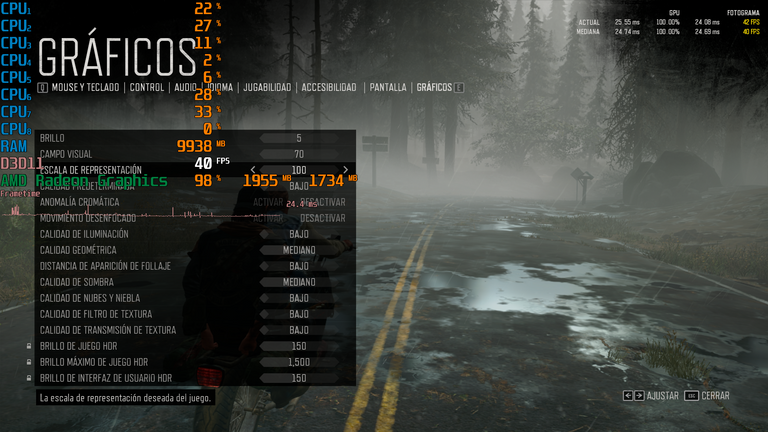 Test with Radeon Graphics @1900 MHz, Resolution 1366x768, Low Graphics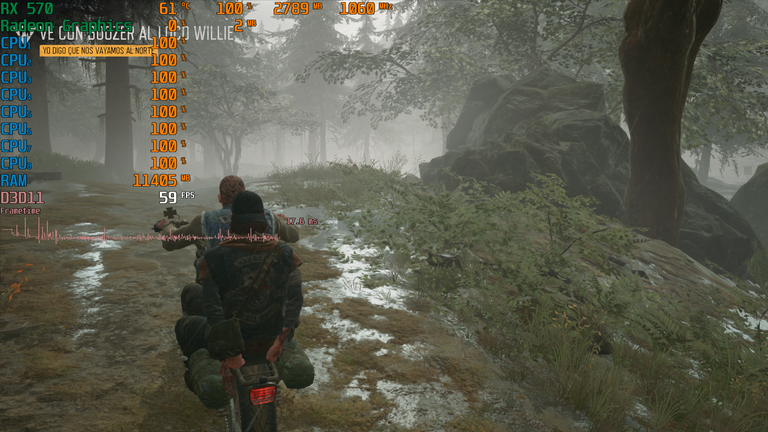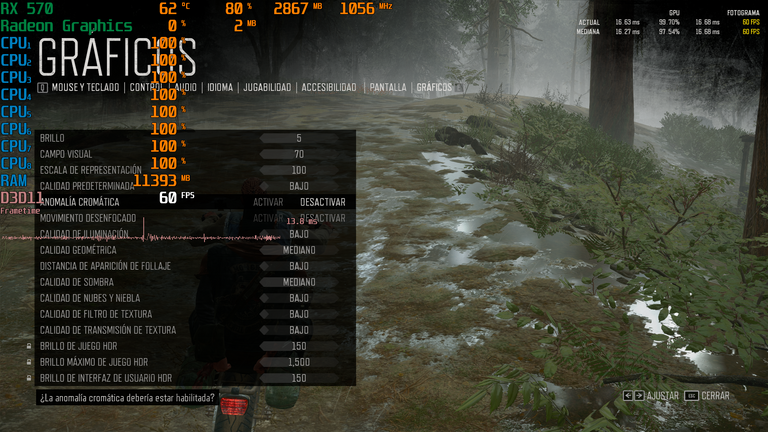 Test with RX 570-4GB, Resolution 1366x768, Low Graphics

Resumen | Summary
Si planeas armarte un equipo bueno y tus recursos son limitados, en lo cual necesitas un buen rendimiento y jugar uno que otro título de vez en cuando, si el limitante visual no es problema, este AMD Ryzen 5 5600G, cumplirá con todas las tareas que ocupes y los gráficos integrados que incluye son lo suficientemente potentes para darte una experiencia muy buena en todas las funciones, otra cosa que debes tomar en cuenta es que es recomendable si o si, utilizar el dual Channel en la memoria RAM para tener un mejor desempeño de esta GPU integrada y, en caso de querer agregar en un futuro una gráfica dedicada, puedo dar fe de que las graficas como RX 470, 570 y 580, van bien con esta CPU y, si quieres agregar una GPU más potente de la serie 3000 o serie 6000 de AMD, estarás más que sobrado, ya que esta CPU cuenta con 6 núcleos y 12 hilos de procesamiento.
If you plan to build yourself a good team and your resources are limited, in which you need a good performance and play one or another title from time to time, if the visual limitation is not a problem, this AMD Ryzen 5 5600G, will fulfill all the tasks you need and the integrated graphics included are powerful enough to give you a very good experience in all functions, another thing you should take into account is that it is advisable if or if, If you want to add in the future a dedicated graphics, I can attest that graphics like RX 470, 570 and 580, go well with this CPU and if you want to add a more powerful GPU 3000 series or AMD 6000 series, you will be more than enough, because this CPU has 6 cores and 12 processing threads.

Cabe mencionar que existen CPU's de Intel con la misma cantidad de núcleos e hilos, a un menor costo, que son tan o mejores que esté mencionado, sin embargo, ninguno cuenta con gráficos integrados tan potente como los de este Ryzen o los de la familia de APU de AMD.
It is worth mentioning that there are Intel CPUs with the same amount of cores and threads, at a lower cost, that are as or better than this one, however, none have integrated graphics as powerful as this Ryzen or the AMD APU family.

Sin más me despido amigos, hasta la próxima.
Without further ado I say goodbye friends, until next time.

Texto traducido con Deepl | Text translated with Deepl
Imágenes editadas con Canva | Images edited with Canva